InterContinental Hotels Group (IHG) has signed a franchise agreement with Bathroad Corp Sarl for a dual-branded hotel project at London's Heathrow Airport. The 190-room Staybridge Suites London – Heathrow Bath Road and the 433-room Holiday Inn London – Heathrow Bath Road are scheduled to open in 2018 close to Terminals 1, 2 and 3. The hotels will share the same building and the development will also include extensive parking space, seven meeting rooms and an on-site gym. IHG currently has five Staybridge Suites and 309 hotels overall in the UK.
Starwood Hotels & Resorts has signed a franchise agreement with Brighton and Hove Albion for the Aloft Brighton. When it opens in the city of Brighton, on England's south coast, in September 2017, the hotel will become the group's third Aloft hotel in the UK, with hotels already in operation in London and Liverpool. (A second London property, the Aloft London Tobacco Dock, is due to open in 2018, raising the trio to a quartet.) The 150-room Aloft Brighton, will be part of a mixed-use development. Interstate Europe's UK division will manage the hotel, which will be adjacent to the American Express Community Stadium, the home of Brighton and Hove Albion football club. Starwood currently has 12 hotels across the UK under seven brands.
It was reported this week that Starwood Hotels & Resorts' W brand has plans to make its debut in Scotland with a hotel in Edinburgh city centre. The group is in talks with TH Real Estate to operate a 200-room property that TH is constructing as part of the redevelopment of St James shopping centre.
Splendid Hospitality Group has purchased the Mercure Bristol Brigstow, on the River Avon in the city of Bristol, for an undisclosed sum. The 116-room hotel is the group's first property in southwest England and its first property with AccorHotels. The hotel will continue to operate as a Mercure property under a franchise agreement. Splendid now has a portfolio of 19 hotels across the UK.
Starwood Hotels & Resorts has signed an agreement that will see it open its third Sheraton-branded hotel in Portugal. The coastal Sheraton Cascais Resort (formerly the Vivamarinha Hotel & Suites), in the town of Cascais 30 km from the capital, Lisbon, is owned and managed by United Investments Portugal. The 138-room resort is due to start operating as a Sheraton property, under a franchise agreement, on 24 February 2016.
Starwood Hotels & Resorts is taking its Four Points brand to Addis Ababa. The 450-room Four Points Addis Ababa, Meskel Square is being developed by Alemgenet Trade & Industries and is expected to open in Ethiopia's capital and largest city at the beginning of 2019; the new-build property will be the group's second hotel in country, joining the 295-room Sheraton Addis, a Luxury Collection Hotel, Addis Ababa. "The entry of Four Points to Ethiopia, one of Africa's fastest growing economies, is a significant addition to our rapidly expanding portfolio in the region," commented Michael Wale, Starwood Hotels & Resorts' president for Europe, Africa and the Middle East. "As home to Africa's largest airline, Addis Ababa is a key hotel market and an ideal city for a brand that serves the modern, everyday traveller," he added. There are currently two Four Points hotels in operation in Africa and a further five in the pipeline for the continent.
Rotana plans to expand in Kuwait. The group currently operates one hotel in the country (the 198-room Al Manshar Rotana Kuwait) but has announced that a 200-room Centro by Rotana property is scheduled to open in two years' time. Rotana also recently revealed expansion plans for the UAE, with the aim of opening nine hotels over the next five years. Four hotels are to be developed in Abu Dhabi and five in Dubai, adding 3,598 rooms to the Abu Dhabi-based group's existing stock of 9,584 in the UAE, and increasing its hotel count in the country to 44 by 2020.
Carlson Rezidor has opened its fifth hotel in Oman: the 179-room Radisson Blu Hotel, Sohar, which has a beachfront location in the city of Sohar in the north of Oman. Commenting on the announcement, Mark Willis, Rezidor's area vice president for the Middle East, said "Sohar enjoys a unique strategic business location, halfway between the Omani and the UAE capital – and we are proud to showcase our Radisson Blu hospitality here...Sohar is the new economic power of Oman, encompassing an industrial port, a free zone, an industrial estate and a domestic airport with a freight train terminal in the pipeline, all of which helps position the destination and our hotel brand." Rezidor has one hotel in Duqm and three properties in Muscat; the newest opening marks the group's debut in the Sohar market.
Action Hotels has purchased a plot of freehold land in Dubai's Media City area from Innovation Hub FZ-LLC for US$10.07 million with the intention of creating a three- or four-star hotel on the site. The 5,553.5 m² plot is within the Innovation Hub mixed-use project, which will also include residential apartments and offices. The first phase of Innovation Hub is expected to be ready by 2017 and the hotel is scheduled to be completed in 2018. "This acquisition reinforces our presence in key locations in Dubai. Media City is a thriving area of Dubai with more than 4,500 companies and we have identified strong demand for quality affordable accommodation," said Action Hotels' founder and chairman, Sheikh Mubarak A M Al Sabah. "This sought-after location is generating significant operator interest and as always we will be working with our partner hotels brands to secure the best terms," he added.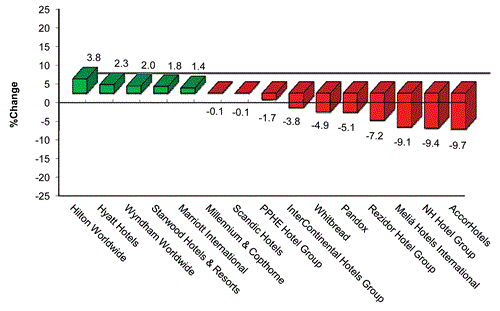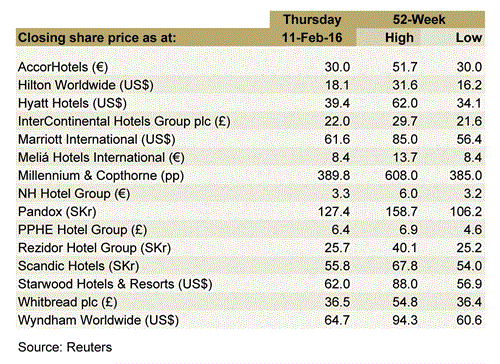 Rezidor Hotel Group – Will release its 2015 fourth-quarter financial report on Tuesday 16 February 2016.

Wyndham Worldwide – Fourth-quarter 2015 revenue increased 6% on the same period in 2014.

Hyatt Hotels – Announced the appointment of Patrick J. Grismer as the new chief financial officer.
For the latest in the hospitality industry, please visit: http://www.hvs.com/. You are also welcome to contact the following personnel.
| | |
| --- | --- |
| Russell Kett, Chairman – HVS London (@russellkett) | [email protected] |
| Charles Human, CEO – HVS London/HVS Hodges Ward Elliott | [email protected] |
| Simon Tucker Brown, Managing Director – HVS Executive Search Europe & Middle East | [email protected] |
| Chris Martin, Senior Director – HVS Hodges Ward Elliott | [email protected] |
| Puneet Kanuga, Director – HVS Hodges Ward Elliott | [email protected] |
| Arlett Oehmichen, Director – HVS London | [email protected] |
| Sophie Perret, Director – HVS London | [email protected] |
| Tim Smith, Managing Partner – HVS Cape Town | [email protected] |
| Demetris Spanos, Managing Director – HVS Athens | [email protected] |
| Hala Matar Choufany, Managing Director – HVS Dubai | [email protected] |
| Ezio Poinelli, Director – HVS Milan | [email protected] |
| Louise Fury, Senior Editor and EMEA Hospitality Newsletter Author – HVS London | [email protected] |
Disclaimer: Information provided above has been gathered from various market sources. HVS has not independently verified the accuracy of the information provided. Interested parties should not rely on the information as statement of facts and are advised to make their own independent checks to verify the information provided. For further information, please feel free to contact HVS London.
Superior Results through Unrivaled Hospitality Intelligence. Everywhere.
Stay current. Click here to receive free HVS newsletters
Looking for insights into the hospitality industry?
Discover unique hospitality intelligence at hvs.com/publications
Interested in a particular market?
Find hundreds of market overviews, all written by HVS experts, at hvs.com/marketresearch
Like to be in the know on hotel trends and predictions?
See our Hotel Valuation Index for dozens of cities at hvi.hvs.com