Minor International has completed the final stage of its purchase of Tivoli Hotels & Resorts for an investment of €294.2 million (approximately €102,000 per key), marking the Thailand-based group's entry into Europe and Latin America. The Tivoli chain comprises 12 hotels across Portugal and two properties in Brazil (almost 3,000 rooms). With the aquisition of all of the Tivoli hotels now complete, Minor has 145 properties across 22 countries. HVS Hodges Ward Elliott and ESIB were co-advisors for Rioforte on the sale of the Tivoli Group, which culminated in this transaction.
TLG Immobilien has acquired the InterCityHotel Dresden, in eastern Germany, along with an office building for €28.2 million from JP Commercial Xlll S.à.r.l. The 162-room hotel, on Wiener Platz, is opposite Dresden's main railway station.
A property fund launched by Austrian investor, Thomas Roeggla, has purchased the 158-room Clarion Hotel Limerick, in southern Ireland, for a price said to be more than €7.5 million (approximately €47,500 per room). The hotel, which at 17 storeys high is the tallest hotel in Ireland, was put on the market in November 2015 for €3.5 million. We reported in last week's edition that Dalata has recently acquired the property's leasehold interest.
A London-based hotel operator and investor has acquired the easyHotel Edinburgh Princess Street West, in Scotland, for an undisclosed sum. The 29-room, purpose-built hotel, which was on the market for offers of around £1.75 million, will continue to operate under a franchise agreement with budget chain easyHotel. More easyHotel news this week includes the announcement of the group's second hotel for Amsterdam, in the Netherlands. easyHotel's Benelux franchisee has aquired a building on Arena Boulevard, which will be converted into the easyHotel Arena Boulevard. The 131-room hotel is expected to open by the end of the year, next to the Ajax Amsterdam Arena, and will join the 80-room easyHotel Amsterdam City Centre South, which opened in 2011.
Carlson Rezidor has opened the Park Inn by Radisson Neumarkt – its 20th Park Inn by Radisson property in Germany. The 105-room hotel, which is being operated by one the group's franchise partners, Provent Hotels, is in the Bavarian city of Neumarkt in southeastern Germany. The hotel's general manager, Kai Melerski, commented, "Our hotel offers the highest and newest standards of comfort and technology and sets a new colourful milestone in the region of Neumarkt."
In partnership with the Marcucci Group, Shaner Italia has acquired the Hotel Universo in the city of Lucca, in Italy's Tuscany region, for an undisclosed sum. The group, a division of Shaner Hotels, now plans to invest around US$78 million in extensively restoring and renovating the 70-room boutique hotel. The historic building, which dates from the 16th centutry, was converted into a hotel in 1857. This isn't the first collaboration between Shaner and Marcucci, as the pair previously became joint venture partners in the recently upgraded 180-room Renaissance Tuscany Resort & Spa.
Starwood Capital has purchased the Martins Bank building in Liverpool, northwest England, from Castlewood Property for an undisclosed sum. The building opened in 1932 as the headquarters of Martins Bank, which was acquired by Barclays Bank in 1969 and Barclays occupied the site until 2009. The Grade II-listed building is to be part of a new brand of urban, lifestyle hotels being created by Starwood Capital, from a collection of hotels it has acquired over the past three years – the Liverpoool property is the only non-hotel building to be added to the brand. Planning permission for a 227-room hotel with three bars, two restauraunts and a spa was submitted to Liverpool City Council in July last year.
Jumeirah Group has signed an agreement with private real estate development and investment company Select Group to manage 508 units in the Marina Gate development in Dubai under its Jumierah Living brand. Jumeirah Living Marina Gate will include 104 serviced apartments, 389 branded residences and 15 villas; the project is already under construction and due to open during the fourth quarter of 2019. Select's Marina Gate development, at the northern entrance of Dubai Marina, consists of three residential towers, the third and final of which will be the Jumeirah-branded tower.
Starwood Hotels & Resorts' Westin brand has made its first appearance in Qatar with the opening of the Westin Doha Hotel & Spa, in conjunction with Ghanem Al Thani Holdings. The 365-room hotel is on Salwa Road, close to Doha's central business disctict. The hotel is Startwood's fourth hotel in Qater and the fourth Westin property in the Middle East.
Carlson Rezidor has announced its first Radisson RED property for Saudi Arabia and its first Park Inn by Radisson hotel for the Saudi city of Jeddah. The 280-room Radisson RED Makarunah is due to open in Jeddah in the second quarter of 2018. Rezidor currently has 11 Radisson RED hotels under development, and the brand is due to make its worldwide debut in April 2016 with the opening of the 149-unit Radisson RED Brussels in Belgium. The 84-room Park Inn by Radisson Madinah Road is expected to open in the first quarter of 2017. The group has two Park Inn by Radisson hotels in operation in Saudi Arabia: the 148-room Park Inn by Radisson Al Khobar and the 90-room Park Inn by Radisson Dammam.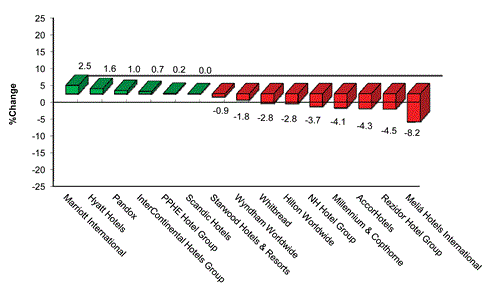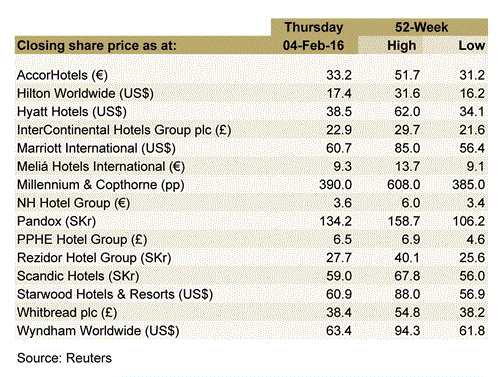 Marriott International – The Competition Commission of India has given its nod for the acquisition of Starwood Hotels & Resorts by Marriott, setting the stage for the Marriott and Starwood combine to create a hospitality behemoth in India.

Hyatt Hotels – Analysts at Wells Fargo upgraded to "outperform" from "market perform".

Pandox – Said it has entered into an agreement with Nordic Choice Hotels to take over operations at the Quality Hotel & Resort Kristiansand.
For the latest in the hospitality industry, please visit: http://www.hvs.com/. You are also welcome to contact the following personnel.
| | |
| --- | --- |
| Russell Kett, Chairman – HVS London (@russellkett) | [email protected] |
| Charles Human, CEO – HVS London/HVS Hodges Ward Elliott | [email protected] |
| Simon Tucker Brown, Managing Director – HVS Executive Search Europe & Middle East | [email protected] |
| Chris Martin, Senior Director – HVS Hodges Ward Elliott | [email protected] |
| Puneet Kanuga, Director – HVS Hodges Ward Elliott | [email protected] |
| Arlett Oehmichen, Director – HVS London | [email protected] |
| Sophie Perret, Director – HVS London | [email protected] |
| Tim Smith, Managing Partner – HVS Cape Town | [email protected] |
| Demetris Spanos, Managing Director – HVS Athens | [email protected] |
| Hala Matar Choufany, Managing Director – HVS Dubai | [email protected] |
| Ezio Poinelli, Director – HVS Milan | [email protected] |
| Louise Fury, Senior Editor and EMEA Hospitality Newsletter Author – HVS London | [email protected] |
Disclaimer: Information provided above has been gathered from various market sources. HVS has not independently verified the accuracy of the information provided. Interested parties should not rely on the information as statement of facts and are advised to make their own independent checks to verify the information provided. For further information, please feel free to contact HVS London.
Superior Results through Unrivaled Hospitality Intelligence. Everywhere.
Stay current. Click here to receive free HVS newsletters
Looking for insights into the hospitality industry?
Discover unique hospitality intelligence at hvs.com/publications
Interested in a particular market?
Find hundreds of market overviews, all written by HVS experts, at hvs.com/marketresearch
Like to be in the know on hotel trends and predictions?
See our Hotel Valuation Index for dozens of cities at hvi.hvs.com