Jermyn Street Real Estate Fund has acquired the Westin Astir Palace Resort, 25 km from Athens city centre in Greece, from Greece's privatization agency for €400 million (approximately €1.2 million per key). The resort, which is set over 74 acres on a private peninsula, includes two hotels: the Westin Athens, with 162 sea view rooms, and the Arion, A Luxury Collection Resort & Spa, with 123 rooms and 58 newly renovated bungalows. The sale of the resort was blocked by Greek courts last year, as initial plans for the site included developing residential space on the site; however, amended plans now mean that the new owner of the site will reportedly develop two new hotels to replace the existing units and a number of luxury villas and upgrade the marina.
Marriott International recently opened its seventh Courtyard-branded hotel in Russia: the 143-room Courtyard by Marriott Nizhny Novgorod City Center, which is the group's first hotel in Nizhny Novgorod, Russia's fifth-largest city. The hotel celebrates the new and old styles of the city, as half of it is housed in a modern building, which is connected to the other part of the property in a renovated 19th-century merchant's house, on Kizhegorodsky Kremlin, the city's main pedestrian street. Marriott currently has 17 hotels in operation across the country overall.
Marriott Hotels & Resorts is set to make its debut in Belarus early this year with the opening of the Minsk Marriott Hotel in the Belarusian capital, Minsk. The 217-room hotel is the first internationally branded five-star hotel in Belarus. The hotel will join its sister property in the city, the 267-room Renaissance Minsk.
InterContinental Hotels Group (IHG) has signed a franchise agreement with Plaza AGNS DOO Novi Sad for its first hotel in the city of Novi Sad in Serbia. The 144-room Crowne Plaza Novi Sad is scheduled to open in 2016 in the city's business district. "The Crowne Plaza brand has cemented its reputation as one of the top business hotel brands globally so we are thrilled to be establishing our presence in yet another key city with Plaza AGNS DOO," said Hylko Veersteg, IHG's Director of Development, Southern Europe. IHG currently has three hotels in operation across Serbia (a Crowne Plaza, a Holiday Inn and a Holiday Inn Express in Belgrade).
The Gulf & Indian Ocean Hotel Investors' Summit (GIOHIS) 2016 is due to start in just one month at the Viceroy on Yas Island, in Abu Dhabi, on 8 February. GIOHIS is a brand new type of hotel investor Summit, aimed specifically at meeting the needs of hotel and serviced apartment owners, investors and developers, and is run by the hotel owners' alliance, HOFTEL. Russell Kett, chairman of HVS London, will be at the event; Russell will be interviewing Gerald Lawless, president and chief executive of Jumeirah, and Omer Kaddouri, chief executive of Rotana Hotel Management Corporation. Additionally, Hala Matar Choufany, managing partner of HVS Dubai, will be leading a round table discussion titled "How to value a hotel in a market with no comps". A 10% discount is available to HVS newsletter readers on both the hotel owners and the non-hotel owners rates To get this discount, enter the code HVSDISCOUNT when you purchase your ticket. Click here to book.
A mystery high-net-worth individual has purchased the Crowne Plaza Edinburgh – Royal Terrace in Scotland for an undisclosed sum. The 100-room property was part of a portfolio of five hotels owned and operated by Prima Group, which fell into administration in May 2015. The sale of the hotel, which is housed across a row of historic Georgian townhouses, is subject to a franchise agreement with InterContinental Hotels Group. Another former Prima Group hotel also transacted this week. Hellaby Hall Hotel Ltd (previously Oxfordshire Inn Ltd) has acquired the four-star 89-room Hellaby Hall Hotel in Rotherham, north England, from a guide price of £5.6 million (£62,900 per room). The Grade-II listed manor house dates back to the 17th century.
Following on from its purchase of the five-star L'Alpaga in the resort of Mégève in the French Alps in November 2015, independent hotel owner and operator, Perseus has further expanded its Alpine Hôtels d'en Haut chain with a coastal property. The group has acquired the Hôtel des Roches Rouges in Agay, on the French Riviera, between Cannes and Saint-Raphael for an undisclosed sum. The property will now undergo a thorough renovation and will open as a five-star, 50-room hotel in 2017.
Carlson Rezidor has signed a management agreement with Sahle & Family Business Group for its second Radisson Blu property in Ethiopia's capital, Addis Ababa, northeast Africa. The 165-room Raddisson Blu Plaza Hotel, Addis Ababa, is already under construction on Bole Road, three kilometres from the city's international airport, and is due to open in 2017. "The city and the country offer considerable business potential – IMF ranks Ethiopia among the five fastest growing economies," commented the group's president and chief executive officer, Wolfgang M Neumann. Rezidor currently operates one hotel in Ethiopia, the 204-room Radisson Blu Hotel, Addis Ababa.
Starwood Hotels & Resorts has signed a managed agreement with developer Nakheel for a St. Regis property on Dubai's man-made Palm Jumeirah group of islands. The St. Regis Dubai – The Palm will be part of the mixed-use Palm Tower project. The hotel's 289 rooms and suites will occupy the first 18 floors of the 52-storey tower and the top floors will house luxury apartments, and hotel facilities such as swimming pools and food and beverage outlets. The hotel will become Starwood's second St. Regis property in Dubai when it opens in 2018, joining the recently opened 234-room St. Regis Dubai.
Rotana has started 2016 by opening its third hotel in Qatar, increasing its room count in the Qatari capital, Doha, to more than 1,000 units. The 52-storey City Centre Rotana, which was developed by Al Rayyan Tourism Investment Company, has 287 guest rooms and 94 serviced apartments. The hotel is connected to the City Center Doha Mall and it joins the 325-room Oryx Rotana and the 250-unit Sedra Residences by Rotana. The group's portfolio in the country wont' be a trio for long, however, as it is due to become a quartet following the opening of the 229-room Centro Capital Doha (the first Centro in Qatar) in the second quarter of 2016.
Wyndham Worldwide plans to expand its Ramada portfolio in the Middle East with four new hotels. The 161-room Ramada Resort Dead Sea in Jordan (owned by the Winter Valley Tourism Investment Company) and the 165-room Ramada Jeddah Corniche in Saudi Arabia (owned by Al Ghunaim Hospitality Group) are both now open. The 162-room Ramada Hotel & Suites Amwaj Island (owned by Mannai Holding S.P.C) and the 140-room Ramada Manama City Centre (owned by Bukhowa Investments Holding Company) are both in Bahrain and are due to open by 31 March 2016.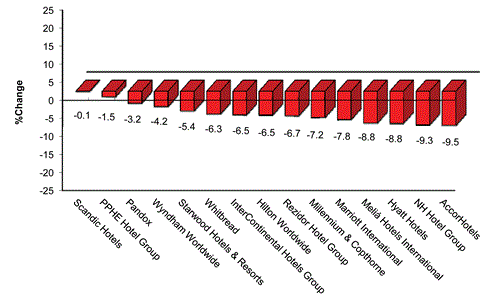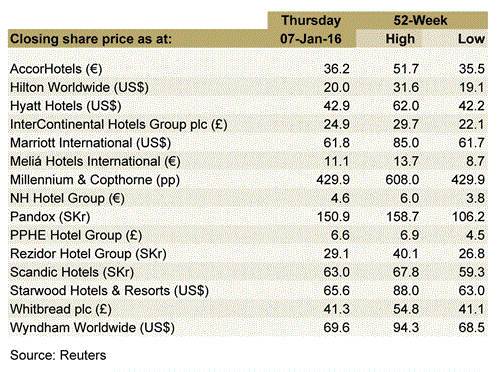 Scandic Hotels – Announced last week an increase in the number of shares and votes in the company by 22,985,075 since the first day of trading on Nasdaq Stockholm.

Pandox – Completed the acquisition of 18 hotels in Germany for €400 million.

Marriott International – Will report fourth-quarter 2015 earnings results on Wednesday 17 February 2016 at approximately 5:00 pm Eastern Time.
For the latest in the hospitality industry, please visit: http://www.hvs.com/. You are also welcome to contact the following personnel.
| | |
| --- | --- |
| Russell Kett, Chairman – HVS London (@russellkett) | [email protected] |
| Charles Human, CEO – HVS London/HVS Hodges Ward Elliott | [email protected] |
| Simon Tucker Brown, Managing Director – HVS Executive Search Europe & Middle East | [email protected] |
| Chris Martin, Senior Director – HVS Hodges Ward Elliott | [email protected] |
| Puneet Kanuga, Director – HVS Hodges Ward Elliott | [email protected] |
| Arlett Oehmichen, Director – HVS London | [email protected] |
| Sophie Perret, Director – HVS London | [email protected] |
| Tim Smith, Managing Partner – HVS Cape Town | [email protected] |
| Demetris Spanos, Managing Director – HVS Athens | [email protected] |
| Hala Matar Choufany, Managing Director – HVS Dubai | [email protected] |
| Ezio Poinelli, Director – HVS Milan | [email protected] |
| Louise Fury, Senior Editor and EMEA Hospitality Newsletter Author – HVS London | [email protected] |
Disclaimer: Information provided above has been gathered from various market sources. HVS has not independently verified the accuracy of the information provided. Interested parties should not rely on the information as statement of facts and are advised to make their own independent checks to verify the information provided. For further information, please feel free to contact HVS London.
Superior Results through Unrivaled Hospitality Intelligence. Everywhere.
Stay current. Click here to receive free HVS newsletters
Looking for insights into the hospitality industry?
Discover unique hospitality intelligence at hvs.com/publications
Interested in a particular market?
Find hundreds of market overviews, all written by HVS experts, at hvs.com/marketresearch
Like to be in the know on hotel trends and predictions?
See our Hotel Valuation Index for dozens of cities at hvi.hvs.com