Hilton Worldwide has opened its long-awaited new Hilton Amsterdam Airport Schiphol property in the Netherlands. The 433-room hotel, which was developed and is owned by Schiphol Real Estate, was constructed at the airport adjacent to the previous Hilton Amsterdam Airport Schiphol hotel, which opened in 1972 and closed last month to make way for its state-of-the-art successor. Hilton now has six hotels in operation in Amsterdam. Commenting on its latest opening, the group's executive vice president and president for Europe, the Middle East and Africa, Simon Vincent, said, "Today, Hilton Worldwide has more than 38 properties at European airport locations, with many more at prime transport hubs across the globe."
Cameron House Hotel, on the banks of Loch Lomand in Scotland, has been sold for the second time in a year. QHotels, which purchased the 132-room hotel with its 27-hole golf course in late 2014, has sold the property to KSL Capital Partners for a sum reported to be between £70 million and £80 million. Other sales this week include the purchase of the Lions Quays Hotel & Spa in the market town of Oswestry, in England's West Midlands region, by Ashok Bansal, who acquired the 82-room hotel from Shropshire Leisure Group for £10 million (£122,000 per room). Additionally, Dalata Hotel Group is to purchase the Tara Towers Hotel in Dublin, Ireland, in an all cash deal for approximately €13 million (€117,100 per room). The transaction is expected to close next month. Dalata plans to invest €4.5 million in a refurbishment of the 111-room hotel, on Merrion Road, and upgrade it from a three- to a four-star property. It was also reported that the hotel will be reflagged under Dalata's Maldron brand.
InterContinental Hotels Group (IHG) has opened its fifth InterContinental Hotels & Resorts property in France. The former Grand Hôtel de Bordeaux & Spa has emerged renewed from its refurbishment as the 130-room InterContinental Bordeaux – Le Grand Hotel. The 18th-century building is on Bordeaux's main square in France's iconic winegrowing region. Owned by Michel Ohayon, the hotel will be operated under a management agreement with Financère Immobilière Bordelaise. IHG now has more than 50 hotels in operation across France overall.
Hilton Worldwide has recently opened three new hotels in the UK. The Hilton Bournemouth has become the group's second hotel in the seaside resort of Bournemouth on England's south coast, joining the neighbouring Hampton by Hilton Bournemouth. The 172-room hotel is owned by THAT Group and is part of the Terrace Mount mixed-use development. Over in the university city of Cambridge, the Hilton Cambridge City Centre is now the second Hilton-branded hotel in the city, alongside the DoubleTree by Hilton Cambridge. Formerly the Cambridge City hotel, the 198-room property underwent a full refurbishment before its rebrand and is owned by CDL Hospitality Trust. Lastly, Oxford, another renowned university city, has become the proud owner of its first Hilton hotel with the opening of the £12 million Hampton by Hilton Oxford. This 83-room hotel is owned by Firoka.
Starwood Hotels & Resorts Worldwide has announced this week that its current chief executive officer (CEO), Adam Aron, will be leaving at the end of the month, in order to take on the role of CEO and president of AMC Entertainment Holdings. "It has been a privilege to lead an extraordinary team of people around the world who, through their creativity and innovation, have changed the hospitality industry and the hotel experience in meaningful ways," commented Aron. "I am proud of what we have accomplished together with reinvigorated existing brands, the launch of new brands, accelerated growth and our game-changer merger with Marriott to soon become the biggest and best hotel company in the world," he added. The group's current executive vice president and chief financial officer, Thomas B Mangas, has now been promoted and will take the helm as CEO. Mangas joined the company in September 2014; he had previously worked as executive vice president and CEO at Armstrong Floor Products.
Footballer Cristiano Ronaldo has announced plans to form a partnership with Portuguese hotel chain Pestana Hotel Group to develop four boutique hotels in Portugal, Spain and the USA. Ronaldo is to invest more than €37 million in the venture and will hold a 50% stake in the properties. The first two hotels are expected to open next year in the Portuguese capital, Lisbon, and on the island of Madeira. The other two properties will open in 2017 in Madrid and New York. Each hotel will have 100 rooms and will be managed by Pestana under Ronaldo's CR7 brand.
Whitbread's newst hotel brand, hub by Premier Inn, has expanded its portfolio with a second hotel in London. The 112-room hub by Premier Inn Tower Bridge has opened just over a year after hub made its first appearance in the UK capital with the 163-room hub by Premier Inn Covent Garden. "We are really excited to be offering a digitally enhanced experience to our customers yet again and anticipate that this hotel will be just as successful as the first," said Simon Ewins, CEO with Premier Inn. The group will open a third hub in London and one in Edinburgh, Scotland, in spring next year. In total, there are 13 hub by Premier Inn hotels in the pipeline (ten in London and three in Scotland).
Hilton Wordlwide's Garden Inn brand has made its debut in Ankara in central Turkey with the opening of the Hilton Garden Inn Ankara Gimat. The 176-room hotel is owned by UFBA Tourism & Construction Co. Ltd and is being operated under a franchise agreement with Hilton Worldwide. The hotel is close to some of the Turkish capital's key tourist attactions, such as the Ankara Citadel, and is just a short drive away from Esenboğa International Airport.
Singapore-based Shangri-La Hotels and Resorts has made its deubt on Mauritius, 2,000 km off the southeast coast of Africa, with the opening of a luxury 34-acre waterfront resort on the island's east coast. The Shangri-La Le Touessrok Resort & Spa has 200 rooms and suites, a spa, two swimming pools and an 18-hole par 72 championship golf course amongst other facilities. Additionally, the resort offers guests access to Ilot Mangenie, a private island. The resort is the group's second property in the Indian Ocean.
Carlson Rezidor has brought its Radisson Blu brand to Gabon, on equitorial Africa's Atlantic coast, for the first time with the opening of the Radisson Blu Okoume Palace Hotel in Libreville, Gabon's capital and largest city. The 330-room hotel has an oceanfront location on Boulevard de Nice. "The new Radisson Blu opening takes our Africa portfolio to 26 hotels in operation, with an additional 28 hotels under development," commented Marc Descrozaille, Rezidor Hotel Group's area vice president for sub-Saharan Africa. Rezidor currrently operates one other hotel in Gabon, the 140-room Park Inn by Radisson Libreville.
Hilton Worldwide is taking its Hampton by Hilton brand to Saudi Arabia. The group has signed a management agreement for the Hampton by Hilton Riyadh Olaya. Hilton will operate the 154-room hotel, which is owned by FAS Hotels Group, and it is scheduled to open in Riyadh's commercial district at the beginning of 2018. Commenting on the new signing, Rudi Jagersbacher, Hilton Worldwide's president for the Middle East and Africa, said, "With 20 years of operations in Saudi Arabia, Hilton's presence across the kingdom continues to go from strength-to-strength. The agreement for our first Hampton by Hilton underscores the success of our multi-brand development strategy in KSA – where we already operate four brands, have recently opened our second Hilton Garden Inn hotel and look forward to unveiling the luxurious Conrad Makkah early next year."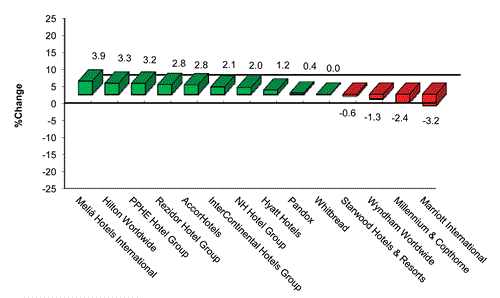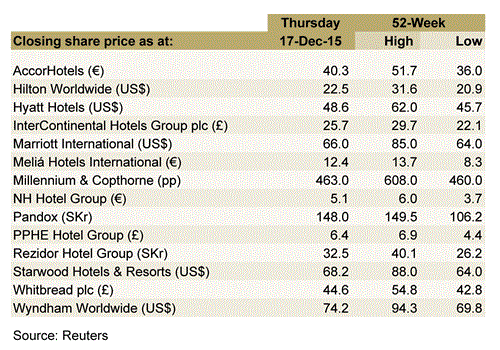 Meliá Hotels International – Is one of the international hotel companies eyeing both mainland demand and Chinese outbound travellers.

Rezidor Hotel Group – Announced the signing of a portfolio agreement with Mushtaq Group of Hotels to open seven properites (817 rooms) in the northern Indian state of Jammu and Kashmir.

InterContinental Hotels Group – Downgraded by Berenberg Bank to "hold" from "buy".
For the latest in the hospitality industry, please visit: http://www.hvs.com/. You are also welcome to contact the following personnel.
| | |
| --- | --- |
| Russell Kett, Chairman – HVS London (@russellkett) | [email protected] |
| Charles Human, CEO – HVS London/HVS Hodges Ward Elliott | [email protected] |
| Simon Tucker Brown, Managing Director – HVS Executive Search Europe & Middle East | [email protected] |
| Chris Martin, Senior Director – HVS Hodges Ward Elliott | [email protected] |
| Puneet Kanuga, Director – HVS Hodges Ward Elliott | [email protected] |
| Arlett Oehmichen, Director – HVS London | [email protected] |
| Sophie Perret, Director – HVS London | [email protected] |
| Tim Smith, Managing Partner – HVS Cape Town | [email protected] |
| Demetris Spanos, Managing Director – HVS Athens | [email protected] |
| Hala Matar Choufany, Managing Director – HVS Dubai | [email protected] |
| Ezio Poinelli, Director – HVS Milan | [email protected] |
| Louise Fury, Senior Editor and EMEA Hospitality Newsletter Author – HVS London | [email protected] |
Disclaimer: Information provided above has been gathered from various market sources. HVS has not independently verified the accuracy of the information provided. Interested parties should not rely on the information as statement of facts and are advised to make their own independent checks to verify the information provided. For further information, please feel free to contact HVS London.
Superior Results through Unrivaled Hospitality Intelligence. Everywhere.
Stay current. Click here to receive free HVS newsletters
Looking for insights into the hospitality industry?
Discover unique hospitality intelligence at hvs.com/publications
Interested in a particular market?
Find hundreds of market overviews, all written by HVS experts, at hvs.com/marketresearch
Like to be in the know on hotel trends and predictions?
See our Hotel Valuation Index for dozens of cities at hvi.hvs.com