AccorHotels has signed an agreement with the Qatar Investment Authority (QIA), Kingdom Holding Company (KHC) and Oxford Properties that will see the French group acquire FRHI Holdings Ltd, the parent company of the luxury Fairmont, Raffles and Swissôtel brands. Accor will issue 46.7 million new Accor shares to pay for the deal along with a cash payment of €768 million. QIA and KHC will become major shareholders, with stakes of 10.5% and 5.8%, respectively. The three brands comprise 115 hotels and resorts (more than 56,000 rooms) in operation and 40 properties under development (around 13,000 rooms) in major tourist destinations across 34 countries on five continents. This acquisition now enables AccorHotels to truly present a full range of hotel brands, from budget/economy to luxury in a more emphatic manner. Commenting on the purchase, Sébastien Bazin, the group's chairman and chief executive officer, said, "This major acquisition demonstrates the Group's agility in a fast-changing industry and will allow us to more effectively support our guests, clients and hotel owners. Through it, we are positioning ourselves as a key player in the current industry consolidation process while maintaining substantial leeway to implement our transformation plan."
Pandox AB, along with its minority shareholder Eiendomsspar AS (with a stake of 5.1%), is to acquire a portfolio of 18 hotels (3,415 rooms) spread across 12 German cities from holding company Leopard Group and Israel-based Fattal Hotels for €400 million (€117,000 per room). The portfolio comprises 16 Leonardo-branded hotels and two Holiday Inn properties and has an initial yield of approximately 6.3%. Fattal will remain as the long-term lessee of the portfolio and all of the hotels will be managed under the Leonardo brand; thus, when the agreements run out for the Holiday Inn hotels they will be converted to Leonardo properties. "The acquisition fulfils all Pandox's strategic criteria as regards size, city, location, market position and profitability, and strengthens our position on the important German market," commented Anders Nissen, Pandox's chief executive officer.
Louvre Hotels Group has acquired a portfolio of 25 hotels (1,816 rooms: 23 existing properties with two under construction due to open in 2016) across 11 German cities from independent German group Nordic Hotels AG for an undisclosed sum. Louvre plans to rebrand the Nordic portfolio to ten Golden Tulip hotels, ten Tulip Inns and five Première Classe properties, and the deal doubles the group's presence in the German market. "We are delighted to hand over our growing business to Louvre Hotels Group, who share the same spirit of entrepreneurship and ambition for the hospitality business in Germany," said Nordic Hotels' chief executive officer, Thomas Knudsen.
Independent hotel owner and operator, Perseus has bought the five-star L'Alpaga in the resort of Mégève in the French Alps for an undisclosed sum. The group purchased the mountain property, with 22 rooms, five suites and six chalets, for its Les Hôtels d'en Haut chain of destination hotels in the French Alps, which now comprises four hotels. Perseus currently owns eight hotels across France (480 rooms) but the group also has plans to expand into Europe, with the aim of tripling its portfolio over the next ten years.
Following its purchase of UK hotel group Malmaison Hotel du Vin earlier this year in June, Singapore-based Frasers Hospitality has announced the acquisition of four boutique hotels in the UK from Swire Properties Hotels Holdings for £36.1 million (£136,000 per room), via its newly created subsidiary, Malmaison and Hotel du Vin Property Holdings Ltd. The portoflio of hotels, across southern England, includes the 75-room Avon Gorge Hotel in Bristol, the 60-room Montpellier Chapter in Cheltenham, the 59-room Magdalen Chapter in Exeter and the 71-room Hotel Seattle in Brighton. The hotels will continue to be operated under their existing brands until next year, when they will be rebranded as either Malmaison or Hotel du Vin properties. The deal brings Frasers' Malmaison and Hotel du Vin portfolio in the UK up to 33 hotels (2,347 keys).
Developer Paddy Kearney has acquired the Grade 1-listed Ten Square hotel in Belfast, Northern Ireland, out of administration for £6.1 million (£277,000 per room). Mr Kearney now plans to invest at least £5 million in a refurbishment of the 22-room hotel, which will include a £3 million 71-room expansion in the adjacent Lancashire House.
Carlson Rezidor has opened its first Park Inn property in Iceland and its third hotel in the country overall. The 77-room Park Inn by Radisson Reykjavik Keflavik Airport is five kilometres from Keflavik International Airport and a 35-minute drive from Iceland's capital, Reykjavik. The hotel, which is owned by Bjami Pálsson, joins its sister properties the 88-room Radisson Blu 1919 Hotel and the 209-room Radisson Blu Saga Hotel, both in Reykjavik.
Hard Rock International has announced plans to develop the first Hard Rock-branded hotel in Germany. The Hard Rock Hotel Berlin Checkpoint Charlie is expected to open in 2020 on a site once occupied by the Berlin Wall. The 372-room hotel is to be created in collaboration with Trockland Development Group and will be part of a mixed-use project currently being developed by Trockland adjacent to the city's iconic Checkpoint Charlie.
Hilton has announced that it plans to add a further three hotels to its portoflio in the UK. The three existing properties are owned by Amaris Hospitality and will be rebranded next year following a £30 million investment in the hotels by Amaris – becoming the Hilton Garden Inn Dublin Custom House, which will mark the debut of the Garden Inn brand in Ireland; the DoubleTree by Hilton Glasgow Central, in Scotland's largest city; and the Hilton Edinburgh Carlton, which will overlook the Royal Mile in the Scottish captial. The hotels will increase Hilton's UK presence by more than 700 rooms. Amaris will continue to operate the hotels under a franchise agreement with Hilton.
The Hormuz Grand Hotel in Muscat, Oman, has become the latest hotel to join Carlson Rezidor's Quorvus Colleciton, which was launched in 2014. The 231-room hotel is four kilometres away from Muscat International Airport and 20 km from the city centre. The hotel is the third property to join the collection, alongside the G&V Royal Mile Hotel in Edinburgh, Scotland, and the Symphony Style Hotel in Kuwait. Mark Willis, area vice president for Rezidor Hotel Group in the Middle East and Turkey said that the addition of Hormuz Grand to the collection "is showcasing the best of our Middle Eastern heritage and future ambitions."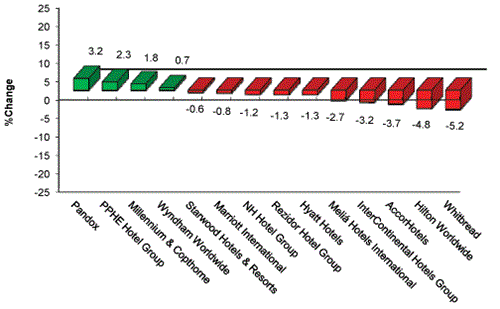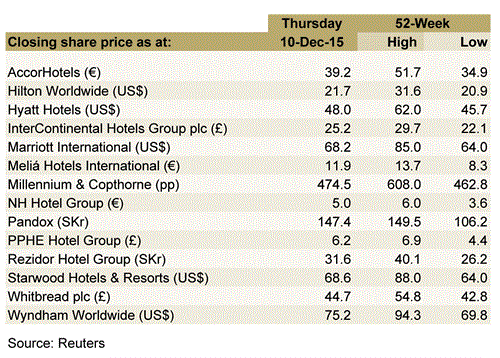 Millennium & Copthorne – Started at "hold" by Berenberg.

Starwood Hotels & Resorts – Announced partnership with leading Greek airline Aegean.

Whitbread – Premier Inn reported a 4.7pc increase in like-for-like third-quarter sales, which was just under consensus forecasts of 5.1pc growth.
For the latest in the hospitality industry, please visit: http://www.hvs.com/. You are also welcome to contact the following personnel.
| | |
| --- | --- |
| Russell Kett, Chairman – HVS London (@russellkett) | [email protected] |
| Charles Human, CEO – HVS London/HVS Hodges Ward Elliott | [email protected] |
| Simon Tucker Brown, Managing Director – HVS Executive Search Europe & Middle East | [email protected] |
| Chris Martin, Senior Director – HVS Hodges Ward Elliott | [email protected] |
| Puneet Kanuga, Director – HVS Hodges Ward Elliott | [email protected] |
| Arlett Oehmichen, Director – HVS London | [email protected] |
| Sophie Perret, Director – HVS London | [email protected] |
| Tim Smith, Managing Partner – HVS Cape Town | [email protected] |
| Demetris Spanos, Managing Director – HVS Athens | [email protected] |
| Hala Matar Choufany, Managing Director – HVS Dubai | [email protected] |
| Ezio Poinelli, Director – HVS Milan | [email protected] |
| Louise Fury, Senior Editor and EMEA Hospitality Newsletter Author – HVS London | [email protected] |
Disclaimer: Information provided above has been gathered from various market sources. HVS has not independently verified the accuracy of the information provided. Interested parties should not rely on the information as statement of facts and are advised to make their own independent checks to verify the information provided. For further information, please feel free to contact HVS London.
Superior Results through Unrivaled Hospitality Intelligence. Everywhere.
Stay current. Click here to receive free HVS newsletters
Looking for insights into the hospitality industry?
Discover unique hospitality intelligence at hvs.com/publications
Interested in a particular market?
Find hundreds of market overviews, all written by HVS experts, at hvs.com/marketresearch
Like to be in the know on hotel trends and predictions?
See our Hotel Valuation Index for dozens of cities at hvi.hvs.com