Marriott International has announced that it will acquire Starwood Hotels & Resorts Worldwide, creating a combined company with more than 5,500 hotels (1.1 million rooms) and 30 brands, the largest hotel firm in the world. Under the terms of the merger, Marriott will pay US$12.2 billion, comprising US$11.9 billion of Marriott International stock and US$340 million in cash. Arne Sorenson, president and chief executive officer of Marriott International, said, "The driving force behind this transaction is growth. This is an opportunity to create value by combining the distribution and strengths of Marriott and Starwood, enhancing our competitiveness in a quickly evolving marketplace." From the Starwood camp, Bruce Duncan, chairman of the Board of Directors, commented, "During our comprehensive review of strategic and financial alternatives, it was clear that our talented people, world-class brands, global leadership and spirit of innovation were much admired and key drivers of our value. Our board concluded that a combination with Marriott provides the greatest long-term value for our shareholders and the strongest and most certain path forward for our company."
US-based private equity firm KSL Capital Partners has purchased the Cameron House resort, on the banks of Loch Lomand in Scotland, for £70 million from a joint venture between Sankaty Advisors and Canyon Partners, the owner of QHotels. The joint venture acquired the resort just under a year ago as part of the six-property De Vere Hotels portfolio. The resort includes the five-star, 132-room Cameron House hotel, two golf courses, a spa and 184 timeshare lodges. Other hotel sales in the UK this week include the acquisition of the 37-room Ship Hotel in Chichester, in southeast England, by Harbour Hotels. The price wasn't disclosed but the Dorset-based group is said to have paid the Chichester Hotel Company more than the £6 million guide price for the Grade II-listed property. Harbour Hotels will rebrand its latest purchase at the beginning of next year, bringing the number of luxury coastal hotels in its portfolio to 13.
InterContinental Hotels Group (IHG) and the Arora Group have teamed up with Heathrow Airport Ltd to develop two hotels at Heathrow Airport's Terminal 4. The 300-room Crowne Plaza London – Heathrow T4 and the adjacent 450-room Holiday Inn Express London – Heathrow T4 will be directly connected to the airport terminal when they open in 2018. The hotels will both operate under a franchise agreement with IHG and will be managed by Arora Hotels.
HVS Milan has been retained by Milanosesto and Bizzi & Partners Development to find strategic partners and operators for three new hotels to be developed within the Milanosesto project, one of the biggest brownfield redevelopment projects in Europe (a former steel factory), comprising about 1 million m² of mixed-use surfaces to be developed by 2025. Milanosesto is expected to ultimately have a residential population of 15,000 and be the daily workplace of 15,000 people. The first phase is expected to be completed by 2020 and, amongst many other elements, will include 33,000 m² of hotel facilities. HVS has already completed a feasibility study and concept analysis for the hotel components, and is now running the operator and strategic partner selection.
Wyndham Worldwide has signed a franchise agreement with Barrasford and Bird Worldwide for a mixed-use resort in central France. The Wyndham Halcyon Retreat Golf and Spa resort, in the Limousin region, will have a 225-room hotel and extensive leisure facilities, including an 18-hole golf course, a spa, an equestrian centre and much more. Additionally, the resort will also contain luxury residences that will be affiliated with The Registry Collection, one of Wyndham's exchange and rental programmes. The resort, which will be set in 220 acres of landscaped grounds, is expected to open in early 2017.
The Association of Serviced Apartment Providers is holding its annual conference on Thursday 3 December at etc. venues St Paul's, in London. Russell Kett, chairman of HVS London, will be chairing one of the seminars entitled The Voice of the Buyer – that is, what does the serviced apartment guest really want and expect? For details of the event and to view the agenda, please visit www.theasap.site-ym.com.
InterContinental Hotels Group has signed a deal for a new Hotel Indigo hotel in the UK capital. The 207-room Hotel Indigo London – Aldgate will be the first of its brand in East London when it opens in 2017. The new-build hotel will be operated under a franchise agreement with Meadow Partners and Roquebrook.
Starwood Hotels & Resorts has opened its first Four Points property in Algeria, North Africa: the Four Points by Sheraton Oran, which is located in Algeria's second-largest city, on its northwest Mediterranean coast. The 170-room hotel, which is owned by Société d'Investissement Hôtelière, is Starwood's fourth hotel in Algeria overall and its third in the city of Oran. "With this opening, we are confident that Four Points will continue to reinvent travel across the globe with its emphasis on stylish comfort and genuine service," said Brian McGuinness, Global Brand Leader, Specialty Select Brands for Starwood.
Starwood Hotels & Resorts has made its first appearance in the emirate of Sharjah, UAE, with the recent opening of the Sheraton Sharjah Beach Resort & Spa. The 349-room hotel is on the emirate's Corniche, close to the border with Ajman, and brings Starwood's portfolio in the UAE to 25 hotels across five emirates. Another Middle Eastern debut this week is German-based Steigenberger Hotel Group's first hotel in the UAE. The 367-room Steigenberger Hotel Business Bay has opened on the waterfront in Dubai's Business Bay area. The five-star hotel is owned by Twenty14 Holdings. Additionally, Swiss International Hotels & Resorts has signed an agreement for its first two properties in Saudi Arabia. The 60-room Swiss International Park Hotel, in Balijurashi, and the 46-room Swiss Spirit Hotels & Suites, in Turaif, will be operated by HDG.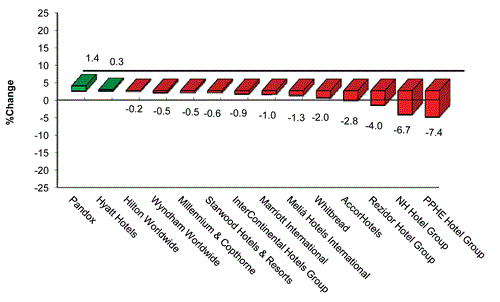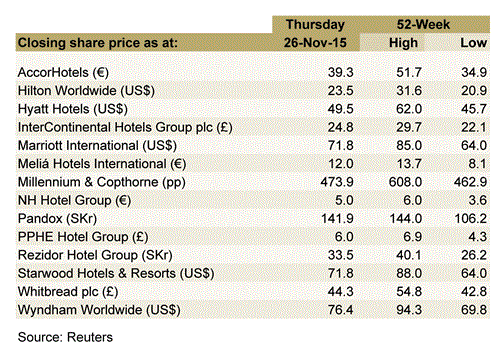 InterContinental Hotels Group – HSBC gave a "hold" rating and a share price target of 2,600p.

Pandox – Expects stable market conditions and single-figure growth, in a lower range, for key markets in 2016.

For the latest in the hospitality industry, please visit: http://www.hvs.com/. You are also welcome to contact the following personnel.
Russell Kett, Chairman – HVS London (@russellkett)

[email protected]

Charles Human, CEO – HVS London/HVS Hodges Ward Elliott

[email protected]

we.com
Simon Tucker Brown, Managing Director – HVS Executive Search Europe & Middle East

[email protected]

Chris Martin, Senior Director – HVS Hodges Ward Elliott

[email protected]

Puneet Kanuga, Director – HVS Hodges Ward Elliott

[email protected]

Arlett Oehmichen, Director – HVS London

[email protected]

Sophie Perret, Director – HVS London

[email protected]

Tim Smith, Managing Partner – HVS Cape Town

[email protected]

Demetris Spanos, Managing Director – HVS Athens

[email protected]

Hala Matar Choufany, Managing Director – HVS Dubai

[email protected]

Ezio Poinelli, Director – HVS Milan

[email protected]

Louise Fury, Senior Editor and EMEA Hospitality Newsletter Author – HVS London

[email protected]
Disclaimer: Information provided above has been gathered from various market sources. HVS has not independently verified the accuracy of the information provided. Interested parties should not rely on the information as statement of facts and are advised to make their own independent checks to verify the information provided. For further information, please feel free to contact HVS London.
Superior Results through Unrivaled Hospitality Intelligence. Everywhere.
Stay current. Click here to receive free HVS newsletters
Looking for insights into the hospitality industry?
Discover unique hospitality intelligence at hvs.com/publications
Interested in a particular market?
Find hundreds of market overviews, all written by HVS experts, at hvs.com/marketresearch
Like to be in the know on hotel trends and predictions?
See our Hotel Valuation Index for dozens of cities at hvi.hvs.com