AccorHotels has acquired a portfolio of 43 hotels across France from Foncière des Règions for €281 million. AccorHotels has operated the hotels in the portfolio under variable leases since 2005 and 2007 as ibis budget, ibis, Novotel, Mercure, Pullman and Sofitel properties. The transaction is expected to close during the first half of 2016; however, owing to a substitution clause for the buyer, Accor's HotelInvest division will integrate the properties into its asset management programme immediately. "This transaction represents an important new step in the process of optimizing HotelInvest, Europe's leading hotel investor in the economy and midscale segments," said Accor's chief executive officer, Sébastien Bazin.
art'otel, a PPHE Hotel Group-owned brand, has signed a management agreement with Battersea Power Station Development Company (BPSDC) for a luxury lifestyle hotel to be created as part of the £8 billion Battersea Power Station mixed-use development in southwest London. The 160-room hotel will be constructed around the grade II*-listed former power station building and is scheduled to open in 2019. The hotel is expected to be the first art'otel property in London. Commenting on the news, Rob Tincknell, chief executive officer of BPSDC, said, "The selection process to find the right brand and operator was a very competitive and thorough one, involving the leading hotel brands from around the world. art'otel was a standout winner, a brand unlike anything we have seen in London to date, and it is particularly fitting for it to have art at the very heart of the brand and the hotel itself. I am confident that together with art'otel we will deliver a beyond expectations hotel."
Carlson Rezidor has announced the development of a new Radisson Blu hotel in Istanbul, Turkey. The 133-room Radisson Blu Hotel, Istanbul Ataköy is due to open in early 2016 on the waterfront in Istanbul's Ataköy residential neighbourhood and will become the ninth Radisson Blu in the city. "Istanbul is one of today's most important markets – strategically located between Europe and Asia, and marked by a rich culture and economic power," said Wolfgang M Neumann, Rezidor's president and chief executive officer. "With this signing we add a further Radisson Blu to our high-quality portfolio in town and consolidate our leading position in Istanbul", he added.
Irish firm iNua Hospitality has purchased the four-star Kilkenny Hibernia Hotel in southeast Ireland for £7.25 million. The 46-room boutique hotel, in Kilkenny city centre, increases iNua's portfolio of hotels across Ireland to four (the other three properties are in Cork, Kerry and Limerick).
Starwood Hotels & Resorts' W brand has made its debut in the Netherlands with the opening of the W Amsterdam. The hotel, which is housed across two historic buildings, is owned by Europe Hotels | Private Collection. A total of 172 rooms are already in operation in the former Telephone Exchange building and the remaining six rooms are due to open at the beginning of next year in the adjacent building, which was previously occupied by KAS Bank.
It was reported this week that Marriott International is planning to bring its boutique Moxy brand to the historic city of York in northeast England. Vastin Hospitality has recently acquired a site in the city's Hungate area, which will house the purpose-built, 120-room Moxy hotel. Since its launch in 2013, Moxy currently has one hotel in operation in Milan, with further projects in the pipeline for the UK and the USA due to open within the next two years.
Taiwan-based L'hotel de Chine has opened its first hotel in Rome, Italy. The group made its Roman debut with the newly built 276-room A.Roma Lifestyle Hotel, 20 minutes from the city centre. L'otel de chine now has five hotels across Italy.
Munich-based Motel One is to extend its UK portfolio with three new hotels. An existing 50-room property in Newcastle will be converted and extended to become the 222-room Motel One Newcastle, which is scheduled to open next year; the 301-room Motel One Manchester-Cross Street is expected to open in autumn 2017; and in 2018, the 374-room Motel One Glasgow will be the biggest hotel in Scotland, in terms of room inventory, when it opens adjacent to Glasgow Central Station. The budget group currently has four hotels in operation in the UK (two in Edinburgh, one in Manchester and one in London).
Marriott International's Residence Inn brand is to make its first appearance in the UAE. The 135-room Residence Inn Marriott Al Jaddaf, owned by Bahrain-based International Trading and Investment Company WLL, is scheduled to open in 2019 in Dubai. Marriott currently operates 14 hotels in the UAE overall, across six brands. Also this week, following an extensive makeover and renovation, the former Nile Hilton in Cairo, Egypt, has reopened under Marriott International's Ritz-Carlton banner. The 331-room, five-star Nile Ritz-Carlton, on the banks of the River Nile, marks the chain's debut in Egypt.
Best Western has opened two new hotels in Nigeria, bringing the number of Best Western-branded properties in West Africa to 11. The 50-room Best Western Meloch Hotel is in the city of Awka in southeastern Nigeria and the 81-room Best Western Plus Elomaz Hotel is in Asaba in the south of the country. Best Western now has eight hotels in operation across Nigeria.
The Hormuz Grand Hotel in Muscat, Oman is set to become the newest member of Carlson Rezidor's luxury Quorvus Collection. The 231-room hotel, four kilometres away from Muscat International Airport, is due to become the Hormuz Grand, Quorvus Collection in late 2015, and it will be the second hotel in the Middle East to join the collection, which was launched last year.
AccorHotels has signed a management agreement with Al Jassim Group for its first Majilis Grand Mercure hotel in Qatar. The 283-room Majilis Grand Mercure Doha is scheduled to open in mid-2018 in Doha. The project, which will become AccorHotel's seventh hotel in Qatar overall, will also include 60 serviced apartments. The new signing means that the group now has four Majilis Grand Mercure hotels in the Middle East – two hotels are already in operation in Saudi Arabia and Abu Dhabi and a further property is under development in the emirate of Sharjah, with completion due in 2018.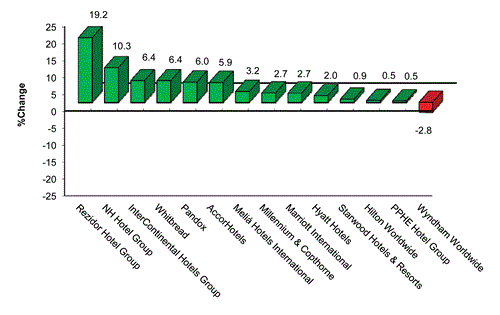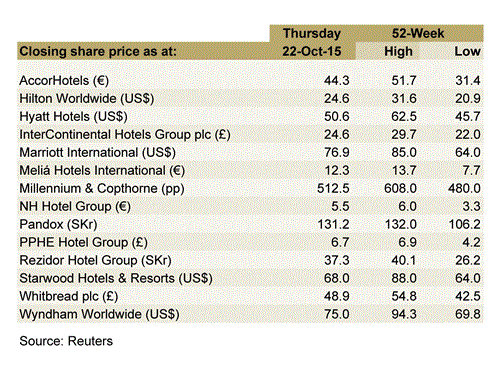 InterContinental Hotels Group – Jeffries International reiterated "hold" rating and cut target price to 2,150p from 2,400p.

Rezidor Hotel Group – In the third quarter of 2015, the group reached its 100,000 rooms milestone.

Whitbread – Achieved an increase in total revenue of 11.3% over the first half of 2015.
For the latest in the hospitality industry, please visit: http://www.hvs.com/. You are also welcome to contact the following personnel.
| | |
| --- | --- |
| Russell Kett, Chairman – HVS London (@russellkett) | [email protected] |
| Charles Human, CEO – HVS London/HVS Hodges Ward Elliott | [email protected] |
| Simon Tucker Brown, Managing Director – HVS Executive Search Europe & Middle East | [email protected] |
| Chris Martin, Senior Director – HVS Hodges Ward Elliott | [email protected] |
| Puneet Kanuga, Director – HVS Hodges Ward Elliott | [email protected] |
| Arlett Oehmichen, Director – HVS London | [email protected] |
| Sophie Perret, Director – HVS London | [email protected] |
| Tim Smith, Managing Partner – HVS Cape Town | [email protected] |
| Demetris Spanos, Managing Director – HVS Athens | [email protected] |
| Hala Matar Choufany, Managing Director – HVS Dubai | [email protected] |
| Ezio Poinelli, Director – HVS Milan | [email protected] |
| Louise Fury, Senior Editor and EMEA Hospitality Newsletter Author – HVS London | [email protected] |
Disclaimer: Information provided above has been gathered from various market sources. HVS has not independently verified the accuracy of the information provided. Interested parties should not rely on the information as statement of facts and are advised to make their own independent checks to verify the information provided. For further information, please feel free to contact HVS London.
Superior Results through Unrivaled Hospitality Intelligence. Everywhere.
Stay current. Click here to receive free HVS newsletters
Looking for insights into the hospitality industry?
Discover unique hospitality intelligence at hvs.com/publications
Interested in a particular market?
Find hundreds of market overviews, all written by HVS experts, at hvs.com/marketresearch
Like to be in the know on hotel trends and predictions?
See our Hotel Valuation Index for dozens of cities at hvi.hvs.com