Internos Global Investors has acquired the NH Santo Stefano in Turin, Italy, for its "Real Value Plus" fund. HVS Hodges Ward Elliott handled the sale on behalf of the seller, local developer Immobiliare Galileo Srl, for €23.5 million (€188,000 per room). The hotel will continue to be operated by NH Hotel Group, under a new long-term lease agreement with fixed and variable rent components. The 4-star NH Santo Stefano opened in 2006 to coincide with the Winter Olympics in Turin, and has 125 rooms, a restaurant, bar and nine conference rooms. The property is situated in a prime city centre location opposite Turin's Archaeological Museum, Cathedral (housing the famous Shroud of Turin) and Royal Palace.
HVS Hodges Ward Elliott has been exclusively appointed by the administrators to offer for sale the 213-bedroom Whittlebury Hall, a destination conference and spa hotel located adjacent to Silverstone, home of the British Formula 1 Grand Prix. This highly impressive property is connected to the circuit via a dedicated access road, and features 3,200 m² of MICE space and a 2,000 m² spa with 22 treatment rooms and a leisure club. For further information, please contact Puneet Kanuga at [email protected].
Patron Capital and its 50:50 joint venture partner, the Royal Bank of Scotland, have sold the Jupiter Hotels portfolio to a joint venture between Thailand-based Singha Estate and FICO Holding (UK) for £160 million (£55,500 per room). Jupiter Hotels owns and manages 26 Hotels (2,883 rooms) in the UK and manages a further six properties. Commenting on the deal, Camil Yazbeck, Investment Director of Hospitality and Leisure at Patron Capital, said, "We bought this portfolio of 26 hotels with RBS in 2011 and have worked closely with a new management team to rebrand, refurbish and invest in the hotels and staff. The resulting improvements in trading and customer satisfaction have enabled us to achieve a successful exit and an excellent return for the investors. We would like to thank all the team at Jupiter Hotels for their hard work and wish them every success under the new owners."
Thailand-based Minor Hotel Group (MHG) has acquired the freehold interest in the 279-room Tivoli Oriente in Lisbon, Portugal, for €38.5 million (€138,000 per room). The hotel, which overlooks the River Tagus, will continue to be operated by Tivoli Hotels & Resorts under a long-term lease. Commenting on the sale, Dillip Rajakarier, group chief operating officer of Minor International and chief executive officer of MHG, said, "Following MHG's acquisition of six Tivoli hotels earlier this year, including four assets in Portugal [two in Brazil), this latest investment to acquire Tivoli Oriente in Lisbon continues the group's strategic plans to build a strong business in Europe, with Portugal the continued country of focus." MHG now owns seven of the 14 hotels in the Tivoli-branded portfolio.
Dalata Hotel Group is to purchase the Clarion Hotel Cork, on Ireland's southwest coast, for €35.1 million (€183,700 per room). The 191-room, four-star hotel is on Lapp's Quay in the city centre. Choice Hotel Group will continue to operate the property. The deal is expected to close by the end of the month.
The Ritz-Carlton Hotel Company has signed an agreement that will see the boutique Hotel de la Paix in Geneva, Switzerland, become a partner hotel on 16 December 2015, making it the first Ritz-Carlton property in the country. The 84-room hotel, on the shores of Lake Geneva, is to undergo an extensive renovation that will include a reduction in the room count to 75. The hotel will be relaunched at the end of 2016 as the Ritz-Carlton, Hotel de la Paix Geneva.
Hilton Worldwide's DoubleTree brand has made its debut in the city of Liverpool, in northwest England. The 87-room DoubleTree by Hilton Hotel & Spa Liverpool opened in a restored Grade II-listed building in the city centre. Hilton also announced a new DoubleTree for Greater London this week. The 142-room DoubleTree by Hilton London – Kingston upon Thames is to be developed in a purpose-built building in the town of Kingston, 12 miles southwest of central London. After a multimillion pound investment in the building's fit-out, the hotel is expected to open during the first half of 2016. EQ Hotels Ltd will asset manage the property under a franchise agreement with Hilton, and the hotel is to be operated by the UK division of Interstate Europe Hotels & Resorts.
The second annual Hostel and Budget Traveller conference is due to take place on 16 and 17 November 2015 at The Montcalm Marble Arch, in London. HVS is a platinum sponsor for the event and HVS London's chairman, Russell Kett, will be chairing the Meet the Leaders panel session. Additionally, Harry Douglass, a senior associate at the London office, will present the latest research and statistics from the hostel and budget travel sector. The topics that will be covered at the conference range from investment and design, to the role of the general manager and understanding the young traveller. There will also be a tour of local hostels and hybrid hotels, a cocktail reception, a speed business card swap and numerous networking opportunities. For more information and to book a ticket visit www.hostelandbudgettraveller.com.
Hilton Worldwide has got together with Shiva Hotels to introduce its Curio – A Collection by Hilton brand to the UK. The 129-room Lincoln Plaza London in the UK capital is due to join the Curio chain when it opens at the end of 2016. Hilton has also signed a management agreement with Royal International for the first Curio hotel in the United Arab Emirates. The two-tower Rosemont Hotel and Residences will become part of the collection when it opens in 2018 on Sheikh Zayed Road in Dubai. The development will include a 450-room hotel and a 280-unit serviced apartment property. The Curio brand was first launched in 2014 and the first Curio in the Middle East will be the 207-room Curio – A Collection by Hilton Mall of Qatar when it opens in 2016 in Qatar.
Wyndham Worldwide has opened two new Ramada-branded properties this week in Turkey and Tanzania. The new-build, 330-room Ramada Plaza Trabzon faces the Black Sea on a private beach in the city of Trabzon, northeastern Turkey. Also a new-build property, the 116-room Ramada Encore Dar es Salaam is on Ghana Avenue in Dar es Salaam, Tanzania's largest city.
Starwood Hotels & Resorts Worldwide has announced plans to bring its W brand to Egypt. The W Sharm El Sheikh and the Residences at W Sharm El Sheikh are scheduled open in 2020 at Nabq Bay in the Red Sea resort of Sharm El Sheikh. The 350-room hotel and the 50 branded residences are owned by Tower Prestige for Hotels SAE.
Indian chain The Oberoi Group has signed a management agreement with the Qatar General Insurance Company for two hotels in Doha, Qatar. Construction is scheduled to start in early 2016 on a 250-room hotel in the city's West Bay area and a 148-unit serviced apartment development as part of the Lusail mixed-use project. Both properties are expected to be completed in mid-2018. Oberoi currently has one hotel in operation in the Middle East in Dubai, and its second property in the region is due to open next year in Ajman.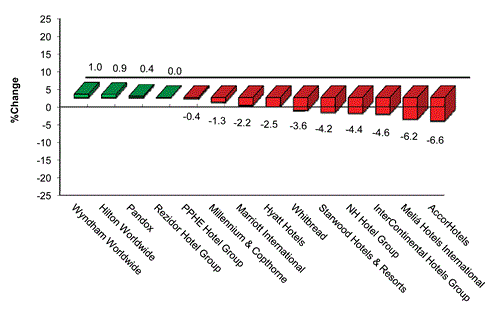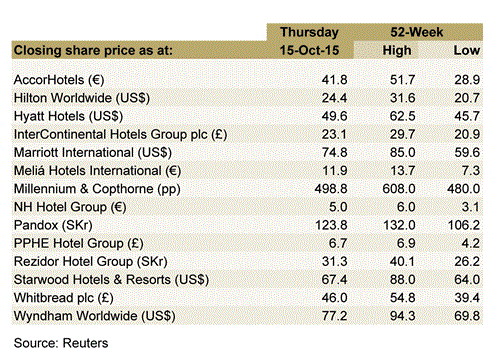 Accor – Reported a like-for-like change in third-quarter revenue.

Rezidor Hotel Group – Will release its third-quarter financial report on Thursday 22 October.

Hilton Worldwide – announced the appointment of Kaushik Vardharajan as Vice President-Development for India.
For the latest in the hospitality industry, please visit: http://www.hvs.com/. You are also welcome to contact the following personnel.
Russell Kett, Chairman – HVS London (@russellkett)

[email protected]

Charles Human, CEO – HVS London/HVS Hodges Ward Elliott

[email protected]

Simon Tucker Brown, Managing Director – HVS Executive Search Europe & Middle East

[email protected]

Chris Martin, Senior Director – HVS Hodges Ward Elliott

[email protected]

Puneet Kanuga, Director – HVS Hodges Ward Elliott

[email protected]

shwe.com
Arlett Oehmichen, Director – HVS London

[email protected]

Sophie Perret, Director – HVS London

[email protected]

Tim Smith, Managing Partner – HVS Cape Town

[email protected]

Demetris Spanos, Managing Director – HVS Athens

[email protected]

Hala Matar Choufany, Managing Director – HVS Dubai

[email protected]

Ezio Poinelli, Director – HVS Milan

[email protected]

Louise Fury, Senior Editor and EMEA Hospitality Newsletter Author – HVS London

[email protected]
Disclaimer: Information provided above has been gathered from various market sources. HVS has not independently verified the accuracy of the information provided. Interested parties should not rely on the information as statement of facts and are advised to make their own independent checks to verify the information provided. For further information, please feel free to contact HVS London.
Superior Results through Unrivaled Hospitality Intelligence. Everywhere.
Stay current. Click here to receive free HVS newsletters
Looking for insights into the hospitality industry?
Discover unique hospitality intelligence at hvs.com/publications
Interested in a particular market?
Find hundreds of market overviews, all written by HVS experts, at hvs.com/marketresearch
Like to be in the know on hotel trends and predictions?
See our Hotel Valuation Index for dozens of cities at hvi.hvs.com