Crimson Hotels has purchased the Regency Hotel in London's Kensington area from Corncrest for more than £100 million (around £971,000 per room) and subsequently signed a franchise agreement for the 103-room property with Hilton Worldwide for its DoubleTree brand. London-based, independently owned hotel group, Crimson is to invest £10 million converting the hotel to DoubleTree specifications and it is scheduled to reopen in early 2016 as the DoubleTree by Hilton London – Kensington.
Cologne-based Art-Invest Real Estate has bought the Novotel Erlangen, in the southeast German city of Erlangen, for its Hotel-Manage to Core fund from an E&P Real Estate closed-ended fund. the purchase price was undisclosed but is rumoured to be in the region of €20 million (€118,000 per room). The 170-room hotel, which opened in 2001, is operated by Accor under a long-term lease. The sale brings Art-Invest's hotel acquisitions for 2015 so far up to €280 million.
The 161-room Hampton by Hilton Krakow, which opened earlier this year in May, got a brand new neighbour this week with the opening of the DoubleTree Hilton Krakow Hotel & Convention Center, and the pair became Hilton Worldwide's first dual-branded property in Poland. The 232-room DoubleTree is the first of its brand in Krakow, in the south of the country, and the third DoubleTree in Poland overall. The two hotels are managed by Euro-Hotele Sp. under a franchise agreement with Hilton.
InterContinental Hotels Group (IHG) has announced the development of four new Holiday Inn Express hotels across Germany. The 163-room Holiday Inn Express Wuppertal – Hauptbahnhof is the product of a franchise agreement with GS Star and is scheduled to open in 2017. The 158-room Holiday Inn Express Trier, due to open in 2018, is the eighth franchise property that IHG has signed with multiple development agreement partner, Tristar. The 127-room Holiday Inn Express Hannover City – Hauptbahnhof and the 162-room Holiday Inn Express Frankfurt City – Westend are both part of an existing multiple development agreement with Foremost Hospitality and will open in 2017.
Starwood Hotels & Resorts' Sheraton brand has opened its second hotel in Croatia in the historic city of Dubrovnik, which faces the Adriatic sea in the south of the country. The Sheraton Dubrovnik Riviera Hotel is close to Dubrovnik's UNESCO World Heritage listed Old Town. The new-build, 251-room hotel, which is owned by Hoteli Dubrovacka Rivijera, is the first of its brand on Croatia's Dalmation Coast.
Hilton Hotels & Resorts has opened its latest London property this week: the 292-room Hilton London Bankside, which is situated in the city's Bankside district close the Tate Modern gallery, on the southern bank of the River Thames. "Known for its rich history and dynamic culture, Bankside is a key market area for the region and this opening elevates Hilton's presence in this important destination," commented Rob Palleschi, Hilton Worldwide's global head of full service brands.
Hybrid hotel/hostel brand MEININGER Hotels is moving into Budapest in Hungary. Construction is due to start before the end of the year on a seven-storey, 184-room (751 beds) hotel. The property in expected to open in spring 2018 adjacent to the Hungarian capital's Great Market Hall. MEININGER currently operates 16 hotels (7,025 beds) across ten European cities.
Mandarin Oriental has made its debut in Morocco, northwest Africa, with the opening of the Mandarin Oriental Marrakech in the country's fourth-largest city, Marrakech. The luxury resort, with its 54 villas and nine suites, is set in 20 acres of landscaped gardens close to the city's medieval walled medina. The hotel is the tenth Mandarin Oriental to open in the EMEA region.
AccorHotels has signed a management agreement with Manzil Group for its first property in the emirate of Ras Al Khaimah, UAE. The five-star Marjan Island Resort & Spa, which has been in operation for a year, now goes by the moniker of Marjan Island Resort & Spa – Managed by AccorHotels. The 229-room resort is on the man-made Al Marjan Island development, the first of its kind in Ras Al Khaimah.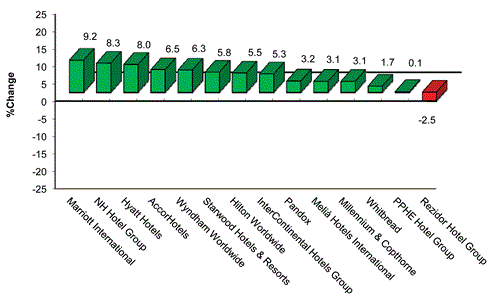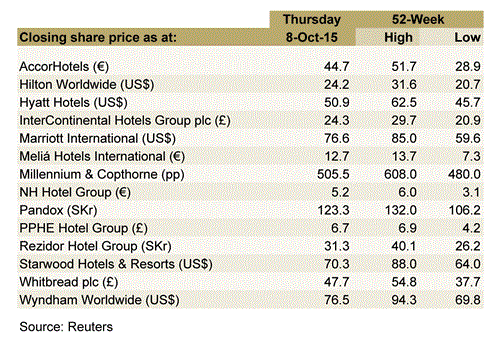 InterContinental Hotels Group – Oddo lifted to "buy" from neutral and increased price target to £2,930 from £2,800.

NH Hotel Group – Opened its first hotel in Ecuador.

For the latest in the hospitality industry, please visit: http://www.hvs.com/. You are also welcome to contact the following personnel.
| | |
| --- | --- |
| Russell Kett, Chairman – HVS London (@russellkett) | [email protected] |
| Charles Human, CEO – HVS London/HVS Hodges Ward Elliott | [email protected] |
| Simon Tucker Brown, Managing Director – HVS Executive Search Europe & Middle East | [email protected] |
| Chris Martin, Senior Director – HVS Hodges Ward Elliott | [email protected] |
| Puneet Kanuga, Director – HVS Hodges Ward Elliott | [email protected] |
| Arlett Oehmichen, Director – HVS London | [email protected] |
| Sophie Perret, Director – HVS London | [email protected] |
| Tim Smith, Managing Partner – HVS Cape Town | [email protected] |
| Demetris Spanos, Managing Director – HVS Athens | [email protected] |
| Hala Matar Choufany, Managing Director – HVS Dubai | [email protected] |
| Ezio Poinelli, Director – HVS Milan | [email protected] |
| Louise Fury, Senior Editor and EMEA Hospitality Newsletter Author – HVS London | [email protected] |
Disclaimer: Information provided above has been gathered from various market sources. HVS has not independently verified the accuracy of the information provided. Interested parties should not rely on the information as statement of facts and are advised to make their own independent checks to verify the information provided. For further information, please feel free to contact HVS London.
Superior Results through Unrivaled Hospitality Intelligence. Everywhere.
Stay current. Click here to receive free HVS newsletters
Looking for insights into the hospitality industry?
Discover unique hospitality intelligence at hvs.com/publications
Interested in a particular market?
Find hundreds of market overviews, all written by HVS experts, at hvs.com/marketresearch
Like to be in the know on hotel trends and predictions?
See our Hotel Valuation Index for dozens of cities at hvi.hvs.com