Swedish group Pandox has entered into an agreement to sell the shares in the entity that owns the Scandic Antwerp in Belgium to Netherlands-based chain Van Der Valk. Pandox will receive net proceeds of €13.6 million (€66,700 per room) after deduction for deferred tax, based on an underlying property value of €16 million which is in line with the company's most recent valuation. "When our partner Scandic decided not to extend the lease agreement for the hotel property, it was a natural step for Pandox to explore various options, including a divestment," commented Anders Nissen, chief executive officer at Pandox. The 204-room hotel is situated in a secondary location two and a half kilometres from Antwerp city centre.
Gothenburg-based Fastighets AB Balder has purchased a hotel project in Denmark. The group has acquired the former Royal Conservatory of Music building in Copenhagen for SKr100 million (approximately US$12 million) and plans to convert the 5,500 m² property into a hotel and restaurant. Scheduled to open during the first six months of 2017, the hotel will be operated by Nobis Hotel.
It was reported this week that fund manager Deka has acquired the Sofitel Munich Bayerpost in Munich, southeast Germany. The sales price was undisclosed but is rumoured to be around €180 million. The 396-room listed hotel is close the city's main train station.
Hotelier Martin Shaw has purchased the Castlemartyr Resort in Cork, on Ireland's southwest coast, from the National Asset Management Agency for an estimated €14 million. The resort, set across 220 acres of parkland, includes a 103-bed five-star hotel, the ruins of a 13th-century castle, a Ron Kirby-designed golf course and 28 lodges.
InterContinental Hotels Group (IHG) has opened its first InterContinental-branded hotel along Portugal's Estoril Coast. Owned by Margem Encantada Invest Touristicos, the InterContinental Estoril overlooks the Atlantic Ocean 27 km west of the capital, Lisbon. The 59-room hotel is being operated under a management agreement with IHG and is the third of its brand overall in Portugal. Also this week, IHG has announced the signing of a franchise agreement with Primestar Hotel Group for a dual branded development in Munich, southeast Germany. The 189-room Holiday Inn Express Munich City – East and the 118-room Holiday Inn Munich City – East will both be constructed in the same building and are scheduled to open in early 2018.
Starwood Hotels & Resorts has signed an agreement with Belgrade Waterfront LLC for its first W hotel in Serbia. The W Belgrade and The Residences at W Belgrade are expected to open in 2019 as part of the Belgrade Waterfront mixed-used development in the Serbian capital. The 120-room hotel and the 165-unit residences (which will be spread over two towers) will overlook the River Sava on a two-kilometre-long public waterfront. "The signing of this landmark W project in Belgrade underscores our commitment to growing this illustrious brand in both emerging and established markets," said Bart Carnahan, senior vice president of acquisitions & development at Starwood for the EMEA region.
Fraser Hospitality has launched its Capri by Fraser residence brand in Europe, following the success of the brand in Asia. The 97-unit Capri by Fraser, Barcelona in Spain and the 153-unit Capri by Fraser, Frankfurt in Germany have recently opened; additionally, the duo will be joined by a second German property, the Capri by Fraser, Berlin, in 2017. "We see great growth potential for the Capri by Fraser brand in Europe, which is a highly mobile business environment, and believe it will continue to be a key contributor to our global expansion goal of 30,000 residence units by 2019," said Fraser's chief executive officer, Choe Peng Sum.
Sir David Michels, a former chief executive of Hilton, has acquired the 152-room, Grade II-listed Cheltenham Park Hotel in the spa town of Cheltenham, in England's Cotswolds region, for an undisclosed sum, although it was reported that the property was placed on the market in December last year with a guide price of £8 million. The purchase is part of a £200 million fund launched by Sir David 18 months ago, which is focused on hotel investments across the UK and mainland Europe.
Carlson Rezidor has added a second project to its pipeline in Algeria, North Africa. The 168-room Radisson Blu Hotel, Tipaza is scheduled to open near the end of 2017 in the town of Tipaza, on Algeria's northeastern coast. The new-build property will join the Radisson Blu Hotel, Algiers Hydra, which is due to open mid-2016, and will become the first internationally-branded hotel in Tipaza.
Marriott International's Executive Apartments brand has made its debut in Africa with the opening of the Marriott Executive Apartments Addis Ababa in Ethiopia, Northeast Africa. The 108-unit property, adjacent to the UN-ECA headquarters and conference centre in Addis Ababa, is the result of a partnership between Marriott and Sunshine Business. Additionally, Marriott and Sunshine have announced that they plan to develop another Marriott-branded hotel in the Ethiopian capital, under its flagship Marriott Hotels chain. The Marriott Addis Ababa is expected to open in 2019.
Hilton Worldwide has signed a management agreement with Sunshine Business for the Hilton Awassa Resort & Spa in Ethiopia. Construction of the 169-room 30,000 m² hotel, on the shores of Lake Awassa in southern Ethiopia, is due to start later this year and is scheduled to be completed in 2020, joining the 372-room Hilton Addis Ababa.
A new kid on the hotel block, Sapphire Hospitality has officially launched its first ever property in Doha, Qatar. The 174-room Sapphire Plaza Hotel is in the city's Bin Mahmoud area. Sapphire, which is a subsidiary of Qatar-based conglomerate Dania Group, plans to develop a chain of hotels across Doha.
Hilton Worldwide has opened a new property in Saudi Arabia, bringing its portfolio in the country up to ten hotels. The 104-room Hilton Garden Inn Tabuk marks the group's first appearance in the northwestern city of Tabuk. The hotel is owned by ADFX Contracting, Maintenance and Operations.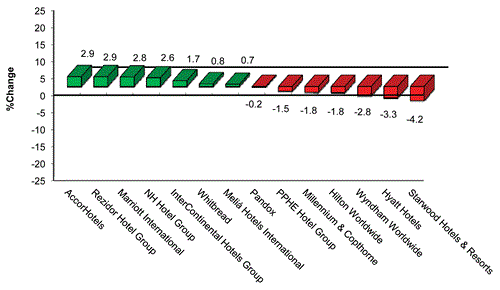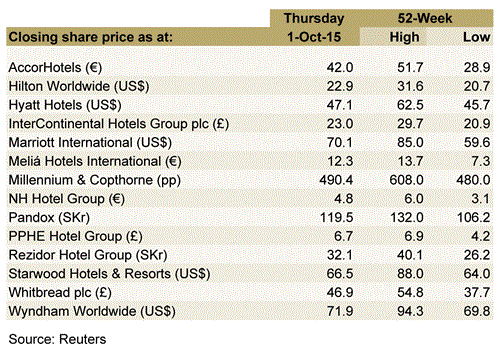 Marriott International – Announced its debut in Taiwan with the opening of the Taipei Marriott Hotel.

Whitbread – After purchasing a plot on the moon in 2008, Whitbread's Premier Inn hotel chain has acquired a 43,500 ft² plot of land on Mars (yes, apparently you can actually do this!) for an undisclosed sum following the news that flowing water was discovered on the red planet.

Hilton Worldwide – Along with Grupo Rahal, Hilton will invest US$50 million in a hotel in Ciudad del Este, Paraguay, through Fenix Emprendimientos Inmobiliarios.
For the latest in the hospitality industry, please visit: http://www.hvs.com/. You are also welcome to contact the following personnel.
| | |
| --- | --- |
| Russell Kett, Chairman – HVS London (@russellkett) | [email protected] |
| Charles Human, CEO – HVS London/HVS Hodges Ward Elliott | [email protected] |
| Simon Tucker Brown, Managing Director – HVS Executive Search Europe & Middle East | [email protected] |
| Chris Martin, Senior Director – HVS Hodges Ward Elliott | [email protected] |
| Puneet Kanuga, Director – HVS Hodges Ward Elliott | [email protected] |
| Arlett Oehmichen, Director – HVS London | [email protected] |
| Sophie Perret, Director – HVS London | [email protected] |
| Tim Smith, Managing Partner – HVS Cape Town | [email protected] |
| Demetris Spanos, Managing Director – HVS Athens | [email protected] |
| Hala Matar Choufany, Managing Director – HVS Dubai | [email protected] |
| Ezio Poinelli, Director – HVS Milan | [email protected] |
| Louise Fury, Senior Editor and EMEA Hospitality Newsletter Author – HVS London | [email protected] |
Disclaimer: Information provided above has been gathered from various market sources. HVS has not independently verified the accuracy of the information provided. Interested parties should not rely on the information as statement of facts and are advised to make their own independent checks to verify the information provided. For further information, please feel free to contact HVS London.
Superior Results through Unrivaled Hospitality Intelligence. Everywhere.
Stay current. Click here to receive free HVS newsletters
Looking for insights into the hospitality industry?
Discover unique hospitality intelligence at hvs.com/publications
Interested in a particular market?
Find hundreds of market overviews, all written by HVS experts, at hvs.com/marketresearch
Like to be in the know on hotel trends and predictions?
See our Hotel Valuation Index for dozens of cities at hvi.hvs.com