Katara Hospitality has agreed to purchase the Westin Excelsior Rome in Italy from Starwood Hotels & Resorts for €222 million (€702,500 per room). Starwood will continue to operate the 316-room hotel, on Via Veneto, under a new long-term management agreement. The historic property, which opened in 1906, will undergo an extensive renovation over the next five years. Katara now owns three hotels across Italy.
InterContinental Hotels Group (IHG) has announced its third Hotel Indigo property for Germany's capital, Berlin. The Hotel Indigo Berlin City – East Side is scheduled to open in autumn 2017 as part of the Mercedes Platz mixed-use complex, which is due to be fully completed in 2018. The 119-room hotel is owned by Anschutz Entertainment Group and is the eighth hotel to come to fruition from a multiple development agreement between IHG and Tristar Hotel Group, who will operate the property under a franchise agreement.
Carlson Rezidor has announced the opening of the 205-room Radisson Blu Metropol Hotel in Helsingborg, Sweden. The upper-upscale hotel will be operated by Winn Hotel Group. Tom Flanagan, area vice president, Nordics at Rezidor, said, "The Nordic region is an important market for Radisson Blu and Rezidor as our hotel group started its incredible journey of innovation and growth here. With this opening, we continue to strengthen our leading position in the region, offering iconic hotels and world class hospitality to our guests. We are also delighted to [be] further expanding our long-term partnership with Winn Hotel Group, operator of the hotel. This is our fourth joint project in four years." There are currently more than 280 Radisson Blu hotels operating in 62 countries.
Meliá Hotels International has announced its fifth hotel for the central German city of Frankfurt. The Meliá Frankfurt is expected to open at the beginning of 2019. The new-build property will be constructed on the site of the former campus of Goethe University, adjacent to the Natural History Museum in Frankfurt's Bockenheim district. The 291-room hotel is owned and will be developed by Commerz Real AG, and once open it will increase Meliá's room stock in the city to almost 900. Additionally, the hotel's 140-metre-high building will also house apartments over floors 16 to 40. In keeping with the number five theme, Meliá opened its fifth hotel in Italy this week. The 40-room Meliá Campione can be found on the shores of Cerasio Lake in northern Italy, close to the Swiss border and just ten minutes from Lugano city centre in southern Switzerland.
London-based Nadler Hotels has announced that its fourth hotel is scheduled to open in November in the UK's capital. The 73-room Nadler Victoria is close to Buckingham Palace and will become the group's third hotel in London. Nadler also operates a property in the port of Liverpool, in the northwest of England.
Steigenberger Hotels has announced that it plans to open a new InterCityHotel in Germany's North Rhine-Westphalia state. The 135-room InterCityHotel Herford is due to open in the town of Herford in 2017. "North Rhine-Westphalia is an important federal state for us, and we now have nine hotels there," commented Puneet Chhatwal, Steigenberger's chief executive officer. "Herford lies at the centre of a major business region," he added.
After being on the market for almost a year, the South Court Hotel in the city of Limerick in western Ireland has been sold. The 124-room hotel was purchased out of receivership by a syndicate led by GN Asset Management, and it is rumoured that the actual transaction figure was well in excess of the €2 million asking price.
Marriott International has signed an agreement with the Amdec Group for two new properties in South Africa: the 150-room Johannesburg Marriott Hotel Melrose Arch and the 200-unit Marriott Executive Apartments Johannesburg Melrose Arch. The properties, located in Johannesburg's Melrose Arch precinct (owned by the Amdec Group), are to be the first Marriott-branded properties under development in South Africa. Alex Kyriakidis, president and managing director, Middle East and Africa for Marriott International, commented, "Africa is important to Marriott International's growth strategy because of its rapid economic growth, growing middle class and youth population, as well as the expansion of international flights onto the continent. With over 850 million people in sub-Saharan Africa, there are enormous opportunities there." There are currently five Marriott Executive Apartments properties in the Middle East and Africa while the Marriott Hotels brand has 17 hotels in seven countries across the same regions. Marriott International plans to add another 18 properties to its portfolio in the Middle East and Africa by 2020.
Carlson Rezidor has opened its first Radisson Blu property in the Republic of Congo in Central Africa. The Radisson Blu M'Bamou Palace Hotel is on the banks of the River Congo in Brazzaville, the country's capital and largest city. The 178-room hotel is one of eight Radisson Blus due to open across the African continent by the end of 2015.
Hilton Worldwide has signed a management agreement with Fleming Asset Management Botswana, on behalf of the Botswana Public Offices Pension Fund, for its first Hilton Garden Inn property in landlocked Botswana, southern Africa. The 150-room Hilton Garden Inn Gaberone will be developed in Botswana's capital, Gaberone. The hotel is due to open in the city's business district in 2017.
Accor is set to become the first international hotel operator to enter Iran since 1979. The French group has signed a management agreement with Aria Ziggurat for two hotels in the capital, Tehran. The 296-room Novotel IKIA and the 196-room ibis IKIA are to be connected to the main terminal at Imam Khomeini International Airport. Commenting on Accor's Iranian debut, the group's chairman and chief executive officer, Sébastien Bazin, said, "Our ambition is to develop an important network in the country thanks to our global portfolio of brands covering all segments, from luxury to midscale and economy."
Bangkok-based Dusit International has signed a management agreement with Al Jarwani Group for its first project in Oman. The dusitD2 Palm Mall Muscat is due to open in 2017 within Muscat's mixed-use Palm Mall development, which, among other features, will include Oman's first "snow village" and the largest aquarium in the sultanate. The Hotel, with 150 rooms and 100 suites, will increase Dusit's presence in the Middle East to five hotels; the group currently operates four properties across the UAE.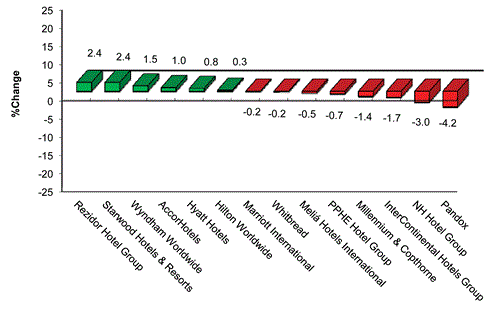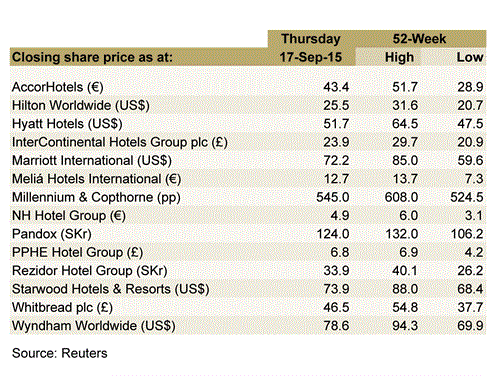 Marriott International – Has embarked on an ambitious expansion project across Africa.

Whitbread – New chief executive Alison Brittain joins the group this week before taking on the role fully in December. Credit Suisse said that with "medium-term growth well established it believes her immediate focus needs to be on mitigating the new National Living Wage.
For the latest in the hospitality industry, please visit: http://www.hvs.com/. You are also welcome to contact the following personnel.
| | |
| --- | --- |
| Russell Kett, Chairman – HVS London (@russellkett) | [email protected] |
| Charles Human, CEO – HVS London/HVS Hodges Ward Elliott | [email protected] |
| Simon Tucker Brown, Managing Director – HVS Executive Search Europe & Middle East | [email protected] |
| Chris Martin, Senior Director – HVS Hodges Ward Elliott | [email protected] |
| Puneet Kanuga, Director – HVS Hodges Ward Elliott | [email protected] |
| Arlett Oehmichen, Director – HVS London | [email protected] |
| Sophie Perret, Director – HVS London | [email protected] |
| Tim Smith, Managing Partner – HVS Cape Town | [email protected] |
| Demetris Spanos, Managing Director – HVS Athens | [email protected] |
| Hala Matar Choufany, Managing Director – HVS Dubai | [email protected] |
| Ezio Poinelli, Director – HVS Milan | [email protected] |
| Louise Fury, Senior Editor and EMEA Hospitality Newsletter Author – HVS London | [email protected] |
Disclaimer: Information provided above has been gathered from various market sources. HVS has not independently verified the accuracy of the information provided. Interested parties should not rely on the information as statement of facts and are advised to make their own independent checks to verify the information provided. For further information, please feel free to contact HVS London.
Superior Results through Unrivaled Hospitality Intelligence. Everywhere.
Stay current. Click here to receive free HVS newsletters
Looking for insights into the hospitality industry?
Discover unique hospitality intelligence at hvs.com/publications
Interested in a particular market?
Find hundreds of market overviews, all written by HVS experts, at hvs.com/marketresearch
Like to be in the know on hotel trends and predictions?
See our Hotel Valuation Index for dozens of cities at hvi.hvs.com