London-based real estate investor UK & European Investments has purchased the Hamburg Marriott Hotel in the port of Hamburg, northern Germany, from Union Investment for €65 million (€234,000 per room). The six-storey hotel is in the centre of Hamburg, on ABC Strasse, and it has 270 rooms and eight suites. Following the sale, Union Investment's Hamburg hotel portfolio still comprises six properties.
Real estate investment firm Art Invest has acquired three hotels and three sites in Germany from B&B Hotels in a sale-and-lease-back deal for an undisclosed sum. Two of the hotels are already operating in Cologne and Passau, and the third property is due to open soon in Basel/Weil am Rhein. The three sites are in Berlin, Ludwigshafen and Mainz. Cologne-based Art Invest will construct a B&B hotel on each site by 2016. All six of the assets (which will total 689 rooms when they are all in operation) are leased to B&B under an initial 20-year term.
Marriott International's Ritz-Carlton chain has announced that as of the beginning of this month the Elizabeth Park Hotel on Erzsebet Square in Budapest, Hungary, is now a partner hotel of the brand and will be managed by Ritz-Carlton. The 198-room hotel, which is owned by Al Habtoor Group, is to undergo an extensive renovation which is due to finish in spring 2016, when the property will be relaunched and reflagged as the Ritz-Carlton Budapest, marking the brand's debut in the Hungarian capital and in the country overall.
Hilton Worldwide has opened its latest UK DoubleTree by Hilton hotel in the town of Woking, just 23 miles southwest of central London. Upon emerging from a multimillion pound renovation, the former Holiday Inn Woking has now become the DoubleTree by Hilton Woking. The 170-room hotel is the product of a franchise agreement with existing Hilton franchise partner, Crimson Hotels Group. Hilton currently has a further six hotels in its DoubleTree pipeline for the UK and Ireland.
The Great Northern Hotel, 25 metres from the Eurostar terminal at King's Cross St Pancras Station in London, UK, has joined Starwood Hotels & Resorts' Tribute Portfolio, marking the first appearance of the brand in Europe. The 91-room boutique property, which first opened in 1854, is now called the Great Northern Hotel, A Tribute Portfolio Hotel. The hotel, owned by Ram Group's Jeremy Robson, reopened in 2013 after an extensive £40 million redesign and renovation. The Tribute Portfolio was launched in April 2015 as Starwood's tenth brand and comprises independent four-star and upper upscale hotels. "The hotel has been designed with such meticulous attention to detail, and we're excited to partner alongside Jeremy Robson as he continues to bring his independent vision to life," said Dave Marr, global brand leader for the Tribute Portfolio and Sheraton Hotels & Resorts.
Starwood Hotels & Resorts plans to introduce its Le Méridien brand to the Republic of Georgia. The new-build Le Méridien Batumi is due to open in the seaside resort of Batumi, on southwest Georgia's Black Sea coast, in 2018. The 110-room hotel is to be developed within the mixed-use Batumi Tower. The project is the result of a partnership between Starwood and Red-Co Ltd and is the group's third hotel in Georgia overall.
Carlson Rezidor has opened not one but two Radisson Blu hotels on the African island of Mauritius, in the Indian Ocean. The 160-room Radisson Blu Azuri Resort & Spa, Mauritius and the adults-only 100-room Radisson Blu Poste Lafayette Resort & Spa, Mauritius are both located on the island's northeastern coast. The hotels are Rezidor's first Mauritian hotels.
Property investment firm RP Global has selected Jumeirah Group to operate a mixed-use resort in its US$1 billion tower, currently under development in Dubai's Business Bay. The pair recently signed a management agreement for the project, which includes a 200-room hotel, 350 serviced apartments and 290 residences. The Jumeirah Business Bay is expected to open in time for the Expo 2020, which is to be hosted by the emirate. The 3 million ft² tower will also include food and beverage outlets, a spa and health club and conference and banqueting facilities.
Starwood Hotels & Resorts' Luxury Collection has made its debut in Lebanon with the recent opening of the Grand Hills, A Luxury Collection Hotel & Spa in the village of Broumana in the mountains overlooking Beirut and the Mediterranean Sea. The 118-unit hotel, which is owned by Mouawad Village Broumana Sal, has the largest suite in the world, the 4,131 m², seven-storey Royal Residence, with its five bedrooms and two private swimming pools. Starwood now has five Luxury Collection properties in operation in the Middle East and one under development due to open in Jordan at the beginning of 2017, the 200-room Al Manara, A Luxury Collection Hotel, Saraya Aquaba.
After 14 years at the helm of the Taj Palace Hotel in Dubai, Taj Hotels Resorts and Palaces has announced that on 31 August 2015 it handed back the management of the property to its owner, Juma Al Majid Group. A press statement from India-based Taj said, "Taj Hotels Resorts and Palaces has enjoyed an outstanding relationship and mutually rewarding partnership with the Juma Al Majid Group and expresses its gratitude for the unequivocal trust and unstinting co-operation extended by them during the tenure of operations." The group operates 96 hotels across the globe and has one remaining property in Dubai, the recently opened 296-room Taj Dubai.
Mövenpick Hotels & Resorts has officially opened the Mövenpick Hotel Riyadh, marking its debut appearance in the city. A total of US$213.2 million was invested in the 438-room property, on King Fahad Road. The hotel is owned by Mohammed Bin Dawood and it is the group's tenth property in Saudi Arabia overall.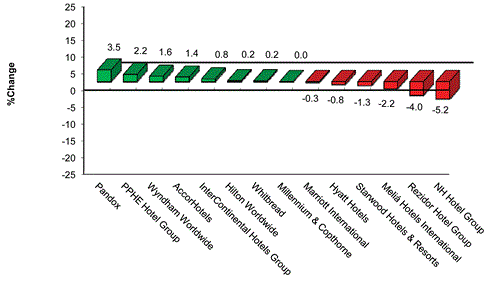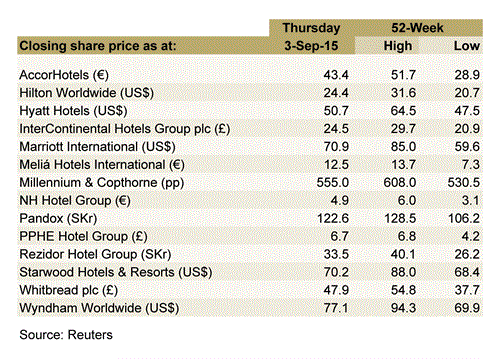 Wyndham Worldwide– Expanded Asia presence with its first property in Myanmar.

Accor – Net profit for the first half of 2015 was €91 million.

Whitbread – Credit Suisse cut price target to 5,750p from 6,200p and gave an "outperform" rating.
For the latest in the hospitality industry, please visit: http://www.hvs.com/. You are also welcome to contact the following personnel.
| | |
| --- | --- |
| Russell Kett, Chairman – HVS London (@russellkett) | [email protected] |
| Charles Human, CEO – HVS London/HVS Hodges Ward Elliott | [email protected] |
| Simon Tucker Brown, Managing Director – HVS Executive Search Europe & Middle East | [email protected] |
| Chris Martin, Senior Director – HVS Hodges Ward Elliott | [email protected] |
| Puneet Kanuga, Director – HVS Hodges Ward Elliott | [email protected] |
| Arlett Oehmichen, Director – HVS London | [email protected] |
| Sophie Perret, Director – HVS London | [email protected] |
| Tim Smith, Managing Partner – HVS Cape Town | [email protected] |
| Demetris Spanos, Managing Director – HVS Athens | [email protected] |
| Hala Matar Choufany, Managing Director – HVS Dubai | [email protected] |
| Ezio Poinelli, Director – HVS Milan | [email protected] |
| Louise Fury, Senior Editor and EMEA Hospitality Newsletter Author – HVS London | [email protected] |
Disclaimer: Information provided above has been gathered from various market sources. HVS has not independently verified the accuracy of the information provided. Interested parties should not rely on the information as statement of facts and are advised to make their own independent checks to verify the information provided. For further information, please feel free to contact HVS London.
Superior Results through Unrivaled Hospitality Intelligence. Everywhere.
Stay current. Click here to receive free HVS newsletters
Looking for insights into the hospitality industry?
Discover unique hospitality intelligence at hvs.com/publications
Interested in a particular market?
Find hundreds of market overviews, all written by HVS experts, at hvs.com/marketresearch
Like to be in the know on hotel trends and predictions?
See our Hotel Valuation Index for dozens of cities at hvi.hvs.com