Acting on behalf of Host Hotels & Resorts' European Joint Venture, HVS Hodges Ward Elliott has completed the sale of the 270-room Crowne Plaza Amsterdam for a price of €106.2 million, which includes the FF&E reserve.
Carlson Rezidor has teamed up with one of its franchise partners, Provent Hotels, to open a new Park Inn Property in Germany. Currently under construction, the Park Inn by Radisson Neumarkt is due to open in the fourth quarter of 2015 in the southwest town of Neumarkt. The 105-room hotel, which represents the duo's sixth joint project together, will be part of a 23,000 m² mixed-use development. The new signing brings Rezidor's Park Inn portfolio in Germany up to 20 hotels (3,600 rooms) and its presence in the country overall to 43 hotels (6,500 rooms).
Starwood Hotels & Resorts has opened its latest Sheraton-branded property in Italy this week. The Sheraton Lake Como, close to the shores of Lake Como in northern Italy, is the result of the conversion of an existing property, renovated by Italian architect Ruggero Venelli. The 116-room hotel, which is owned by Grand Hotel di Como Srl, is the first internationally branded hotel to open in the Lake Como area. Starwood now has seven Sheraton hotels in operation across Italy.
Hotel Investment Conference Europe (Hot.E) is Europe's most focused hotel investment conference, with sessions focused on the capital markets and investment opportunities in Europe. With more than one-third of the companies in attendance in 2014 comprising leading debt, equity, and development organisations, Hot.E has become the "must attend" networking event for Europe's hotel investment leaders. This year's conference will be held over 28-29 September 2015 at the Jumeirah Carlton Tower, London. HVS Hodges Ward Elliott is a platinum sponsor of the conference and several members of our team will be in attendance – both Charles Human, Managing Director, and Chris Martin, Senior Director, will be speaking at the conference. For more information or to register for Hot.E 2015 visit the website.
Hilton Worldwide has signed a franchise agreement with HRMP AG for its second Hilton Garden Inn property in Switzerland and its first in Zürich. The Hilton Garden Inn Zürich Limmattal is scheduled to open in 2016 in the Spreitenbach commercial zone in Greater Zürich. HRMP will manage the hotel on behalf of its owner, real estate company Immo Invest Partners AG. The 120-room hotel will join sister property, the 146-room Hilton Garden Inn Davos, in the Alpine resort of Davos, the highest city in Switzerland. Hilton currently operates three hotels in total across the country.
Last month we reported that Israeli holding company Elbit Imaging Ltd had exchanged contracts for the sale of its two hotels in Antwerp, Belgium, for a total of €48 million (€156,900 per room). This week, the buyer of the 247-room Radisson Blu Astrid Hotel, Antwerp and the 59-room Park Inn by Radisson Antwerp was revealed to be a joint venture between investment company KKR and investor and hotel operator Algonquin. Both hotels are on Koningin Astridplein, directly opposite Antwerp's main railway station.
Hoxton Hotels has gained planning permission from Southwark Council to develop its third hotel in London on a plot of land currently occupied by the Wedge House building, which is due to be demolished, in the city's Southbank area. The 192-room hotel will be housed across six floors of a 14-storey mixed-use project that will also include office space. The hotel is expected to open in 2018 and will join the group's other London properties in Shoreditch and Holborn.
Marriott International has opened two new Courtyard by Marriott hotels in the Netherlands and Poland, showcasing the group's new European design for the brand. The 175-room Courtyard Amsterdam Arena Atlas, in Amsterdam's Zuidoost business district, is the group's second Courtyard hotel in the city. The 200-room Courtyard Gdynia Waterfront is the first of its brand in the port of Gdyania, on Poland's Baltic Sea coast, but the second Courtyard in the country overall. Both hotels are operating under franchise agreements with Scandinavian Hospitality Management.
InterContinental Hotels Group (IHG) has signed a management agreement with Crédit Agricole Assurances for its fifth InterContinental hotel in France. A 17th-century building that once housed the Hôtel-Dieu hospital, on the banks of the River Rhône in Lyon, is to be converted into the 143-room InterContinental Lyon Hotel Dieu. The hotel, and the adjacent conference facility, will be part of a mixed-use project in central Lyon called Grand Hôtel Dieu, which will also include office, residential and retail space. IHG currently operates two hotels in Lyon but this will be its first InterContinental-branded property in the city.
Tokyo-based Hotel Okura Co. Ltd is to open its first property in Turkey. When it opens in 2017, the 130-room Okura Spa & Resort Cappadocia will become the first hotel in the country to be operated by a Japanese hospitality group. Okura formed an Ankara-based joint development (called, Okura Sarayli Otel Yönetim A.Ş) with two Turkish companies earlier this year in order to drive its expansion across Turkey. The venture signed a management agreement with TCM Turizm Otelcilik Hizmet Taşımacılık İnşaat A.Ş for the resort, which will be constructed in the town of Mustafapa in the UNESCO World Heritage Site of Cappadocia in central Turkey. Other locations to be targeted by the joint venture include Ankara and Istanbul.
Budget chain easyHotel has acquired the freehold of a building in Manchester, northwest England, subject to obtaining planning permission to develop a hotel on the site. The building in question, Bradley House, is in the city centre in the trendy Northern Quarter and commonly known as the 'flatiron' building, on account of its unusual shape. If planning permission is granted, the building, which dates from the late 1800s, will be converted into a 114-room easyHotel, scheduled to open in summer 2016. The total cost of the purchase and conversion is estimated to be £6 million. EasyHotel currently has ten hotels in operation in the UK.
Icelandic chain Fosshotel has opened its third hotel in the country's capital, Reykjavik. The 320-room Fosshotel Reykjavik is in the city's business district, close the main shopping area. The four-star, 16-storey hotel is the largest hotel in Iceland. The group now operates 12 hotels in total across Iceland.
InterContinental Hotels Group (IHG) has opened its first Holiday Inn property in the city of Tabuk, northwestern Saudi Arabia. The 90-room Holiday Inn Tabuk is the 11th Holiday Inn to open in the country. IHG currently has 25 hotels in operation in the country overall across its InterContinental, Crowne Plaza and Holiday Inn brands, with a further eight in the pipeline. It was also reported this week that IHG has signed a management agreement with Sunflower FZE for a 285-room Hotel Indigo in Dubai. The hotel is to be located in the emirate's mixed-use Business Bay District.
Hilton Worldwide has signed agreements with Wasl Hospitality for two new mid-market hotels in Dubai, UAE. The 206-room Hampton by Hilton Dubai Al Mina is to be developed near to Dubai International Airport and the 292-room Hilton Garden Inn Bu Dubai will be situated in the Dubai Creek area. Both hotels are expected to open at the beginning of 2019. Hilton's president for the Middle East and Africa, Rudi Jagersbacher, said, "These latest signings will add to our rapidly increasing footprint in Dubai, which is expected to more than double in the next few years with primarily mid-market hotels".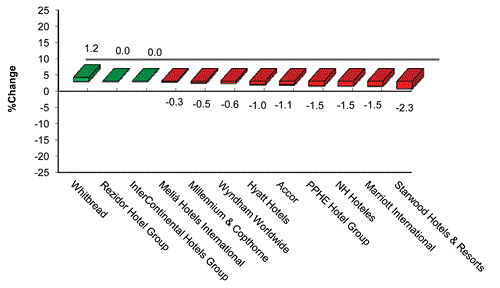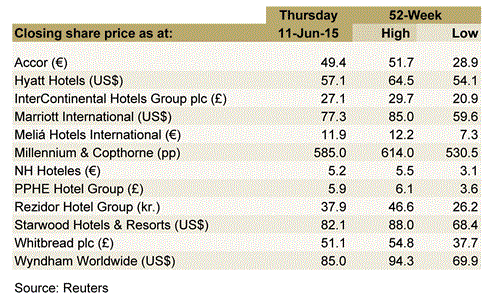 Rezidor Hotel Group – Marc Descrozaille has been appointed vice president for the sub-Saharan Africa region.

InterContinental Hotels Group – A £1 billion portfolio of Holiday Inn and Crowne Plaza hotels has been put on the market.

Wyndham Worldwide – Has earned a spot on the latest Fortune 500 list.
For the latest in the hospitality industry, please visit: http://www.hvs.com/. You are also welcome to contact the following personnel.
| | |
| --- | --- |
| Russell Kett, Chairman – HVS London (@russellkett) | [email protected] |
| Charles Human, CEO – HVS London/HVS Hodges Ward Elliott | [email protected] |
| Simon Tucker Brown, Managing Director – HVS Executive Search Europe & Middle East | [email protected] |
| Chris Martin, Senior Director – HVS Hodges Ward Elliott | [email protected] |
| Puneet Kanuga, Director – HVS Hodges Ward Elliott | [email protected] |
| Arlett Oehmichen, Director – HVS London | [email protected] |
| Sophie Perret, Director – HVS London | [email protected] |
| Tim Smith, Managing Partner – HVS Cape Town | [email protected] |
| Demetris Spanos, Managing Director – HVS Athens | [email protected] |
| Hala Matar Choufany, Managing Director – HVS Dubai | [email protected] |
| Ezio Poinelli, Director – HVS Milan | [email protected] |
| Louise Fury, Senior Editor and EMEA Hospitality Newsletter Author – HVS London | [email protected] |
Disclaimer: Information provided above has been gathered from various market sources. HVS has not independently verified the accuracy of the information provided. Interested parties should not rely on the information as statement of facts and are advised to make their own independent checks to verify the information provided. For further information, please feel free to contact HVS London.
Superior Results through Unrivaled Hospitality Intelligence. Everywhere.
Stay current. Click here to receive free HVS newsletters
Looking for insights into the hospitality industry?
Discover unique hospitality intelligence at hvs.com/publications
Interested in a particular market?
Find hundreds of market overviews, all written by HVS experts, at hvs.com/marketresearch
Like to be in the know on hotel trends and predictions?
See our Hotel Valuation Index for dozens of cities at hvi.hvs.com