In a joint venture with Saudi Arabian conglomerate The Olayan Group, Mandarin Oriental International Ltd is to acquire the Hotel Ritz Madrid in Spain for €130 million (€778,400 per room) from Belmond Spanish Holdings and Landis Inversiones. HVS London was pleased to advise Mandarin Oriental on the transaction. Mandarin will manage the 167-room hotel, which dates back to 1910, under a long-term contract, and Mandarin and Olayan will each hold a 50% share in the property. Following its sale, the hotel, in one of the city's exclusive residential areas, is expected to undergo an extensive renovation estimated to cost €90 million, which will increase the purchasers' total investment in the property to more than €1.3 million per room.
InterContinental Hotels Group (IHG) has completed the sale of the InterContinental Paris – Le Grand, in France, to Constellation Hotels France Grand SA, an affiliate of Qatari investment fund Constellation Hotels Holding Ltd. IHG received gross proceeds of €330 million (approximately €2.2 million per room) from the transaction of the 470-room hotel in Paris' ninth arrondissement. IHG will continue to manage the 153-year-old hotel under a long-term contract.
In two separate transactions, Accor has sold seven hotels (708 guest rooms) across the UK and Ireland in sale-and-franchise-back deals for €32.6 million (€46,000 per room); additionally, Accor also secured a commitment from the buyers to invest €5.2 million in renovating the hotels. The group sold five ibis properties in England (Birmingham, Bordesley Circus, Leicester City, London City, London Gatwick Airport, Plymouth and Sheffield City) to Starboard Hotels. The 89-room ibis Coventry Centre and the 150-room ibis Dublin West were acquired by a joint venture comprising hotel funder and developer Cannock Investments Ltd and real estate investor Hetherley Capital Partners. The portfolio sales are part of Accor's strategy to restructure its HotelInvest assets.
Israeli holding company Elbit Imaging Ltd has exchanged contracts for the sale of its two hotels in Antwerp, Belgium, for a total of €48 million (€156,900 per room). The 247-room Radisson Blu Astrid Hotel, Antwerp, which recently underwent a refurbishment, and the 59-room Park Inn by Radisson Antwerp are both directly opposite the port's main railway station on Koningin Astridplein, close the famous Diamond District.
Hotel operator Orbis has reportedly signed a preliminary agreement to sell two Mercure hotels in Poland to DWP for PLN25.5 million (€5.3 million). The sale of the hotels, in Lublin and Zamosc, is expected to be finalised in the next three months, subject to approval from Orbis shareholders.
Hilton Worldwide has signed an agreement for its third Hampton by Hilton hotel in the Polish city of Gdansk. The 156-room Hampton by Hilton Gdansk Old Town is scheduled to open under a franchise agreement with VHM Hotel Management in 2017. The hotel, which is owned by Capital Park Group, will be part of a mixed-use development including retail and leisure space. Hilton now has ten Hampton-branded properties either in operation or under development across Poland, and this is the third Hampton-branded hotel in Gdansk. The group also opened the latest hotel under its flagship Hilton Hotels & Resorts brand in the UK this week. The 171-room Hilton at The Ageas Bowl in the port of Southampton overlooks the Ageas Bowl cricket stadium and an 18-hole golf course. Hilton currently operates 72 Hilton-branded hotels across the UK.
Meliá Hotels International is due to open its latest ME by Meliá hotel in Milan, Italy, later this month. The l'Hotel Duca di Milano, in the city's fashion and design district, has been renovated and transformed into the 132-room ME Milan il Duca. Once the Milan property opens, Meliá will have seven ME hotels in operation worldwide. Also in Milan this week, Starwood Hotels & Resorts has signed a management agreement with Qatar-based Katara Hospitality to operate the recently rebranded and refurbished Excelsior Hotel Gallia under its Luxury Collection brand. The 235-room hotel, formerly the Palace Gallia, which opened in 1932, is Starwood's seventh Luxury Collection property to open in Italy overall but the first of its brand in Milan.
The long-awaited Gainsborough Bath Spa hotel is due to open in the UK spa town of Bath just in time for summer on 1 July 2015. The 99-room hotel will provide guests with access to Bath's famous naturally heated underground mineral water, becoming the first hotel in the UK with direct access to natural thermal waters. The hotel is owned and was developed by Malaysian firm YTL hotels. The Grade II-listed building has had many purposes before it became a hotel. It was the home of the United Hospital during the 1800s and until 1995 it housed the Bath College of Arts & Design.
Pandox has taken over the operation of the Quality Hotel & Resort Fagernes in the district of Valres, southern Norway. Pandox has owned the 138-room hotel since 2010. "At Pandox we continue to follow our strategy regarding our own operations," said the group's chief executive officer, Anders Nissen. "When we cannot find a suitable partner for a hotel we have the capacity and knowledge to operate our own hotels. This creates business opportunities and minimizes risk," he added.
Alison Brittain, currently group director of Lloyds Banking Group's retail division, is to succeed Andy Harrison as chief executive of Whitbread after he retires next year. After five years in the role, Harrison will step down at the end of February 2016. Brittain has previously held senior roles with Santander and Barclays. "We ran an extensive search and selection process and Alison was the standout candidate from a very strong field," commented Richard Baker, Whitbread's chairman. "...Her strong personal belief in the importance of putting the customer at the heart of the business makes her a perfect fit with our culture and values," he added.
Rotana will make its first appearance in Turkey with the opening of two hotels in Istanbul on 1 June 2015. The 162-room Burgu Arjaan by Rotana and the Tango Arjaan by Rotana with its 156 studios and one- and two-bed suites are in the city's Maltepe district. The hotels, owned by Turkish firm Dap-Yapi, will share public space and facilities such as the lobby, food and beverage outlets, a business centre, meeting space and a fitness club. Rotana is also set to expand further in Turkey as it has signed new agreements with Dap-Yapi for two more hotels in Istanbul: the Dalga Residences by Rotana and the Vazo Residences by Rotana, which will add a total of 272 rooms to the group's inventory in the country.
A new brand is set to be launched on the European market, called Zoku. The brand aims to reinvent the aparthotel concept for professional Millennials, with value innovation, guest-centric design and a strong social and lifestyle focus. The very first Zoku is scheduled to open this autumn in Amsterdam, in the Netherlands; 133 Zoku Lofts are to be developed in a former office block in the city's canal district, under a long-term lease agreement with HeRaSi Properties. Zoku intends to operate its own properties and its expansion will initially focus on main European cities such as London, Berlin, Paris, Hamburg, Barcelona, Vienna, Zürich and Copenhagen. "In the next five years it is our ambition to open at least five new locations with around 750 units," commented Zoku's co-founder and managing director, Marc Jongerius.
Privately owned Indian hotel chain Sarovar Hotels & Resorts recently opened its second hotel in Nairobi in Kenya, East Africa. The 56-room Zehneria Portico is in the city's Westlands suburb and joins sister property the 108-room Heron Portico.
The HVS EMEA Hospitality Newsletter will be taking a holiday next Friday, but we will be returning on Friday 5 June.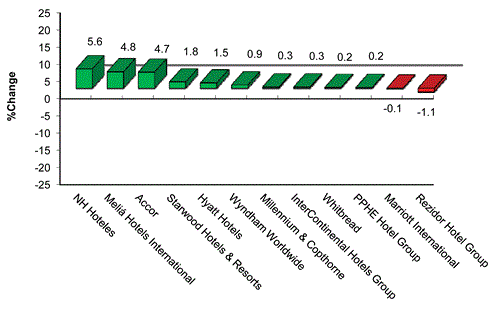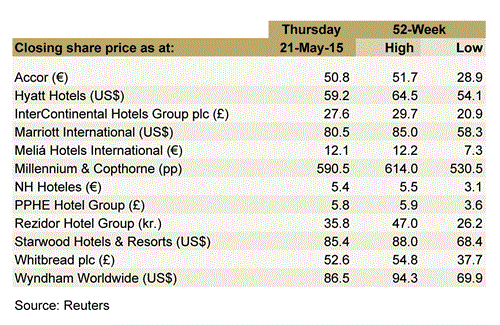 NH Hotels – Saw its loss for the first quarter of 2015 narrow by 24.6% on the previous year to €29.1 million.

Accor – Is set to expand its presence in Yorkshire and the Midlands, in England, after announcing it is to open the ibis Styles Leeds in 2016 and the Mercure Derby at the end of this year.

Starwood Hotels & Resorts – Net income for quarter one 2015 was US$99 million compared to US$137 million for the same period in 2014.
For the latest in the hospitality industry, please visit: http://www.hvs.com/. You are also welcome to contact the following personnel.
| | |
| --- | --- |
| Russell Kett, Chairman – HVS London (@russellkett) | [email protected] |
| Charles Human, CEO – HVS London/HVS Hodges Ward Elliott | [email protected] |
| Simon Tucker Brown, Managing Director – HVS Executive Search Europe & Middle East | [email protected] |
| Chris Martin, Senior Director – HVS Hodges Ward Elliott | [email protected] |
| Puneet Kanuga, Director – HVS Hodges Ward Elliott | [email protected] |
| Arlett Oehmichen, Director – HVS London | [email protected] |
| Sophie Perret, Director – HVS London | [email protected] |
| Tim Smith, Managing Partner – HVS Cape Town | [email protected] |
| Demetris Spanos, Managing Director – HVS Athens | [email protected] |
| Hala Matar Choufany, Managing Director – HVS Dubai | [email protected] |
| Ezio Poinelli, Director – HVS Milan | [email protected] |
| Louise Fury, Senior Editor and EMEA Hospitality Newsletter Author – HVS London | [email protected] |
Disclaimer: Information provided above has been gathered from various market sources. HVS has not independently verified the accuracy of the information provided. Interested parties should not rely on the information as statement of facts and are advised to make their own independent checks to verify the information provided. For further information, please feel free to contact HVS London.
Superior Results through Unrivaled Hospitality Intelligence. Everywhere.
Stay current. Click here to receive free HVS newsletters
Looking for insights into the hospitality industry?
Discover unique hospitality intelligence at hvs.com/publications
Interested in a particular market?
Find hundreds of market overviews, all written by HVS experts, at hvs.com/marketresearch
Like to be in the know on hotel trends and predictions?
See our Hotel Valuation Index for dozens of cities at hvi.hvs.com