New York-based Marathon Asset Management has reportedly agreed to purchase a 1,200-room portfolio of five former Mint properties across the UK (in Glasgow, Leeds, Birmingham, Bristol and Manchester) for £160 million from Blackstone (£133,333 per room). The four-star hotels, which were acquired by Blackstone in 2011 along with three other Mint hotels, are now operated under Hilton Wordwide's DoubleTree and Garden Inn brands. Other hotel sales in the UK this week include CBRE Global Investors' acquisition of the 128-room Travelodge London Hounslow in west London for £11.9 million (approximately £93,000 per room), reflecting a yield of 4.7%.
Cologne-based Art-Invest Real Estate has acquired Le Méridien Parkhotel Frankfurt in Germany from private equity group Kildare Partners for an undisclosed sum for its Hotel-Manage to Core fund. The 300-room hotel, close to Frankfurt's main railway station, is now being operated by Munich Hotel Partners (MHP) under a long-term lease agreement. MHP, a franchisee of Starwood Hotels & Resorts, will continue to run the property under the Le Méridien brand. Along with MHP, Art-Invest plans to invest €10 million in a refurbishment of the hotel, which will remain open during the work. This is the fourth acquisition Art-Invest has carried out for its Hotel-Manage to Core fund.
Starwood Hotels & Resorts' St. Regis brand has made its first appearance in the Russian market with the opening of the St. Regis Moscow Nikolskaya. The 210-room hotel is owned by Russian real estate and construction firm Rutsog Invest. The hotel, on Nikolskaya street which connects Moscow's Luyanka Square to Red Square, is housed in an historic building that was constructed in the 1870s as a residence for Count Orlov-Davydov. This new opening brings Starwood's presence in Russia up to six hotels and five brands.
In just under two weeks' time, the Boutique and Lifestyle Hotel Summit will take place over the 20 and 21 May at the Montcalm in London. Attracting leaders from the boutique hotel sector, the event offers the opportunity to join in debates, network and share knowledge. Managing director of HVS Hodges Ward Elliott, Charles Human is one of the many speakers at this year's conference. You can see Charles in the afternoon of day one, when he will be moderating a panel called Meet the Investors, discussing who is investing in boutique and lifestyle hotels in today's market, and what are they looking for. Charles' panellists include Rafael Bejerano, director at AB Hotels; Cody Bradshaw, senior vice president, head of European hotels, for Starwood Capital Group; and Grace Leo, vice president at Reignwood Investments UK. If you haven't already purchased a ticket, click here to book.
InterContinental Hotels Group has opened its second Crowne Plaza hotel in Berlin, Germany, and its 14th hotel in the city overall. The 256-room Crowne Plaza Berlin – Potsdamer Platz (which previously operated as the Wyndham Grand Berlin Potsdamer Platz) is being run under a management agreement with All Stars Hotel Development and Management Company.
Marriott International's Ritz-Carlton chain has signed an agreement with UAE-based conglomerate Al Habtoor Group to open a hotel in Budapest, its first property in Hungary. At the beginning of 2016, An existing 192-room hotel overlooking Erzsébet Square, at the heart of the city, is to undergo an extensive renovation and will emerge under the Ritz-Carlton flag in the second quarter of 2016. "Hungary represents the next great international expansion opportunity for The Ritz-Carlton," said the group's president and chief operating officer, Herve Humler.
Meliá Hotels International has opened its first INNSIDE by Meliá hotel in the Spanish Balearic Islands. The TRYP Palma Center hotel on the island of Majorca underwent a complete renovation that transformed it into the recently opened 101-room, six-storey INNSIDE Palma Center. The hotel is a short walk from the historic centre of Palma, the island's capital. This week, the Innside by Meliá brand also made its debut in the UK with the opening of the INNSIDE Manchester in northwest England. The 208-room hotel is part of Manchester's 20-acre First Street neighbourhood in the city centre.
FRHI Hotels & Resorts' Swissôtel chain has announced that it has signed an agreement with Turkish development company Garanti Koza to manage a new hotel in Istanbul, Turkey. The Swissôtel KozaPark Istanbul is due to open in 2019 at the northern edge of the city's Esenyrt district. The 160-room hotel will be part of the KozaPark mixed-use development and will also include 450 Swissôtel Residences, the first Swissôtel-branded residences in Istanbul. FRHI currently operates one Swissôtel and one Raffles property in Istanbul and the Fairmont Quasar is due to open in the city at the end of 2016. Additionally, Carlson Rezidor announced two new Park Inn by Radisson projects for Istanbul this week: the new-build, 98-room Park Inn by Radisson Hotel & Residences Istanbul Odayeri is to be constructed on the outskirts of the city's European side and is owned and will be developed by Fabeks Group. The 80-room Park Inn by Radisson Istanbul Atasehir will be nestled within the Atasehir residential district on the Asian side of the city and is owned by Perspektif Otelcilik Ve Turizm AS. Both properties are due to open in early 2016. The new Park Inns bring Rezidor's portfolio in Greater Istanbul up to ten properties.
As of 1 June 2015, Pandox Operations will take over the running of the 150-room Mr Chip Hotel in Stockholm's Kista district, Sweden. Commenting on the news, Erik Hvesser, vice president, area manager Sweden & Finland, for Pandox said, "When the current operator decided to phase out operations it was natural for Pandox to take the role as both owner and operator to safeguard the value and development of the hotel property". Also in the Nordic region, Scandic Hotels announced that it plans to open a hotel near Norway's largest congress centre, the Norway Trade Fairs in Lillestrøm, 20 km away from Oslo. The 220-room, 12-storey Scandic Portalen will be developed at Lillestrøm train station and is expected to open in January 2018. The hotel's owner and developer is Norwegian developer and property management company, OBOS.
Carlson Rezidor has opened its fourth hotel in Cape Town, South Africa, and its second Radisson Blu property in the city. After a renovation and refurbishment, the Hotel Le Vendome in the suburb of Sea Point is now operating as the 143-room Radisson Blu Le Vendome Hotel Cape Town, joining sister property the 177-room Radisson Blu Hotel Waterfront, Cape Town. Rezidor has also announced its return to the Libyan market in North Africa. An existing hotel in the country's third largest city, Misrata, on the Mediterranean Sea, is currently undergoing an extensive renovation and will reopen as the 126-room Radisson Blu Hotel, Misrata at the beginning of 2016. Rezidor previously operated the Radisson Blu Al Mahary Hotel in Tripoli until August 2014. "Although the overall situation is still at risk, we are confident that Libya will continue to recover from the unrest and to offer opportunities for international investments across all sectors," commented Wolfgang Neumann, Rezidor's president and chief executive officer.
InterContinental Hotels Group has signed management agreements with Al Baraka General Trading and Contracting Company for three hotels in Kuwait that will all be part of the same hotel complex in Kuwait City. The 120-room, new-build InterContinental Kuwait Farwaniya is expected to open in 2018; the new-build Crowne Plaza Kuwait Farwaniya is scheduled to open in 2016; and the existing Crowne Plaza Kuwait will be converted into the 336-room Holiday Inn Kuwait Farwaniya, also due to open in 2016.
Carlson Rezidor has announced that it will operate two new Park Inn by Radisson hotels in Saudi Arabia, one of which will be the group's first property in Mecca. Both properties are due to open in 2016. The 330-room Park Inn by Radisson Makkah Aziziyah will open on Al Masjid Road in the city's growing Aziziyah district. The 120-room Park Inn by Radisson Najran is to be constructed in the southwestern city of Najran, next to Highway 15, which connects the city to Mecca and Medina.
Singapore-based Millennium & Copthorne and Thailand's Minor Hotel Group both recently announced new properties for Oman. Millennium has signed an agreement with Al Madina Hotels & Resorts for the construction of a 286-room Agarwood hotel in Salalah, the first of its brand in the Middle East, and a 302-room budget Studio M hotel in Muscat, both of which are due to open in 2017. Millennium currently operates two hotels in Oman. Minor will make its debut in Oman with the opening of an Anantara hotel in Jabal Akhdar at the end of this year and another Anantara hotel is scheduled to open in Salalah during the second quarter of 2016.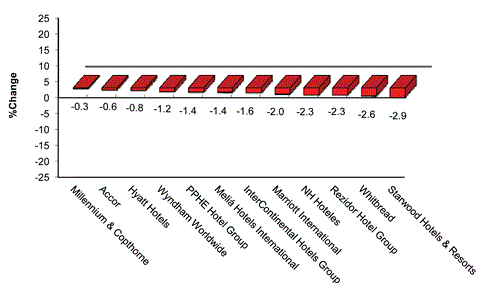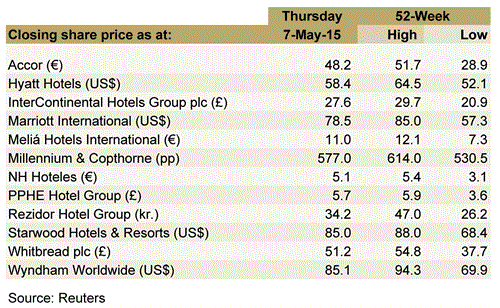 Millennium & Copthorne – Lost almost 4% of its value after reporting a 5% fall in first-quarter profits.

NH Hoteles – Fitch Ratings has affirmed NH Hoteles' long-term issuer default rating at "B-".

Hyatt Hotels – Saw higher occupancy and average daily rates during the first quarter.
For the latest in the hospitality industry, please visit: http://www.hvs.com/. You are also welcome to contact the following personnel.
| | |
| --- | --- |
| Russell Kett, Chairman – HVS London (@russellkett) | [email protected] |
| Charles Human, CEO – HVS London/HVS Hodges Ward Elliott | [email protected] |
| Simon Tucker Brown, Managing Director – HVS Executive Search Europe & Middle East | [email protected] |
| Chris Martin, Senior Director – HVS Hodges Ward Elliott | [email protected] |
| Puneet Kanuga, Director – HVS Hodges Ward Elliott | [email protected] |
| Arlett Oehmichen, Director – HVS London | [email protected] |
| Sophie Perret, Director – HVS London | [email protected] |
| Tim Smith, Managing Partner – HVS Cape Town | [email protected] |
| Demetris Spanos, Managing Director – HVS Athens | [email protected] |
| Hala Matar Choufany, Managing Director – HVS Dubai | [email protected] |
| Ezio Poinelli, Director – HVS Milan | [email protected] |
| Louise Fury, Senior Editor and EMEA Hospitality Newsletter Author – HVS London | [email protected] |
Disclaimer: Information provided above has been gathered from various market sources. HVS has not independently verified the accuracy of the information provided. Interested parties should not rely on the information as statement of facts and are advised to make their own independent checks to verify the information provided. For further information, please feel free to contact HVS London.
Superior Results through Unrivaled Hospitality Intelligence. Everywhere.
Stay current. Click here to receive free HVS newsletters
Looking for insights into the hospitality industry?
Discover unique hospitality intelligence at hvs.com/publications
Interested in a particular market?
Find hundreds of market overviews, all written by HVS experts, at hvs.com/marketresearch
Like to be in the know on hotel trends and predictions?
See our Hotel Valuation Index for dozens of cities at hvi.hvs.com