The billionaire Barclay brothers have reportedly sold their 64% share in Coroin (the holding company of the Maybourne Hotel Group) to Qatari sovereign wealth company Constellation Hotels for an undisclosed sum, potentially ending a four-year legal battle with Paddy McKillen, who holds the other 36% in Coroin, regarding the brothers' attempt to take full control of the group. The sale of the shares, which are reported to be valued at more than £1 billion, means that Constellation now holds a majority stake in three iconic luxury London hotels: Claridge's, the Berkeley and the Connaught.
Union Hanover and Topland Group have sold the HOAX Liverpool on Stanley Street in Liverpool city centre, northwest England, to Euro Hostel. The sales price is undisclosed but the 52-room (274-bed) boutique hostel was on the market with a guide price of £4.5 million. The pair have sold the hostel in order to concentrate on developing their Urban Villa extended-stay brand, which made its debut in London in 2014. Commenting on the group's new acquisition, Euro Hostel's managing director, William McClelland, said, "We are delighted to have secured such a great hostel in a popular location in a great city. The business fits perfectly with Euro Hostel's growth plans within the UK." Edinburgh-based Euro Hostel currently operates hostels in Glasgow, Edinburgh and Newcastle.
Marriott International has announced that it is bringing its Moxy brand to Eastern Europe with a hotel in Georgia. The 130-room Moxy Tbilisi is due to open in 2017 in the Georgian capital. Marriott will manage the hotel, which is owned by GMT Group. The hotel will be part of a mixed-use development in Saarbrucken Square that will also contain office and retail space. This isn't the first time Marriott has got together with GMT – the development firm also owns Marriott's other two hotels in Georgia: the 118-room Courtyard by Marriott Tbilisi and the 127-room Tbilisi Marriott Hotel. Marriott's Moxy brand made its debut in Europe with the Moxy Milan in Italy last September and the chain also has a further five hotels in the pipeline due to open soon in Germany (Berlin, Frankfurt and Munich), the UK (London) and Norway (Oslo).
Four Seasons Hotels and Resorts has signed an agreement with industrial group Access Industries to take on the management of the Grand-Hôtel du Cap-Ferrat on the French Riviera as of 8 May 2015. Overlooking the Mediterranean, on a seven-hectare site on the Saint-Jean-Cap-Ferrat peninsula between Nice and Monaco, the 73-room palace hotel, which first opened in the early 1900s, joins the Canadian group's 244-room Four Seasons Hotel George V, Paris.
Hilton Worldwide has just opened its eighth Hilton Garden Inn property in Turkey and its 32nd hotel in the country overall. The 130-room Hilton Garden Inn Corlu, in the northwestern city of Corlu, is owned by Santeks Iplik ve Brode A.S. and is being managed by AB Consultancy – Ahmet Bilgin. "Turkey is a key market for us as a business," commented Adrian Kurre, global head of Hilton Garden Inn. "Last year, Hilton Worldwide opened eight properties in the country and this year we are looking forward to expanding our Hilton Garden Inn brand portfolio in Turkey," he added.
Hamburg-based hotel manager RIMC International Hotel Resort Management and Consulting has signed a management agreement with the Leisure Lodge Beach and Golf Resort on Kenya's southern coast, 38 km south of Mombasa. The 253-room resort and 18-hole golf course are spread over a 200-acre beachfront site on Diani Beach. RIMC now manages around 45 hotels across ten countries in Europe, India and Africa, and rather than using its own brand the group operates under franchise agreements with all major global brands.
Wyndham Hotel Group has signed a management agreement with Mr Murtaza Fazal for its first hotel in East Africa, and its first hotel on the greater continent to be operated by the group's management division. The Ramada Resort Dar es Salaam is on Jangwani Beach, 25 km from Dar es Salaam, in Tanzania. Construction of the 139-room hotel started in 2009 and throughout its development great emphasis was placed on producing an energy-saving product that would help protect the environment, with features such as treating and reusing 100% of all of the hotel's waste water, solar-powered water heating and measures to protect its private beach from erosion. The hotel joins Wyndham's existing franchise properties in Morocco, Ghana, Nigeria and Tunisia.
Kempinski is due to make its first appearance in Ghana in the second quarter of 2015 with the opening of the Kempinski Hotel Gold Coast City Accra. The hotel will be located in the city centre of the Ghanian capital and the hotel's complex will also include a 3,000 m² spa and 7,000 m² of retail boutiques. The new opening will bring Kempinski's presence in Africa up to nine countries.
Israeli group Fattal International Hotels and Resorts is planning to open four new properties across Israel over the coming year. The 252-room Herods Herzliya is being constructed in three buildings overlooking the marina in the city of Herzliya; the cost of this project is NIS300 million (US$76 million). Two hotels are under development in Tel Aviv: NIS45 million (US$11.4 million) is being spent on a 156-room property that will be housed over nine floors of the 30-storey Rothschild 22 skyscraper, and NIS65 million (US$16.5 million) is being invested in a 190-room hotel in the Amot Clal building. The previous three properties will all start operating in 2015; however, the fourth hotel, the 60-room Leonardo Boutique in the city of Tiberias on the western shores of the sea of Galilee, is due to open at the beginning of 2016 at a cost of NIS45 million (US$11.4 million). Fattal currently operates 34 hotels across Israel.
Hilton Worldwide has signed an agreement with Wasl Hospitality and Leisure that will see its Hampton by Hilton brand enter the Middle East market for the first time. The 420-room Hampton by Hilton Dubai Al Qusais will be the largest hotel of its brand in the world when it opens in 2017 near to Dubai International Airport's Terminal 2.
Australian firm StayWell Hospitality Group has signed a management agreement for its second hotel in Dubai. The Park Regis business Bay is currently under construction and the 204-room hotel is expected to be ready for its first guests in 2016. The hotel joins its sister property in the emirate, the 390-room Park Regis Kris Kin Hotel Dubai. The expansion brings StayWell's portfolio of managed hotels up to 35 across Australia, New Zealand, India, the UK and the UAE.
InterContinental Hotels Group has added its second Indigo development to its Middle Eastern pipeline. The 285-room Hotel Indigo Dubai Business Bay is the product of a partnership with Sunflower FZE and marks Sunflower's project in the hospitality industry. The hotel joins the Hotel Indigo Riyadh King Abdullah Financial District, which is expected to open in Saudi Arabia in 2016.
Accor has reported like-for-like total revenue growth of 5.6% for the first quarter of 2015, to approximately €1.2 billion. The group achieved like-for-like revenue increases of 4.8% and 7.6% for its HotelInvest and HotelServices divisions, respectively. Germany proved to be a strong market over the first few months of 2015, with a rise in RevPAR of 8.2% across all segments. In the UK, business in London stabilised, owing to a fall in leisure customers from the Eurozone, but the UK's regional cities achieved an increase in RevPAR of 8.9%. Accor opened 47 hotels (7,238 rooms) during the first quarter of the year. Commenting on the results, Sébastien Bazin, Accor's chairman and chief executive, said, "We benefited from the initial restructuring measures carried out in 2014 by HotelInvest and also took advantage of better macroeconomic trends in most of our key markets".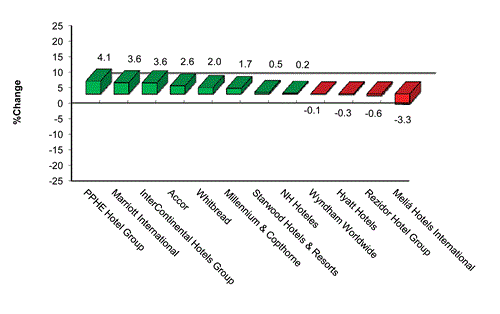 Marriott International – Announced that its global energy intensity decreased cumulatively by 2.6% over 2013, 13.1% compared to a 2007 baseline.


Accor – Took over Fastbooking, a digital services provider for the hotel industry.

For the latest in the hospitality industry, please visit: http://www.hvs.com/. You are also welcome to contact the following personnel.
| | |
| --- | --- |
| Russell Kett, Chairman – HVS London (@russellkett) | [email protected] |
| Charles Human, CEO – HVS London/HVS Hodges Ward Elliott | [email protected] |
| Simon Tucker Brown, Managing Director – HVS Executive Search Europe & Middle East | [email protected] |
| Chris Martin, Senior Director – HVS Hodges Ward Elliott | [email protected] |
| Puneet Kanuga, Director – HVS Hodges Ward Elliott | [email protected] |
| Arlett Oehmichen, Director – HVS London | [email protected] |
| Sophie Perret, Director – HVS London | [email protected] |
| Tim Smith, Managing Partner – HVS Cape Town | [email protected] |
| Demetris Spanos, Managing Director – HVS Athens | [email protected] |
| Hala Matar Choufany, Managing Director – HVS Dubai | [email protected] |
| Ezio Poinelli, Director – HVS Milan | [email protected] |
| Louise Fury, Senior Editor and EMEA Hospitality Newsletter Author – HVS London | [email protected] |
Disclaimer: Information provided above has been gathered from various market sources. HVS has not independently verified the accuracy of the information provided. Interested parties should not rely on the information as statement of facts and are advised to make their own independent checks to verify the information provided. For further information, please feel free to contact HVS London.
Superior Results through Unrivaled Hospitality Intelligence. Everywhere.
Stay current. Click here to receive free HVS newsletters
Looking for insights into the hospitality industry?
Discover unique hospitality intelligence at hvs.com/publications
Interested in a particular market?
Find hundreds of market overviews, all written by HVS experts, at hvs.com/marketresearch
Like to be in the know on hotel trends and predictions?
See our Hotel Valuation Index for dozens of cities at hvi.hvs.com