After signing agreements last month to launch Curio — A Collection by Hilton in Europe by rebranding two historic hotels in Germany (Hamburg) and Turkey (Istanbul), Hilton Worldwide has now announced that it plans to expand the brand into France. The Astor Hotel Saint-Honoré in Paris, which is owned by Marseille-based Maranatha Group, is to undergo a full refurbishment before becoming part of the Curio brand in 2016. The 128-room, six-storey hotel, in Paris' 8th Arrondissement, will operate under a franchise agreement between Hilton and Maranatha. The hotel can trace its history back to 1913, when it was built as a private residence for Lord Astor.
Hilton Worldwide has signed a franchise agreement with Lancashire County Cricket Club (LCCC) to develop a Hilton Garden Inn hotel at LCCC's home venue of more than 150 years: Emirates Old Trafford, which is two miles from Manchester city centre in northwest England. Construction of the Hilton Garden Inn Emirates Old Trafford is due to start later this year and the 150-room property is expected to open at the beginning of 2017. "Our presence at top UK sporting venues is growing", said Patrick Fitzgibbon, senior vice president, development Europe & Africa for Hilton Worldwide. He added that the new hotel would be "another impressive addition to our portfolio, joining Hilton Wembley, Hilton at St George's Park (Burton), DoubleTree by Hilton Milton Keynes, and Hilton at the Ageas Bowl (Southampton), which is due to open this year".
Steigenberger Hotel Group has made its debut in Turkey after signing a franchise agreement with Palace Hotel Turizm Hizmetleri AS for a hotel in Istanbul. The 305-room, five-star Steigenberger Hotel Maslak, Istanbul is located on the city's European side in the Maslak district. The group currently has another hotel in the pipeline for Turkey: the Steigenberger Airport Hotel, which is due to open in Istanbul in June 2016. Steigenberger also announced its first Steigenberger-branded hotel for Munich in Germany. When it opens in 2017, the Steigenberger Hotel Munich will operate under a lease agreement with lessor, Swiss Life Germany, a financial and insurance company. Swiss Life's former insurance headquarters in Germany will be converted into the 282-room hotel, which will be Steigenberger's second hotel overall in the Bavarian capital alongside the 198-room InterCityHotel München.
Privately owned boutique hotel and eco-escape group Mantis is to develop the first four-star hotel on the island of St Helena, a British Overseas Territory in the South Atlantic ocean. Construction will start in July on a 32-room property in Jamestown, the island's capital, and the hotel is due to open during the first half of 2016. The announcement came shortly after Comair revealed that it will start operating the first scheduled flights to the island from Johannesburg in South Africa in February next year. Currently, the only way to get to St Helena, which is one of the remotest places on earth and is home to roughly 4,000 people, is via a five-day boat journey from Cape Town which operates once every three weeks.
Budget hotel brand easyHotel has purchased the freehold of a building on Castle Street in Liverpool, northwest England, with plans to develop a 68-room hotel in the property, subject to planning permission. The building currently contains office space and a restaurant. The four upper storeys will be converted into the hotel and a third party will continue to run the ground-floor restaurant. The project is expected to cost €3 million, including the acquisition of the site.
Hamburg-based 25hours is to open a hotel in Germany's fourth-largest city, Cologne. It is reported that Austrian real estate firm Immofinanz is investing €400 million in expanding a listed building in the city's Gerling Quartier into a mixed-use development containing the 200-room hotel. 25hours has taken on a 20-year lease for the hotel, which will be the group's first property in Cologne; it currently operates seven hotels across five cities in Germany, Austria and Switzerland.
Abu Dhabi-based Rotana Hotels and Resorts is continuing its expansion across Africa with the announcement of its first property in Nigeria. In partnership with Topwide Ventures Ltd, Rotana plans to open a Centro hotel and serviced apartments development in Lagos. The hotel, which is expected to have more than 200 guest rooms, will be on Glover Road in the affluent neighbourhood of Ikoyi.
Carlson Rezidor Hotel Group's upscale lifestyle brand Radisson Red is to make its first appearance in the EMEA region in Cape Town, South Africa. The 235-room Radisson Red Hotel V&A Waterfront is scheduled to open at the end of 2016 at the city's 300-acre Victoria & Albert Waterfront development in Table Bay Harbour. The group currently has five hotels in operation in Cape Town and its pipeline for the African continent totals 30 hotels (6,500 rooms).
South African-based hotel and casino group Tsogo Sun is set to start work on the construction of a ZAR680 million (US$56.3 million) hotel complex in Cape Town city centre. Building is due to start next month on the mixed-use project, on the site of a recently demolished Tulip hotel, which will contain a 200-room SunSquare hotel, a 300-room StayEasy hotel, banqueting and conference space, Tsogo Sun's casual dining concept Vigour & Verve, retail outlets and around 300 underground parking spaces. The complex is expected to be completed in September 2017.
Bankok-based Minor Hotel Group has formed a partnership with Qatari Diar Real Estate Investment Company that will see it extend its operations into North Africa with two new resorts in the region. The new-build, 93-unit Anantara Tozeur Resort is currently under development in the city of Tozeur in southwest Tunisia and the 230-unit Anantara Al Houara Tangier Resort is being constructed as part of Qatari Diar's beachfront Al Houara mixed-use development in Tangier, northern Morocco, which will also include an 18-hotel golf course and residential space. Both resorts are due to open in 2017.
US-based Morgans Hotel Group has signed a management agreement with IFA Hotels & Resorts that will result in the Middle Eastern debut of its Delano brand. The 110-unit Delano Dubai is expected to open in 2017 on the emirate's Palm Jumeirah, as part of a mixed-use project called The8. The hotel will be the third Delano worldwide, joining its sister properties in Miami and Las Vegas in the USA. Morgans will make its first appearance in the Middle East later this year with the opening of the 270-room Mondrian Doha in Qatar. Additionally, Mumbai-based Taj Group has signed an agreement with CG Hospitality Holdings to bring its Vivanti by Taj brand to Dubai – the 207-room hotel is to be constructed in the Jumeriah Lakes Towers development and will be first of its brand in the Middle East. Taj currently has two hotels in the Middle East, both of which are in Dubai.
Thailand-based Dusit International has formed a joint venture with Saudi Arabian hotel management company Dyar Hotels & Resorts in order to expand its portfolio in the Middle East. The joint venture already has three hotels in its development pipeline (dusitD2 hotels in Qatar and Jeddah and a Dusit Thani hotel in Jeddah) and a further five hotels (for Mecca and Medina) are currently under negotiation.
Millennium & Copthorne Hotels has opened its first hotel in the emirate of Fujairah: the 221-room Millennium Hotel Fujairah, on Sheikh Khalifa Bin Zayed Road. The hotel is the group's ninth hotel in the UAE overall. Other new openings in the UAE this week include Wyndham Worldwide's Ramada Abu Dhabi Downtown. The 111-room hotel is Wyndham's second Ramada property in the emirate alongside the 235-room Ramada Abu Dhabi Corniche.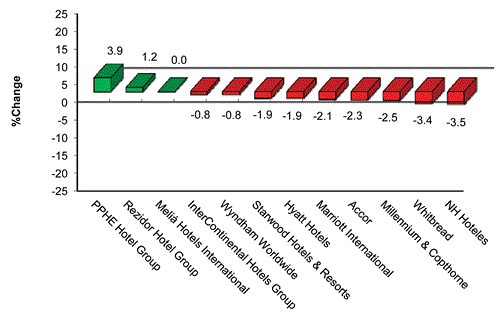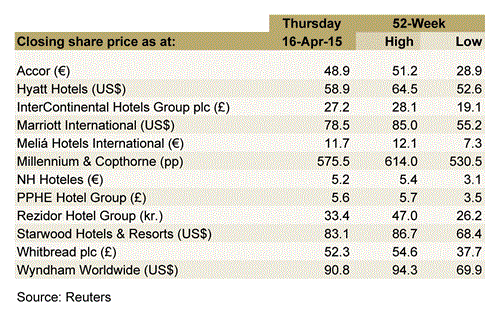 Rezidor Hotel Group – Unveiled its Radisson Red brand in India as part of ambitious expansion plans.

Starwood Hotels & Resorts – Launched its first new brand in nine years in the USA, Tribute.

Accor – Higher sales enabled shares to rise over the week.

For the latest in the hospitality industry, please visit: http://www.hvs.com/. You are also welcome to contact the following personnel.
| | |
| --- | --- |
| Russell Kett, Chairman – HVS London (@russellkett) | [email protected] |
| Charles Human, CEO – HVS London/HVS Hodges Ward Elliott | [email protected] |
| Simon Tucker Brown, Managing Director – HVS Executive Search Europe & Middle East | [email protected] |
| Chris Martin, Senior Director – HVS Hodges Ward Elliott | [email protected] |
| Puneet Kanuga, Director – HVS Hodges Ward Elliott | [email protected] |
| Arlett Oehmichen, Director – HVS London | [email protected] |
| Sophie Perret, Director – HVS London | [email protected] |
| Tim Smith, Managing Partner – HVS Cape Town | [email protected] |
| Demetris Spanos, Managing Director – HVS Athens | [email protected] |
| Hala Matar Choufany, Managing Director – HVS Dubai | [email protected] |
| Ezio Poinelli, Director – HVS Milan | [email protected] |
| Louise Fury, Senior Editor and EMEA Hospitality Newsletter Author – HVS London | [email protected] |
Disclaimer: Information provided above has been gathered from various market sources. HVS has not independently verified the accuracy of the information provided. Interested parties should not rely on the information as statement of facts and are advised to make their own independent checks to verify the information provided. For further information, please feel free to contact HVS London.
Superior Results through Unrivaled Hospitality Intelligence. Everywhere.
Stay current. Click here to receive free HVS newsletters
Looking for insights into the hospitality industry?
Discover unique hospitality intelligence at hvs.com/publications
Interested in a particular market?
Find hundreds of market overviews, all written by HVS experts, at hvs.com/marketresearch
Like to be in the know on hotel trends and predictions?
See our Hotel Valuation Index for dozens of cities at hvi.hvs.com