InterContinental Hotels Group has signed franchise agreements with Singapore-based real estate investment firm M&L Hospitality for two new hotels in Manchester, northwest England. The 210-room Crowne Plaza Manchester — Oxford Road and the 116-room Staybridge Suites Manchester — Oxford Road are both due to open at the end of 2016 as part of the University of Manchester's £1 billion campus development. The hotels will be managed by Cycas Hospitality and will bring IHG's portfolio in the city up to 21 hotels. HVS London was pleased to advise Manchester University on this transaction.

Hispania Real SICMI (Hispania), a subsidiary of Spanish company Hispania Activos Immobiliarios, has signed a framework agreement with family owned Barceló Group for the creation of a hotel real estate investment trust (REIT) focused mainly on resort properties in Spain. The REIT's initial investment will be the acquisition of 11 Barceló hotels (3,946 rooms) and one shopping centre, with the option to purchase a further five hotels (2,151 rooms) and a second shopping centre. Hispania is expected to invest €339 million in the 16 hotels and two shopping centres, giving it an 80.5% stake in the REIT. Barceló will continue to operate the hotels, located mainly in the Canary Islands, Andalusia and the Balearic Islands, via lease contracts, with an initial term of 15 years.
Kennedy Wilson Europe Real Estate (KWE) has acquired a portfolio of loans secured against eight Park Inn hotels across the UK (seven in regional English locations and one in Cardiff in Wales) for £61.5 million (1,107 rooms, £55,555 per room). KWE reportedly secured a 38.4% discount to the £99.9 million face value of the loans, and the purchase price represents a 9.3% gross yield on cost. "The purchase of the Park Inn loans is a classic KWE deal that capitalises on the synergies between our real estate debt and property professionals," said Mary Ricks, president and chief executive of KWE's Beverly Hills-based parent company, Kennedy Wilson. "This transaction gives us further exposure to the fast improving UK hospitality sector and a high quality covenant that we look forward to actively engaging with to identify various resolution strategies and asset management opportunities to enhance the value of our investment," she added.
Cologne-based Art-Invest Real Estate has purchased the Sofitel Hamburg Alter Wall in Hamburg, northwestern Germany , from a private UK pension fund for an undisclosed sum for its Hotel-Manage to Core fund. The five-star, 241-room hotel, which opened in 2000, is next to one of the city's canals. "Hamburg continues to be one of the strongest German hotel markets with tremendous growth of overnight stays and a healthy mix of business and leisure tourism," said Dr. Peter Ebertz, head of hotels at Art-Invest. This is the real estate group's third purchase for the Hotel-Manage to Core fund, following the acquisitions of the 169-room Steigenberger Hotel Bad Homburg and the 174-room Mercure Hotel Leipzig am Johannisplatz last year.
Accor recently sold the Zürich MGallery in Switzerland to a private investor (an existing Accor franchisee) for €55 million (€355,000 per room) under a sale-and-manage-back agreement. The deal includes a sale price of €32 million and a commitment from the new owner to invest €23 million in renovating the 138-room hotel once the transaction has completed. Accor will continue to operate the hotel under a long-term management agreement.
It was reported that Euro Hotel has acquired the Hotel Solvasa Barcelona in Spain from Solvasa Hoteles for an undisclosed sum. The 116-room hotel, adjacent to the Fira de Barcelona's Gran Via venue, is the French group's second hotel purchase in Barcelona; it had previously acquired the Diagonal Port property, now the Euro Hotel Barcelona.
Carlson Rezidor Hotel Group has teamed up with Armenian hotel operator Golden Palace Hotel LLC for its first property in Armenia. The existing Golden Palace Hotel Yerevan, in the country's capital, is to undergo a renovation and extension and is due to reopen at the beginning of 2016 as the 140-room Radisson Blu Hotel, Yerevan. This new project means that Rezidor now has a presence in all the countries of the Caucasus.
Following the acquisition of the Hilton London Docklands Riverside by HIG Capital last year, Hilton Worldwide has announced that the 378-room hotel is now to be refurbished and this spring it will be rebranded as the DoubleTree by Hilton London Docklands, the group's 11th DoubleTree property in the UK capital. Also in London this week, Glh has opened its first hotel under its new Every brand: the 83-room Every Hotel Piccadilly, which formerly operated under Glh's Thistle brand. A further three Every properties are due to open in London over the next 18 months, in Bloomsbury, Hyde Park and Leicester Square, following the conversion of other Thistle hotels. Ghl aims to open 50 Every hotels by 2020.
The founding hotel in Steigenberger Hotel Group's portfolio is to be restored to its former grandeur following an extensive renovation and modernisation. Albert Steigenberger bought the Europäscher Hof in the spa town of Baden-Baden in 1930. The hotel's make-over is expected to finish in 2017, when it will reopen and, upgraded to Grand Hotel standards, will join the ranks of Steigenberger's flagship properties. Steigenberger has signed a long-term management agreement with the hotel's new owners, Europäischer Hof Kaiserallee Immobilien 1 GmbH & Co. KG.
Carlson Rezidor Hotel Group has opened two new hotels in Saudi Arabia this week: the new-build, 150-room Radisson Blu Resort Jizan, which is on the Red Sea coast in the port of Jizan, and the 90-room Park Inn by Radisson Hotel Dammam, a conversion property in Dammam city centre. Rezidor now has 25 hotels either in operation or under development in Saudi Arabia.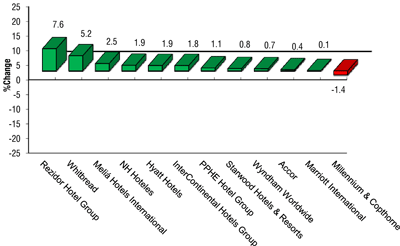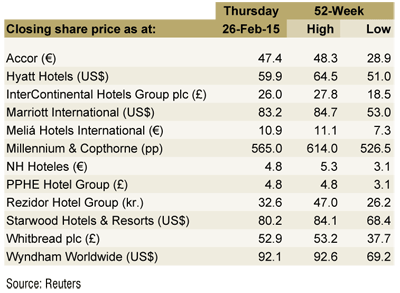 InterContinental Hotels Group – Target raised from 1650p to 2000p as Jefferies International reiterated underperform on IHG.

Accor – Cut to 'neutral' from 'outperform' by Credit Suisse.



For the latest in the hospitality industry, please visit: http://www.hvs.com/. You are also welcome to contact the following personnel.
| | |
| --- | --- |
| Russell Kett, Chairman – HVS London (@russellkett) | [email protected] |
| Charles Human, CEO – HVS London/HVS Hodges Ward Elliott | [email protected] |
| Simon Tucker Brown, Managing Director – HVS Executive Search Europe & Middle East | [email protected] |
| Chris Martin, Senior Director – HVS Hodges Ward Elliott | [email protected] |
| Puneet Kanuga, Director – HVS Hodges Ward Elliott | [email protected] |
| Arlett Oehmichen, Director – HVS London | [email protected] |
| Sophie Perret, Director – HVS London | [email protected] |
| Tim Smith, Managing Partner – HVS Cape Town | [email protected] |
| Demetris Spanos, Managing Director – HVS Athens | [email protected] |
| Hala Matar Choufany, Managing Director – HVS Dubai | [email protected] |
| Ezio Poinelli, Director – HVS Milan | [email protected] |
| Louise Fury, Senior Editor and EMEA Hospitality Newsletter Author – HVS London | [email protected] |
Disclaimer: Information provided above has been gathered from various market sources. HVS has not independently verified the accuracy of the information provided. Interested parties should not rely on the information as statement of facts and are advised to make their own independent checks to verify the information provided. For further information, please feel free to contact HVS London.
Superior Results through Unrivaled Hospitality Intelligence. Everywhere.
Stay current. Click here to receive free HVS newsletters
Looking for insights into the hospitality industry?
Discover unique hospitality intelligence at hvs.com/publications
Interested in a particular market?
Find hundreds of market overviews, all written by HVS experts, at hvs.com/marketresearch
Like to be in the know on hotel trends and predictions?
See our Hotel Valuation Index for dozens of cities at hvi.hvs.com