Steigenberger Hotel Group has announced the launch of a new brand. Jaz in the City will be the group's third brand alongside its flagship Steigenberger Hotels and Resorts brand and the InterCityHotel chain. Each Jaz in the City hotel will reflect their host city's music and culture, with galleries and guestrooms featuring local art and public areas showcasing the local music scene. The first hotel is already under construction in Amsterdam, the Netherlands. The hotel is due to open in September 2015 with 247 rooms and 11 suites.
Dalata Hotel Group completed the acquisition of two hotels in Ireland this week. The group announced its intentions to purchase Whites of Wexford, in southeast Ireland, last autumn and the Pillo Hotel in Galway, in the west of the country, in December. The group acquired the 104-room Pillo for €10.5 million. The 157-room Whites of Wexford was sold alongside the Clayton Hotel, also in Galway. Dalata paid €31.5 million for both assets.
In just five weeks, Henry Stewart's Hotel Operating Agreements conference will take place at the Radisson Blu Portman Hotel in London on 26 March. With 23 speakers over 12 sessions delivering practical guidance with case studies, keynote presentations and panel discussions; this is the annual briefing on all matters related to Hotel Operating Agreements. This year's list of topics includes hotel values across the United Kingdom, pressure points in owner-operator relationships and bank-owner interactions in the current market. HVS London director Arlett Oehmichen will be leading a session called Franchise and management operating agreements in the current market – how do they differ, what's better and when? HVS newsletter readers are entitled to a 20% discount for the event. When booking please enter discount code HVS20. Click here to book your place.

Starwood Hotels & Resorts has announced the resignation of Frits van Paasschen as president, chief executive officer and a director of the company. Adam Aron, who has been a director at Starwood since 2006, has taken on the role of chief executive officer on an interim basis while a search is conducted for a permanent candidate for the role. Mr van Passchen is to continue at the company as a consultant to assist in the transition. "Frits has made many important contributions over the past seven years to Starwood's successful evolution into a global company with leading lifestyle brands that possess distinct competitive advantages. He's put innovation and technology leadership at the forefront, while building a culture of collaboration across a dynamic organization," commented Bruce W Duncan, chairman of Starwood's board of directors. "On behalf of the Board, I want to thank Frits for his outstanding service and wish him the best in his future endeavors," he added.
Meliá Hotels International is set to open its sixth hotel in Paris, France, next month. The Meliá Paris La Défense has 369 guest rooms (including 29 suites). The nautical, new-build hotel, which has been designed in the shape of sail of a boat, is on Esplanade de la Défense, in front of the Takis Water Mirror Fountains.
Budget group Travelodge has announced that it plans to open 15 hotels (1,332 rooms) across the UK this year (four in London) with an investment of £100 million. The new properties will bring the group's portfolio up to 510 properties (37,906 rooms). "With our modernised hotels and unbeatable value, we are well placed to serve the rapidly growing demand for low-cost travel," said Peter Gowers, Travelodge's chief executive.
Carlson Rezidor Hotel Group has got together with Blue Diamond Hotel Ltd to develop the Radisson Blu Hotel Juba, Rezidor's first property in the landlocked country of South Sudan, northeast Africa. The 158-room hotel is currently under construction and is due to open in the second quarter of 2017 in Juba, South Sudan's capital and largest city.
Hilton Worldwide has signed a management agreement with Asala For Investment and Touristic Development Company for its first DoubleTree by Hilton hotel in Egypt. The 197-room hotel is scheduled to open in 2017 in the city of Ain al Sokhna, 120 km east of Cairo on the western shore of the Gulf of Suez. The first internationally branded hotel in the city, the new-build property will be part of a mixed-use development also containing residential space and leisure facilities.
Starwood Hotels & Resorts has teamed up with Wasl Hospitality & Leisure to launch its Aloft and Element brands in Dubai. The 165-room Aloft Dubai Raffa and the 96-room Element Dubai Raffa are due to open in 2018 near to Dubai Maritime City and will be developed as one complex. Once the hotels have opened, all of Starwood's nine brands will be represented in the emirate.
Jumeirah Group has announced plans to open its second hotel in Abu Dhabi. The group has signed an agreement with His Highness Sheikh Suroor bin Mohammed Al Nahyan for a luxury resort on Sa'adiyat Island. The 294-room property is expected to open in 2017 on the northeastern side of the island, which is 500 metres off the coast of Abu Dhabi. The group made its debut in the emirate in November 2011 with the 382-room Jumierah at Etihad Towers.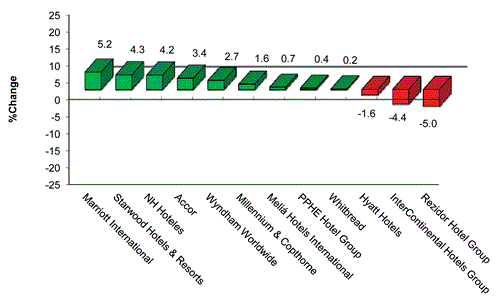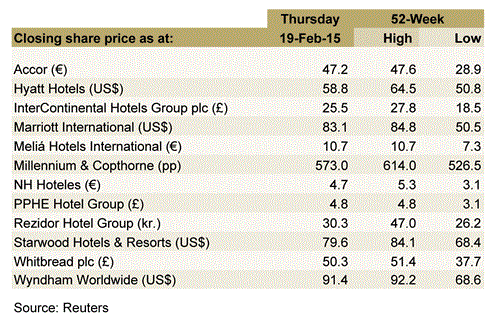 Marriott International – Announced that its board of directors declared a quarterly cash dividend of US$0.20 per share of common stock.

PPHE Hotel Group – Will be announcing its preliminary results for the year ended 31 December 2014 on Monday 2 March 2015.

Hyatt Hotels – Fourth-quarter profit surged on gains from real estate sales and higher occupancy.

For the latest in the hospitality industry, please visit: http://www.hvs.com/. You are also welcome to contact the following personnel.
| | |
| --- | --- |
| Russell Kett, Chairman – HVS London (@russellkett) | [email protected] |
| Charles Human, CEO – HVS London/HVS Hodges Ward Elliott | [email protected] |
| Simon Tucker Brown, Managing Director – HVS Executive Search Europe & Middle East | [email protected] |
| Chris Martin, Senior Director – HVS Hodges Ward Elliott | [email protected] |
| Puneet Kanuga, Director – HVS Hodges Ward Elliott | [email protected] |
| Arlett Oehmichen, Director – HVS London | [email protected] |
| Sophie Perret, Director – HVS London | [email protected] |
| Tim Smith, Managing Partner – HVS Cape Town | [email protected] |
| Demetris Spanos, Managing Director – HVS Athens | [email protected] |
| Hala Matar Choufany, Managing Director – HVS Dubai | [email protected] |
| Ezio Poinelli, Director – HVS Milan | [email protected] |
| Louise Fury, Senior Editor and EMEA Hospitality Newsletter Author – HVS London | [email protected] |
Disclaimer: Information provided above has been gathered from various market sources. HVS has not independently verified the accuracy of the information provided. Interested parties should not rely on the information as statement of facts and are advised to make their own independent checks to verify the information provided. For further information, please feel free to contact HVS London.
Superior Results through Unrivaled Hospitality Intelligence. Everywhere.
Stay current. Click here to receive free HVS newsletters
Looking for insights into the hospitality industry?
Discover unique hospitality intelligence at hvs.com/publications
Interested in a particular market?
Find hundreds of market overviews, all written by HVS experts, at hvs.com/marketresearch
Like to be in the know on hotel trends and predictions?
See our Hotel Valuation Index for dozens of cities at hvi.hvs.com