Wyndham Hotel Group has purchased US-founded group accommodation and meeting space firm Dolce Hotels and Resorts for US$57 million in cash. Dolce's portfolio comprises 24 hotels (5,500 guest rooms) and 750,000 ft² of meeting facilities (hosting around 100,000 events a year) across seven countries in Europe and North America. "Dolce is a terrific fit for us," commented Geoff Ballotti, Wyndham Hotel Group's president and chief executive officer. "We look forward to continuing the growth of the Dolce brand and leveraging these Dolce attributes across the Wyndham global system while enhancing the Dolce owner and guest experience," he added.
Global asset management firm Aviva Investors has sold the Hilton Newcastle Gateshead, in northeast England, to Universities Superannuation Scheme for more than £36 million. Aviva forward funded the development of the 254-room hotel, which was constructed in 2004 on the River Tyne, overlooking Newcastle city centre. The property also has 10,000 ft² of conference space.
An Irish-born businessman currently residing in Australia has acquired the Waterford Castle & Golf Resort in southeast Ireland for more than €6 million, well over the €4.5 million asking price. The 310-acre resort is located on a private island on the River Suir, near to Waterford City. The island also houses an 18-hole Des Smyth designed golf course. It was reported that the new owner intends to invest a considerable amount of capital in the property, which dates from the sixth century, adding conference and leisure facilities. The resort, which was put on the market in November 2014, has 19 guest rooms plus self-catering lodges.
Estonian asset manager Eften Capital AS has acquired Astlanda Hotelli AS (a portfolio of real estate) from Dutch firm Galaren Invest BV for €46 million. The portfolio includes the 25-storey Radisson Blu Sky Hotel in Estonia's capital Tallinn, a 3,000-m² office building and the Madissoni pub. The 280-room hotel, a ten-minute walk from Tallinn's UNESCO World Heritage-listed Old Town, will continue to trade under its existing brand and management team.
Patrizia Immobilien has purchased a Super 8 hotel development in Munich, Germany, for its PATRIZIA Hotel-Invest Deutschland I special fund for an undisclosed price. The six-storey, 168-room hotel, which is currently under construction on Landsberger Strasse, is due to be completed by the end of 2015. The project marks the European debut of Wyndham Worldwide's budget Super 8 brand.
Meliá Hotels International has announced two new Innside by Meliá hotels for its pipeline in the UK – the 180-room Innside Birmingham, in central England, and the 175-room Innside Glasgow, in Scotland. The brand is due to make its debut in the country this May with the opening of the 208-room Innside Manchester in northwest England, bringing the Spanish group's UK portfolio up to three properties (Meliá currently operates two hotels in London). Meliá also announced recently that it plans to take its ME by Meliá brand to Barcelona, Spain. The 173-room ME Barcelona is due to open in 2017. The former Hotel Barcelona, on calle Caspe, is to be demolished and a new 15-storey building (five basement levels and nine upper floors) will be constructed at the site. The development will also include car parking space and retail outlets.
Hilton Worldwide has opened its seventh Hilton Garden Inn property in Turkey. The 217-room Hilton Garden Inn Istanbul Airport is in the suburb of Bahceliever, six kilometres from Ataturk International Airport. The hotel is being managed by Hilton on behalf of the property's owner, Saray Dokum Ve Madeni Aksam Sanayi Turizm. Hilton now has two Hilton Garden Inns in operation in Istanbul and 11 hotels in the city overall.
HVS London recently released a new report on the hotel market in Rome, Italy. The historic city looks set to become the next hotel investor hotspot. The report highlights that demand for luxury accommodation in the city from the US, the Far East and the Middle East is expected to rise alongside gradual improvements in the Italian economy, encouraging investment activity and boosting room rates. In Focus: Rome - Why the Eternal City Could Become the Next Hotspot for Luxury Hotels, by Christof Bertschi and Sophie Perret, is available to download from www.hvs.com.
Steigenberger Hotel Group has opened its first InterCityHotel project in the Netherlands. The 11-storey, 126-room InterCityHotel Enschede is adjacent to the main railway station in the city of Enschede. "The opening of the first InterCityHotel in the Netherlands means that this Steigenberger subsidiary now has a presence in three European countries. Expansion is also continuing at an international level," said Puneet Chhatwal, Steigenberger's chief executive officer.
Hilton Worldwide has signed an agreement with CIMC, a firm that provides modular buildings, for a Hampton by Hilton hotel at Bristol Airport in the UK. CIMC will finance and own the 201-room development, which will be constructed in sections in China and shipped to the UK, and Hilton will manage the property when it opens in spring 2016.
Carlson Rezidor Hotel Group has announced its entry into the landlocked country of Chad in Central Africa with its upper upscale Radisson Blu brand. The Radisson Blu Hotel N'Djamena is due to open in the second quarter of 2015 in the port of N'Djamena, Chad's capital and largest city, on the Chari River. The 175-room hotel is currently under construction just outside the city centre, close to N'Djamena's embassies and commercial areas. The project brings the number of countries Rezidor has a presence in on the continent to 24.
Hilton Worldwide has signed a management agreement with the Resort Group PLC for a hotel in Praia in Cape Verde, a ten-island archipelago in the Atlantic Ocean, off the coast of West Africa. The new-build, 201-room Hilton Praia is to be developed on Santiago Island in Praia, Cape Verde's capital. The 15-storey property is scheduled to open in 2018. Hilton already has one other hotel under development in Cape Verde: a 268-room Hilton resort on Sal Island. Hilton also signed a management agreement with Out of Africa Hospitality for a Hilton Garden Inn property in Windhoek, its second hotel in Namibia. The 180-room hotel is to be developed adjacent to the existing Hilton Windhoek and will become part of the Freedom Plaza mixed-use development. The hotel is expected to open at the beginning of 2017. The group currently operates 37 hotels across Africa and has a further 26 in the pipeline.
Carlson Rezidor Hotel Group has signed an agreement with Al Tawfeeq for Development and Investment LLC for two new properties in the Middle East. The 147-room Park Inn by Radisson Dubai Motor City is due to open in Dubai, UAE, during the first quarter of 2017. The hotel will be part of a mixed-use area also containing motorsport facilities, residential properties, retail facilities, office space and a motorsport theme park. Rezidor now has four projects in development in Dubai (with approximately 800 rooms). Also part of a mixed-use development, the Radisson Blu Hotel & Residences Jeddah Gate is expected to open in the first quarter of 2018 with 302 guest rooms and 150 serviced apartments. It will be the group's eighth project in Jeddah, Saudi Arabia.
Jumeirah Group has signed a management agreement with Meraas Holding for the first hotel under its new lifestyle brand, Venu. The group will take on the operation of the circa 300-room Venu Bluewaters Island Hotel and the adjacent 119 serviced residences, which will become part of its Venu Living brand. Both properties are expected to open in 2017 as part of the Bluewaters Island mixed-use development off the coast of Dubai. Additionally, Langham Hospitality Group announced the launch of a new brand this week. Cordis Hotels and Resorts will be making its worldwide debut in China with the Cordis Hong Kong, which is due to open in May 2015. The initial focus of the brand will be in Asia and North America but future locations also include London and Dubai.
Meliá Hotels International has opened its first hotel in Qatar. The 39-floor, 317-room Meliá Doha encompasses 62,000 m² in Doha's West Bay area. Gabriel Escarrer, Meliá's vice chairman and chief executive officer, commented that, "The Middle East is a key growth market" for the group. "We anticipate significant interest from both the business and leisure markets as the region continues to grow," he added.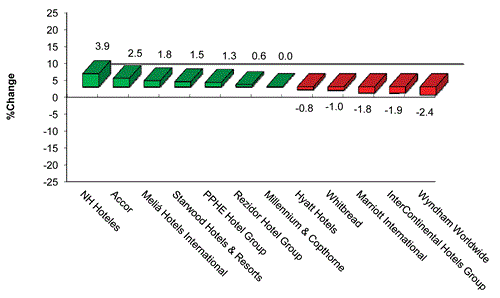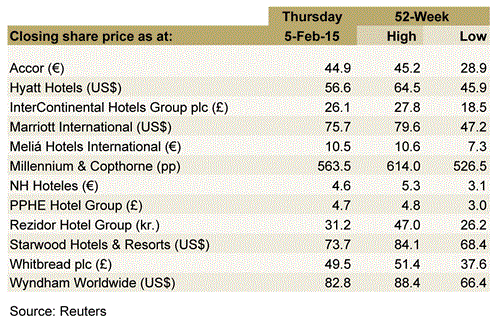 Whitbread – Employees in the Sharesave scheme have collectively made more than £10 million in profit.

Starwood Hotels & Resorts – Bahrain-based International Investment Bank announced that its flagship project Sarajevo City Centre has signed an MOU with Starwood to operate the hotel component.

NH Hoteles – Is to acquire Colombia's Hoteles Royal in two phases for €65.6 million once it has discounted the €21.5 million charged for the sale of the NH Bogata Parque in January 2015.
For the latest in the hospitality industry, please visit: http://www.hvs.com/. You are also welcome to contact the following personnel.
| | |
| --- | --- |
| Russell Kett, Chairman – HVS London (@russellkett) | [email protected] |
| Charles Human, CEO – HVS London/HVS Hodges Ward Elliott | [email protected] |
| Simon Tucker Brown, Managing Director – HVS Executive Search Europe & Middle East | [email protected] |
| Chris Martin, Senior Director – HVS Hodges Ward Elliott | [email protected] |
| Puneet Kanuga, Director – HVS Hodges Ward Elliott | [email protected] |
| Arlett Oehmichen, Director – HVS London | [email protected] |
| Sophie Perret, Director – HVS London | [email protected] |
| Tim Smith, Managing Partner – HVS Cape Town | [email protected] |
| Demetris Spanos, Managing Director – HVS Athens | [email protected] |
| Hala Matar Choufany, Managing Director – HVS Dubai | [email protected] |
| Ezio Poinelli, Director – HVS Milan | [email protected] |
| Louise Fury, Senior Editor and EMEA Hospitality Newsletter Author – HVS London | [email protected] |
Disclaimer: Information provided above has been gathered from various market sources. HVS has not independently verified the accuracy of the information provided. Interested parties should not rely on the information as statement of facts and are advised to make their own independent checks to verify the information provided. For further information, please feel free to contact HVS London.
Superior Results through Unrivaled Hospitality Intelligence. Everywhere.
Stay current. Click here to receive free HVS newsletters
Looking for insights into the hospitality industry?
Discover unique hospitality intelligence at hvs.com/publications
Interested in a particular market?
Find hundreds of market overviews, all written by HVS experts, at hvs.com/marketresearch
Like to be in the know on hotel trends and predictions?
See our Hotel Valuation Index for dozens of cities at hvi.hvs.com