In an off-market transaction, US-based Starwood Capital Group has acquired a London property portfolio for £206 million, including four extended stay hotels and a residential complex. The hotels, at Earls Court, Tower Bridge, Bermondsey Street and London Bridge, were all previously operated by Think Apartments before the owning companies of the assets fell into administration. "We are excited to establish ourselves as a leading player in the extended stay hotel/serviced apartment market, which we believe is one of the most promising and under-supplied real estate sectors in London today," commented Cody Bradshaw, senior vice president and head of European hotels for Starwood Capital.
Through a controlled affiliate, Starwood Capital Group has acquired Scottish firm The Town House Collection (founded in 1989 by hotelier, Peter Taylor) for an undisclosed sum. The collection comprises two hotels: the 100-room Blythswood Square in Glasgow, which opened in 2009, and the 49-room boutique Bonham hotel in Edinburgh. The transaction brings Starwood Capital's portfolio in Scotland up to four hotels (two in Glasgow and two in Edinburgh.

Private investor Topland has purchased Liverpool-based independent hotel operator Feathers Group for reportedly around £65 million (£89,500 per room), adding eight hotels (726 rooms) in northwest England to its portfolio. All members of the Best Western consortium, the hotels are the 93-room Best Western Premier Leyland, in Preston; the 116-room Best Western Willow Bank, in Manchester; the 81-room Best Western Feathers Liverpool and the 41-room Best Western Alicia, in Liverpool; the 52-room Best Western Fir Grove, in Warrington; the 218-room Best Western Premier Queen and the 75-room Best Western Westminster, in Chester; and the 48-room Best Western Llyndir Hall Hotel & Spa, in north Wales. This latest aquisition brings Topland's spending over the last 13 months to £200 million on 28 hotels; the London-based group also has further aquisitions in the pipeline.
German budget group Motel One has sold a nine-property portfolio in Germany to FDM Managment, the hotel operations arm of French real estate investor Fonciére des Regions, for an undisclosed sum. The hotels, in Offenbach, Ratingen, Düsseldorf, Schweinfurt, Hanover, Kassel, Berlin, Cologne and Putzbrunn, comprise 739 rooms. The hotels will be rebranded and will operate under Louvre Hotels Group's Premiere Classe brand. Motel One now has 48 hotels (12,900 rooms). The group's founder, Dieter Muller, commented that the sale of "these smaller and peripherally located units served to clean up the portfolio".
HVS is delighted to announce the appointment of Simon Tucker Brown as managing director of HVS Executive Search for Europe and the Middle East. Simon will be based in HVS' London office. Simon most recently served as managing director at Berkeley Scott and head of practice for ISIS Executive Search. Chief executive officer of HVS Executive Search, Court Williams, said "It is with utmost pleasure that we welcome Simon into the HVS family. We are confident that under his direction, HVS Executive Search will be able to further strengthen its presence and credibility, and achieve a greater reach in Europe and the Middle East".
Rosewood Hotels & Resorts is to take on the management of the luxury Castiglion del Bosco resort near the town of Montalcino in Italy's Tuscany Region. The resort, now rebranded as the Rosewood Castiglion del Bosco, is set on an 800-year-old estate in the Val d'Orcia Unesco World Heritage Site. The property has 23 suites and ten villas. The resort, which is now accepting reservations for 26 March 2015 onwards, is the group's first property in Italy and its second in Europe, along with the Rosewood London; Rosewood's first hotel in France and its third European property, the Hotel de Crillion, A Rosewood Hotel, is due to reopen this year after an extensive renovation.
Swissôtel Hotels & Resorts has announced plans to enter the Bulgarian market. The Swiss brand, part of FRHI Hotels & Resorts' portfolio, has signed an agreement with Turkish development firm Garanti Koza to manage the Swissôtel Sofia. The new flagship property is due to open in 2018 with 200 guest rooms and 81 serviced residences. The hotel will be part of the Grand Kanyon Sofia mixed-use development, in Sofia's Mladost district, which will also include three residential towers and more than 50,000 m² of retail, entertainment and commercial space.
InterContinental Hotels Group (IHG) has signed franchise agreements with existing owner partner Dominvs Group for two new-build hotels at Aberdeen Airport in Scotland: the 165-room Crowne Plaza Aberdeen Airport, which is due to open in 2016 just a two-minute walk from the terminal building, and the adjacent 193-room Holiday Inn Express Aberdeen Airport, which is expected to open at the end of 2015. IHG currently has four Holiday Inn-branded hotels in operation in Aberdeen but this signing marks the debut of its Crowne Plaza brand in the city.

This week, Hyatt Hotels Corporation officially opened its third hotel in Istanbul – also its third hotel in Turkey overall. The Hyatt Regency Istanbul Ataköy has 284 guest rooms and is in the city's high-end residential suburb, Ataköy. The hotel joins sister properties the 360-room Grand Hyatt Istanbul and the 90-room Park Hyatt Istanbul Maçka Palas.
After signing an agreement with Flughafen München Hotel und Gaststätten GmbH, Hilton Worldwide has opened its first hotel at Munich Airport in Germany: the 389-room Hilton Munich Aiport, which is the only hotel at the airport that provides direct access to the terminal building. A further 160 guest rooms are due to open at the hotel in 2017, following an extension. Hilton now has three hotels in operation in Munich.
Leonardo Hotels has added two hotels in Munich to its portfolio, increasing its presence in the city to eight properties (1,360 rooms). As of this month, the Hotel Mayerhof will operate as the 70-room Leonardo Hotel Munich City North. The Best Western Aparthotel is to close for an extensive renovation, after which it will reopen as the 195-room Leonardo Hotel Munich City Olympiapark.
Rotana has opened its second hotel in Bahrain. The ART Rotana Amwaj Islands is the product of an agreement with Ossis Property Development. The 311-room hotel is on the man-made Amwaj Islands develoment in northeastern Bahrain.
Marriott International has opened the Courtyard by Marriott World Trade Center in Abu Dhabi. The 12-storey, 195-room hotel is adjacent to the World Trade Center Mall and Souk. The hotel is the group's second hotel in Abu Dhabi, alongside the Ritz-Carlton Abu Dhabi, Grand Canal, but it is the first Marriott-branded property in the emirate.
In a joint venture, Emaar Properties and Meraas Holding have created a new mid-market lifestyle brand called Rove. The duo have been developing the concept, which is aimed at "the young and young at heart", over the last 18 months and plan to roll out ten Rove hotels in Dubai and the Middle East overall by 2020. The first property, the 14-storey, 420-room Rove Za'abeel, is almost complete and due to open next year opposite the Dubai Mall. Five other Rove hotels are already expected to open in the next few years in Al Wasl, Port Saeed, Al Jafiliya, Oud Metha and Dubai Marina.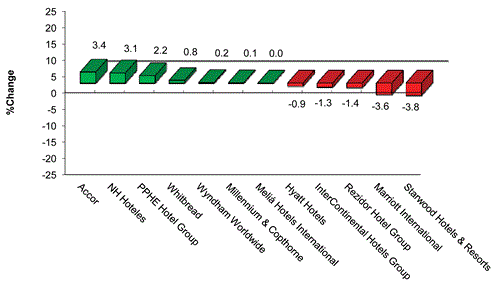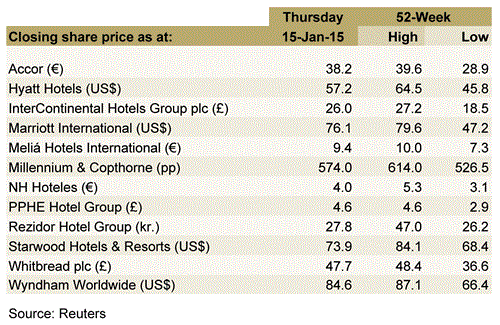 Accor – Credit Suisse upgraded to "outperform" from "neutral".
Whitbread – Barclays upped its target price.

InterContinental Hotels Group – Dutch billionaire, John Fentener van Vlissingen, bought 7.5 million shares.
For the latest in the hospitality industry, please visit: http://www.hvs.com/. You are also welcome to contact the following personnel.
| | |
| --- | --- |
| Russell Kett, Chairman – HVS London (@russellkett) | [email protected] |
| Charles Human, CEO – HVS London/HVS Hodges Ward Elliott | [email protected] |
| Simon Tucker Brown, Managing Director – HVS Executive Search Europe & Middle East | [email protected] |
| Chris Martin, Senior Director – HVS Hodges Ward Elliott | [email protected] |
| Puneet Kanuga, Director – HVS Hodges Ward Elliott | [email protected] |
| Arlett Oehmichen, Director – HVS London | [email protected] |
| Sophie Perret, Director – HVS London | [email protected] |
| Tim Smith, Managing Partner – HVS Cape Town | [email protected] |
| Demetris Spanos, Managing Director – HVS Athens | [email protected] |
| Hala Matar Choufany, Managing Director – HVS Dubai | [email protected] |
| Ezio Poinelli, Director – HVS Milan | [email protected] |
| Louise Fury, Senior Editor and EMEA Hospitality Newsletter Author – HVS London | [email protected] |
Disclaimer: Information provided above has been gathered from various market sources. HVS has not independently verified the accuracy of the information provided. Interested parties should not rely on the information as statement of facts and are advised to make their own independent checks to verify the information provided. For further information, please feel free to contact HVS London.
Superior Results through Unrivaled Hospitality Intelligence. Everywhere.
Stay current. Click here to receive free HVS newsletters
Looking for insights into the hospitality industry?
Discover unique hospitality intelligence at hvs.com/publications
Interested in a particular market?
Find hundreds of market overviews, all written by HVS experts, at hvs.com/marketresearch
Like to be in the know on hotel trends and predictions?
See our Hotel Valuation Index for dozens of cities at hvi.hvs.com