Acting on behalf of one of its dedicated hotel funds, Invesco Real Estate has sold the Pullman Hotel Paris La Defense to an affiliate of the Qatar Armed Forces Investment Portfolio for an undisclosed sum. Accor will continue to operate the 328-room hotel under a long-term lease agreement. HVS Hodges Ward Elliott represented Invesco on the transaction.
Invesco acquired the Mercure Terminus Nord in Paris, opposite the Eurostar terminal at Gare du Nord, for an undislcosed sum on behalf of one of its clients, an Asian separate account mandate. The six-storey, 236-room hotel is run under a management contract by local operator, Paris Inn. The property, with its historic façade, was built in 1865. It is the first asset Invesco has purchased for this client.
Other news in the French capital this week includes reports that InterContinental Hotels Group has accepted an offer of €330 million from Qatar-based Constellation Hotels Holding for the 470-room InterContinental Paris - Le Grand. The sale of the 152-year-old hotel is expected to close during the first quarter of 2015.
Dalata Hotel Group has agreed to acquire nine hotels from Moran & Bewley's Hotel Group for €455 million, using cash reserves, debt and a portion of its issued share capital. Moran & Bewley's portfolio consists of ten hotels across Ireland and the UK under its two brands. The group will retain ownership of the Red Cow Moran Hotel in Dublin and Dalata will become the owners of the remaining five hotels in Ireland (four Bewley's hotels in Dublin and a Moran property in Cork) and four hotels in the UK (Bewley's hotels in Manchester and Leeds and two Moran hotels in London), increasing its UK assets to five. Dalata has also signed an agreement to purchase the Pillo Hotel & Spa in Galway, Ireland for €10.5 million. The group has operated the 104-room hotel under a management contract since 2011. The all-cash deal is expected to close within 30 days. Dalata commented that it has plans to further develop the four-star hotel.
Other transactions this week include Deka Immobilien's purchase of the 124-room Holiday Inn Express Nuremberg City – Hauptbahnhof and the 80-room Hampton by Hilton Nuremberg City Centre in Nuremberg, southeast Germany, from GBI for around €19 million. The hotels, which recently opened, are operated by Foremost Hospitality. Additionally, Frankfurt-based Union Investment has acquired its first hotel in the city of Warsaw, Poland: the 300-room Hampton by Hilton Warsaw City Centre, which opened in June 2014. Union acquired the hotel from a subsidiary of S+B Gruppe for an undisclosed sum.
Carlson Rezidor has made its first appearance in Serbia with the opening of the Radisson Blu Old Mill Hotel in the country's capital, Belgrade. The 236-room hotel is in the city's Old Town, a short walk from the Sava River. "Eastern Europe is an important growth market for our group, and this opening further strengthens our network in the region," commented Rezidor's president and chief executive officer, Wolfgang Neumann. The group also recently announced that it plans to expand its portfolio in Georgia. Rezidor signed a partnership agreement with Block Geo Group to develop the 180-room Park Inn by Radisson Tori Tbilisi. The hotel is the group's second Park Inn hotel in its pipeline for Tbilisi.
Marriott International has signed an agreement with Aberdeen City Council for the Residence Inn Aberdeen. The 126-unit extended-stay property will be part of the Marischal Square mixed-use urban regeneration scheme in Aberdeen, on the North Sea, in northeastern Scotland. Work is due to begin on the hotel in January and it is scheduled to be completed by summer 2017. The Marischal Square development will also include Grade-A office space, retail outlets, food and beverage facilities and civic space. Marriott currently operates seven hotels across Scotland, two of which are in Aberdeen.
Marriott also announced some new additions to its Autograph Collection this week. The brand will make its debut in Azerbaijan this month with two hotels in the Shahdag Mountain Resort due to join the collection – the 167-room Pik Palace Shahdag and the 164-room Park Chalet Shahdag. In the Caucasus Mountains, Shahdag is the country's first and largest winter resort. In June 2015, two hotels in Baku will join the collection – the 818-room Boulevard Hotel Baku, on Baku Bay, and the 150-room Intourist Hotel Baku. The group also signed an agreement with Al Habtoor Group, making the 446-room Habtoor Grand Beach Resort & Spa in Dubai the first hotel in the Middle East to join the collection at the beginning of 2015.
Starwood Hotels & Resorts has signed an agreement with Hoteli Dubrovacka Rivijera that will see it open its fourth hotel in Croatia, and its first in the city of Dubrovnik. The 250-room Sheraton Dubrovnik Riviera Hotel is due to open in the second quarter of 2015 in the city's UNESCO heritage-listed Old Town. "Our expanding footprint in Croatia reflects the country's continuing prominence as a travel destination, and the growing demand for strong, globally recognised hotel brands along the Adriatic Coast," said Michael Wale, Starwood's president for the EMEA region.
Hilton Worldwide has opened its first Garden Inn property in London: the Hilton Garden Inn London Heathrow Airport. The 364-room hotel, close to Heathrow's Terminal 4, formerly operated as the Heathrow Jurys Inn and is the third hotel to be rebranded under a franchise agreement between Hilton and Jurys Inn that was signed in November 2013. Jurys Inn continues to own and manage the hotel.
InterContinental Hotels Group has signed agreements for two new flagship hotels. The former Four Seasons Hotel Dublin in Ireland is to be rebranded as the InterContinental Dublin from 1 January 2015 and will operate under a franchise agreement with Ballsbridge Hotels Ltd. In 2016, the opening of the InterContinental Baku in Azerbaijan will mark the brand's debut in the country. This new-build, 105-room hotel will operate under a franchise agreement with AZ-ORS LLC and will be managed by The Ceylan Group, which owns and manages the InterContinental Istanbul in Turkey.
Steigenberger Hotel Group has signed an agreement with Madrid-based Carey Property to take over the Hotel Cologne Rudolfplatz, in Germany's fourth-largest city, as of 1 January 2015. The hotel will continue to trade under its current name as it undergoes an 18-month renovation at a cost of €15 million, after which it will open as the 301-room Steigenberger Hotel Köln in the second half of 2016. "Cologne was one of the very few blank spots on our map," said Puneet Chhatwal, Steigenberger's chief executive officer. "We could not imagine any better partner than Carey with whom to launch the multi award-winning Steigenberger service in this attractive Rhine Metropolis," he added.
After making its European debut earlier this year with the 493-room Hard Rock Hotel Ibiza, US-based Hard Rock International has teamed up with Spanish hotel operator Palladium Hotel Group again for its second property on the continent. The Hard Rock Hotel Tenerife is due to open in mid-2016 on the southern coast of Tenerife, in Spain's Canary Islands. The 637-room resort will be spread across two towers.
Scandic is to take over the operation of three hotels in the city of Bergen in Norway from Bergen Hotel Gruppen AS. The 197-room Scandic Neptun, the 262-room Scandic Bergen City and the 98-room Scandic Strand have been branded Scandic hotels for the past 14 years under a long-term franchise agreement. Scandic will officially take on the hotels on 1 February 2015, bringing the number of properties it operates in Bergen up to six.
Carlson Rezidor has signed an agreement with Riyadh Chamber of Commerce & Industry for a new property in Saudi Arabia, increasing its portfolio in the country to 23 hotels (4,200 rooms) in operation or in the pipeline. The Radisson Blu Hotel, Riyadh International Convention & Exhibition Center is expected to open in the second quarter of 2017 in the Saudi capital with 200 guest rooms. Rezidor currently operates one Radisson Blu hotel in Riyadh and the latest signing is the group's eighth project in the city overall.
Dur Hospitality Company has signed a master development agreement with InterContinental Hotels Group to franchise the Holiday Inn & Suites brand across Saudi Arabia over the next five years. Dur also signed an agreement with Marriott International for the operation of an 80-room Marriott hotel and a 140-unit Marriott Executive Apartments in the kingdom. Dur is currently developing the two properties in Riyadh's diplomatic quarter for approximately SAR300 million (US$80 million). Both properties are due to open in 2017 and will be operated and managed by Marriott.
The team at the London office of HVS and HVS Hodges Ward Elliott wish all our readers a very happy Christmas and a peaceful and prosperous New Year. Our e-newsletter will be back on Friday 9 January and we look forward to bringing you all the important hotel investment and development news from around the EMEA region in the coming year.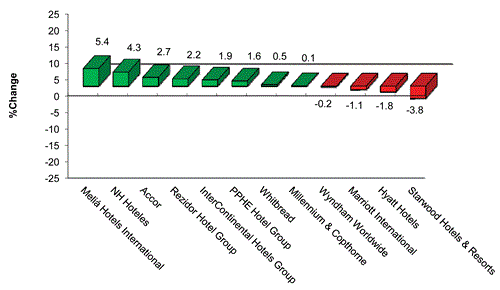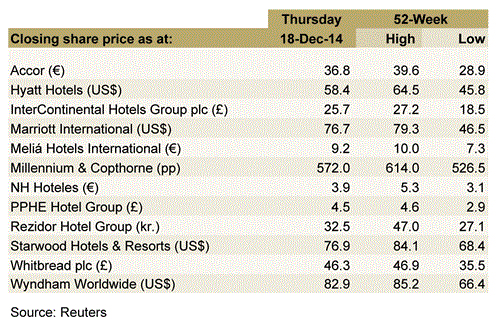 InterContinental Hotels Group – Upgraded to "accumulate" from "hold" by Charles Stanley.
Marriott International – Citigroup maintained its "buy" rating and upped the price target to US$88 from US$76.
For the latest in the hospitality industry, please visit: http://www.hvs.com/. You are also welcome to contact the following personnel.
| | |
| --- | --- |
| Russell Kett, Chairman – HVS London (@russellkett) | [email protected] |
| Charles Human, CEO – HVS London/HVS Hodges Ward Elliott | [email protected] |
| Chris Martin, Senior Director – HVS Hodges Ward Elliott | [email protected] |
| Puneet Kanuga, Director – HVS Hodges Ward Elliott | [email protected] |
| Tim Smith, Director – HVS London | [email protected] |
| Arlett Oehmichen, Director – HVS London | [email protected] |
| Sophie Perret, Director – HVS London | [email protected] |
| Demetris Spanos, Managing Director – HVS Athens | [email protected] |
| Hala Matar Choufany, Managing Director – HVS Dubai | [email protected] |
| Ezio Poinelli, Director – HVS Milan | [email protected] |
| Louise Fury, Senior Editor and EMEA Hospitality Newsletter Author – HVS London | [email protected] |
Disclaimer: Information provided above has been gathered from various market sources. HVS has not independently verified the accuracy of the information provided. Interested parties should not rely on the information as statement of facts and are advised to make their own independent checks to verify the information provided. For further information, please feel free to contact HVS London.
Superior Results through Unrivaled Hospitality Intelligence. Everywhere.
Stay current. Click here to receive free HVS newsletters
Looking for insights into the hospitality industry?
Discover unique hospitality intelligence at hvs.com/publications
Interested in a particular market?
Find hundreds of market overviews, all written by HVS experts, at hvs.com/marketresearch
Like to be in the know on hotel trends and predictions?
See our Hotel Valuation Index for dozens of cities at hvi.hvs.com