Featured in this Asia Pacific Hospitality Newsletter
Singapore Airlines (SIA) has expanded its network with the signing of two agreements to partner with Virgin Australia and Greek Star Alliance member, Aegean Airlines. SIA's new deal with Virgin Australia will allow the airline to codeshare on all of the Australian carrier's 32 domestic destinations. In 2013, Virgin Australia will codeshare on SIA's connections from the East Coast of Australia to Europe and additional cities in Asia, via Changi Airport - SIA's hub, eventually bringing Virgin Australia's network to 64 destinations in Asia and 12 in Europe. SIA's codeshare agreement with Aegean will enable SIA to add its code to Aegean-operated flights serving Athens from Frankfurt, London, Milan and Munich, in addition to flights serving Greece's second-largest city, Thessaloniki from Frankfurt and Munich. Reciprocally, Aegean will add its code to SIA-operated flights serving Singapore from Frankfurt, Milan and Munich; in addition to flights from Singapore to Melbourne and Sydney.
The New Zealand Ministry of Business, Innovation and Employment has forecast that the expanding Chinese middle class and the continued economic strength of Australia are set to fuel New Zealand's tourism industry. International visitor numbers will grow by 28% by December 2018, while visitor expenditure will increase by 9%. Arrivals from traditional markets such as the UK and US are expected to decline, however this drop will be offset by strong growth from China and Australia. Chinese visitors' expenditure has grown rapidly in the past two years and while the forecast for the next two years will be moderate, the medium to long-term outlook will be strong.
DoubleTree by Hilton has made its debut in Thailand, following the opening of the DoubleTree Resort by Hilton - Surin Beach, in Phuket. The resort was formerly the Courtyard by Marriott, but has been rebranded to become the 7th Hilton property in Thailand. The resort features 80 suites and three food and beverage outlets, in addition to meeting facilities, a business centre, fitness club and outdoor lagoon-style pools. The property is located on the west coast on Surin Beach, one of Phuket's most famous beaches, known for its fine white sandy beaches and turquoise water, and is located approximately 24 kilometres from Phuket International Airport. Hilton Worldwide will be opening a second DoubleTree by Hilton hotel in Thailand, which will be located in Sukhumvit, Bangkok in 2013.
| | |
| --- | --- |
| Yogyakarta Confident to Reach Target of 250,000 International Visitors in 2012 | Return to Headlines |
The tourism office of Yogyakarta is optimistic about achieving its goal of attracting 250,000 foreign tourists to the province by the end of 2012, an increase of almost 40% from last year's figure of 180,000 visitors. Tourism contributed 20.84% to the economy of Yogyakarta in 2011, which was greater than the contribution of agriculture and manufacturing which made up 16.07% and 13.48% of the economy, respectively. The tourism office intends to increase both promotional campaigns promotional collaborations with tour operators to generate greater international awareness for Yogyakarta. Some of the countries targeted include Thailand, China, Japan, Malaysia and the Netherlands.
India's tourism minister has unveiled two new tourism campaigns to promote the country both internationally and domestically. The "Go Beyond' campaign which will be targeted toward the domestic market, aims to highlight destinations in India which are lesser known to domestic as well as international tourists. 'Find What You Seek' is an international campaign, which will be a continuation of the successful 'Incredible India' campaign that was launched in 2002. It will be focused on international tourists and seeks to attract travel consumers to discover a wide range of destinations or products of their desire in India. Currently, India has approximately 6.3 million foreign visitors annually and the tourism ministry aims to double this number in the next five years.
Iskandar Malaysia, which is poised to be Malaysia's key growth corridor and the country's largest economic zone, will transform Johor Bahru into an international metropolis upon its completion in 2025. Iskandar Malaysia will consist of several clusters which will focus on areas such as petrochemical, oleochemical, tourism, logistics, healthcare and manufacturing. As a result of several components of Iskandar Malaysia which have opened up recently, such as the opening of the first LEGOLAND in Asia and the Puteri Harbour Family Theme Park, the supply of hotels in Johor Bahru over the past two years has grown tremendously.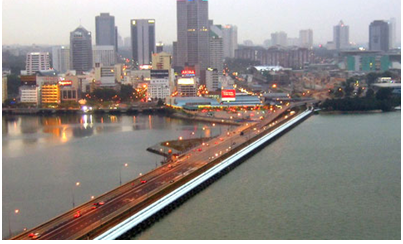 According to the Malaysian Association of Hotels, at least 3,000 hotel rooms are expected to enter the city by mid-2014 from an approximate current supply of 14,200 rooms. Some of these new hotels that are scheduled to open by 2014 include internationally branded properties such as Traders Hotel Puteri Harbour, DoubleTree by Hilton and Renaissance Johor Bahru Hotel. Hotel occupancy in Johor Bahru has been steadily increasing and the opening of LEGOLAND Malaysia earlier in September has already had a positive impact on hotel occupancies and tourism revenues, and with the ongoing development of Iskandar Malaysia, tourism in Johor is expected to increase substantially in the next few years.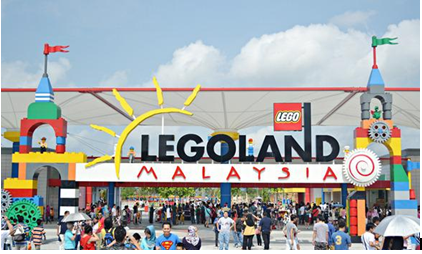 Air Asia has recently introduced a direct flight from Surabaya in Indonesia to Johor Bahru's Senai International Airport and this is expected to boost the number of tourist arrivals from Indonesia to the city. The airport, which has to date only offered domestic flights on three airlines, has recently undergone upgrading to increase the passenger capacity, extend the runway and construct a new cargo terminal. There is currently a 20-year master plan to develop and enhance the airport to boost growth and to develop an integrated airport city within Senai Airport, which is set to become a major hub for Southern Malaysia in the future.

Previously, Johor Bahru was known to be a transit city for both domestic and foreign tourists, who would bypass the city on the way to Malacca or Kuala Lumpur. However, with these new developments and the opening of several theme parks, hotels are anticipated to see higher demand and growth in occupancy levels as the number of overnight visitors rises. This expected growth in overnight visitors will provide the demand to support the increase in hotel supply, contributing to the strengthening of the city's tourism industry.
Absolute Share Price Performance, as at 23 November 2012
Closing Share Price as at
23 November 2012
16 November 2012
% Change
Australia Stock Exchange (ASX)
Amalgamated Holdings Limited
6.84
6.59
4%
General Property Group
3.48
3.40
2%
Mirvac Group
1.46
1.45
1%
Ocean Capital Limited
0.14
0.14
-
Bangkok Stock Exchange (THB)
Central Plaza Hotel Public Co Ltd
25.25
23.20
9%
Dusit Thani Public Co Ltd
49.25
48.00
-4%
The Erawan Group Public Co Ltd
3.50
3.22
9%
Grande Asset Hotels and Property Public Co Ltd
1.28
1.27
1%
Laguna Resorts & Hotel Public Co Ltd
34.00
33.75
1%
Minor International Public Co Ltd
19.90
19.00
5%
China Shanghai Stock Exchange (RMB)
Shanghai Jinjiang International Hotels Development
14.51
14.45
-
Beijing Capital Tourism Co Ltd
10.59
10.58
-
Jinling Hotel Corporation Ltd
6.79
6.71
1%
China Shenzhen Stock Exchange (RMB)
Hunan Huatian Great Hotel Co Ltd
3.94
3.85
2%
Guangzhou Dong Fang Hotel Co Ltd
6.51
6.65
-2%
Shenzhen Century Plaza Hotel Co Ltd
4.17
4.32
-3%
NASDAQ (US$)
China Lodging Group, Limited
16.76
16.43
2%
Home Inns & Hotels Management Inc
25.89
26.57
-3%
Hong Kong Stock Exchange (HK$)
Miramar Hotel & Investment Co Ltd
10.02
9.98
-
Regal Hotels International Holdings Ltd
3.43
3.45
-1%
Sino Hotels Holdings Ltd
2.50
2.50
-
The Hong Kong & Shanghai Hotels Ltd
11.02
10.70
3%
Shangri-La Asia Limited
15.06
15.24
-1%
Dorsett Hospitality International
1.92
1.72
12%
Bombay Stock Exchange (INR)
IHCL (Taj Hotels, Resorts & Palaces)
61.05
62.20
-2%
EIH (Oberoi Hotels & Resorts)
71.05
70.15
1%
Hotel Leela Ventures
30.85
29.35
5%
Korea Exchange (KRW)
The Shilla
46,450
48,200
-4%
Singapore Stock Exchange (S$)
Amara Holdings Ltd
0.41
0.40
2%
Ascendas Hospitality Trust
0.91
0.91
-
Ascott Residence Trust
1.29
1.28
1%
Banyan Tree Holdings Limited
0.60
0.63
-5%
CDL Hospitality Trusts
1.91
1.88
2%
Far East Hospitality Trust
0.98
0.99
-1%
Hotel Grand Central Ltd
0.89
0.88
1%
Hotel Properties Ltd
2.64
2.50
6%
Mandarin Oriental International Ltd (US$)
1.36
1.34
1%
Pan Pacific Hotels Group Limited
2.24
2.24
-
Shangri-La Asia Limited (HK$)
15.00
14.80
1%
Stamford Land Corporation Ltd
0.55
0.55
-
Taiwan Stock Exchange (NT$)
Formosa International Hotels Corporation
334
328
2%
The Ambassador Hotel, Ltd
29.60
29.70
-
Tokyo Stock Exchange (JPY)
Japan Hotel REIT Investment Corp.
23,980
23,070
4%
Imperial Hotel, Ltd
2,200
2,106
4%
Return to Headlines
Disclaimer: Information provided above has been gathered from various market sources. HVS has not independently verified the accuracy of the information provided. Interested parties should not rely on the information as statement of facts and are advised to make their own independent checks to verify the information provided. For further information, please feel free to contact HVS Singapore.