Featured in this Asia Pacific Hospitality Newsletter
China Hotel Investment Conference 2010
Hotel Investment Conference South Asia (HICSA) - 7-8 April 2010
Hotel Leelaventure To Expand In India
International Arrivals To Indonesia Rise By 4.2% In January 2010
Major Hotels Expected To Open Prior To Asian Games
Tourism In Asia Pacific Improves In Second Half Of 2009
Sri Lanka To Develop Kalpitiya Region Into Ecotourism Destination
Malaysia Property Market Expected To Improve Further In 2010
Absolute Share Price Performance, As At 5 March 20

10

Most Influential Hotel Investment Conference in China
Expand Your Investment in China with CHIC and Set Your Sights Beyond At the World Expo
Taking place from 12 to 14 May at the InterContinental Shanghai Puxi, China Hotel Investment Conference (CHIC) 2010 brings you more than influential speakers, hot topics and industry movers and shakers to expand your investment portfolio in China.

With CHIC 2010, you are in the right place at the right time, and have the right company to attend the World Expo 2010 Shanghai with as you exchange ideas gained from visiting innovative and stimulating pavilions from some 200 nations.

Designed exclusively for CHIC's delegates are post-conference World Expo tours with varying options for you to explore sustainable and harmonious urban living in the 21st century, themed 'Better City, Better Life'. Visit the World Expo website for details.

CHIC promises a more exciting and improved conference programme in which you are warmly invited to participate in our first-ever high impact speed networking event – Get the Most in 15 Minutes!

Wednesday, 12 May 2010
Meet new contacts and seize business opportunities in a fun way! Get the Most in 15 Minutes is a high-energy networking activity created to meet the needs of our delegates to share ideas and make connections in the shortest time possible! Join us to soak up the incredible buzz and fun! All you need is your gift of the gab and a huge stack of business cards.

Get the Most in 15 Minutes is only the warm-up activity, as CHIC has lined up more networking opportunities for you to engage with the contacts you have connected with during the speed networking event, and those whom you may have missed.

Grand Opening Reception, Wednesday, 12 May 2010
Hosted at the newly opened InterContinental Shanghai Puxi by InterContinental Hotels Group, you can expect a fabulous and fun evening to toast the grand opening of CHIC 2010.

Opening Gala Cocktail Reception, Thursday, 13 May 2010
Enjoy the relaxing atmosphere and party to your fullest at Hyatt on the Bund at this cocktail reception sponsored by Hyatt Hotels and Resorts.

You can't afford to miss these dynamic and innovative networking opportunities that are exclusively designed for you to explore and increase your investment interests in China. Visit www.chinahotelconference.com for details and register.

For further assistance, please call tel: +86 21 5171 7003 or email: info@chinahotelconference.com.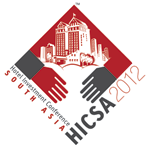 The Sixth Hotel Investment Conference - South Asia (HICSA) 2010 is scheduled for April 7th and 8th, 2010 and is to be hosted at the Grand Hyatt, Mumbai. Over the past five years the conference has played host to 30 global CEO's, 2,200 plus delegates, and has had a wide range of attendees from owners, real estate developers, operators, bankers, architects and consultants. This exclusive event promises to once again line up some of the best known global faces of the hospitality industry including Frits van Paasschen, President & CEO - Starwood Hotels & Resorts, Eric Danziger, President & CEO - Wyndham Worldwide, Mark Hoplamazian, CEO & President, Hyatt Hotels Corporation, Nakul Anand, Divisional Chief Executive - Hotel Division, ITC, Gamal Aziz, President & CEO - MGM Mirage Hospitality, Gerald Lawless, Executive Chairman - Jumeirah Group, Capt CP Krishnan Nair, Chairman - The Leela Palaces Hotels and Resorts, Raymond Bickson, MD & CEO - Taj Hotels Resorts and Palaces, Martin Rinck, President - Asia Pacific, Hilton Hotels, Henry Gabey, Co-Founder & Co-Chairman - DUET Group, Louis Klein, MD - Real Estate, IREO, New York, Peter Meyer, MD - Pacifica Partners, Michael Evans, EVP Global Development - MGM MIRAGE Hospitality, Richard Solomons, CFO and Head of Commercial Development - IHG. The conference has been regarded by many as the best networking opportunity in the region and a must attend for all associated to the hotel industry.

Click here to view the website | Latest Agenda | View Speakers List | Register Now! | Hotels of The Year Awards
Luxury hotel chain, Hotel Leelaventure, is planning to invest approximately US$297 million by 2015 to develop new hotels in areas such as New Delhi, Agra and Pune in India. A portion of the investment, approximately US$121 million, is expected to be raised through foreign currency convertible bonds by middle of 2010; raising capital through qualified institutional placement of shares is also being considered. The chain's 260-key The Leela Palace Kempinski New Delhi is scheduled to commence operations before the Commonwealth Games in October 2010.
The number of international arrivals to Indonesia recorded approximately 493,000 in January 2010, reflecting a 4.2% growth from 473,200 arrivals recorded in January 2009. In addition, the number of international and domestic passengers on domestic airlines registered a 22% growth in January 2010 as compared to the same period in 2009, recording approximately 3.3 million passengers. Bali, Indonesia's main tourist destination, witnessed a 2.2% increase to 178,358 international arrivals.
It was reported that there are at least 12 five-star hotels currently under construction within the main districts of Tianhe, Yuexiu and Haizhu in Guangzhou in anticipation of the Asian Games in November 2010. New hotels include W Hotel Guangzhou, Marriott Grandview Plaza and Sheraton Guangzhou Hotel and these hotels are expected to add a total of 4,675 rooms to the city's existing inventory of 8,117 rooms. In 2009, Guangzhou recorded a Gross Domestic Product of approximately US$133.3 billion, reflecting an 11.5% growth from 2008.
According to the Pacific Asia Travel Association (PATA), the Asia Pacific region recorded a 3% decline in the number of international arrivals in 2009 as compared to 2008. International arrivals declined by 6% in the first six months of 2009 and this was compensated by the 1% growth in arrivals for the second half of the year. The Southeast Asia region was the only sub region to have recorded growth for the full year as arrivals to Northeast Asia and India fell by 2% and 3%, respectively. Growth in international arrivals for Asia Pacific is expected to be gradual in the short-term.
The Sri Lankan tourism authorities have announced plans to develop the northwestern Kalpitiya region into an ecotourism destination. The region, comprising six individual islands accessible by 20-minute boat rides, offers connection to the Northern Province which was recently opened to the public following the end of the civil war. The proximity of the Kalpitiya region to the Bandaranaike International Airport and Yala National Park, and its natural coastal environment have been identified as critical factors for the selection of the region to be developed.
According to the Finance Ministry, Malaysia is expected to witness economic growth in 2010 driven primarily by the growth in domestic demand and improving commodity prices. Hence, property transactions and construction activities are expected to increase, in line with economic growth. Measures such as the liberalisation of Foreign Investment Committee guidelines and the review of the Real Property Gains Tax are expected to boost the real estate market. In addition, the authorities have pledged to clamp down on developers and companies which were involved in projects which have been abandoned and not completed on schedule.
Absolute Share Price Performance, as at 5 March 2010
Closing Share Price as at
5 Mar 2010
26 Feb 2010
% Change
Australia Stock Exchange (ASX)
Amalgamated Holdings Limited
5.64
5.67
-1%
General Property Group
0.60
0.58
3%
Mirvac Group
1.58
1.53
3%
Ocean Capital Limited
0.35
0.35
–
Thakral Holdings Group
0.37
0.35
6%
Living and Leisure Australia Group
0.030
0.030
–
Bangkok Stock Exchange (THB)
Central Plaza Hotel Public Co Ltd
4.12
4.00
3%
Dusit Thani Public Co Ltd
27.75
25.75
8%
The Erawan Group Public Co Ltd
2.34
2.26
4%
Grande Asset Hotels and Property Public Co Ltd
1.17
1.25
-6%
Laguna Resorts & Hotel Public Co Ltd
38.00
38.50
-1%
Minor International Public Co Ltd
11.10
10.60
5%
China Shanghai Stock Exchange (RMB)
Shanghai Jinjiang International Hotels Development
26.81
27.79
-4%
Beijing Capital Tourism Co Ltd
21.60
23.10
-6%
Jinling Hotel Corporation Ltd
9.34
9.38
0%
China Shenzhen Stock Exchange (RMB)
Hunan Huatian Great Hotel Co Ltd
9.99
10.12
-1%
Guangzhou Dong Fang Hotel Co Ltd
11.30
10.60
7%
Shenzhen Century Plaza Hotel Co Ltd
7.73
7.85
-2%
NASDAQ (US$)
Home Inns & Hotels Management Inc
34.99
33.57
4%
Hong Kong Stock Exchange (HK$)
Miramar Hotel & Investment Co Ltd
8.24
8.10
2%
Regal Hotels International Holdings Ltd
2.87
2.80
3%
Sino Hotels Holdings Ltd
2.23
2.30
-3%
The Hong Kong & Shanghai Hotels Ltd
10.84
10.84
–
Korea Exchange (KRW)
The Shilla
21,500
20,000
8%
Singapore Stock Exchange (S$)
Amara Holdings Ltd
0.49
0.49
0%
ART Management Limited
1.23
1.14
8%
Banyan Tree Holdings Limited
0.74
0.69
7%
CDL HTrust
1.68
1.69
-1%
Hotel Grand Central Ltd
0.75
0.75
–
Hotel Properties Ltd
2.05
1.97
4%
Mandarin Oriental International Ltd (US$)
1.43
1.42
1%
Pan Pacific Hotels Group Limited
1.54
1.53
1%
Shangri-La Asia Limited (HK$)
13.30
12.64
5%
Stamford Land Corporation Ltd
0.43
0.44
-2%
Taiwan Stock Exchange (NT$)
Formosa International Hotels Corporation
348
340
2%
The Ambassador Hotel, Ltd
33.95
33.50
1%
Tokyo Stock Exchange (JPY)
Nippon Hotel Fund Investment Corporation
145,700
145,800
0%
Japan Hotel and Resort Inc
130,000
130,200
0%
Imperial Hotel, Ltd
1,635
1,630
0%
Return to Headlines
Subscription Information:
You are currently subscribed as $subst('Recip.EmailAddr') to receive emails from our HVS list. You are receiving this email because you have contacted us through our website or through other means. To unsubscribe from future mailings to this list, please send a blank email to: $subst('Email.UnSub').

If you would like to change your preferred email format, change your subscribed email address, or have any comments or suggestions, please contact us at: hvs@hvs.com.

You can also contact us by phone or regular mail:

HVS
Joan Raffetto
369 Willis Avenue
Mineola, NY 11501
Tel: +1 (516) 248-8828 ext. 231
Disclaimer: Information provided above has been gathered from various market sources. HVS has not independently verified the accuracy of the information provided. Interested parties should not rely on the information as statement of facts and are advised to make their own independent checks to verify the information provided. For further information, please feel free to contact HVS Singapore.