Featured in this Asia Pacific Hospitality Newsletter

'From Asia to Global Powerhouse, China – An Extraordinary Opportunity Awaits'
Count down to the most influential hotel investment conference in China and the Shanghai World Expo tours, tailored just for you! The revised 6th annual edition of CHIC will bring you on another exciting expedition to explore investment and other business opportunities in this vast market. You will also have an exclusive opportunity to meet high profile speakers including Zhang Jianzhong, Director of Policy and Regulation Department, China National Tourist Administration; Peter Meyer, Managing Director, Pacifica; Neil Galloway, Chief Financial Officer, The Hongkong & Shanghai Hotels Ltd; Samuel Ng, Secretary General, Association of China Hotel Owners; Ning Qi Feng, Vice President, Wanda Group; Keven Chan, Deputy Vice President (Operations), Hotel Division, Sun Hung Kai; Tony Soh, Chief Corporate Officer, The Ascott Limited; Michael Issenberg, Chairman, Accor Asia Pacific; Larry Tchou, Managing Director, Asia Pacific, Hyatt Hotels & Resorts; Paul Foskey, Executive Vice President, Marriott International; Miguel Ko, Chairman and President, Asia Pacific, Starwood Hotels & Resorts Worldwide, Inc.; Prof Dai Bin, Vice President, China Tourism Academy, China National Tourist Administration.
See you in Shanghai – sign up today! Click here to view the website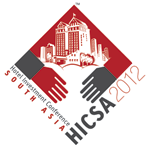 The Sixth Hotel Investment Conference - South Asia (HICSA) 2010 is scheduled for April 7th and 8th, 2010 and is to be hosted at the Grand Hyatt, Mumbai. Over the past five years the conference has played host to 30 global CEO's, 2,200 plus delegates, and has had a wide range of attendees from owners, real estate developers, operators, bankers, architects and consultants. This exclusive event promises to once again line up some of the best known global faces of the hospitality industry including Frits van Paasschen, President & CEO - Starwood Hotels & Resorts, Eric Danziger, President & CEO - Wyndham Hotel Group, Mark Hoplamazian, CEO & President, Hyatt Hotels Corporation, Nakul Anand, Divisional Chief Executive - Hotel Division, ITC, Gamal Aziz, President & CEO - MGM Mirage Hospitality, Gerald Lawless, Executive Chairman - Jumeirah Group, Capt CP Krishnan Nair, Chairman - The Leela Palaces Hotels and Resorts, Raymond Bickson, MD & CEO - Taj Hotels Resorts and Palaces, Martin Rinck, President - Asia Pacific, Hilton Hotels, Henry Gabey, Co-Founder & Co-Chairman - DUET Group, Louis Klein, MD - Real Estate, IREO, New York, Peter Meyer, MD - Pacifica Partners, Michael Evans, EVP Global Development - MGM MIRAGE Hospitality, Richard Solomons, CFO and Head of Commercial Development - IHG. The conference has been regarded by many as the best networking opportunity in the region and a must attend for all associated to the hotel industry.

Click here to view the website | Latest Agenda | View Speakers List | Register Now! | Hotels of The Year Awards
Listed hotel operator Shangri-La Asia Limited (Shangri-La) has announced net profits of US$255.5 million in 2009, a 54% increase from US$165.9 million in 2008. Total revenue recorded US$1.23 billion while rooms revenue registered US$570.2 million, reflecting a 9% and 15% decline, respectively, as compared to 2008. Shangri-La also announced that it does not expect to achieve pre-crisis performance levels before 2012. Currently, Shangri-La operates 66 hotels under its Shangri-La and Traders brands.
A four-star hotel, the Xieng Thong Palace, has broken ground adjacent to the Xieng Thong Pagoda in Luang Prabang, Laos. Developed by Vietnam's Thien Minh Hoa Binh Joint Stock Company and situated on a 3,200-square-metre site, the project is estimated to cost US$3 million and scheduled to be completed within 12 months. In addition to this development, Thien Minh Hoa Binh Joint Stock Company is also developing several other tourism projects within Laos to help to boost tourism ties between the two countries.
Sri Lanka's Aitken Spence Hotel Holdings (Aitken Spence) has announced that the majority of its US$21.9 million raised through rights issue will be spent on hotel developments in the northern, eastern and southwestern parts of Sri Lanka. The group plans to spend approximately 35% of the funds on a beachfront development in Nilaveli, on the east coast of Sri Lanka, and a hotel in the northern Jaffna region. About a quarter of the funds will go towards developing a boutique resort on the southwest coast in Beruwala with an international operator, Six Senses Resorts and Spas.
Ctrip.com International Limited (Ctrip) has announced that it has entered into separate agreements to acquire minority stakes in China Lodging Group and BTG-Jianguo Hotels and Resorts. According to the agreement, Ctrip will acquire approximately 8% of China Lodging Group's total ordinary shares at a price equal to its initial public offering price. In addition, Ctrip has also agreed to purchase a 15% equity interest in BTG-Jianguo Hotels and Resorts from Hongkong Polaris Hotels Limited and an option to purchase another 10% within one year after the transaction.
According to the Taiwanese authorities, almost 40% of homeowners are expected to benefit from a revised property tax system once it is implemented. Currently, residential properties are subject to a flat 1.2% property tax, regardless of their values. The recently proposed property tax system, which will be classified into five tiers, is expected to result in 40% of homeowners paying 1.1% property tax while luxury and upscale homeowners are likely to be subject to 1.8% property tax.
Absolute Share Price Performance, as at 19 March 2010
Closing Share Price as at
19 Mar 2010
12 Mar 2010
% Change
Australia Stock Exchange (ASX)
Amalgamated Holdings Limited
5.59
5.70
-2%
General Property Group
0.56
0.57
-2%
Mirvac Group
1.50
1.48
1%
Ocean Capital Limited
0.26
0.26
–
Thakral Holdings Group
0.39
0.36
8%
Living and Leisure Australia Group
0.030
0.032
-6%
Bangkok Stock Exchange (THB)
Central Plaza Hotel Public Co Ltd
4.16
4.06
2%
Dusit Thani Public Co Ltd
27.75
27.75
–
The Erawan Group Public Co Ltd
2.40
2.32
3%
Grande Asset Hotels and Property Public Co Ltd
1.35
1.19
13%
Laguna Resorts & Hotel Public Co Ltd
38.50
38.00
1%
Minor International Public Co Ltd
11.30
11.10
2%
China Shanghai Stock Exchange (RMB)
Shanghai Jinjiang International Hotels Development
26.99
26.24
3%
Beijing Capital Tourism Co Ltd
21.65
21.42
1%
Jinling Hotel Corporation Ltd
9.46
9.03
5%
China Shenzhen Stock Exchange (RMB)
Hunan Huatian Great Hotel Co Ltd
10.30
10.14
2%
Guangzhou Dong Fang Hotel Co Ltd
11.16
10.81
3%
Shenzhen Century Plaza Hotel Co Ltd
7.53
7.29
3%
NASDAQ (US$)
Home Inns & Hotels Management Inc
32.33
32.77
-1%
Hong Kong Stock Exchange (HK$)
Miramar Hotel & Investment Co Ltd
8.32
8.40
-1%
Regal Hotels International Holdings Ltd
3.09
3.02
2%
Sino Hotels Holdings Ltd
2.32
2.37
-2%
The Hong Kong & Shanghai Hotels Ltd
11.82
11.34
4%
Korea Exchange (KRW)
The Shilla
22,100
21,950
1%
Singapore Stock Exchange (S$)
Amara Holdings Ltd
0.52
0.51
2%
ART Management Limited
1.33
1.27
5%
Banyan Tree Holdings Limited
0.78
0.76
3%
CDL HTrust
1.76
1.72
2%
Hotel Grand Central Ltd
0.82
0.80
2%
Hotel Properties Ltd
2.17
2.16
0%
Mandarin Oriental International Ltd (US$)
1.38
1.44
-4%
Pan Pacific Hotels Group Limited
1.55
1.54
1%
Shangri-La Asia Limited (HK$)
15.02
14.08
7%
Stamford Land Corporation Ltd
0.45
0.44
2%
Taiwan Stock Exchange (NT$)
Formosa International Hotels Corporation
343
349
-2%
The Ambassador Hotel, Ltd
35.95
34.00
6%
Tokyo Stock Exchange (JPY)
Nippon Hotel Fund Investment Corporation
148,000
145,400
2%
Japan Hotel and Resort Inc
129,400
130,500
-1%
Imperial Hotel, Ltd
1,700
1,695
0%
Return to Headlines
Subscription Information:
You are currently subscribed as $subst('Recip.EmailAddr') to receive emails from our HVS list. You are receiving this email because you have contacted us through our website or through other means. To unsubscribe from future mailings to this list, please send a blank email to: $subst('Email.UnSub').

If you would like to change your preferred email format, change your subscribed email address, or have any comments or suggestions, please contact us at: hvs@hvs.com.

You can also contact us by phone or regular mail:

HVS
Joan Raffetto
369 Willis Avenue
Mineola, NY 11501
Tel: +1 (516) 248-8828 ext. 231
Disclaimer: Information provided above has been gathered from various market sources. HVS has not independently verified the accuracy of the information provided. Interested parties should not rely on the information as statement of facts and are advised to make their own independent checks to verify the information provided. For further information, please feel free to contact HVS Singapore.