New Supply
Jonathan M. Tisch
Chairman & CEO, Loews Hotels
This year, both as a nation and as an industry, we face economic times unlike any we've experienced before. Here in New York City, we particularly feel the impact of the crisis in the financial service sector, which has historically been a mainstay of our economy. It has been a wake-up call to many on the need to diversify our economy, and a reminder that the travel and tourism industry is essential to our economic well-being; it can continue to provide good jobs and generate critical tax revenues. Despite the downturn in travel, New York City remains the #1 destination for international travelers – visitors who stay longer and spend more. New York City tourism has always been essential to our city's economic health, but today it has the potential to be a cornerstone for our recovery.
In 2008, 14 new hotels entered the Manhattan market, adding 2,195 guestrooms to the market's inventory as presented in the table below. We note that a few hotels closed for renovations in the same year, including the 132-room Surrey Hotel and the 200-room Pierre Hotel, as well as the Morgans Hotel, which was closed for a six-month renovation. We also note the reopening of the Plaza Hotel.
| | | | | |
| --- | --- | --- | --- | --- |
| Name of the Hotel  | Room Count | Opening Date | Type | Neighborhood |
| Holiday Inn NYC Manhattan Sixth Avenue | 226 | Jun 2008 | Midscale | Midtown West |
| Hampton Inn New York Empire State Building | 146 | Oct 2008 | Midscale | Midtown East |
| The Thompson Lower East Side | 141 | Jul 2008 | Boutique | Lower Manhattan |
| Cooper Square Hotel | 145 | Dec 2008 | Boutique | SoHo/Lower Manhattan |
| Wyndham Garden Hotel Manhattan Chelsea West | 124 | Nov 2008 | Midscale | Midtown West |
| Ascend Collection The Gem Hotel Chelsea | 81 | Nov 2008 | Midscale | Midtown West |
| The Greenwich Hotel | 88 | Apr 2008 | Boutique | SoHo/Lower Manhattan |
| Hilton Garden Inn New York City Tribeca | 151 | Dec 2008 | Midscale | SoHo/Lower Manhattan |
| Best Western Bowery Hanbee Hotel | 99 | Apr 2008 | Midscale | Lower Manhattan |
| Hampton Inn Manhattan SoHo | 160 | Sep 2008 | Midscale | SoHo/Lower Manhattan |
| Standard Hotel New York | 347 | Dec 2008 | Boutique | SoHo/Lower Manhattan |
| Four Points Manhattan SoHo Village | 150 | Sep 2008 | Midscale | SoHo/Lower Manhattan |
| Wyndham Garden Hotel Midtown Convention Center | 224 | Nov 2008 | Midscale | Midtown West |
| Hotel Reserve | 113 | Dec 2008 | Midscale | Downtown/Financial District |
| Total | 2,195 | | | |
Sources: Smith Travel Research; HVS
PROPOSED HOTELS
The following table sets forth the number of new rooms under construction that are anticipated to become available from 2009 through 2011.
Project
Location
Type
No. of Rooms
Anticipated Opening
Developer
Under Construction
Upper East Side
The Mark
25 East 77th Street
Luxury
118
Mid 2009
Izak Senbahar & Simon Elias
Yes
The Mark will be converted into 51 co-op units and 100 guestrooms and suites.
Upper West Side
aloft
2296-2308 Frederick Douglass Boulevard
Boutique
124
Jun 2010
Capital Dreams LLC 
Yes
Midtown West
The Vu Hotel 
653 West 11th Avenue
Boutique
222
Fall 2009
Horizen Global
Yes
In addition to guestrooms, the Vu will contain an 1,800-square-foot, glass-enclosed bar providing 360-degree views and a swimming pool and whirlpool. This lodging facility will be managed by Kimpton Hotels.
Fairfield Inn Times Square
330 West 40th Street (b/w 8th and 9th Ave.)
Mid-scale
244
Mar 2009
The Lam Group
Open
Located adjacent to the Four Points on West 40th Street. The hotel will feature a rooftop lounge and bar, which will be shared with the Four Points by Sheraton. 
Four Points Times Square
326 West 40th Street (between 8th and 9th Ave.)
Mid-scale
244
Mid 2009
The Lam Group
Yes
Located adjacent to the 244-room Fairfield Inn Times Square on West 40th Street. The hotel will feature a rooftop lounge and bar, which will be shared with the Fairfield Inn. 
Candlewood Suites
339 West 39th Street
Extended-stay
183
Mid 2009
McSam Hotel Group
Yes
Holiday Inn Express
343 West 39th Street
Economy
210
Mid 2009
McSam Hotel Group
Yes
Hampton Inn
337 West 39th Street
Mid-scale
186
Mid 2009
McSam Hotel Group
Yes
Hilton Garden Inn
63 West 35th Street
Mid-scale
296
Mar 2009
Brack Capital Real Estate
Open
Staybridge Suites
334 West 40th Street
Extended-stay
310
Mid 2009
Mehta Family, LLC
Yes
Clarion
342-344 West 40th Street
Economy
155
Mid 2009
Greenway Realty Holdings
Yes
DoubleTree Chelsea
128 West 29th Street
Full-service
241
Mid 2009
McSam Hotel Group
Yes
Fairfield Inn
21-23 West 37th Street
Mid-scale
92
Mid 2009
Lam Generation
Yes
Ace Hotel
1186 Broadway (29th Street)
Boutique
280
Mid 2009
GFI Development Co. 
Yes
The NoMad Hotel
1170 Broadway (28th Street)
Boutique
171
Fall 2009
GFI Development Co. 
Yes
Gem Hotel Chelsea
300 West 22nd Street
Mid-scale
81
Early 2009
The ICON Group
Open
Hotel Indigo
127 West 28th Street
Boutique
122
Mid 2009
Fortuna Realty Group
Yes
Property owner Morris Moinian and his Fortuna Realty Group are constructing the first Indigo-branded hotel in Manhattan. The 20-story structure is expected to cost roundly $50 million and will be a mid-scale boutique hotel. 
The Strand Hotel
33 West 37th Street
Boutique
177
Fall 2009
Don Glassie
Yes
Wyndham
152-158 West 26th Street
Full-service
280
Oct 2009
Flintlock Construction Services, LLC
Yes
Fairfield Inn Chelsea
114-116 West 28th Street
Mid-scale
112
Feb 2010
Midtown West Hotel 
Yes
The Chatwal 
44th Street (b/w 6th and 7th Avenue)
Luxury
88
Early 2010
Hampshire Hotels & Resorts
Yes
In addition to guestrooms, the Chatwal Hotel will contain 6,000 square feet of meeting space as well as an upscale restaurant from Lotus Partners, a business center, and a health club.
element
311 West 39th Street
Extended-stay
411
Fall 2010
McSam Hotel Group
Yes
Hyatt Place
52 West 36th Street
Mid-scale
188
Fall 2010
McSam Hotel Group
Yes
Hotel Eventi (Kimpton Hotels)
839 Avenue of the Americas
Boutique
287
Early 2010
J.D. Carlisle Development Corp.
Yes
InterContinental Times Square
44th Street 
Full-service
613
Early 2011
InterContinental Hotels Group
Yes
Midtown East
Lexington House Hotel
517 Lexington Avenue
Extended-stay
116
Late 2009
Hersha Construction Group/Hunter Roberts
Yes
Hunter Roberts Construction Group is currently providing Construction Management services to this 80,000 square foot, 25-story structure located in Midtown Manhattan. This hotel will feature a restaurant, a fitness, outdoor terraces, and 116 guest rooms.
Andaz by Hyatt
485 Fifth Avenue (b/w 41st & 42nd Streets)
Boutique
167
Early 2010
Hyatt Hotels & Resorts
Yes
The Setai
400 Fifth Avenue
Luxury
214
Mid 2011
The Setai Group
Yes
Lower Manhattan
Hilton Garden Inn
6 York Street
Mid-scale
150
Jan 2009
McSam Hotel Group
Open
The Standard
848 Washington Street (West 13th Street)
Boutique
344
Jan 2009
André Balazs Properties
Partial Opening
This lodging facility was developed by Hotels AB (André Balazs) and is the fourth Standard hotel in the U.S. The property will feature extensive food and beverage facilities, including a rooftop lounge, as well as meeting and event space. Soft opening occurred in January 2009 and full opening is expected in June 2009.
Smyth TriBeCa
85 West Broadway
Boutique
100
Jan 2009
Thompson Hotels/Pomeranc Group, LLC
Partial Opening
Cooper Square Hotel
25 Cooper Square (Bowery)
Boutique
145
Jan 2009
Peck Moss Hotel Group
Partial Opening
Comfort Inn
61-63 Chrystie Street
Mid-scale
60
Mar 2009
BTW Hotels, LLC
Open
Holiday Inn Express
126 Water Street
Economy
112
Mid 2009
McSam Hotel Group
Yes
Crosby Hotel
79-85 Crosby Street 
Boutique
86
Sep 2009
Firmdale Hotels London
Yes
Trump Hotel & Tower SoHo
246 Spring Street
Luxury
391
Sep 2009
Sapir & Bayrock Group
Yes
Hotel Reserve
20 Maiden Lane
Mid-scale
115
Early 2009
McSam Hotel Group
Partial Opening
Andaz by Hyatt
75 Wall Street
Boutique
250
Summer 2009
Hakimian Group
Yes
The 42-story building was built in 1986 and will be converted to a luxury hotel containing 250 guestrooms in the lower portion of the building and 350 luxury condominiums on the upper 24 floors. The building will be redesigned by David Rockwell. The lower floors will include meeting space, a restaurant located off Water Street, and a bar.
Sheraton
370 Canal Street
Full-service
368
Nov 2009
McSam Hotel Group
Yes
The Nolitan
153 Elizabeth Street/40 Kenmare
Boutique
60
Jan 2010
Veracity Development
Yes
Courtyard
179 Varick Street
Mid-scale
122
Jul 2010
Ocean King LLC
Yes
Grand Street Hotel
23 Grand Street
Boutique
114
Early 2010
Brack Capital Real Estate
Yes
The developer, Brack Capital Real Estate, is planning to build a 17-story rectangular glass tower on Grand Street. In addition to guestrooms, the hotel will feature two restaurants and bar, a lobby lounge, a rooftop bar, a business center, a fitness room, and a rooftop swimming pool.
Mondrian
9 Crosby Street
Boutique
274
Early 2010
Cape Advisors, Inc.
Yes
Cape Advisors, Inc. is converting an existing building in Soho and adding 14 floors to the existing 12 levels. The property, which will feature a restaurant, two bars, a rooftop bar, and ±5,400 square feet of meeting space, will be managed by Morgans Hotel Group.
W New York – Downtown & Residences
123 Washington Street
Boutique
217
Feb 2010
Moinian Group
Yes
The mixed-use property will consist of 222 condos and 217 guestrooms. Of the 222 condos, 55 will be studios, 125 will be 1 Br's, and 42 will be 2Br's. A total of 64 condos will come furnished. Designed by Gwathmey Siegel & Associates Architects, the hotel will offer meeting rooms, a spa, and a restaurant. The top floor will feature a garden for the residents. The W New York – Downtown Hotel & Residences will be the first W residential development in Manhattan. It will be the sixth W in New York City.
DoubleTree
8 Stone Street
Full-service
410
Early 2010
McSam Hotel Group
Yes
Club Quarters Hotel
130 Cedar Street
Full-service
200
Early 2010
Masterworks Development Company
Yes
The hotel will be a semi-private hotel primarily for member use but occasionally available to the public.
Habita Hotel  
West 27th Street (High Line)
Boutique
56
Mid 2010
Black House Development
Yes
The Dream Downtown
346 West 17th Street (Covenant House)
Boutique
316
Late 2010
Hampshire Hotels and Resorts
Yes
Holiday Inn
99 Washington Street
Economy
370
Late 2010
McSam Hotel Group
Yes
Wyndham
93 Bowery Street (Corner Hester Street)
Full-service
106
Sep 2010
Unknown
Yes
Total
10,298
It is important to mention that even though the Manhattan lodging inventory declined from 2004 through 2006 due to condo conversion, room supply is expected to grow significantly in the future. As illustrated in the preceding table, as many as 10,298 new rooms, or 61 properties, will enter the Manhattan market from 2009 through 2011. The proposed supply represents 15.5% of the 2008 Manhattan room supply, increasing the number of guestrooms from 66,438 in 2008 to 76,736 as of 2011. These 10,298 rooms are far more than all the new supply that opened between 1998 and 2007 (5,607 rooms). As a result of the protracted disruption in the capital markets and the slowdown in the U.S. and local economies, the anticipated new supply represents an approximate 36.0% decrease from our estimate last year. The following chart presents the pipeline by neighborhood.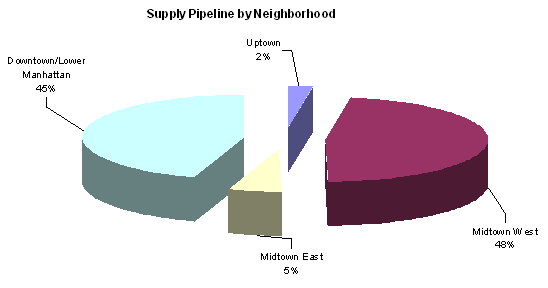 Based on the data outlined previously, Manhattan is forecast to experience a record increase in hotel room supply over the next few years, as can be observed in the following graph.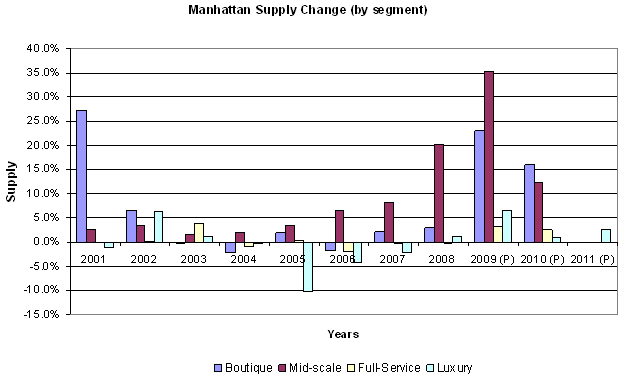 Of the anticipated new projects, 18 represent mid-scale hotels, or 30% of the total new supply, while 22 hotels, or 36% of the proposed properties, can be classified as boutique hotels. Only three new lodging facilities have been proposed for the luxury segment (The Chatwal, The Setai Fifth Avenue, and the Trump SoHo), not including the reopening of The Mark Hotel. Significant barriers to entry, including high construction costs, prohibitive land costs, and a lack of available sites, continue to remain key factors when considering construction of lodging facilities in Manhattan. It is also important to note that because of the tightening capital markets, some of the hotel developments proposed for Manhattan may not come to fruition, thereby reducing the number in the current pipeline, which bodes well for the market's existing lodging facilities.