NEW YORK, NY, January 27, 2020:
HVS Executive Search announces the appointment of Glenn Skolnick as Senior Vice President, based in New York.
Glenn Skolnick
is Senior Vice President at HVS Executive Search, based in New York. He has over 20 years of experience at top tier investment banks where he was consistently a leading revenue producer. He worked closely raising capital for and analyzing both major public companies and smaller private companies including the real estate, restaurant, gaming, lodging, and leisure sectors. Glenn's clients included global asset managers, hedge funds, and real estate funds. He played an integral role in advising senior managers and their investors on existing investments as well as proposing new investments. He brings the same passion working for his clients in executive search as he has throughout his career in finance and is committed to partnering with his clients to best meet the needs of their organizations. Glenn began his career working for Aramark after graduating from the Cornell University School of Hotel Administration.
Court Williams
, Chief Executive Officer of HVS Executive Search comments, "Glenn brings strong business acumen along with hospitality intelligence from his 20 years on Wall Street to HVS Executive Search. Our team is very excited to partner with Glenn and I am confident his experience will be invaluable as we continue to grow our executive search practice."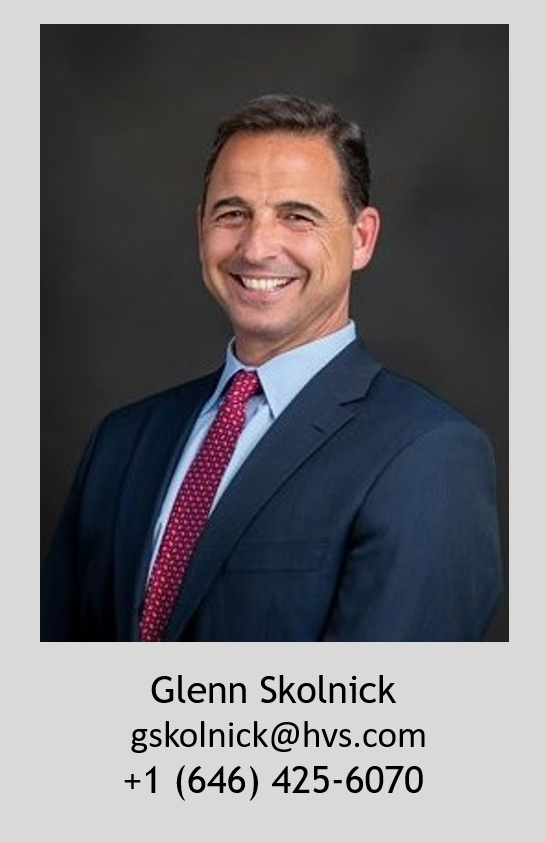 Over the years, HVS Executive Search has established its reputation as the premier human capital advisory services firm, specializing in senior-level executive search and mid-management recruitment as well as organizational development strategies for the hospitality industry. HVS Executive Search Partners are recognized and revered as being industry experts in their respective regions.