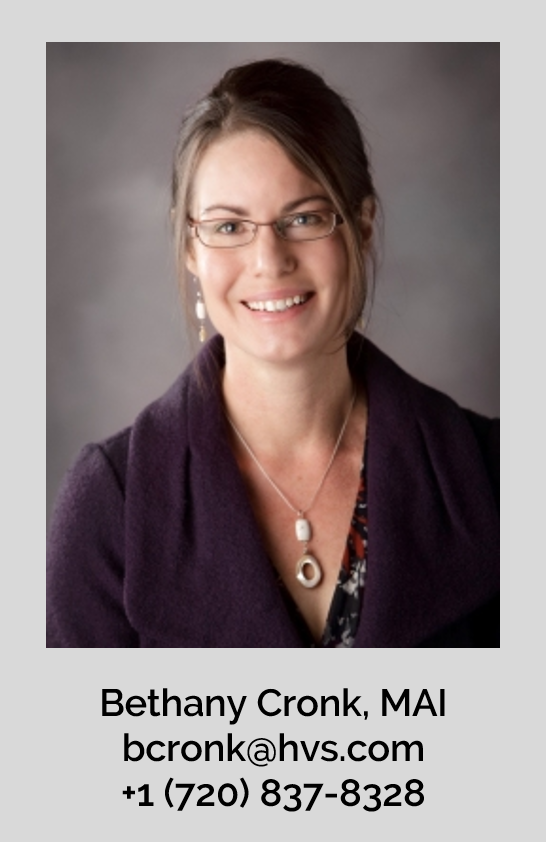 Denver, Colorado: HVS is pleased to announce that Bethany Cronk, MBA, Senior Vice President has achieved her MAI designation from the Appraisal Institute.

According to Rod Clough, MAI, Managing Partner of HVS, "Bethany forged a persistent advance through a host of first-rate hospitality schools, cities, cultures, institutions, and traditions. Over nearly two decades with HVS, she has built long-lasting relationships as a reliable advisor for clients, seeing them through to their goals over the course of consulting and appraisal assignments for hundreds of full-service hotels and resorts. Her ability to seek out, absorb, and analyze every fathomable ounce of intel about a hotel or market enables her to render conclusions about value or feasibility that one can grasp, use, and trust."

Particularly experienced in portfolio valuation, Bethany has managed complex consulting assignments for private and public hotel development projects involving lodging site and brand analyses, sensitivity analyses, demand studies, and facility recommendations. She also has significant expertise in the analysis of group-oriented hotels, resorts and destination properties, IACC conference center hotels, airport terminal hotels, and convention headquarters hotels.

Bethany wrote the Denver Market Intelligence Report, which provided an economic update on the Mile High city's lodging market, including demand and new development, and she co-authored an article focused on Trends and Transactions for Top-Tier Denver Hotels that gave an excellent overview of the performance of upscale and luxury hotels in the Downtown Denver segment. Additionally, she recently co-authored the HVS In Focus report on the Phoenix market.

Bethany's prior hotel management experience includes over a decade with Hyatt, Hilton, and Sheraton hotels. With an undergraduate degree from Cornell University's School of Hotel Administration, she earned dual MBA degrees in Finance and Marketing from the University of Denver. Bethany taught a course on Hotel Administration at the University of Colorado-Boulder Leeds School of Business. In addition, she has given instruction in Business Communications at the University of Denver's Daniels College of Business and has spoken on the Key Risk Factors in Hotel Appraisals and Colorado Lodging Market Trends at the Colorado Chapter of the Appraisal Institute. Bethany also lectured at the Society of Chief Appraisers Annual Conference. She is a certified General Appraiser in multiple states.
Media Contact:
Lizzette Casarin
Marketing Director
lcasarin@hvs.com
+1 (720) 244-7620