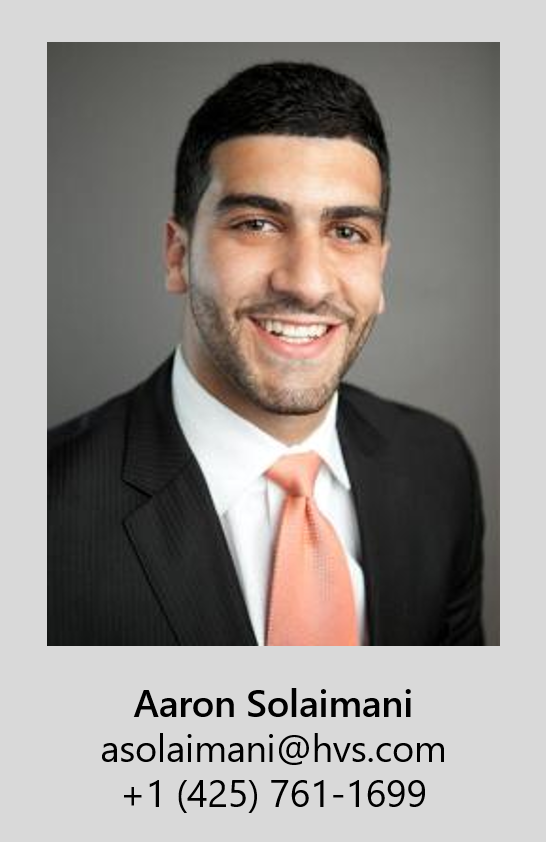 Seattle, WA: HVS is pleased to announce that Seattle-based Aaron Solaimani has been promoted to Vice President. Aaron recently relocated to his home town of Seattle following several years at the San Francisco HVS Consulting & Valuation office.
According to Suzanne Mellen, Senior Managing Director/Practice Leader, MAI, CRE, FRICS, ISHC, of HVS Consulting & Valuation, "Building on his deep operational experience with Starwood, Aaron has excelled in transitioning to consulting during his four years with HVS. His strong analytical skills have evolved and been employed while working on numerous complex assignments. Forging strong relationships with clients and associates alike, Aaron is also quite talented in engaging his audience when publicly speaking."
On the West Coast, Aaron's assignments range from appraisals of resorts, hotels, and motels to feasibility studies and consulting assignments for proposed hotels and mixed-use projects. Some of his most high-profile assignments include luxury resort/condo developments in the Coachella Valley (CA) and Sun Valley (ID), proposed convention hotels in San Diego and Seattle, and hotels that are part of mixed-used developments. From single assets on the West Coast to portfolios nationwide, as a state-certified appraiser, Aaron delivers authoritative conclusions about each property.
Prior to joining HVS, Aaron was a member of the finance team at Starwood Hotels & Resorts, where he specialized in budgeting, forecasting, strategic planning, and market analyses. He received his BA from the School of Hospitality Business Management at Washington State University. Originally from Seattle, Aaron served as President of the student-run National Society of Minorities in Hospitality (NSMH) while at Washington State University in Pullman.
A prolific writer, he has authored San Francisco Lodging – A Peak into the Market, spotlighting the city's growth and economic expansion; In Focus: San Francisco Hotel Market – Best of the West; and In Focus: Southern California Luxury Resort Market – Here Comes the Sun.
Media Contact:
Lizzette Casarin
Marketing Director
lcasarin@hvs.com
+1 (720) 244-7620