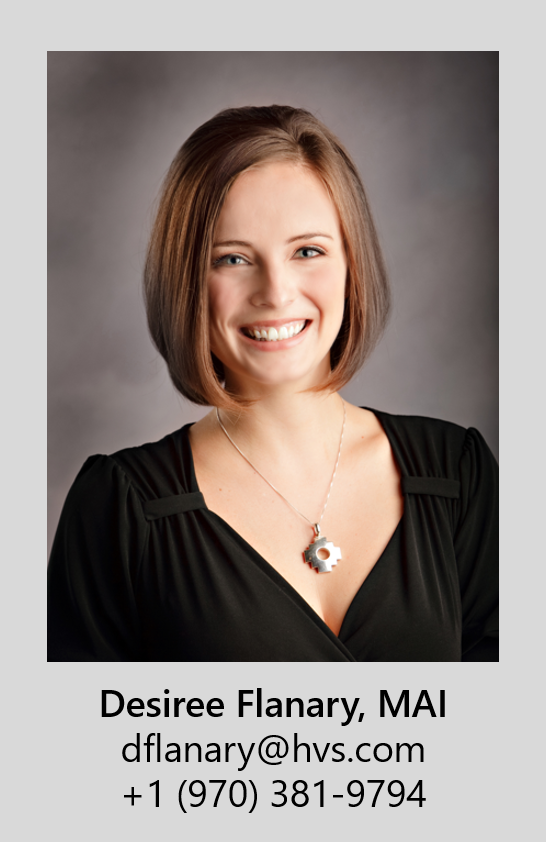 Portland, OR: HVS is pleased to announce that Desiree Flanary, MAI, has been promoted to Senior Vice President.
According to Rod Clough, MAI, Managing Partner of HVS, "Over the last 10 years, Desiree has shown an unfaltering commitment to HVS. She has set the bar in every facet of her career exceeding in work quality, qualifications, sales goals, and peer relationships".
Desiree works out of the Portland, Oregon, office with Kasia Russell, MAI, Managing Director and Senior Partner. She serves as a trusted advisor to developers, owners, and lenders, having demonstrated an insightful ability to research facts, decipher data, and produce authoritative guidance. Desiree gears her hotel consulting and appraisal efforts to sync up with each project's goals and timetables, excelling at valuations of even the most complex, atypical, and time-sensitive hotel assignments in the midst of a market's flux. Her experience in valuing hundreds of hotel assignments in the West and Pacific Northwest regions has given her remarkable credibility. She is a certified general appraiser in numerous western states.
Desiree has authored articles covering a myriad of hospitality topics including innovative hotel brands; the hotel industry in Reno, Portland, and Seattle; and energy-driven markets in Wyoming, Montana, and North Dakota. A member of CREW (Commercial Real Estate Women) of Portland, she also serves on their Board of Directors and heads up their sponsorship committee. She recently introduced and moderated a CREW event, "No Vacancy: Financing, Innovations, and the Future of Hospitality in Portland" where she provided an overview of the outlook for the Portland area and hospitality growth.
Desiree earned her bachelor's degree from the University of Northern Colorado. Prior to joining HVS, she held positions at Aerotek in Denver and the Timberline Ski Lodge in Winter Park, Colorado.