Four Seasons To Move Into Ten Trinity Square
Beijing-based Reignwood Group and Four Seasons Hotels and Resorts have announced plans to open a luxury hotel in the Grade-II listed Ten Trinity Square building in London. The former headquarters of the Port of London Authority, overlooking the River Thames near the Tower of London, the building was acquired by Reignwood and will be redeveloped to house the 98-room Four Seasons Hotel London at Ten Trinity Square, the 41-unit Ten Trinity Square, The Residences at Four Seasons and a private members' club. Reignwood also recently acquired the Wentworth Golf Club in Surrey, southeast England, for £135 million from WG Acquisition Ltd, its third purchase in the UK for its Reignwood Lifestyle portfolio, which includes hotels and resorts, golf courses, health and wellness centres and luxury residential properties.
We Want To Know Your Views!
As part of a keynote speech which HVS London's chairman Russell Kett is giving at the Expo Real hotel conference in Munich on Monday 6 October, he is seeking your views on how the hotel sector is now compared with the peak of the market in 2007/8. His speech is entitled: "Hot deals in 2014 = 2008 reloaded? Will the hospitality industry see another credit crunch soon?" and your input will be welcomed so that he can present a cross-section of views. Click here to download the questionnaire and please send to rkett@hvs.com by next Friday, 26th September.
Harrington Hall Hotel Sold
A Middle Eastern investment group has acquired the NH Harrington Hall Hotel in London, UK, from Carey Property, a subsidiary of a hotel fund managed by Spanish firm Azora, for €112 million (€560,000 per room). The 200-room, four-star hotel, with its authentic Victorian façade, is in the city's South Kensington area, in west London.
Hilton Reaches Ten Hotels In Istanbul
Hilton Worldwide opened its tenth hotel in Istanbul this week: the Hilton Istanbul Kozyatagi, which is the first Hilton-branded property in the Asian side of the city (the group currently also operates a DoubleTree hotel on this side of the Bosphorus). Along with its 320 guest rooms, the hotel also has a spa and 16 meeting rooms. "Istanbul remains one of the world's greatest tourist destinations, attracting more than 10 million travellers last year alone," commented Simon Vincent, EVP & president for Hilton Worldwide in EMEA. "We're delighted to be offering guests yet more choice on the Asian side, which now benefits from greater accessibility to this bustling part of Istanbul," he added.
Two New Hotels For Accor In London
Accor has signed a franchise agreement with Criterion Capital for two hotels in London's Piccadilly Circus and Leicester Square. The 583-room ibis Styles Piccadilly Circus is due open in 2017 within Criterion's London Trocadero entertainment complex, after a full renovation of the historic building. The Trocadero originally opened in 1896 as a restaurant; after the closure of the restaurant business in 1965, the complex was transformed into its current use in 1984. Another of Criterion's properties, Victory House, will house the MGallery Leicester Square. The ground floor of the building is home to a Häagen-Dazs ice cream shop but former offices in the floors above will be converted into the 80-room hotel, which is expected to be ready by the end of 2016.
Happy Birthday Hotel Imperial
The Hotel Imperial in Vienna, Austria, is currently celebrating its 140th anniversary and one of the gifts bestowed upon it by Starwood Hotels & Resorts was a year-long US$14 million renovation of its public spaces, which was recently completed. The 138-room hotel, part of Starwood's Luxury Collection, was built in 1863 as a private residence but became the Hotel Imperial in 1873. The restoration of the hotel, part of a multimillion dollar investment in Starwood's iconic Luxury Collection properties in Europe, included a landmark lobby, a signature restaurant, a destination bar and many other features.
A Parisian Debut For Hotel Indigo
InterContinental Hotels Group (IHG) has opened the Hotel Indigo Paris – Opera, marking the first appearance of the Indigo brand in the French capital. The 57-room hotel, in the city's Opera district, is the 60th Hotel Indigo to open worldwide, ten years after the brand was launched. The hotel is operated under a management agreement between IHG and SAS Maud.
Nordic First Choice For Urban Escapes Stockholm
Nordic Choice has agreed a 20-year lease contract for two hotels at AMF Fastigheter's mixed-use Urban Escapes Stockholm development in the Swedish capital. The regeneration project will include 30,000 m² of hotel and conference space, 38,000 m² of retail and leisure facilities and 62,000 m² of office space. Construction on Urban Escapes is due to start by the end of 2014 and the hotels, with 540 rooms between them, are scheduled to open at the beginning of 2017.
Barceló To Open Its Second Hotel In Egypt
Barceló Hotels & Resorts has signed an eight-year agreement with Egyptian Tower Group to operate a hotel in the resort of Sharm El Sheikh on Egypt's Red Sea coast. The 345-room Barceló Tiran Sharm is in the north of the resort on Nabq Bay. The hotel, which covers an 80,000 m² seafront plot and has a private 800 m² beach, is the Spanish group's second property in the country alongside the 210-room Barceló Cairo Pyramids.
Absolute Share Price Performance Over the Past Week – 11-18 September 2014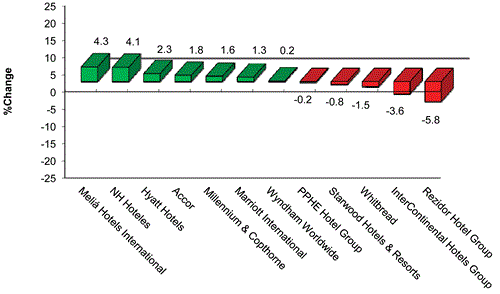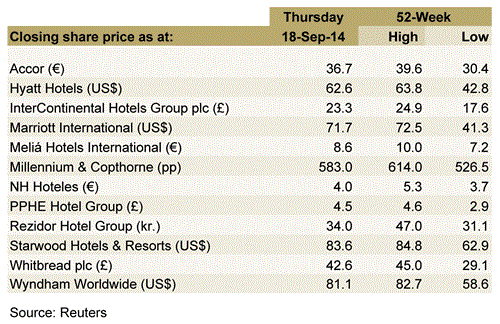 Meliá Hotels International – Raised to "buy" from "hold" by Deutsche Bank.
NH Hoteles – Rose 0.8% from a 14-day low.
Whitbread – Fell for an eighth consecutive day, an eight-day fall of 6.8%.
---
For the latest in the hospitality industry, please visit: http://www.hvs.com. You are also welcome to contact the following personnel.
| | |
| --- | --- |
| Russell Kett, Chairman – HVS London (@russellkett) | rkett@hvs.com |
| Charles Human, CEO – HVS London/HVS Hodges Ward Elliott | chuman@hvshwe.com |
| Chris Martin, Director – HVS Hodges Ward Elliott | cmartin@hvshwe.com |
| Tim Smith, Director – HVS London | tsmith@hvs.com |
| Arlett Oehmichen, Director – HVS London | aoehmichen@hvs.com |
| Sophie Perret, Director – HVS London | sperret@hvs.com |
| Peter Malone, CEO – HVS Executive Search, EMEA & Asia | pmalone@hvs.com |
| Demetris Spanos, Managing Director – HVS Athens | dspanos@hvs.com |
| Hala Matar Choufany, Managing Director – HVS Dubai | hchoufany@hvs.com |
| Ezio Poinelli, Director – HVS Milan | epoinelli@hvs.com |
| Louise Fury, Senior Editor and EMEA Hospitality Newsletter Author – HVS London | lfury@hvs.com |