Katara Buys Five European Hotels
Katara Hospitality has purchased five hotels in key European cities from a private investor for an undisclosed sum. The new additions to the Qatar-based group's portfolio are the 343-room InterContinental Carlton Cannes, on the French Riviera; the 79-room InterContinental Amstel Amsterdam; the 302-room InterContinental Madrid; the 467-room InterContinental Frankfurt; and the leasehold interest in the 192-room InterContinental De La Ville Rome. "We will look to commit investment funds for necessary renovations or refurbishments, as we do across our portfolio," said Hamad Abdulla Al Mulla, Katara's chief executive officer. "Our typical renovation strategy brings an iconic hotel back to its full glory, combining its rich heritage with all the modern facilities required in a 21st-century hotel," he added.
InterContinental Budapest Sold
Khalaf Ahmad Al Habtoor has acquired his second hotel in the Hungarian capital, Budapest. The chairman of the Al Habtoor Group purchased the 402-room InterContinental Budapest, on the River Danube, for an undisclosed sum. The UAE businessman acquired his first hotel in the city, the 218-room Le Méridien Budapest, in 2012.
New Owner For The Enfield Travelodge
Real estate investment trust Redefine International has acquired the 132-room Travelodge London Enfield Hotel for £10 million (approximately £76,000 per room), an initial yield of 5.5%. The four-storey, purpose-built hotel is part of the Lumina Park mixed-use development. The 39,000 ft² hotel is operated under a 33-year lease to Travelodge.
Rezidor's First Resort In Russia
Carlson Rezidor Hotel Group has opened its first property in the Zavidovo nature reserve in Russia, 150 km from Moscow: the Radisson Resort, Zavidovo, with 800 m of beachfront on Ivankovo Lake, is at the heart of the 1,250 km reserve. The resort's facilities include Club Zavidovo, Russia's only PGA golf course.
Pullman To Get A Kings Landing In Liverpool
Accor has chosen the city of Liverpool as the location for its second Pullman-branded property in the UK. The 216-room, new-build hotel is to be developed at the city's Kings Dock as part of the Exhibition Centre Liverpool development. The hotel will be operated by Branded Hotel Management under a franchise agreement and will open in summer 2015. Also in Liverpool, local serviced apartment operator Signature Living has received planning permission for a hotel themed around former Liverpool FC manager and football legend Bill Shankly. A late 19th-century building is to be converted into the 83-unit aparthotel.
HVS At The Serviced Apartment Summit
HVS is pleased to be a Platinum Sponsor for the Serviced Apartment Summit on 8-9 July 2014, at The Montcalm Marble Arch in London. HVS London's chairman, Russell Kett, will be hosting the Meet the Leaders panel and Arlett Oehmichen, director at HVS London, is presenting sector analysis on 9 July. Speakers include Sean Worker, chief executive officer at BridgeStreet Global Hospitality; Sym K Lee, asset management and business development for The Ascott Group; Guus Bakker, chief operating officer with Frasers Hospitality Europe and Middle East; and many hotel and serviced apartment operators, owners and investors. Book via the website here, or contact info@servicedapartmentsummit.com +44 (0)20 8340 7989. See you there!
More Zzzs For London
Budget group Z Hotels has announced the development of a new hotel in London. A 107-room property is to be developed in a former office building in Shoreditch, east London. It will become the group's fourth hotel in the UK capital when it opens next year. Z Hotels currently operates four hotels overall across the UK (in London and Liverpool) and its fifth property is due to open next week in Glasgow.
Strong Trading Performance Prompts Portland Hotels To Seek Expansion
Edinburgh-based Portland Hotels has announced its intentions to expand following strong financial results this year. In its most recent annual report, the privately owned group, which currently has a collection of five hotels across Scotland (almost 550 rooms), reported a rise in turnover of 4.5% (to £15.52 million) and a 20% increase in profit. Portland Hotels' founder, Colin Paton, commented, "In a market that looks only now to be improving, the trading performance of the group continues to be exceptional. In many of our properties we have been able to outperform inflation – a difficult task in the hotel sector." The group is seeking "sensible, multiple acquisitions throughout the UK".
DoubleTree To Double Up In Dubai
Hilton Worldwide has opened its second DoubleTree by Hilton hotel in Dubai. The seafront 110-suite DoubleTree by Hilton Dubai – Jumeirah Beach in Dubai's Jumeirah Beach Residence area is the group's fourth DoubleTree property in the United Arab Emirates overall.
Novotel Number Two For Saudi Arabia
Accor Hotelservices Middle East has signed a management agreement with United Youth Company for its second Novotel property in Saudi Arabia. The 215-room Novotel Riyadh Olaya is currently in the planning stage and is due to open in Riyadh in 2017. Accor now has 29 hotels in operation or under development across the kingdom.
Mövenpick Expands In Morocco
Mövenpick Hotels & Resorts recently signed an agreement that resulted in it taking over the Husa Casablanca Plaza hotel in Morocco. The 184-room property, close to Casablanca's Old Medina, has now been reflagged as the Mövenpick Hotel Casablanca. The hotel, which will remain open whilst Mövenpick carries out improvements, joins the 240-room Mövenpick Hotel & Casino Tangier, which opened in 2001. The group is due to open its third hotel in Morocco, the 374-room Mövenpick Hotel Marrakech, next year.
A Tune For Kenya
Malaysian chain Tune Hotels Group is planning to make its debut in Kenya, East Africa. The group plans to invest US$25 million in its first property in the country. "This is a new market for us in Africa and the details of this new venture will be announced in the next two weeks," said Tune's chief executive officer, Mark Lankester.
Absolute Share Price Performance Over the Past Week – 19-26 June 2014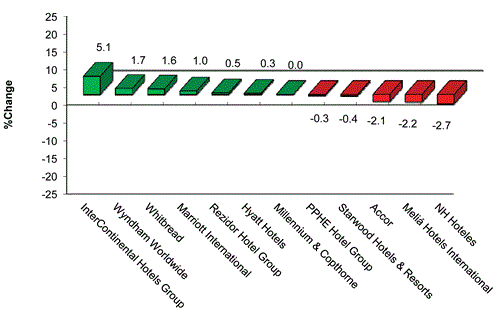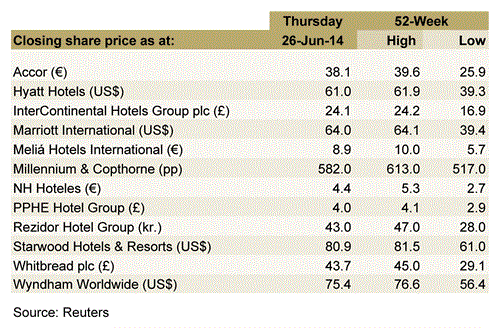 InterContinental Hotels Group – Hit a 52-week high for the fifth time in one month.
Rezidor Hotel Group – Rose on high volatility.
Meliá Hotels International – Fell for a fifth consectutive day.
---
For the latest in the hospitality industry, please visit: http://www.hvs.com. You are also welcome to contact the following personnel.
| | |
| --- | --- |
| Russell Kett, Chairman – HVS London (@russellkett) | rkett@hvs.com |
| Charles Human, CEO – HVS London/HVS Hodges Ward Elliott | chuman@hvshwe.com |
| Chris Martin, Director – HVS Hodges Ward Elliott | cmartin@hvshwe.com |
| Tim Smith, Director – HVS London | tsmith@hvs.com |
| Arlett Oehmichen, Director – HVS London | aoehmichen@hvs.com |
| Sophie Perret, Director – HVS London | sperret@hvs.com |
| Peter Malone, CEO – HVS Executive Search, EMEA & Asia | pmalone@hvs.com |
| Demetris Spanos, Managing Director – HVS Athens | dspanos@hvs.com |
| Hala Matar Choufany, Managing Director – HVS Dubai | hchoufany@hvs.com |
| Ezio Poinelli, Director – HVS Milan | epoinelli@hvs.com |
| Louise Fury, Senior Editor and EMEA Hospitality Newsletter Author – HVS London | lfury@hvs.com |