Accor's HotelInvest To Acquire Two Portfolios
French group Accor announced this week that its investment arm, HotelInvest, is to acquire two European hotel portfolios for around €900 million. The first portfolio comprises 86 hotels (11,286 rooms), 67 of which are in Germany and 19 in the Netherlands. The hotels have been operated by Accor since 2007 (via variable rent leases) under its ibis, ibis budget, Mercure and Novotel brands. This portfolio is being purchased for €722 million from two funds, Moor Park Fund I and II. Additionally, HotelInvest is negotiating with Axa Real Estate for a portfolio of 11 hotels (1,592 rooms) across Switzerland. Accor has operated these properties (via variable rent leases) under the ibis, ibis budget, Novotel and MGallery brands.
Chardon Trading Buys Two Holiday Inn Express Hotels
Hotel and restaurant management company Chardon Trading has purchased two Holiday Inn Express hotels in Scotland from property specialists CHGF for an undisclosed sum: the five-storey, 78-room Holiday Inn Express Edinburgh – Royal Mile in the Scottish capital and the three-storey, 82-room Holiday Inn Express Dunfermline in the town of Dunfermline in the east of the country. The two hotels, which will continue to be operated under franchise agreements by Interstate Hotels & Resorts, were on the market for offers of around £12 million.
Hard Rock Debuts In Ibiza
Hard Rock International is to make its debut appearance in the European hotel scene this month with the opening of its hotel on the Spanish island of Ibiza. Fitting in with the island's musical heritage, the 493-room Hard Rock Hotel Ibiza will have an outdoor concert terrace with capacity for 2,500 guests. "The synergies between Hard Rock's key differentiator, music, and Ibiza's distinguished scene as a famed cultural centre for electronic dance sound and a renowned hub for international artists make for a perfect marriage," said the group's chief executive officer, Hamish Dodds.
Malatya Marks Seventh DoubleTree In Turkey
Hilton Worldwide has opened its seventh DoubleTree by Hilton Hotel in Turkey. The new build, 202-room DoubleTree by Hilton Malatya is in Malatya's business district, in Turkey's Eastern Anatolia region. The 18-storey hotel is Hilton's first property in the city.
HVS Athens And Milan Form Strategic Alliance With Luxury Frontiers
HVS is pleased to announce that it has formed a benchmarking strategic alliance with Luxury Frontiers, a leader in the global resort market for the concept, design and development of luxury tents, creative tree-top experiences, and alternative experiential accommodation. According to the agreement, HVS, through its Athens and Milan offices, will function as the preferred service provider for Luxury Frontiers for its development worldwide.
Hyatt Makes It Two In Armenia
An affiliate of Hyatt Hotels Corporation has signed an agreement with Jersan LLC for the group's second hotel in Armenia. The Hyatt Place Jermuk is expected to open in 2015 in the thermal spa resort of Jermuk, in the Vayots Dzor mountains. The new-build, 88-room hotel will join the recently opened Hyatt Place Yerevan.
...And Returns To Kazakhstan
Hyatt Hotels Corporation announced recently that one of its affiliates has signed a management agreement with Tavros Investment Holding for the Hyatt Regency Almaty, marking the group's return to Kazakhstan. The 270-room hotel is expected to open in 2017 in Almaty city centre on a 6,800 m² site. "We are delighted to re-establish a Hyatt brand presence in Kazakhstan," said Peter Norman, Hyatt's senior vice president for acquisitions and development in Europe, Africa and the Middle East.
A Date For Your Diary
In just over a month, the Serviced Apartment Summit will be taking place in London. This innovative new b2b conference for the serviced apartment and extended stay sector is to be hosted at The Montcalm, Marble Arch from 8-9 July 2014. Amongst many networking opportunities, delegates will also get the chance to learn about future prospects for the sector, integrating serviced apartments into mixed-use developments, the hotel and serviced apartment investment proposition, new acquisition strategies, and much more. As well as HVS being a Platinum Sponsor for the event, Russell Kett, chairman of the London office, is moderating a panel, and Arlett Oehmichen, a director at HVS London, will be speaking at the conference. For more information visit www.servicedapartmentsummit.com.
Bulgari Comes To Dubai
Bulgari Hotels & Resorts has got together with Dubai-based development firm Meraas Holding to bring the luxury Bulgari brand to Dubai. A 100-room hotel and 20 villas are to be developed on Jumeirah Bay Island, a man-made 6 million ft² mixed-use scheme off the emirate's Jumeirah coast. The island will be connected to the mainland via a bridge to Jumeirah Beach Road. Once open, the hotel will become Bulgari's fifth hotel worldwide.
There's Action In Kuwait
Dubai-based Action Hotels Company, which owns, develops and asset manages three- and four-star hotels across the Middle East and Australia, has agreed to buy a plot of land in Kuwait for US$12.3 million, on which it plans to develop a 160-room freehold hotel. The hotel is expected to open in 2017. The group currently operates six hotels, two of which are in Kuwait, under Accor's ibis brand and InterContinental Hotels Group's Holiday Inn flag.
Two More Adagios For Saudi Arabia
Accor Hotel Services Middle East has signed management agreements with Alesayi Group for two more Adagio aparthotels in Saudi Arabia. The 200-unit Adagio Aparthotel Jeddah Alesayi Plaza and the 150-unit Adagio Aparthotel Riyadh Dhabab are expected to open in 2017 and will be constructed next to upcoming ibis properties in the kingdom. Accor currently has one other Adagio property under development in Saudi Arabia.
Absolute Share Price Performance Over the Past Week – 22-29 May 2014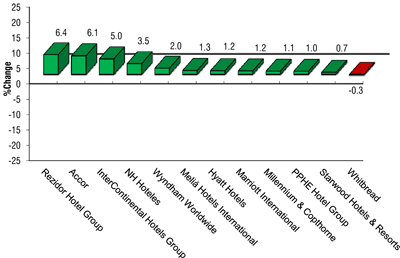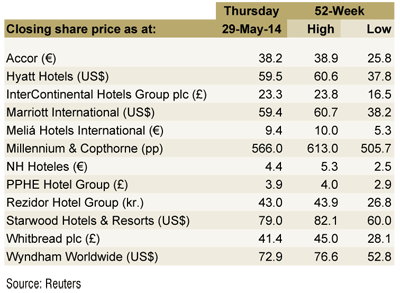 Accor – Closed at 6.5% above VWP.
NH Hoteles – Increased 1.0% on low volume.
InterContinental Hotels Group – Continued significant uptrend and increased 1.3%.
---
For the latest in the hospitality industry, please visit: http://www.hvs.com. You are also welcome to contact the following personnel.
| | |
| --- | --- |
| Russell Kett, Chairman – HVS London (@russellkett) | rkett@hvs.com |
| Charles Human, CEO – HVS London/HVS Hodges Ward Elliott | chuman@hvshwe.com |
| Chris Martin, Director – HVS Hodges Ward Elliott | cmartin@hvshwe.com |
| Tim Smith, Director – HVS London | tsmith@hvs.com |
| Arlett Oehmichen, Director – HVS London | aoehmichen@hvs.com |
| Sophie Perret, Director – HVS London | sperret@hvs.com |
| Peter Malone, CEO – HVS Executive Search, EMEA & Asia | pmalone@hvs.com |
| Demetris Spanos, Managing Director – HVS Athens | dspanos@hvs.com |
| Hala Matar Choufany, Managing Director – HVS Dubai | hchoufany@hvs.com |
| Ezio Poinelli, Director – HVS Milan | epoinelli@hvs.com |
| Louise Fury, Senior Editor and EMEA Hospitality Newsletter Author – HVS London | lfury@hvs.com |