Apollo Lifts Off In Europe
Apollo European Principal Finance Fund II, which is associated with Apollo Global Management, along with its consolidated subsidiaries, Apollo, has announced the completion of its acquisition of Ivanhoé Cambridge's European hotel portfolio for an undisclosed sum. The deal includes five Crowne Plaza hotels (1,402 rooms across Belgium, Germany, the Netherlands and France), three Holiday Inn properties (1,020 rooms in Austria and Germany) and ten Holiday Inn Express hotels (1,456 rooms in Germany and Spain).
De Vere Goes Grand In Brighton
De Vere Group has completed the sale of the Grand Brighton Hotel, on England's south coast, to Wittington Investments for a sum in the region of £50 million. The 201-room hotel recently emerged from a multimillion-pound refurbishment in July 2013. De Vere also announced this week that it has brought a portfolio of six golf resort hotels to the market; the group is reportedly seeking offers of more than £160 million for the hotels.
DTZ Buys Four Hotels In Germany
On behalf of a French investor, DTZ Asset Management has purchased a portfolio of four hotels across Germany from Grand City Hotels in a sale-and-leaseback agreement for an undisclosed sum: the 131-room Wyndham Köln and the 85-room Tryp by Wyndham Köln City Center in Cologne, on the River Rhine in west Germany; the 142-room Mercure Hotel Bonn Hardtberg in Bonn, also on the River Rhine, 16 miles from Cologne; and the 142-room Tryp by Wyndham Frankfurt in the city of Frankfurt, on the River Main in central Germany.
Somerston To Take On 12 Holiday Inn Express Hotels In The UK
Somerston Capital (a subsidiary of St James's Hotels Group) has reportedly agreed to acquire the morethanhotels portfolio of 12 Holiday Inn Express hotels in England from the Royal Bank of Scotland for £70 million. It is believed that Somerston is in advanced talks to purchase the portfolio as part of joint venture with US-based private equity firm Lone Star.
Living The Boutique Lifestyle In London
With less than two weeks to go until the 2014 Boutique and Lifestyle Hotel Summit, tickets are selling fast. This year's event will take place on May 12-13 at The Montcalm Marble Arch, in London. As well as being a Platinum Sponsor, HVS will also be represented at the conference by Russell Kett, chairman of HVS London, and Tim Smith, director of valuations at the London office. Tim will be moderating the Country House Hotels breakout session on 13 May. Tim's panel includes Mark Chambers, managing director of Eden Hotel Collection; Olga Polizzi, owner of the Hotel Endsleigh; and Simon Steele, general manager at Armathwaite Hall. The session will cover the challenges and opportunities country house hotels present in a new and evolving landscape. HVS subscribers can get a 10% discount on delegate places using HVS14 as the promotional code. Book via the website www.boutiquehotelsummit.com, or contact info@boutiquehotelsummit.com +44 (0)20 8340 7989.
Steigenberger Reaches Seventh Heaven In Berlin
Steigenberger Hotel Group has opened its second Steigenberger-branded hotel in Berlin and its seventh property in the German capital overall. The eight-storey, 339-room Steigenberger Hotel Am Kanzleramt is in the city's Europacity district. The property is owned and was developed by STRAUSS & PARTNER Development GmbH and Steigenberger will operate the hotel under a 20-year lease.
Millennium & Copthorne Introduces Monogram; Soho House To Move Into White City
Millennium & Copthorne Hotels has launched a new brand in London. Its newly acquired 158-suite Chelsea Harbour Hotel is the first property to operate under the Monogram Collection flag. The group intends to open more Monogram hotels across Europe later this year. The collection is to contain a range of hotels with 'individual, historic or unique characters'. Also in the UK capital this week, Soho House has signed an agreement with developer Stanhope to operate a hotel at the former BBC Television centre in White City, in west London. The 47-room hotel, with a rooftop swimming pool, will be developed on a site that Stanhope purchased from the BBC in 2012 for £200 million.
Rotana Signs Third Hotel In Iraq
Rotana has signed a management agreement with Towerline Touristic (part of conglomerate Malia Group) for its second hotel in the city of Erbil and its third in Iraq overall. The Erbil Arjaan by Rotana is part of a 20-storey mixed-use complex which also contains office space. The US$52 million project is owned by Malia Invest Holding (60%), SS Roza Offshore (30%) and DIVA Srl (10%). Rotana previously partnered with Malia for the 201-room Erbil Rotana. "Iraq has always been a very important market for Rotana and we are privileged to have been chosen to manage this new jewel," said Selim El Zyr, co-founder and vice chairman of Rotana.
Kempinski On Its Way To Rwanda
Kempinski Hotels is said to be expanding its presence in Africa by taking over the management of the Hotel des Mille Collines in Kigali, Rwanda. The 112-room hotel is slated to undergo an 18-month refurbishment from which it will emerge as the Kempinski des Mille Collines. Kempinski currently operates seven hotels across the continent.
Marriott Reports Its First-Quarter Results
Marriott International has reported a first-quarter net income for 2014 of US$172 million, a 26% rise on the same period last year. Adjusted EBITDA increased by 12% to US$339 million and total revenue reached almost US$3.3 billion. Worldwide RevPAR rose 6.2%. The first part of 2014 was marked by expansion, with Marriott completing its acquisition of Protea Hospitality Group at the beginning of quarter two, adding more than 10,000 rooms to its African portfolio. Additionally, apart from the Protea additions, Marriott's pipeline grew to more than 200,000 rooms, and 5,855 rooms (32 properties) were added to its existing stock by the end of the first quarter.
Good Start To The Year For Hyatt
Hyatt Hotels Corporation achieved an adjusted EBITDA of US$172 million for the first quarter of 2014, an increase of 31.3% on 2013. Net income amounted to US$56 million (US$0.36 per share) compared to the US$8 million (US$0.05 per share) recorded for the same period in 2013. The group's revenue increased by 11.4% and total fee revenue rose by 18.7%, to US$89 million. "Our asset recycling strategy continues to provide us with additional capital to invest in growth while maintaining brand presence," said Hyatt's president and chief executive officer, Mark S. Hoplamazian.
Rises In Revenue For Whitbread
Whitbread announced a rise in revenue of 13% to £2,294.3 million in its preliminary results for the financial year to 27 February 2014. Premier Inn sales increased by 13.4% and group like-for-like sales were up 4.2%. The year-end net debt had reduced by £79.5 million to £391.6 million. The group's Premier Inn portfolio now comprises 55,035 rooms (mainly across the UK with one hotel in Ireland) and its pipeline consists of around 11,500 rooms. "Once again strong cash flow funded the necessary capital investment for our growth engines, Premier Inn and Costa, to increase their share of the market," commented Anthony Habgood, Whitbread's chairman.
A 6.0% Increase In RevPAR For IHG
InterContinental Hotels Group (IHG) achieved an increase in RevPAR of 6.0% during the first quarter of 2014, owing to rises in average rate and occupancy of 1.9% and 2.4 percentage points, respectively. IHG opened 9,000 rooms during the first three months of the year and signed a further 13,000, and the group announced that US$750 million would be returned to shareholders by way of a special dividend with share consolidation. Discussing the group's first-quarter performance, Richard Solomons, IHG's chief executive, said, "We have made an excellent start to the year with our strongest RevPAR performance in seven quarters and our best first-quarter pipeline signings in six years. This reflects the continued growth momentum in the business and the strong preference for our portfolio of brands from both owners and guests."
Absolute Share Price Performance Over the Past Week – 24 April-1 May 2014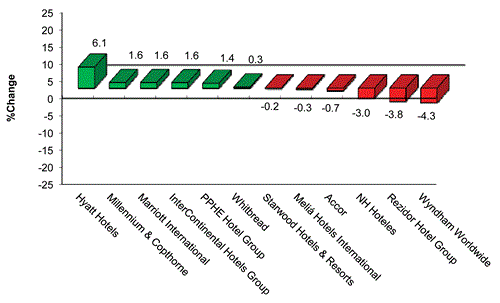 Hyatt Hotels – Price target raised to US$66 from US$61 by Susquehanna.
InterContinental Hotels Group – Share prices rose after news of dividend.
Starwood Hotels & Resorts – Raised to "buy" from "neutral" by SunTrust Robinson Humphrey.
---
For the latest in the hospitality industry, please visit: http://www.hvs.com. You are also welcome to contact the following personnel.
| | |
| --- | --- |
| Russell Kett, Chairman – HVS London (@russellkett) | rkett@hvs.com |
| Charles Human, CEO – HVS London/HVS Hodges Ward Elliott | chuman@hvshwe.com |
| Chris Martin, Director – HVS Hodges Ward Elliott | cmartin@hvshwe.com |
| Tim Smith, Director – HVS London | tsmith@hvs.com |
| Arlett Oehmichen, Director – HVS London | aoehmichen@hvs.com |
| Sophie Perret, Director – HVS London | sperret@hvs.com |
| Peter Malone, CEO – HVS Executive Search, EMEA & Asia | pmalone@hvs.com |
| Demetris Spanos, Managing Director – HVS Athens | dspanos@hvs.com |
| Hala Matar Choufany, Managing Director – HVS Dubai | hchoufany@hvs.com |
| Louise Fury, Senior Editor and EMEA Hospitality Newsletter Author – HVS London | lfury@hvs.com |