INTERNOS Buys The InterCityHotel Leipzig
INTERNOS Global Investors has completed the purchase of the InterCityHotel Leipzig in Germany from Hamburg-based B&L Gruppe for an undisclosed sum, although it was reported that this acquisition combined with the group's purchase of the 328-room Maritim Hotel & International Congress Center Dresden in January 2014 represents a €70 million investment. The 166-room hotel is the tenth hotel the group has acquired for its INTERNOS Hotel Real Estate Fund 1, bringing the fund to €310 million. The hotel, which opened in May 2013, is operated under a long-lease by Steigenberger subsidiary, InterCityHotels.
Deka Immobilien Picks Up Two Holiday Inn Express Hotels
Deka Immobilien has reportedly purchased two Holiday Inn Express properties in Germany for approximately €21 million each from Foremost Leisure Real Estate: the 158-room Holiday Inn Express Berlin City Centre-West and the 120-room Holiday Inn Express Hamburg-St. Pauli Messe, with yields of 6.23% and 6.15%, respectively. Both hotels are operated by Foremost Hospitality.
Five Former Akkeron Hotels Sold
The leaseholds of five former Akkeron Hotels in the UK have been sold after the group fell into administration in February 2014. West Register (Property Investments) has purchased the 71-room Quality Hotel, Bury St Edmunds; the 50-room Quality Hotel, Colchester; the 70-room Quality Hotel Peterborough; the 76-room Clarion Collection Cromwell Hotel, Stevenage; and the 50-room Quality Hotel, Kings Lynn. Jupiter Hotels has been appointed to operate all five hotels.
Dominvs Plans Hotel Project In London
Dominvs Group has acquired a Grade II-listed site in London which it plans to convert into a 150- to 200-room hotel. The building, on the south bank of the River Thames near Tower Bridge, formerly housed the Tower Bridge Magistrates Court and Police station. "After an intensive competitive bidding process, we are pleased to have secured the Tower Bridge site," said Dominvs' director, Preet Ahluwalia. "This is a once in a decade investment opportunity and its prime location parallel to the Thames River and access to central and South East London, aligns with our London acquisition strategy," he added.
Hyatt Comes To Austria
Hyatt Hotels Corporation is set to open its first hotel in Austria: the Park Hyatt Vienna. The luxury hotel is in Vienna's new Golden Quarter shopping district in the 100-year-old listed building that was once home to Bank Austria Creditanstalt. Due to open in June this year, the five-star hotel has 143 guest rooms, including 35 suites.
ME In Milan
Meliá Hotels International's lifestyle brand, ME by Meliá, is set to stamp its style on Milan in 2015 with the 132-room ME Milan Il Duca. Taking up residence in a building by renowned Italian architect, Aldo Rossi, the hotel will be renovated to his style. Gabriel Escarrer, chief executive officer and vice chairman of Meliá, said, "The economic and industrial capital of Italy has been awaiting a hotel such as this. The announcement of a new ME in Milan, prior to the imminent openings of ME Ibiza and ME Mallorca, constitutes the next step in the international positioning of the ME by Meliá brand as providing revered hotels for modern and discerning travellers, combining business and pleasure with authentic lifestyle experiences." Meliá currently operates five hotels in Italy, including the 288-room Meliá Milano.
Aberdeen To Get Marriott's First UK MOXY
Marriott International's new economy brand, MOXY Hotels, will make its UK debut in Aberdeen in early 2016. The hotel will become the third to be built at the ABZ business park next to Aberdeen Airport. ABZ Development and IKEA Property Division's Inter Hospitality Holding are to submit a planning application for the 200-room hotel to Aberdeen City Council by mid May. Development director of ABZ, Paul Stevenson, said, "Aberdeen suffers from a well-documented imbalance of hotel beds available for the thousands of international visitors who do business in our city. The prospect of hosting a MOXY hotel on our ABZ Business Park is tremendous news and not only goes some way to addressing the beds deficit but adds a distinctive new dimension to Aberdeen's hotel offering." Marriott plans to open 150 MOXY hotels in Europe over the next decade with properties to launch first in Milan, Berlin and Frankfurt.
Two New Brands For Langham
As part of its expansion plan to increase its portfolio from 22 hotels (8,000 rooms) to more than 100 hotels worldwide over the next five years, Hong Kong-based Langham Hospitality Group (LGH) has announced that it will expand its London operation (which currently consists of the group's flagship property the Langham London) with two new brands: Langham Place and Eaton. "The grandeur of the Langham brand is complimented by the more contemporary and minimal, but equally luxurious, Langham Place brand. While the Eaton brand sits below Langham and Langham Place, as a trendy, lifestyle offer," commented Simon Manning, vice-president, sales and marketing with LGH. The group currently owns 14 of its 22 hotels across Asia, North America, Australia, New Zealand and London. The new hotels will be the result of both acquisitions and management contracts.
DoubleTree Forms A Quartet In Scotland And Hampton Debuts In Central London
Hilton Worldwide's DoubleTree brand has opened its fourth hotel in Scotland, and its 21st in the UK overall. The 138-room DoubleTree by Hilton Hotel Edinburgh City Centre has been developed in an historic building that dates from 1892. The site used to house the Point Hotel and underwent a £4.2 million renovation before opening under the DoubleTree flag. Also this week, Hilton's Hampton by Hilton brand made its debut in central London with the official opening of the 297-room Hampton by Hilton London Waterloo. The newly built, eight-storey hotel is owned by Shiva Hotels.
Radisson To Park Up Inn Izmir And Sisli Makes It Seven For Marriott In Istanbul
Carlson Rezidor Hotel Group recently announced a new hotel for Turkey. The Park Inn by Radisson Izmir is due to open in the fourth quarter of 2015 in the city of Izmir. The 137-room hotel will be located on the waterfront with views of the Aegean Sea. Additionally, Marriott International opened its 11th hotel in Turkey this week, and its ninth in Istanbul. The 259-room Marriott Hotel Sisli is housed within a 34-storey building in the city's European side.
A New £11 Million Travelodge For Manchester
Travelodge has opened a new £11 million flagship property in the city of Manchester, northwest England. The Manchester Piccadilly Travelodge brings the budget group's total portfolio up to 513 hotels. The 157-room hotel is housed over the top six floors of a former Woolworths building dating from 1927 in the city's Piccadilly Gardens district.
More Mövenpick For The EMEA
Mövenpick Hotels & Resorts has announced the opening of three new properties in the EMEA region this year, in Turkey and Morocco. The group is to take over the management of an existing hotel in Casablanca, Morocco. Previously known as the Hotel Casablanca Plaza, this summer the 16-storey, 184-room hotel will start operating as the Mövenpick Hotel Casablanca. The 374-room Mövenpick Hotel Marrakech is currently under construction and is due to open at the end of 2014 in Morocco's fourth-largest city, increasing Mövenpick's portfolio in the country to three hotels. The Mövenpick Hotel Istanbul Golden Horn is expected to open this summer as the group's fourth hotel in Turkey.
Novotel Number Two For Abu Dhabi
Accor opened its second Novotel property in Abu Dhabi, UAE, this week: the 361-room Novotel Abu Dhabi Al Bustan. The newest Novotel in the emirate is due to have some company next month, when the adjacent Adagio Al Bustan opens its doors; this 279-unit aparthotel, the first aparthotel under the Adagio brand in the Middle East, will be directly connected to the Novotel Abu Dhabi Al Bustan via a series of enclosed footbridges.
NH Hoteles Releases Its Full-Year 2013 Results
NH Hoteles has posted some positive performance results for 2013. The group achieved full-year RevPAR growth of 1.07% on 2012, aided by a 3.4% rise in occupancy despite a fall in average rate. Although total revenue fell by 2.2% on 2012, EBITDA improved by 2.9% to €121.6 million in 2013 and the group's bottom line improved by 86.4%.
Correction
With regard to the information printed in our 2013 European Hotel Transactions report that the Kempinski Hotel Zografski Sofia was sold to Chimimport, we have since been informed that this information is incorrect and that this hotel was not sold to Chimimport.
Absolute Share Price Performance Over the Past Week – 20-27 March 2014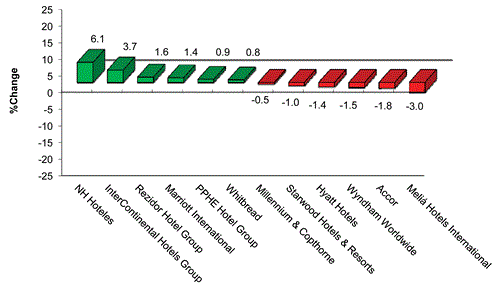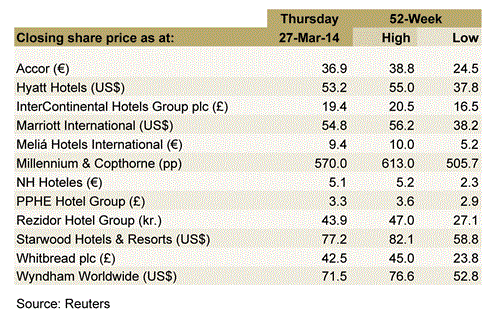 NH Hoteles – Hits three-year high on firm volume.
InterContinental Hotels Group (IHG) – Hits a 21-day high on firm volume.
Accor – JPMorgan upgraded to "overweight" from "neutral" and raised the share price target to €45 from €36.
---
For the latest in the hospitality industry, please visit: http://www.hvs.com. You are also welcome to contact the following personnel.
| | |
| --- | --- |
| Russell Kett, Chairman – HVS London (@russellkett) | rkett@hvs.com |
| Charles Human, CEO – HVS London/HVS Hodges Ward Elliott | chuman@hvshwe.com |
| Chris Martin, Director – HVS Hodges Ward Elliott | cmartin@hvshwe.com |
| Tim Smith, Director – HVS London | tsmith@hvs.com |
| Arlett Oehmichen, Director – HVS London | aoehmichen@hvs.com |
| Sophie Perret, Director – HVS London | sperret@hvs.com |
| Peter Malone, CEO – HVS Executive Search, EMEA & Asia | pmalone@hvs.com |
| Demetris Spanos, Managing Director – HVS Athens | dspanos@hvs.com |
| Hala Matar Choufany, Managing Director – HVS Dubai | hchoufany@hvs.com |
| Louise Fury, Senior Editor and EMEA Hospitality Newsletter Author – HVS London | lfury@hvs.com |
| Lesley Parrott, Junior Editor and EMEA Hospitality Newsletter Author – HVS London | lparrott@hvs.com |