Featured in this HVS EMEA Hospitality Newsletter – Week Ending 14 March 2014
Starwood Capital Bags De Vere Venues
In its second major deal of 2014, US-based private investment company Starwood Capital Group has purchased De Vere Venues for £232 million. The deal includes De Vere's 23 owned and leased conference hotels (2,433 guest rooms), 374 meeting rooms and 414,000 ft² of event space across the UK (mainly concentrated in Greater London). Combined with Starwood Capital's acquisition of the Four Pillars portfolio, in January 2014, and its purchase of Principal Hayley, in March 2013, this acquisition brings the group's investment in the UK's hospitality market up to £700 million over the past year.
St James's Acquires 14 Forestdale Hotels
St James's Hotels has acquired a portfolio of 14 hotels across the UK with its purchase this week of Forestdale Hotels for an undisclosed sum. Forestdale, formerly a subsidiary of Akkeron Hotels Group, recently fell into administration. The three-star hotels total 864 guest rooms. "We are very excited to have acquired this portfolio and while it will require significant investment in both time and money, we believe we are well placed to maximise the potential of these well located properties," said the managing director of St James's Hotels, Shaun Robinson. "This is the first of a series of acquisitions that we hope to make for St James's Hotels," he added.
Versa Buys BridgeStreet
An affiliate of US private equity investor Versa Capital Management has acquired serviced apartment group BridgeStreet Global Hospitality for an undisclosed sum. BridgeStreet has a presence in 60 countries with more than 50,000 apartments. "Versa is the ideal owner for our strategy as it is a firm with the resources and expertise to help us continue to build and grow our business," said Sean Worker, chief executive officer of BridgeStreet.
Two Munich Marriotts For PATRIZIA
Real estate investment firm PATRIZIA Immobilien AG has bought two Marriott hotels in Munich, Germany, from Reiss & Co. Real Estate München and E&G Bridge Equity Fonds. The 227-room Courtyard Munich City East and the 125-room Residence Inn Munich City East, near to the city's Ostbahnhof railway station, were both constructed in 2011. Both properties are operated by SV Group for Marriott International. The sales price was not disclosed.
Three New Indigos…
It's almost spring, and InterContinental Hotels Group (IHG) is celebrating by opening three new Hotel Indigo properties in Europe. Already arrived is the Hotel Indigo St Petersburg – Tchaikovskogo. This 119-room hotel, owned by Viktoria Shamlikashvili, marks the debut of the boutique brand in Russia. The hotel is being operated under a franchise agreement with Vega LLC. On its way this month is the Hotel Indigo Rome – St George in Italy. The first Indigo in Italy, the 64-room hotel is to be run under a franchise agreement with Hotel Invest Italiana SRL. Last but not least, and due to open in April, is the Hotel Indigo Madrid – Gran Via, the second Indigo property to open in Spain. This 85-room hotel will operate under a franchise agreement with Luis Alvarez Dominguez Angel Alvare.
...And A Holiday Inn Express
IHG has signed a management agreement with Palmira LLC for the Holiday Inn Express Moscow. Due to open in 2017, the 192-room hotel will be the first of its brand in the Russian capital. The property will be adjacent to terminals D, E and F at Russia's second largest airport, Sheremetyevo. IHG is set to open its first Holiday Inn Express in Russia in just a few months in Voronezh.
Interstate Adds Two ibis Hotels To UK Portfolio...
Interstate Hotels & Resorts has secured management contracts for two ibis hotels in the UK: the 81-room Hotel ibis budget Derby and the 73-room Hotel ibis budget Leicester. "Securing our management for these two attractive, centrally-located ibis budget hotels will add to Interstate's UK portfolio of full and select service branded hotels, including some independent brands," said Robert Crook, Interstate's managing director for the UK. "These management wins come in the wake of last month's rebranding of the former Quality Hotel to Holiday Inn Express Edinburgh Airport following a multi-million pound investment and take our UK portfolio to 49 hotels under franchise agreements with many of the world's leading hotel companies."
Meanwhile In Spain...
A quick hop over to northern Spain bring us news of the rebranding of the 84-room Hotel Husa Center A Coruña to the ibis Styles A Coruña following a reported deal between the owner of the property, José Souto, and Accor. The hotel will remain open during a refurbishment and will officially become an ibis Styles next month.
The Countdown Is On
As our regular readers will know, Henry Stewart's Hotel Operating Agreements briefing is to take place in less than two weeks on Tuesday 25 March at Le Méridien Piccadilly in London. If you haven't already booked a ticket, there are still some delegate places left and the conference organisers are offering HVS subscribers a 50% discount on the registration fee. For more information visit www.henrystewartconferences.com. To get your discount, when booking quote HVS50. Those attending can have the pleasure of meeting Tim Smith, our director of valuations (who is one of the speakers) and Russell Kett, our chairman.
Sofitel Sets A Date
Originally scheduled to open in the second half of 2013, Accor's Sofitel has announced that its Middle Eastern flagship hotel, the Sofitel Dubai Downtown, will now open on 1 May this year. Commenting on the 350-room, five-star hotel, general manager Klaus Assmann, said, "We are very proud to offer the distinguished luxury traveller a piece of France in Dubai with the opening of Sofitel Dubai Downtown. Sofitel's portfolio grows continuously around the globe and we are proud to gracefully link the French culture with the local culture in each property we operate."
Absolute Share Price Performance Over the Past Week – 6-13 March 2014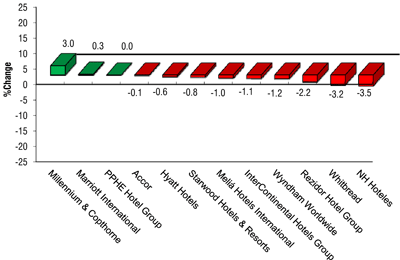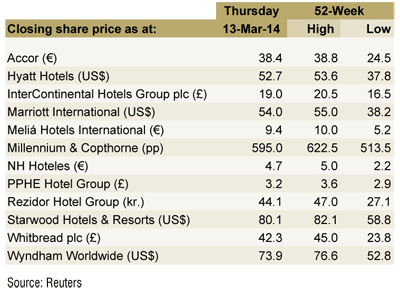 InterContinental Hotels Group – Decreased 1.0% on thin volume.
NH Hoteles – Decreased 1.3% on below average volume.
Meliá Hotels International – Dropped 1.1% on high volatility.
---
For the latest in the hospitality industry, please visit: http://www.hvs.com. You are also welcome to contact the following personnel.
| | |
| --- | --- |
| Russell Kett, Chairman – HVS London (@russellkett) | rkett@hvs.com |
| Charles Human, CEO – HVS London/HVS Hodges Ward Elliott | chuman@hvshwe.com |
| Chris Martin, Director – HVS Hodges Ward Elliott | cmartin@hvshwe.com |
| Tim Smith, Director – HVS London | tsmith@hvs.com |
| Arlett Oehmichen, Director – HVS London | aoehmichen@hvs.com |
| Sophie Perret, Director – HVS London | sperret@hvs.com |
| Peter Malone, CEO – HVS Executive Search, EMEA & Asia | pmalone@hvs.com |
| Demetris Spanos, Managing Director – HVS Athens | dspanos@hvs.com |
| Hala Matar Choufany, Managing Director – HVS Dubai | hchoufany@hvs.com |
| Louise Fury, Senior Editor and EMEA Hospitality Newsletter Author – HVS London | lfury@hvs.com |
| Lesley Parrott, Junior Editor and EMEA Hospitality Newsletter Author – HVS London | lparrott@hvs.com |