Three Mercure Hotels Sold In Germany
HVS Hodges Ward Elliott is pleased to announce that it has successfully arranged the sale of the following three German hotels to HR Group: the 245-room Mercure Munchen Neuperlach, the 224-room Mercure Frankfurt Eschborn Ost and the 150-room Mercure Frankfurt Airport. HR Group is a privately owned hotel and residential investment company based in Berlin.
Starman Sells The Hotel Bristol
Before it settles down for the festive break with a box of mince pies, London-based Starman Hotels has sold the 206-room Hotel Bristol in Warsaw, Poland, to a group of private investors. The 112-year-old hotel, operated by Starwood Hotels & Resorts as part of its Luxury Collection, emerged from a €13 million refurbishment and restoration at the beginning of this year. The hotel is adjacent to the city's Presidential Palace, a prominent location in the Polish capital.
Four Portions Of Turkey For Hilton
Hilton Worldwide loves a bit of Turkey at this time of year; so much so that it has signed agreements for four new hotels in the country – two for Istanbul and two for the port of Izmir, in the west of Turkey. The Hilton Garden Inn Istanbul Beylikduzu is due to open in 2015 with all the Garden Inn brand trimmings. The 126-room hotel will be part of a mixed-use development in the Beylikduzu district, in the European side of the city. A little to the east, but still in the European quarter, the new-build, 170-room Hampton by Hilton Dolapdere will open in 2016. Hilton currently has ten hotels in Istanbul, Turkey's largest city. In 2014, the Yidizhan Hotel, in the historic centre of Izmir, will undergo a US$1 million refurbishment, which will transform it into the 115-room DoubleTree by Hilton Izmir – Alsancak. The 182-room Hilton Garden Inn Izmir Bayrakli is expected to open just north of the port in 2016. These signings bring Hilton's portfolio in Turkey to 24 hotels in operation and 25 in the development pipeline.
Room For Another Piece Of Turkey?
Starwood Hotels & Resorts Worldwide has announced the debut of its Four Points by Sheraton brand in Turkey in the form of the Four Points by Sheraton Istanbul Batisehir Hotel. Owned by Ever Izmir Otelcilik Turizm Ticaret A.S., the new build hotel, which is to be part of the Batisehir development project, is expected to open towards the end of 2014 with 144 guest rooms including 36 suites. Ever Group chairman and chief executive officer, Selen Ersü, said, "We are very happy and feel privileged to be working with Starwood, by signing the first 'Four Points by Sheraton' brand in Turkey. Batisehir Project was the perfect Project with its exceptional location in Istanbul and having multi use facilities. We believe working with a global industry leader such as Starwood, in a prime location like Batisehir, will be a success story for all the involved parties."
All Aboard The Holiday Inn Express
InterContinental Hotels Group (IHG) has signed two more Holiday Inn Express hotels in Germany as part of a multiple development agreement (MDA) with the group's lessee partner Foremost Hospitality HIEX GmbH. The first of the two to open, due next year, will be the newly constructed 117-bedroom Holiday Inn Express Hamburg – City Hauptbahnhof. The hotel will join its sister properties in the city: the Holiday Inn Express – City Centre and the Holiday Inn Express Hamburg – St. Pauli Messe. The second of the new hotels to open, due in 2015, will be the 120-bedroom Holiday Inn Express Freiburg – City. Martin Bowen, Associate Vice President of Development, Germany, IHG said, "MDA agreements are a major part of our growth strategy for Germany so we're delighted to see the next two properties under this agreement come to fruition. We know that hotels developed by Foremost always deliver outstanding quality and performance and are great representations of the Holiday Inn Express brand."
Original Scotland Yard To Become Hotel
The original headquarters of the Metropolitan Police, Great Scotland Yard in London's Whitehall, is to be transformed into a 235-bedroom, five-star hotel due to open in 2016. Developer, Galliard Group, has acquired a 125-year lease on the building and intends to extend the building's current five storeys to seven. Steven Conway, chief executive of Galliard Group said, "Our vision is to create one of London's most outstanding five-star hotels. It really is a blue-chip building with grand architecture, a fascinating history and large dramatic interiors. The street is quiet and tranquil yet on the doorstep of London's most famous landmarks including Trafalgar Square, 10 Downing Street, the Mall and Buckingham Palace."
£60 Million Hotel For Shoreditch
A new hotel has been announced for Shoreditch, a former rundown part of East London that is now as cool as a freshly made snowman. The hotel is being developed by Michael Achenbaum (founder of US-based Gansevoort Hotel Group), SUSD, and Hondo Enterprises. Work is expected to start on the 160-room property next spring and it is due to open the following year, costing a reported £60 million. "I'm always seeking to expand my portfolio in emerging neighbourhoods that have a vibrant social life where businesses can grow and flourish," commented Achenbaum. "Shoreditch aligns brilliantly with our vision for this project and we're thrilled to break ground during such an exciting time for the neighbourhood," he added. The design of the hotel is to be inspired by the area's street art scene.
Sofitel's Second Coming In Germany
Santa came early to Accor's Sofitel brand this week in the form of a management contract for a new hotel in Germany. As of 1 February 2014, the Hotel Concorde Berlin will shed its former identity and will operate as the Sofitel Kurfürstendamm, becoming Berlin's second Sofitel alongside the 92-room Sofitel Berlin Gendarmenmarkt.
Novotel To Kick Start The New Year With A New Hotel In Wembley
Accor's Novotel brand is on its way to Wembley Stadium in north London, one of the UKs most famous football venues. The group has signed a management agreement for a 235-room Novotel on Olympic Way, which links Wembley Park underground station with the stadium. As well as 235 guest rooms, the hotel will also include 12 serviced apartments and is due to open in April 2014.
I'm Dreaming Of A Whitbread Christmas
Whitbread is planning to build a 130-bedroom Hub by Premier Inn, its second from the brand (the first being the Hub by Premier Inn St Martins Lane London due to open in September 2014), alongside a 127-bedroom Premier Inn as part of a £150 million development plan headed by Artisan Real Estate Investors in the Caltongate area of Edinburgh. Work is reported to be due to start sometime next year following a committee hearing in January to discuss the planning application submitted by Artisan. John Bates, Whitbread's head of acquisitions for UK & Ireland, commented, "This is another outstanding deal for Premier Inn. It gives us more than 257 new bedrooms in central Edinburgh and also our first new Hub by Premier Inn outside London. We are now set to have two great Premier Inn products side-by-side in a superb new development in the heart of the Old Town – and close to Waverley Station. It is more exciting growth for us in Scotland and another big result for our customers."
Hilton Jets Into Paris For Hotel Number Four
Following Blackstone's purchase of the Concorde Opéra Paris from Starwood Capital in September, Hilton has reportedly signed an agreement to operate the hotel under its Hilton Hotels & Resorts brand. The hotel will undergo a renovation and refit next year, before being rebranded as the Hilton Paris Opera. The 266-room hotel will be the fourth Hilton hotel in or close to the French capital joining the Hilton Paris La Defense, the Hilton Paris Orly Airport Hotel and the Hilton Paris Charles De Gaulle Airport.
Ritz-Carlton Makes Its Debut In Israel
The Ritz-Carlton Hotel Company has opened its first hotel in Israel in the coastal city of Herzliya. The Ritz-Carlton, Herzliya has 115 rooms and 82 suites. The 12-storey property is in the city's marina, overlooking the Mediterranean Sea.
Jumeirah Jumps Into Oman
Jumeirah Group has signed a management agreement with Saraya Bandar Jissah SAOH that will see it operate a resort in Muscat, its first property in Oman. Construction has already started on the resort, which is due to open in 2017 and will include two hotels – one will have 206 rooms and the other 106. The site is 15 minutes south of Muscat city centre, on the seafront in the cove of Bandar Jissah beach.
Hyatt Finds A Place In Yerevan
Hyatt Hotels Corporation's Hyatt Place brand made its debut appearance in Europe this week in Yerevan, Armenia. The Hyatt Place Yerevan opened with 95 rooms at the heart the Armenian capital next to Republic Square. The opening also marks the group's debut in Armenia overall.
Two Radisson Blus For Saudi Arabia
Carlson Rezidor Hotel Group has got together with Al Fahd Group to develop two new hotels in Saudi Arabia. The Radisson Blu Resort Al Khobar Aziziya will be constructed on Al Khobar's coast on Half Moon Bay. This 186-room property is due to open in the fourth quarter of 2015. The Radisson Blu Hotel & Residence Unaizah will be part of a 2 million m² master development in the Al Fahd district of the city of Unaizah. Construction has already started on the hotel and it is scheduled to open with 90 guest rooms, ten suites, 80 serviced apartments and potentially up to ten villas in the second quarter of 2016.
Second Time In Mauritius For Centara And IHG
Thailand-based Centara Hotels & Resorts opened its second resort in Mauritius this week. The Centara Grand Azuri Resort & Spa Mauritius is part of the 420-acre, oceanfront mixed-use Azuri development on the island's northeast coast. The Centara resort includes 100 rooms and villas. InterContinental Hotels Group (IHG) has also opened its second property in Mauritius. The 140-room Holiday Inn Mauritius Airport is on the island's east coast, only 700 m from SSR International Airport. IHG signed a franchise agreement with Airport Hotel Ltd for the hotel back in May 2013.
Absolute Share Price Performance Over the Past Week – 12-19 December 2013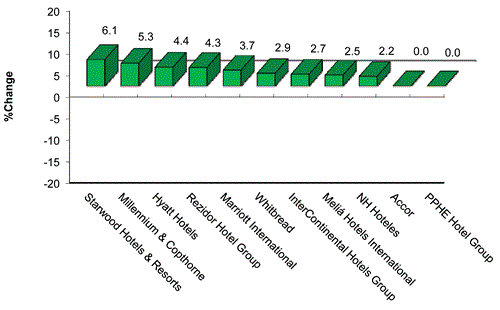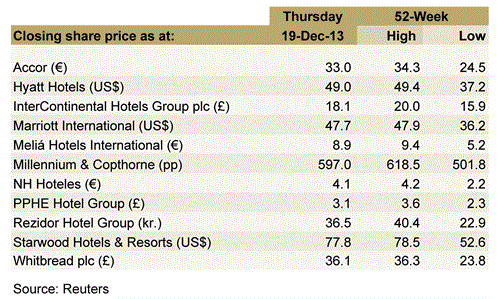 Hyatt Hotels – Nomura upgraded its rating to "buy" from "neutral" and the share price target was raised to US$59 from US$47.
Rezidor Hotel Group – Lifted 2.5% on weak volume.
Hilton Worldwide – Share prices rose after its trading debut.
---
For the latest in the hospitality industry, please visit: http://www.hvs.com. You are also welcome to contact the following personnel.
| | |
| --- | --- |
| Russell Kett, Chairman – HVS London (@russellkett) | rkett@hvs.com |
| Charles Human, CEO – HVS London/HVS Hodges Ward Elliott | chuman@hvshwe.com |
| Chris Martin, Director – HVS Hodges Ward Elliott | cmartin@hvshwe.com |
| Tim Smith, Director – HVS London | tsmith@hvs.com |
| Arlett Oehmichen, Director – HVS London | aoehmichen@hvs.com |
| Sophie Perret, Director – HVS London | sperret@hvs.com |
| Demetris Spanos, Managing Director – HVS Athens | dspanos@hvs.com |
| Hala Matar Choufany, Managing Director – HVS Dubai | hchoufany@hvs.com |
| Louise Fury, Senior Editor and EMEA Hospitality Newsletter Author – HVS London | lfury@hvs.com |
| Lesley Parrott, Junior Editor and EMEA Hospitality Newsletter Author – HVS London | lparrott@hvs.com |