Featured in this HVS EMEA Hospitality Newsletter – Week Ending 22 November 2013
HVS Hodges Ward Elliott Advises On The Sale Of NH Düsseldorf City Nord
HVS Hodges Ward Elliott is pleased to announce that, acting on behalf of Matrix German Portfolio No.1 Düsseldorf Sarl, it successfully arranged the sale of the 330-room NH Düsseldorf City Nord to Internos Hotel Real Estate Fund 1, for €37.5 million. The property is leased to NH Hoteles until 2028, with a fixed rent subject to annual indexation. This is the fourth single asset deal brokered by HVS Hodges Ward Elliott in the last few months in Continental Europe, following the successful sales of the NH Grand Hotel Krasnapolsky Amsterdam, the Crowne Plaza Maastricht and the Courtyard by Marriott La Defense West in Paris.
Hilton Sofia Sold To Local Businessman
Global Properties Bulgaria has bought Sofia's sole Hilton Hotel, the 245-room Hilton Sofia, from Ireland-based Quinn Group for a reported €24 million. The hotel was apparently acquired with 60% financing. Owned by local businessman, Spas Roussev, Global Properties Bulgaria is reported to have purchased the 142-room Radisson Blu from British property developer Henry Gwyn-Jones in the same city just last year. Mr Roussev was reportedly once an advisor to former Bulgarian tsar and prime minister Simeon Saxe-Coburg-Gotha. It's certainly been a busy year for Sofia's luxury hotel market with the sale of the Hotel Kempinski Zografski to Himimport for €40 million back in July.
A Tale Of Two Blus
Carlson Rezidor has announced a new hotel in the centre of the Netherlands' Noordvijk an Zee municipality. Set along a 13 km stretch of coastline, the 120-room Radisson Blu Palace Hotel Noordwijk an Zee is due to open in February 2014. The new hotel will mark Carlson Rezidor's fifteenth property either in operation or under development in the Benelux region. President and chief executive officer of Rezidor, Wolfgang M Neumann, commented, "We are delighted to welcome the Palace Hotel which is a local landmark and flagship in Noordwijk. Such high quality conversions are an essential part of our Route 2015 programme – targeting increased profitability and an uplift of our EBITDA margin by 6-8% by the year 2015." A quick hop over to the Republic of Ireland brings us news of the sale of the Radisson Blu Hotel & Spa, Cork. Formerly owned by dentist and owner of Oran Group, Rick Fitzgerald, the 126-room hotel was bought by management consultancy iNua Hospitality for a reported €8 million.
Two New Hotels For Liverpool
Liverpool's Albion House, the Grade-II listed building that was once home to the White Star Line offices responsible for the launching of the Titanic, will honour the great ocean liner with its transformation into a new boutique hotel of the same name. Due to open its doors in April 2014, the 67-apartment, 350-bed Titanic aparthotel is to be the newest addition to the Signature Living portfolio created by husband and wife team Lawrence and Kate Kenwright. The Kenwrights already operate three serviced apartment blocks in the city centre with a fourth currently under development. Elsewhere in the city, the search is on for an operator for a 94-room boutique hotel which is to be part of a £150 million development of Grade-II listed Cains Brewery Village. The hotel will be part of the first phase of the development, also including a bar, restaurants and retail element, which is expected to open by summer 2016.
Double Debut In Doha
Two new Accor brands are set to make their debut in Doha, Qatar. Accor has signed a management contract for a 150-room ibis hotel and a 150-room Adagio aparthotel. Accor currently operates 12 ibis hotels in the Middle East with an additional seven in the pipeline, while the new Adagio will bring the brand's Middle East portfolio to five. Managing Director Accor Middle East, Christophe Landais, said, "We are excited with this outstanding project which will definitely fill a gap in the hospitality market of Doha, being the perfect hub for regional and international businesses, as well as MICE events."
Taj's London Two Relaunched And Renamed
The Taj Group has announced plans for both of its London hotels to undergo changes. The Crowne Plaza London St James is to be relaunched in January 2014 while the 51 Buckingham Gate Taj Suites and Residences is to be renamed the Taj 51 Buckingham Gate, Suites and Residences as part of a renovation plan. Speaking of the change of name for 51 Buckingham Gate, Yannick Poupon, chief operating officer Taj Luxury International said, "The success of 51 Buckingham Gate Taj Suites and Residences has provided Taj with the impetus to consolidate and expand its brand in the UK. This is in line with the company's strategy to develop and consolidate strong brand presence in all of its key source markets. The move demonstrates our confidence in the buoyancy of the luxury hospitality market in the UK, in London as a tourism market and specifically the area around Victoria, which is undergoing significant investment, growth and development."
Travelodge Appoints New Chief Executive Officer
As you may recall, we reported back in July that Travelodge's chief executive officer of ten years, Grant Hearn, was stepping down. It has now been announced that his successor will be Peter Gowers, starting a two-week handover period with Mr Hearn on Monday. Mr Gowers is joining Travelodge from Safestore where he has been chief executive officer for the last two years. Not by any means lacking in hospitality experience, Mr Gowers was chief executive, Asia-Pacific for InterContinental Hotels Group prior to his Safestore stint. He said, "Travelodge is an iconic hotel brand and I am hugely excited by the opportunity to lead such a great business. I am delighted to be returning to the hotel industry and I look forward to working with the excellent team already in place to build on our current momentum and further grow the Travelodge brand."
Absolute Share Price Performance Over the Past Week – 14 November to 21 November 2013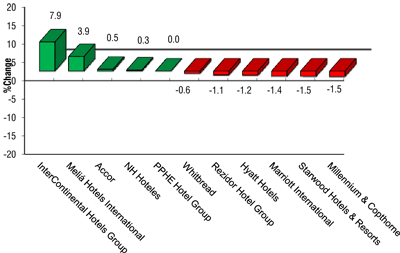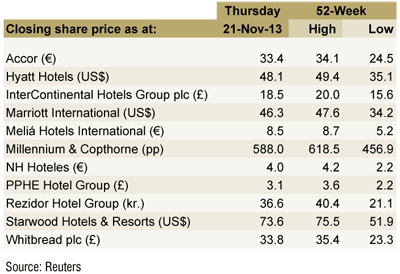 Accor – Accor increases on high volume.
NH Hoteles – NH Hoteles drops 2.4% on firm volume.
InterContinental Hotels Group – IHG hits a 21-day high.
---
For the latest in the hospitality industry, please visit: http://www.hvs.com. You are also welcome to contact the following personnel.