A Sofitel Sold In Paris
As part of its ongoing asset management strategy, Accor has sold the Sofitel Paris Le Faubourg, in France, to investment firm Mount Kellett Capital Management LP under a sale-and-leaseback agreement for €113 million (€769,000 per room). The sale price includes a €13 million renovation programme, which is due to start in 2014. The 147-room hotel, which opened in 1979, will remain open during the refurbishment. Accor will continue to operate the property under a long-term management agreement.
Immofinanz Sells St. Moritz Property
Austria-based real estate investor and developer Immofinanz has sold a 34,000 m² property in St. Moritz, Switzerland, that comprises the Kempinski Residences St. Moritz, the 232-room Kempinski Grand Hotel des Bains and the Casino St. Moritz to an international investor for an undisclosed sum, which is said to be above book value. The deal is part of Immofinanz's strategy to fully divest its €205 million hotel portfolio (which includes two other assets in Vienna, Austria) and focus on its core business.
Scandic Says Hüvasti To Estonia
Scandic has announced that it is selling the 86-room Scandic Palace Hotel in Tallinn, Estonia, to EfTEN Real Estate Fund and Vello Kunmans AS Esraven for an undisclosed sum. The sale, which is expected to be completed on 30 April 2013, will mark the departure of Scandic from Estonia. The hotel, which was built in 1938, has been owned and operated by Scandic since 1999. The property's new owners will continue to run the business as a hotel and a major refurbishment is planned for the end of the year. "Scandic's core focus is on operating hotels, not owning property," said Anders Ehrling, Scandic's chief executive officer. "Having found a buyer for the property and the hotel business in Tallinn, it is a logical step for our company to further streamline its operations," he added.
Cresta Court Sold And Atakent Park Opens
The Best Western Cresta Court Hotel in the town of Altringham, northwest England, has been acquired by UK hotel operator Longrose Buccleuch Hotels for an undisclosed sum. The new owners plan to carry out a major renovation of the 140-room hotel. Other recent Best Western news includes the group's debut in Kazakhstan with the opening of the 196-room, new-build Best Western Plus Atakent Park Hotel in Almaty.
Wyndham Goes Grand In Germany
Wyndham Hotel Group has signed a strategic partnership agreement with German hotel management company Grand City Hotels which will result in the rebranding of 43 hotels (more than 7,340 rooms), one-third of Grand City Hotels' portfolio, under several Wyndham brands. In Germany, five hotels will become Wyndham Grand properties, three will come under the Wyndham brand, ten will mark the entry of Wyndham Garden in the EMEA region, eight properties will fly the Days Inn flag and 15 will become TRYP by Wyndham hotels. Additionally, TRYP by Wyndham will make its debut in Belgium and the Netherlands with the rebranding of hotels in Antwerp and Amsterdam. By 1 March 2013, a total of 33 hotels will be rebranded; the remaining hotels will get their new names over the next two years. Once all of the hotels in Germany are rebranded, Wyndham's portfolio in the country will increase from 54 to 95.
Starwood Takes Its Luxury Collection To Warsaw
Starwood Hotels & Resorts' Luxury Collection has made its debut in Poland with the rebranding of the 101-year-old Hotel Bristol in Warsaw as the Hotel Bristol, a Luxury Collection Hotel. The hotel, which has 168 guest rooms and 38 suites, has recently emerged from an extensive multimillion-dollar renovation. The iconic property is owned by Starman Poland. Starwood now has six properties in the country.
Ingolstadt Gets An InterCityHotel
As part of its overall growth strategy, Steigenberger Hotel Group plans to open a new InterCityHotel in Ingolstadt, southeast Germany. The InterCityHotel Ingolstadt is expected to open by the end of the year near to the city's main railway station. The 144-room hotel, designed by Munich-based Höldrich Architekten, will be operated by Frankfurt-based InterCityHotel GmbH.
HVS At The IHIF
The 2013 International Hotel Investment Forum (IHIF) is due to take place on 4-6 March at the InterContinental Berlin in Germany. Some of HVS London's greatest will be at this year's conference. On Monday afternoon, 4 March, HVS London's chairman, Russell Kett, will be taking part in IHIF Talk Back, leading a conversation on Creating Destinations. On Tuesday 5 March, Charles Human, chief executive officer of HVS London and HVS Hodges Ward Elliott, will be taking part in a panel titled News Flash: the Nature of Bank Funding has Changed – Dealing with the New Reality. Also on day two of the conference, Arlett Oehmichen, a director with the London office, will be moderating a panel on Serviced Apartments. If you would like to meet up with either Russell, Charles or Arlett – or any of our HVS team – at IHIF please contact them at rkett@hvs.com, chuman@hvs.com and aoehmichen@hvs.com, respectively. For more information on IHIF or to register visit www.berlinconference.com.
Louvre To Expand In Morocco
Louvre Hotels Group has formed a partnership with Moroccan company Ynna Holding that will see Louvre take on the management, operation and marketing of the properties in Ynna's tourism and hotel division, Ryad Mogador Hotels. The chain includes one hotel in Essaouira, seven assets in Marrakech, one property in Agadir and a hotel in Tangiers. Additionally, the group has two hotels in the latter stages of construction that are due to open soon in Casablanca. The hotels are to be rebranded Mogador Hotels by Tulip Inn, Golden Tulip or Royal Tulip. The partnership agreement will run for a renewable eight-year period. "This new partnership reflects the growing importance of North Africa in Louvre Hotels Group's international development strategy," said Pierre-Frédéric Roulot, Louvre's chairman and chief executive officer.
A DoubleTree For Jumeirah Beach
Hilton Worldwide has signed a management agreement with Al Ain Properties for its third hotel in Dubai's Jumeirah Beach district. The 24-storey, 110-room DoubleTree by Hilton Dubai Jumeirah Beach is expected to open in late 2013 as part of a dual-tower complex that will also include residential space. The hotel also marks the entry of Hilton's DoubleTree brand in Dubai.
Rotana To Make Its Debut In Oman
Rotana has announced the development of its first hotel in Oman's capital, Muscat. The group has signed a memorandum of understanding with Sundas Investments Projects for the 245-room Sundas Rotana, which is expected to open in the first quarter of 2015 at Airport Heights, a mixed-use complex in the Bousher area of the city.
The Time To Talk About Hotel Operating Agreements Is Nearly Upon Us
Henry Stewart's conference on Hotel Operating Agreements is merely a month away so if you haven't already got a ticket, now is the time to book. HVS newsletter readers are being offered a 50% discount on the registration fee, which reduces the cost per delegate to £249.50 plus VAT. To book online by credit card please click here and insert discount code HVS50 when prompted to receive your 50% discount. If you would like to be invoiced please email dawnb@henrystewart.co.uk and provide the following information: full name(s), position(s) and email addresses of all delegates; title of conference; full company name and address for the invoice; name of the person making the booking if different from delegate(s); and please quote discount code HVS50 to receive your 50% discount. Look out for HVS London's director of valuations, Tim Smith, who will be speaking in the afternoon about where leases work best and the investment values they create.
Rezidor's Fourth-Quarter Results
Rezidor Hotel Group's revenue grew by 6% for the fourth quarter of 2012, to €240.6 million, driven by healthy rises in RevPAR, which rose like-for-like by 4.2%, and the effects of the weakening of the euro. EBITDA increased by €1.5 million to €15.6 million, and the EBITDA margin improved by 0.2 percentage points to 6.5%. The group opened 1,100 new rooms during the quarter and signed a further 1,300. "Our continued global commercial focus in partnership with Carlson, the effective execution of Route 2015 and the cost cutting programme combined with significant organisational changes have strengthened our platform; paving the way for continued profitability improvement in the years ahead," said Wolfgang Neumann, Rezidor's president and chief executive officer.
Sustained Growth In 2012 For Accor
Accor achieved a like-for-like rise in revenue of 2.7% to €5.6 million for the full-year 2012. EBIT improved by 3% like-for-like to around €5 million. Accor opened more than 38,000 rooms last year, of which 85% were under management or franchise agreements, and also recorded a reduction in adjusted net debt of €1.4 million.
Gladen's Tidings
The news from Spain by Esther Gladen, Consulting and Valuation Analyst, HVS Madrid. Another upgrade in Palma de Mallorca: BQ Hoteles is investing €2 million in the 144-room BQ Apolo, in Can Pastilla. The hotel is scheduled to be reopen as a four-star property at the end of April 2013. Hotel Transaction in Mallorca: Serrano Hotels has purchased a 76- room property in Cala Ratjada for an undisclosed sum. The three-star hotel is to be upgraded and is scheduled to reopen in April. The Alcudia Petit Hotel is to open in Mallorca next March: The modern, urban hotel will have 12 rooms and a restaurant. The four-star Hotel Cort to open in Palma in late spring: The property will have 16 rooms, of which 14 will be suites; meeting facilities for 25 people; and a restaurant with 140 seats.
Absolute Share Price Performance Over the Past Week – 14-21 February 2013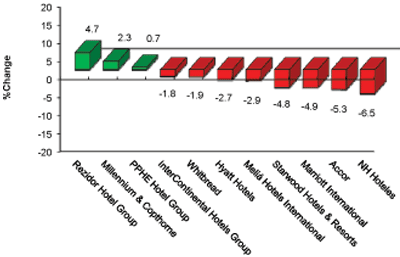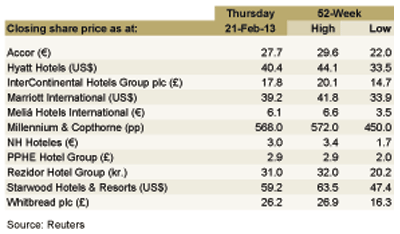 Rezidor Hotel Group – Rezidor rose 1.0% – outperforming 83% of stocks.
InterContinental Hotel Group (IHG) – Exane BNP Paribas raised IHG's target price to 2100p from 1900p.
Meliá Hotels International – Meliá fell 1.4% from a 14-day high.
---
For the latest in the hospitality industry, please visit: http://www.hvs.com. You are also welcome to contact the following personnel.
| | |
| --- | --- |
| Russell Kett, Chairman – HVS London (@russellkett) | rkett@hvs.com |
| Charles Human, CEO – HVS London/HVS Hodges Ward Elliott | chuman@hvshwe.com |
| Tim Smith, Director – HVS London | tsmith@hvs.com |
| Chris Martin, Director – HVS Hodges Ward Elliott | cmartin@hvshwe.com |
| Demetris Spanos, Managing Director – HVS Athens | dspanos@hvs.com |
| Hala Matar Choufany, Managing Director – HVS Dubai | hchoufany@hvs.com |
| Christopher Mumford, President, EMEA – HVS Executive Search (@ChrisMumford) | cmumford@hvs.com |
| Philip Bacon, Managing Director – HVS Madrid and Managing Director, EMEA & Asia – HVS Shared Ownership Services | pbacon@hvs.com |
| Arlett Oehmichen, Director – HVS London | aoehmichen@hvs.com |
| Sophie Perret, Director – HVS London | sperret@hvs.com |
| Louise Fury, Senior Editor and EMEA Hospitality Newsletter Author – HVS London | lfury@hvs.com |