Featured in this HVS EMEA Hospitality Newsletter – Week Ending 18 January 2013
Fattal Attraction For A Holiday In Germany?
After holding talks for a year, Israel-based Fattal Hotel Management is reportedly in the final stages of negotiations to purchase a portfolio of 22 Holiday Inn properties in Germany, which are managed by InterContinental Hotels Group, for €300 million (US$400 million). Fattal Hotels' European division, Leonardo Hotels, currently operates more than 30 hotels across Europe.
Wyndham Takes A TRYP To Turkey
Wyndham Hotel Group has introduced its select-service TRYP by Wyndham brand to Turkey this week with the opening of the 108-room TRYP by Wyndham Istanbul Taksim, in the European part of the city. The ten-storey hotel is owned and operated by Tunç Otelcilik Ltd Sirketi and is now one of 74 TRYP by Wyndham properties in the EMEA region. "The introduction of this cosmopolitan brand to the country helps to expand our presence in this vital market," said Rui Barros, Wyndham's senior vice president and managing director for EMEA.
New Hotel Steals The Limelight In Oslo
THE THIEF hotel has opened in Oslo, Norway, as the city's first waterfront hotel. A member of consortium, Design Hotels, owing to a collaboration between the recently opened nearby Astrup Fearnley Museum of Modern Art and the hotel's own curator, the property's 119 rooms and public spaces double up as a contemporary art gallery. The unusual name given to the ten-storey hotel, owned by Norwegian investor Petter Stordalen, comes from the history of its location: the islet of Tjuvholmen – once known as Thief Island, the shady characters and thieves of 18th-century Oslo were brought there to be executed if they were caught carrying out their dastardly deeds. Today, the area is a two-kilometre-long seafront urban development with car-free streets and a wealth of contemporary architecture.
Ibis Excels And Travelodge Heads To Hackney
London welcomed its fourth ibis Styles this week as the 302-room ibis Styles London Excel opened at the ExCeL venue in the docklands, in the east of the city. The new addition Accor's portfolio is part of its plan to expand its UK network to 300 hotels by 2015. Not content with just upping its ibises, the UK's capital is also in line for a new Travelodge. UK-based group Travelodge has exchanged contracts with Manchester-based developer LPC Living for an 80-room hotel in the borough of Hackney. Due to open in summer 2014, the hotel will be part of LPC Living's £20 million mixed-use development in the area, which will also include 50 serviced apartments and two ground-floor retail units. Construction is expected to start this spring.
Finding A Park Inn Space In Schiphol
Rezidor Hotel Group's Park Inn by Radisson brand made its first appearance in the Netherlands this week. The 150-room Park In by Radisson, Amsterdam Airport Schiphol opened in a former office block in Schiphol-Rijk office park, five kilometres from the airport's terminals and 15 km from Amsterdam city centre.
Two More For Dubai Rotana
Middle East and Africa hotel management company, Dubai Rotana, has opened two hotels in Dubai's Deira region, one of its busiest tourism and commercial districts. The opening of the 428-room Al Ghurair Rayhaan and the 192-apartment Al Ghurair Arjaan by Rotana not only represents the company's biggest ever room inventory in a single project (620) but it brings the company's total number of properties in Dubai to 15 – reportedly the highest of any operator in the city – and its total room inventory in the emirate to 3,795. Omer Kaddouri, executive vice president and chief operating officer of Rotana, said, "Prior to launching the Rayhaan by Rotana brand in 2010, our market research indicated the category's huge potential due to its inherent appeal and popularity in the Middle East and that has been confirmed by more than 1,800 rooms already operating under the Rayhaan by Rotana brand. With the opening of the Al Ghurair property, Rotana now operates four Rayhaan hotels – three in the UAE and one in Saudi Arabia in Makkah."
Donatello's Middle East Debut
Dubai's Donatello Hotel Apartments, formerly known as the Coral Boutique Hotel Apartments, has reopened its doors to guests following the refurbishment of its 78 suites. Prior to the revamp, the hotel was under a management contract with Hospitality Management Holdings which ended in the fourth quarter of 2012, when the owner decided to rebrand it under its Donatello brand. More work is to take place in the summer with a further US$5 million to be spent on the renovation of the public areas, including the addition of new restaurants and meeting space.
Three Openings In Africa
Kempinski Hotels has made its debut in Kenya this week with the Olare Mara Kempinski, Massai Mara, which opened at the Olare Orok Conservancy in the Masai Mara. The group signed a management agreement with Simba Corporation Ltd for the tented camp last may. The property comprises 12 luxury tents, each set in 700 acres of grassland, with four poster beds and en suite bathrooms. Also in Kenya, The five-star Boma hotel and spa opened in Nairobi. The 148-room hotel is fully owned by the Kenya Red Cross and all profits from the business will be used to fund humanitarian projects. In South Africa, Sun International opened a new hotel in Johannesburg. Formerly the Grayston, the 281-room Maslow Hotel, underwent a 12-month renovation, costing US$28 million, before reopening in the Sandton area of the city.
Accor's Full-Year 2012 Results
Accor achieved total revenue of €5.6 billion for the full-year 2012, an increase of 1.5% on 2011. Revenue from the group's hotels business was €5.4 billion, an increase of 2.1% on 2011. The group's upscale and midscale hotels achieved occupancy of 65.5% and average rate of €100 in 2012, leading to a like-for-like increase in RevPAR of 1.8% to €66. Occupancy and average rate for Accor's economy hotels was 69.3% and €56, respectively, with a like-for-like RevPAR increase of 1.5% to €39. Accor received fees from managed and franchised hotels of €511 million in 2012, an increase of €95 million on the previous year, and fee income rose by 16.5%. The group opened 38,085 rooms last year, of which 28% was in Europe and 10% in the Middle East and Africa. Accor confirmed its full-year EBIT target of between €510 million and €530 million for 2012.
Absolute Share Price Performance Over the Past Week – 10-17 January 2013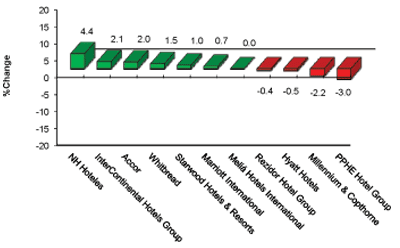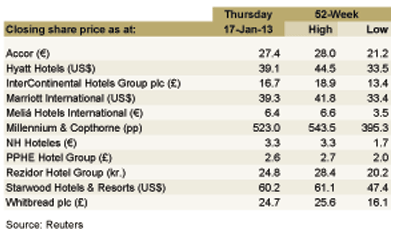 NH Hoteles – NH hit a 15-month high.
InterContinental Hotels Group (IHG) – IHG hit a year-high for the fifth time in one month.
Meliá Hotels International – Meliá dipped on low volume.
---
For the latest in the hospitality industry, please visit: http://www.hvs.com. You are also welcome to contact the following personnel.
| | |
| --- | --- |
| Russell Kett, Chairman – HVS London (@russellkett) | rkett@hvs.com |
| Charles Human, CEO – HVS London/HVS Hodges Ward Elliott | chuman@hvshwe.com |
| Tim Smith, Director – HVS London | tsmith@hvs.com |
| Chris Martin, Director – HVS Hodges Ward Elliott | cmartin@hvshwe.com |
| Demetris Spanos, Managing Director – HVS Athens | dspanos@hvs.com |
| Hala Matar Choufany, Managing Director – HVS Dubai | hchoufany@hvs.com |
| Christopher Mumford, President, EMEA – HVS Executive Search (@ChrisMumford) | cmumford@hvs.com |
| Philip Bacon, Managing Director – HVS Madrid and Managing Director, EMEA & Asia – HVS Shared Ownership Services | pbacon@hvs.com |
| Louise Fury, Senior Editor and EMEA Hospitality Newsletter Author – HVS London | lfury@hvs.com |