Hyatt Regency Birmingham Comes Back To The Fold
An affiliate of Hyatt Hotels Corporation has acquired the 319-room Hyatt Regency Birmingham, in England's Midlands region, out of administration for approximately £27 million. The four-star hotel, a landmark in Birmingham city centre with its glass-fronted 24-storey structure, has operated under the Hyatt Regency brand since it opened in 1990, and Hyatt was originally one of the property's co-owners; however, since 2002 it has operated under a third-party management agreement. Hyatt now plans to invest around £6.3 million in renovating the hotel. "Hyatt has successfully provided management services for the hotel for many years and we are delighted that a Hyatt affiliate is once again the owner of this hotel, one of our key hotels in the UK," said Michael Gray, Hyatt's area director for the UK and Ireland.
Hoxton Hotel Number Two On Its Way
After buying the Hoxton Hotel in London for a rumoured £65 million earlier this year, London-based investment firm Ennismore Capital has reportedly agreed terms to purchase a former office block in Holborn, central London, for around £30 million from Ediston Properties and the Royal Bank of Scotland. Ennismore plans to use the building, which was previously occupied by BT Group, to expand the Hoxton brand; it will invest a further £15 million in converting the six-storey property into a 175 to 200-room hotel. Additionally, Ennismore is thought to be in negotiations for another site in London which could become the city's third Hoxton hotel.
Four Points By Sheraton Takes Off In Berlin
Starwood Hotels & Resorts signed an agreement this week that will see it open its third Four Points by Sheraton hotel in Germany and its first in the country's capital, Berlin. The Four Points by Sheraton Berlin Airport is to be developed a few kilometres away from Berlin Brandenburg International Airport, which is currently under construction and due to open by the end of 2013. The 253-room hotel, which is owned by Proprietas s.r.o., is expected to open in 2014. This signing is part of Starwood's expansion plan for Europe, which will result in more than 25 new hotels opening across the continent over the next four years.
DoubleTree Times Three For Scotland
Hilton Worldwide has signed a franchise agreement with BDL Select Operations Ltd for its third DoubleTree in Scotland. A former 95-room, two-storey Landmark hotel in the port of Dundee, on Scotland's east coast, is to undergo conversion and will open next spring as the DoubleTree by Hilton Dundee. Commenting on the news, Patrick Fitzgibbon, Hilton's senior vice president for development in Europe and Africa, said, "DoubleTree by Hilton is one of our most successful growth brands in the UK and we're delighted to be introducing it to Dundee. The hotel will join more than nine other UK properties which have been welcomed into the brand in less than 12 months."
Have You Booked Your Place At HOSPACE Yet?
This year's one-day HOSPACE event will take place at the Sofitel hotel at Terminal 5, Heathrow Airport, on 22 November. HOSPACE 2012 will enable UK and international delegates to get an informed and cutting-edge view from an international line-up of inspirational experts – all icons in their own field – about the latest key financial, revenue and IT management issues and developments, as well as the commercial aspects that connect these together to maximise profitability and create value. One of those international experts is HVS London's chairman, Russell Kett. Russell will be moderating the finance panel. His fellow panellists are Graeme Smith, Partner, Zolfo Cooper Corporate Finance; Sylvia Matthews, Senior Vice President, Finance, Jumeirah Group; John Stuart, BA CA, Chief Financial Officer, BDL Hotels; and Tim Helliwell, Head of Hotel Finance Hospitality and Leisure Team, Barlcays Bank. For more information or to register for HOSPACE visit www.hospace.net.
Swiss International Expands Into Turkey With Grace
Swiss International Hotels & Resorts has got together with Istanbul-based Grace Hospitality Management International to expand its upscale Swiss International and midscale Swiss Spirit brands into Turkey and Northern Cyprus. The group's new office in Istanbul will be its seventh office worldwide. From its new base in Turkey, Swiss International plans to open hotels in the country's main corporate centres, such as Istanbul, Ankara, Izmir and Trabzon; in resort centres such as Antalya and Bodrum; and in North Cyprus. "It is our goal to create a global company with hotels around the world, which exemplify typical Swiss values and standards. We our proud to be associated with the Grace Group for expansion in such an important market as Turkey," said Henri Kennedi, chief executive of Swiss International.
Three New Holiday Inn Express Hotels For The UK
Three former Hampton by Hilton properties in the UK have been rebranded as Holiday Inn Express hotels. The hotels in question are located in Braintree, southeast England, and in Shrewsbury and Birmingham, both in the West Midlands. Greater London-based hotel operator Kew Green Hotels has now taken over the management of the properties, bringing its portfolio up to 26 hotels across the UK.
A Second Sofitel For Saudi Arabia
Accor has signed an agreement with the King Abdullah International Foundation for its second Sofitel property in Saudi Arabia. The new 400-room hotel, which is currently at the design stage, will be the anchor point of a 100,000 m² mixed-use development in Riyadh. The five-star hotel is scheduled to open by the end of 2015. The first Sofitel to enter the Saudi Arabian market was the 229-room Sofitel Al Khobar The Corniche in Al Khobar, in the east of the country.
Meliá's Results For Year-To-September 2012
By the end of September, Meliá Hotels International had recorded a 4.3% increase in EBITDA. Net profit fell by 4.1% on the same period in 2011, to €36.7 million. Increases in average rate across the group's hotels offset a slight decline in occupancy levels. RevPAR for the group's hotels in the EMEA region increased by 5.4%, due mainly to an increase in rate of 7.1%. The strongest market was France, with a rise in RevPAR of 14.1%, followed by the UK (+11%) and Germany (+6.9%). Meliá's current pipeline includes 34 hotels (approximately 11,000 rooms), 92% of which is in the upscale and premium catagories.
A Good Third Quarter For IHG
InterContinental Hotels Group (IHG) reported a third-quarter revenue of US$473 million, a 1% rise on the same period last year. Operating profit rose by 9% to US$167 million, and net debt fell from US$644 million to US$472 million. The group's third-quarter RevPAR grew by 3.9%, with a growth of 5.6% year-to-date. A total of 56 hotels (8,603 rooms) were added during the third quarter of 2012, and 85 new hotels (13,304 rooms) were signed. "The global economic environment remains challenging. However, our forward bookings remain encouraging and we are confident that IHG is well positioned to continue to outperform based on the considerable strengths of the business and our focused strategy for high quality growth," said Richard Solomons, IHG's chief executive.
Gladen's Tidings
The news from Spain by Esther Gladen, Consulting & Valuation Analyst, HVS Madrid. SB Hotels plans new hotel in Barcelona: the four-star, 254-room property is in L´Hospitalet de Llobregat. The opening is scheduled for the end of 2013. Splendom Suites Madrid wins International Hotel Award in London as Best Small Hotel: the 16-unit property is located in the exclusive Salamanca quarter.
Absolute Share Price Performance Over the Past Week – 1-8 November 2012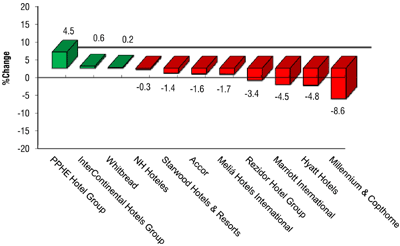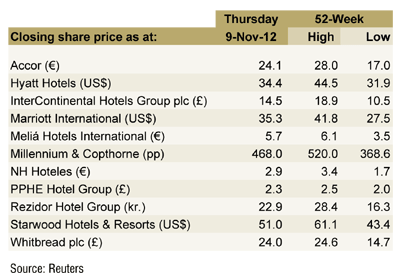 InterContinental Hotels Group (IHG) – Ellis gave IHG an "add" recommendation and a 1,800p share price target.
NH Hoteles – NH strengthened above its EMAP.
Millennium & Copthorne – Credit Suisse downgraded Millennium to "neutral" from "outperform".
---
For the latest in the hospitality industry, please visit: http://www.hvs.com. You are also welcome to contact the following personnel.
| | |
| --- | --- |
| Russell Kett, Chairman – HVS London (@russellkett) | rkett@hvs.com |
| Charles Human, CEO – HVS London/HVS Hodges Ward Elliott | chuman@hvshwe.com |
| Tim Smith, Director – HVS London | tsmith@hvs.com |
| Chris Martin, Director – HVS Hodges Ward Elliott | cmartin@hvshwe.com |
| Demetris Spanos, Managing Director – HVS Athens | dspanos@hvs.com |
| Hala Matar Choufany, Managing Director – HVS Dubai | hchoufany@hvs.com |
| Christopher Mumford, President, EMEA – HVS Executive Search (@ChrisMumford) | cmumford@hvs.com |
| Philip Bacon, Managing Director – HVS Madrid and Managing Director, EMEA & Asia – HVS Shared Ownership Services | pbacon@hvs.com |
| Louise Fury, Senior Editor and EMEA Hospitality Newsletter Author – HVS London | lfury@hvs.com |