Dorsett To Remake The Matrix In London
Dorsett Hospitality International has purchased an office block in London, UK, that it intends to turn into its second hotel in the city. Via a subsidiary, the Hong Kong-based group has acquired the nine-storey Matrix House building in the City, London's financial district, for £14 million. Dorsett, previously known as Kosmopolito Hotels, plans to spend a further £21 million transforming the building into a 260-room hotel, which will include the addition of three new floors. Winnie Chiu, Dorsett's president and executive director, has said that the group is expecting a room rate of £127 to £147 and occupancy of 75% to 82% at the property. Dorsett's first hotel in the UK, the 322-room Dorsett Regency London, is scheduled to open on the site of the former Pavilion Cinema in Shepherd's Bush in 2014.
Refinance And Refurbishment At The Pullman Paris
Accor is planning to refinance the Pullman Paris Tour Eiffel through a management contract. The hotel opened in 1967 near Paris' iconic landmark, the Eiffel Tower. Accor signed a fixed lease agreement for the 460-room hotel at the beginning of 2009; the group will now operate the property under a long-term management contract. Over 2013/14, the hotel will undergo a €47 million refurbishment. It will remain open during the work. "This transaction further demonstrates our ability to dynamically manage our assets – including leased hotels," said Denis Hennequin, Accor's chairman and chief executive officer. "It is also a good example of a successful partnership with an owner willing to lead, together with Accor, a highly value creative project," he added.
Steigenberger To Bustle Into Brussels
Steigenberger Hotel Group has announced its first hotel in Belgium. The Frankfurt-based group will take on the operation of the Conrad Brussels, on Avenue Louise in Belgium's capital, as of 1 January 2013. The 269-room hotel will become the Steigenberger Grand Hotel Brussels. Steigenberger has agreed an investment programme for the property with AG Real Estate, the hotel's owner.
Legacy + Longrose = Branded Hotel Management
Two UK-based hotel management companies have joined forces to create a brand new firm – Branded Hotel Management (BHM) was born out the joint ambitions of Legacy Hotels and Resorts, which currently operates more than 30 privately owned hotels under its own brand and now wants to expand into the branded hotel market, and Longrose Buccleuch Management, which already operates DoubleTree by Hilton, Mercure and Best Western hotels but would like to expand its market share. BHM has already held talks with a number of international hotel brands and investors; the group is looking to take on new developments, existing properties or conversions.
Hilton Puts A Conrad In Portugal
Hilton Worldwide's Conrad brand has made its debut in Portugal with the opening of the Conrad Algarve in the resort of Quinta do Lago. The 154-room hotel, which has been constructed in the form of an 18th-century Portuguese palace, is spread over six storeys and is within the Ria Formasa National Park. "This exclusive new property sets the benchmark for luxury accommodation and flawless service in the Algarve, representing a key milestone for the Conrad brand with more than 20 hotels now operating across the globe," said John Vanderslice, global head of luxury and lifestyle brands for Hilton Worldwide.
Internos Completes Portfolio In Germany And The Netherlands
We would like to clarify that Internos recently purchased the MGallery Amsterdam and the MGallery Colgone from Accor. These properties were part of a four-hotel seed portfolio that was acquired for a total investment of more than €100 million. The other two hotels in the portfolio are the Linder Congress Hotel in Frankfurt and the Park Inn Hotel Nuremberg. Jointly with the properties' tenants, Internos now plans to invest more than €14 million in the hotels to refurbish mainly the guest rooms and public areas. The financing for the portfolio was provided by German bank Bayern LB.
A Change Of Name For Dubai Hotel Company
As it stands poised to expand its presence outside of the UAE, Dubai-based Jebel Ali International Hotels has announced that it recently underwent a strategic rebranding process, from which it has emerged as JA Resorts & Hotels. At the beginning of 2013, the group will open the 342-room Ocean View Hotel in Dubai Marina, its fifth hotel in Dubai, and the ten-villa Enchanted Island Resort in the Seychelles, its first international hotel.
Hilton's DoubleTree brand Heads East In Cape Town
Hilton Worldwide has signed an agreement with Upper Eastside Hotel (Pty) Ltd for its second hotel in Cape Town and its fifth in South Africa overall. The 183-room Upper Eastside hotel is to be rebranded over the next couple of months and will become the DoubleTree by Hilton Cape Town Upper Eastside by the end of the year. The hotel, which will operate as a franchise with owner Upper Eastside Hotel (Pty) Ltd, is the 20th hotel to join Hilton's pipeline in Africa.
Katara To Develop A Resort In Gambia
Doha-based Katara Hospitality has signed a memorandum of understanding with the Government of Gambia in an initiative to develop tourism in the West African country. Katara Hospitality will develop a 200-room QAR730 million (US$200 million) resort on an 18-hectare plot of land within Bijilo Forest Park, near Gambia's capital city, Banjul. "One of the main pillars of our strategic expansion is to invest in emerging markets. By committing to this agreement, our primary goal is to support the development of the local community, while sharing our expertise in the hospitality field and investing into creating a strong partnership and lasting value," said Sheikh Nawaf Bin Jassim Bin Jabor Al-Thani, Katara Hospitality's chairman.
Marriott's Third-Quarter Results
Marriott International achieved a third-quarter net income of US$143 million, an increase of 40% on the same period in 2011. RevPAR for the group's international hotels increased by 5.0% and was accompanied by a 3.8% rise in average rate. Marriott's base management and franchise fees increased by 9.0% on the third quarter of 2011, to US$283 million, reflecting higher RevPAR at existing hotels and fees from new hotels, as well as US$7 million of deferred base management fees recognised in the third quarter related to the sale of the Courtyard joint venture. "We are pleased with our third-quarter performance," said Arne Sorenson, Marriott's president and chief executive officer. "Pricing power continued to improve in the quarter as hotel occupancy levels approached prior peaks," he added. Marriott added 35 new properties (4,874 rooms) to its worldwide portfolio in the third quarter of 2012. By year-end, Marriott expects to have added a total of 28,000 rooms in 2012.
Absolute Share Price Performance Over the Past Week – 27 September-4 October 2012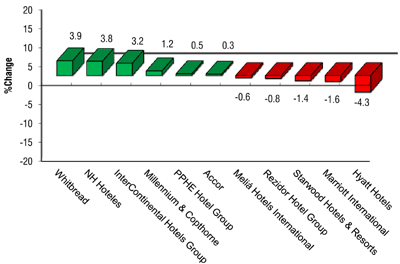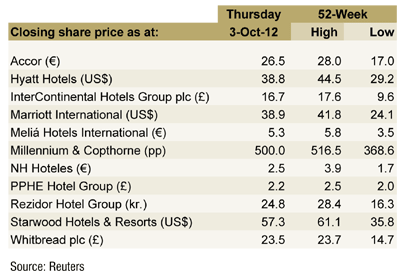 Whitbread – HSBC raised Whitbread's share price target to £25 from £20 and gave the group an "overweight" rating.
NH Hoteles – NH strengthened above its 50-day exponential moving average price.
Millennium & Copthorne – Share prices rose this week as the group signed a contract to manage its first resort in China.
---
For the latest in the hospitality industry, please visit: http://www.hvs.com. You are also welcome to contact the following personnel.
| | |
| --- | --- |
| Russell Kett, Chairman – HVS London (@russellkett) | rkett@hvs.com |
| Charles Human, CEO – HVS London/HVS Hodges Ward Elliott | chuman@hvshwe.com |
| Tim Smith, Director – HVS London | tsmith@hvs.com |
| Chris Martin, Director – HVS Hodges Ward Elliott | cmartin@hvshwe.com |
| Demetris Spanos, Managing Director – HVS Athens | dspanos@hvs.com |
| Hala Matar Choufany, Managing Director – HVS Dubai | hchoufany@hvs.com |
| Christopher Mumford, President, EMEA – HVS Executive Search (@ChrisMumford) | cmumford@hvs.com |
| Philip Bacon, Managing Director – HVS Madrid and Managing Director, EMEA & Asia – HVS Shared Ownership Services | pbacon@hvs.com |
| Louise Fury, Senior Editor and EMEA Hospitality Newsletter Author – HVS London | lfury@hvs.com |