Featured in this HVS EMEA Hospitality Newsletter – Week Ending 7 September 2012
Four Accors In London
French hotel group Accor is set to open four new hotels across London in October with the launch of a 182-room Novotel and a 297-room ibis hotel in Blackfriars, a 128-room ibis hotel in Shepherd's Bush and a 145-room Mercure in Greenwich. These openings will mean that Accor will be launching 1,000 new bedrooms in London this year across six new hotels and extensions to two existing hotels. This will bring the group's London portfolio to 53 hotels and well over 9,000 bedrooms by the end of the year. Thomas Dubaere, managing director of Accor UK & Ireland, said, "As the market leader in Europe and a key business player in the hospitality industry, Accor has treated this important year as a strategic opportunity to boost our presence in the UK's capital by investing in upcoming areas such as Shepherd's Bush, Blackfriars, Whitechapel and King's Cross, and improving the training and development of young people in the hospitality industry, to ensure a long-term legacy for 2012 and beyond."
Rezidor Debuts In Benin
Rezidor Hotel Group has announced its first property in the Republic of Benin. The 203-room Radisson Blu Hotel Cotonou is scheduled to open in the second quarter of 2014. The newly built hotel, located in Cotonou, the largest city and financial hub of Benin, is part of a mixed-use development owned by Akaka Hotel Resort SA. President and CEO of Rezidor, Kurt Ritter, commented, "We are delighted to add the Republic of Benin to our country list. It is the 71st country where we are present, and our 21st country in Africa." Rezidor currently operates 21 hotels across Africa and has another 27 properties under development.
Another Garden Inn For Poland
Hilton Garden Inn has opened its second property in Poland with the Hilton Garden Inn Rzeszow. The 101-room hotel is located in one of Poland's most historic cities, Rzeszow, and is part of the newly built Millennium Hall shopping and entertainment complex. The first of the brand in Poland is the 154-room Hilton Garden Inn Krakow.
Moscow Sells Metropol
Moscow authorities have sold the Hotel Metropol Moscow at auction for a reported RUB8.8 billion (US$273 million). The 362-room hotel is now the property of a company affiliated with Russian hotel chain, Azimut Hotels. Originally built in 1901, the hotel underwent refurbishment in 1991, resulting in the hotel gaining five-star status.
Duqm Crowne Plaza Almost Ready
The four-star Duqm Crowne Plaza is on track to be welcoming guests by the fourth quarter of this year. The hotel is located eight kilometres west of Duqm, an upcoming town in Oman reinventing itself to become one of the country's major industrial and commercial hubs. Omran and InterContinental Hotels Group signed an agreement in August 2008 to develop the hotel, which will include 218 bedrooms and 18 suites. Crowne Plaza currently operates in nearly 60 countries around the world; it has 390 hotels in operation and another 103 hotels in the pipeline.
Hilton Extends Its Reach In Turkey
Hilton Worldwide has announced the signing of a franchise agreement with Emaytas Turizm Gayrimenkul Yönetim Hizmetleri Sanayi ve Tic AS to open the group's first Hilton Hotels & Resorts-branded property on the Asian side of Istanbul. The 317-room Hilton Istanbul Kozyatagi Conference Center & Spa will comprise two 16-storey towers which will sit on a three-storey podium. Hilton opened its first Turkish hotel in 1955 and this most recent signing marks another milestone for the group as it continues to grow its portfolio of 40 hotels either open or under development in the country. Patrick Fitzgibbon, senior vice president, development, Europe & Africa, Hilton Worldwide, said, "We have a long heritage in Istanbul coupled with rapid growth over recent years in what is a thriving global destination. I am delighted to be introducing Hilton Hotels & Resorts to the Asian side of Istanbul. The new hotel will complement the spectacular DoubleTree by Hilton Istanbul Moda which began welcoming guests in 2011."
Gladen's Tidings
The news from Spain by Esther Gladen, Business & Market Intelligence Analyst, HVS Madrid.The Parador de Cádiz, also known as Hotel Atlántico, has reopened after two years of extensive refurbishment. The 124-room, four-star property has been refurbished with eco-friendly materials and with sustainability at the forefront of the design.
Absolute Share Price Performance Over the Past Week – 30 August to 6 September 2012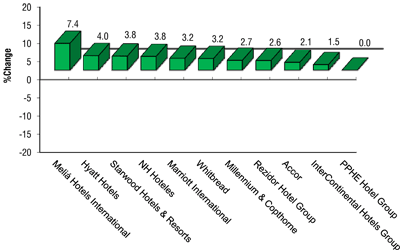 NH Hoteles – NH Hoteles advances 6.4%, outperforming 90% of stocks.
Meliá Hotels International – Meliá rises 2.5% on high volatility.
InterContinental Hotels Group – IHG strengthens above MAP.
---
For the latest in the hospitality industry, please visit: http://www.hvs.com. You are also welcome to contact the following personnel.
| | |
| --- | --- |
| Russell Kett, Chairman – HVS London (@russellkett) | rkett@hvs.com |
| Charles Human, CEO – HVS London/HVS Hodges Ward Elliott | chuman@hvshwe.com |
| Tim Smith, Director – HVS London | tsmith@hvs.com |
| Chris Martin, Director – HVS Hodges Ward Elliott | cmartin@hvshwe.com |
| Demetris Spanos, Managing Director – HVS Athens | dspanos@hvs.com |
| Hala Matar Choufany, Managing Director – HVS Dubai | hchoufany@hvs.com |
| Christopher Mumford, President, EMEA – HVS Executive Search (@ChrisMumford) | cmumford@hvs.com |
| Philip Bacon, Managing Director – HVS Madrid and Managing Director, EMEA & Asia – HVS Shared Ownership Services | pbacon@hvs.com |
| Lesley Parrott, EMEA Hospitality Newsletter Author – HVS London | lparrott@hvs.com |