Featured in this HVS EMEA Hospitality Newsletter – Week Ending 24 August 2012
Last Of The Von Essens Sold
The last two former von Essen hotels on the market are reportedly to be purchased by a former Dragon's Den presenter, entrepreneur James Caan. Caan has bid to pay administrators £3 million for the 22-room Ston Easton Park, near the city of Bath in Somerset, southwest England, and £1.5 million for the 24-room Sharrow Bay, in the Lake District, north England, via his private equity company Hamilton Bradshaw. This deal would mean that the von Essen portfolio, which went into administration last year, will have been sold for an estimated £150 million.
Starwood Bringing New Brands To Russia
Starwood Hotels & Resorts is bringing its Aloft brand to Russia. The group has signed an agreement for the Aloft St Petersburg, which is due to open in 2015 in the north of the city, overlooking the River Neva. The hotel is owned by Remstroyintour LLC and Ludmila Kudryavtesva. Starwood currently operates three hotels in Russia (two in Moscow and one in St Petersburg) and two in the CIS (in Ukraine and Azerbaijan), but this week the group has announced plans for its expansion in the region. Over the next three years Starwood aims to more than double its portfolio in Russia and the CIS, with its Sheraton brand playing a key role. "As one of the world's fastest-growing outbound travel markets, Russia represents a great opportunity for us. With a rising middle class, growing disposable income, an affinity for luxury brands and huge pent-up demand for foreign travel, Russia is emblematic of the growth we are seeing in regions around the world and key to our global growth plans," said Starwood's president and chief executive officer, Frits van Paasschen.
UK Roundup
Glasgow-based hotel management company BDL has secured £6.5 million of funding from the Royal Bank of Scotland to develop and manage a hotel in the village of Brae on the Shetland Islands, off the north coast of Scotland. Construction of the 100-room hotel starts this month. Other hotel news in the UK this week includes De Vere Group's plans for a £20 million hotel and leisure complex at Pacific Quay, on the River Clyde, in Glasgow. It is reported that the group will submit a planning application for the site, which is just south of BBC Scotland's headquarters, with Glasgow City Council for a 120-room hotel, a health and fitness centre, business and conference space and food and beverage facilities. It is hoped that construction can start next year and that the hotel will be ready for the next Commonwealth Games, which is to be held in the city in 2014. Additionally, the Earl of Doncaster Hotel, in northeast England, is to reopen after a £5 million refurbishment and a promotion to four stars. The 89-room hotel is close to Doncaster's famous racecourse.
A New CEO For Carlson
Hubert Joly has resigned as president and chief executive officer of Carlson after four years at the helm. The US-based group's board of directors have chosen Trudy Rautio to take his place. Rautio, who will take up her new position immediately, has been with the company for 15 years and for the past eight years she has held the post of executive vice president and chief financial and administrative officer. She also serves on the boards of Carlson Wagonlit Travel and Rezidor Hotel Group. Rautio is the group's fifth chief executive in its 74-year history and the second female president and chief executive officer at Carlson. Commenting on the new appointment, Marilyn Carlson Nelson said, "Trudy is the ideal leader to continue our robust strategies for continued success and profitability." Nelson also spoke of the board's appreciation for Hubert Joly, commenting that "with Hubert Joly's leadership through some very difficult financial times, Carlson is on strong financial footing".
What's Next On The Horizon – The View From The Boardroom…
…this will be the topic under discussion at one the many panels at this year's Hotel Investment Conference Europe (Hot.E), due to take place over the 21 and 22 September at the Park Plaza Riverbank in London. HVS London's Russell Kett will be moderating the aforementioned panel, at 10.15am on day one of Hot.E, and he will be joined by Monty J. Bennett, chief executive officer of Ashford Hospitality Trust; Laurence Geller, CBE, president and chief executive officer of Strategic Hotels; Steven R. Goldman, chief executive officer of Groupe du Louvre; and Gerald Lawless, president and chief executive officer of Jumeirah Group. For more information visit www.europehotelconference.com.
Qatar's First Crowne Plaza
InterContinental Hotels Group (IHG) has opened its first Crowne Plaza hotel in Qatar. The Crowne Plaza Doha – The Business Park finally opened its doors to the public this week in Trans Orient Group's Business Park development, next to Doha International Airport. IHG signed an agreement with Doha-based conglomerate Trans Orient for the seven-storey, 378-room hotel in 2008 and construction started in 2009. Flash forward three years' later and the hotel has now become IHG's third hotel in Qatar overall, alongside two InterContinental properties in Doha.
PPHE Hotel Group's Half-Year Results
PPHE Hotel Group recorded a revenue increase of 15.7% for the first half of 2012, to €110.9 million. The group's occupancy rose by 0.3% on the same period in 2011 to 75.2%, and RevPAR increased by 7.1% to €95.6, driven by a 7.5% increase in average rate to €127.1. EBITDA was €35.2 million, a 20.8% increase on the first six months of 2011. The group reported a profit before tax of €54.9 million, a strong increase on the €1.4 million achieved in 2011. "I am pleased to report a strong set of results for the first half of 2012, with total revenue and EBITDA up, as we benefited from an improved average room rate and increased hotel ownership," said Boris Ivesha, PPHE Hotel Group's president and chief executive officer.
Gladen's Tidings
The news from Spain by Esther Gladen, Business & Market Intelligence Analyst, HVS Madrid. German tour operator Alltours has purchased the four-star Eden Alcudia aparthotel from Eden Hoteles. This is the second property transaction both groups have agreed this year. The Eden Alcudia has 260 studios and apartments and will be operated by Allsun Hoteles.
Absolute Share Price Performance Over the Past Week – 16-23 August 2012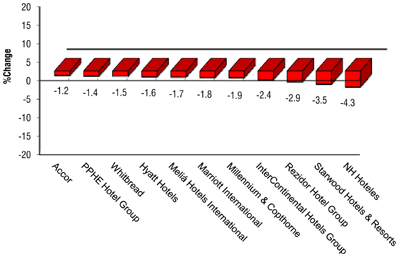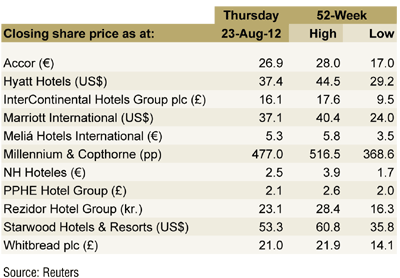 InterContinental Hotels Group (IHG) – IHG weakened 2.3% on low volume.
NH Hoteles – NH fell 3.7% from a 14-day high.
Meliá Hotels International – Meliá decreased 1.1% on low volume.
---
For the latest in the hospitality industry, please visit: http://www.hvs.com. You are also welcome to contact the following personnel.
| | |
| --- | --- |
| Russell Kett, Chairman – HVS London (@russellkett) | rkett@hvs.com |
| Charles Human, CEO – HVS London/HVS Hodges Ward Elliott | chuman@hvshwe.com |
| Tim Smith, Director – HVS London | tsmith@hvs.com |
| Chris Martin, Director – HVS Hodges Ward Elliott | cmartin@hvshwe.com |
| Demetris Spanos, Managing Director – HVS Athens | dspanos@hvs.com |
| Hala Matar Choufany, Managing Director – HVS Dubai | hchoufany@hvs.com |
| Christopher Mumford, President, EMEA – HVS Executive Search (@ChrisMumford) | cmumford@hvs.com |
| Philip Bacon, Managing Director – HVS Madrid and Managing Director, EMEA & Asia – HVS Shared Ownership Services | pbacon@hvs.com |
| Louise Fury, Senior Editor and EMEA Hospitality Newsletter Author – HVS London | lfury@hvs.com |