The Netherlands Gets Its First Garden Inn
This week, Hilton Worldwide opened its first Garden Inn hotel in the Netherlands. The Hilton Garden Inn Leiden can be found in the university town of Leiden, the birthplace of Rembrandt, 40 km southwest of Amsterdam. The 173-room hotel is Hilton's seventh property in the country overall. "Hilton Garden Inn has proven to be very successful in Europe with more than 55 hotels trading or in the pipeline. This new opening in the Netherlands further elevates our multibrand strategy for the Dutch market where we now have three of our six European brands operating and an exciting new Waldorf Astoria in the pipeline," said Simon Vincent, Hilton's area president for Europe.
Düsseldorf Gets A Splash Of Indigo
InterContinental Hotels Group (IHG) has signed a franchise agreement with LFPI Hotels Management Germany that will mark the entry of the group's boutique Hotel Indigo brand in Düsseldorf. The Linder Rhein Residence on Kaiserswerther Strasse in Düsseldorf, in the west of Germany, is to be converted into the Hotel Indigo Düsseldorf-Victoriaplatz. When it opens in 2013, the 126-room hotel will become the third Hotel Indigo in Germany (two are already in operation in Berlin).
Morgans To Move Into Russia
American company Morgans Hotel Group has signed a 20-year management agreement with Moscow-based real estate developer Capital Group for its first property in Russia. The Delano Moscow will be part of Capital Group's OKO project, which is being developed within the Moscow City mixed-used complex. When it opens in 2015, the 160-room hotel will be the first hotel to operate in the Moscow City development and it will become the third Delano property outside of the USA. The brand will be making its international debut next month when the 71-room Delano Marrakech opens in Morocco, North Africa, followed by the Delano Cesme, in Turkey, which is also expected to open in 2015.
A Marriott For Kiev
Marriott International plans to make its first appearance in Ukraine in mid 2013. The group has signed a management agreement with Subsidiary Enterprise Grand Plaza for the 173-room Renaissance Kiev Hotel. The hotel will be developed in an existing historic building in Kiev city centre, once the Leipzig Hotel, which is to undergo a renovation and extension.
Debt Write-Off For Travelodge
It has been reported that Goldman Sachs and two New York hedge funds have taken control of budget group Travelodge from Dubai International Capital through a debt for equity swap. It is rumoured that the group's new owners are to inject £75 million into the chain. Travelodge is to offload 49 hotels (8% of its estate) and reduce the rent it pays on 190 properties (22% of the estate), as lenders have agreed to write off £720 million of debt; the group will have until 2017 to pay off the remaining £330 million. Despite its debt, Travelodge's profit increased by 20% in 2011 and revenue also rose to £370 million; however, the group's interest payments had reportedly grown to an unsustainable £100 million a year. The group has said that it will work with the landlords of the 49 hotels to leave the portfolio to identify new operators and it does not expect any closures or job losses. Commenting on the debt reduction, Grant Hearn, Travelodge's chief executive, said, "This new appropriate level will provide greater security for our staff, suppliers, landlords and developers. This is a successful brand with millions of customers and the company will emerge in excellent shape from this process."
Scandic Number Five For Helsinki
Stockholm-based chain Scandic has opened a new flagship hotel in Finland: the 170-room Scandic Paasi in Helsinki. This is Scandic's fifth hotel in the city and number 24 for Finland overall. The group has a presence in nine countries across Europe.
Two In One In The UK
Hilton Worldwide opened its first dual-branded property in the UK this week. In the same building, a 142-room Hilton hotel and an 86-room Hampton by Hilton property are now operating within St. George's Park, a multimillion pound football centre in the town of Burton upon Trent, in England's West Midlands region. Additionally, the Ramada London Heathrow has been rebranded as the DoubleTree by Hilton London Heathrow Airport – the result of a franchise agreement between Focus Hotels and Hilton Worldwide. The 200-room hotel was taken over by Focus Hotels after it went into administration in October 2011.
Ikea To Break Into The Hotel Market
Inter Ikea, which controls furniture brand Ikea, is planning to open at least 100 budget 'design' hotels across Europe. The group is looking to build properties in markets in which it is already active, such as the UK, the Netherlands and Poland, and it also plans to venture into new markets, such as Germany. It is reported that the hotels will not operate under the Ikea name and will be run by an established hotel company. "We will announce within a few weeks the first location for our budget hotel in Germany and we are in talks with hotel operators to rapidly implement our concept," said Harald Müller, a senior manager with Inter Ikea's property division.
HVS Executive Search Moscow Announces Leadership Changes
Vlad Tchoubarov has been appointed as director of HVS Executive Search's Moscow operations. Vlad previously worked for human capital solutions firm SpenglerFox in Moscow. Before this, he spent six years in France with Dutch retail company Top Vision Group. Tatiana Veller will continue as managing director for HVS's Executive Search and Consulting & Valuation services in Moscow. Commenting on the new appointment, Tatiana said, "We look forward to continuing to provide the full suite of HVS's human capital solutions including executive search, mid-management recruitment, compensation consulting and performance management under the leadership of Vlad Tchoubarov. This appointment will allow me to focus on expanding our reach geographically and establish new services out of our Moscow office for the hospitality industry in the region." For more information contact Pooja Vir, HVS Executive Search's director of marketing.
Marriott's Ambassador In France
Marriott International has opened its first AC Hotel by Marriott in France. After a renovation, the Hotel Ambassadeur in the Mediterranean resort of Juan Les Pins, southern France, has been rebranded as the AC Hotel Ambassadeur Antibes-Juan Les Pins, the group's second hotel on France's Cote d'Azur. The 221-room hotel is the first new AC Hotel by Marriott property to open after Marriott and AC Hotels announced the launch of their joint venture and co-brand in 2010. "The AC Hotels by Marriott brand already has a strong holding in Spain, Italy and Portugal, but we have been actively seeking opportunities to expand in France where we see the brand's urban lifestyle feel fitting perfectly," said Amy McPherson, Marriott's president and managing director for Europe.
After The Games Come the Hotel Investors…
…It has been an exciting summer for London with the Queen's Diamond Jubilee, the 2012 Olympic Games and the upcoming Paralympics. To top it off, London is the host of this year's Hotel Investment Conference Europe (Hot.E), which will stage the largest group of investors and lenders ever assembled. The unique two-day interactive networking programme, focused on debt, equity and deal-making in Europe, is to take place in just five weeks, on 20-21 September, at the Park Plaza Riverbank London. To book your place at the event click here. HVS London will be taking part in Hot.E – look out for Charles Human, chief executive officer of the London office and HVS Hodges Ward Elliott; Russell Kett, chairman; and Sophie Perret, associate director.
Holiday Inn Express Makes Its Debut In Bahrain
InterContinental Hotels Group's (IHG) Holiday Inn Express brand has made its debut in Bahrain. The Holiday Inn Express Bahrain opened on Exhibition Avenue in the country's capital and largest city, Manama, close to Bahrain International Airport. The 247-room hotel, which cost US$40 million to develop, is operated by Ishraq Hospitality Management under a franchise agreement with IHG. It is IHG's third hotel in Bahrain overall; the group also has an InterContinental and a Crowne Plaza in Manama.
Gladen's Tidings
The news from Spain by Esther Gladen, Business & Market Intelligence Analyst, HVS Madrid. A new four-star hotel for Calle de Atocha in Madrid: a 19th-century building in the city centre, close to the train station and Plaza Mayor, will be converted into a hotel. The property has five floors and, once converted, will have 85 guest rooms.
Absolute Share Price Performance Over the Past Week – 9-16 August 2012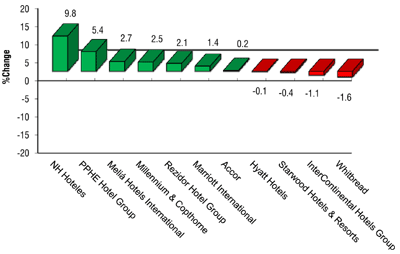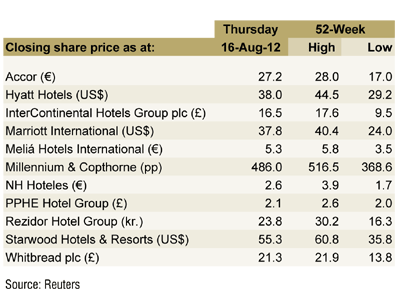 NH Hoteles – NH continued a significant uptrend.
Meliá Hotels International – Meliá closed in the top decile by yield.
PPHE Hotel Group – Investec raised PPHE Hotel Group's share price target to £3.30 from £3.20.
---
For the latest in the hospitality industry, please visit: http://www.hvs.com. You are also welcome to contact the following personnel.
| | |
| --- | --- |
| Russell Kett, Chairman – HVS London (@russellkett) | rkett@hvs.com |
| Charles Human, CEO – HVS London/HVS Hodges Ward Elliott | chuman@hvshwe.com |
| Tim Smith, Director – HVS London | tsmith@hvs.com |
| Chris Martin, Director – HVS Hodges Ward Elliott | cmartin@hvshwe.com |
| Demetris Spanos, Managing Director – HVS Athens | dspanos@hvs.com |
| Hala Matar Choufany, Managing Director – HVS Dubai | hchoufany@hvs.com |
| Christopher Mumford, President, EMEA – HVS Executive Search (@ChrisMumford) | cmumford@hvs.com |
| Philip Bacon, Managing Director – HVS Madrid and Managing Director, EMEA & Asia – HVS Shared Ownership Services | pbacon@hvs.com |
| Louise Fury, Senior Editor and EMEA Hospitality Newsletter Author – HVS London | lfury@hvs.com |