London & Regional Crowns Its Portfolio With A Hotel In Cambridge
Private real estate company London & Regional has emerged as the winning bidder for the Crowne Plaza Cambridge in the university town of Cambridge, southern England. The group has reportedly purchased the 198-room hotel for more than the £35 million asking price. The hotel was previously owned by Northern Ireland-based conglomerate Quinn Group, which went into administration in 2010.
Best Western Premiers In Russia And Flowers In Riyadh
Best Western's Premier brand has made its first appearance in Russia. The four-star, 41-room Best Western Premier Mona Hotel at Sheremetyevo recently opened near Sheremetyevo Airport, just outside Moscow. The group now has 146 Best Western Premier properties across 34 countries worldwide. Best Western also made its debut in Riyadh, Saudi Arabia, this week with the opening of the Best Western Orchid Hotel. The ten-storey, 86-room hotel is the group's second property in Saudi Arabia, alongside the 36-room Best Western Plus Sand Rose Suite Hotel in Al Khobar. Best Western plans further expansion in Saudi Arabia with nine new hotels across seven cities over the next two years.
Makeover At The Maria Cristina
Part of Starwood Hotels and Resorts' Luxury Collection, the Hotel Maria Cristina in San Sebastian, Spain, reopened earlier this week after a US$25 million restoration and renovation. The 136-room historic property celebrates its 100th birthday this month; the work on the hotel is part of a wider plan to invest in the group's Luxury Collection. "As part of Starwood's strategy to strengthen our Luxury Collection brand portfolio, we are making major investments to renovate and restore some of our most iconic hotels," said Roeland Vos, the group's president for Europe, the Middle East and Africa.
Rezidor To Move Into Moldova
Rezidor Hotel Group plans to make its debut in Moldova, raising its presence in EMEA up to 70 countries. An existing hotel in Moldova's capital and largest city, Chisinau, is to undergo a full renovation and will reopen as the Radisson Blu Hotel, Chisinau in 2013. The 145-room hotel will be the first internationally branded hotel in the city. "We are delighted to arrive in Moldova where we see promising business opportunities. The country is emerging from a period of transition to a market economy with a private sector that is now carrying over 70% of the GDP," said Rezidor's president and chief executive officer, Kurt Ritter.
HVS To Host iCON 2012
HVS is hosting the first CIS & Georgia Hospitality Investment Conference (iCON) at the newly opened JW Marriott Absheron Baku in Azerbaijan on 18 and 19 September 2012. The two-day event will focus on the region's hotel development, investor climate and many of the current issues facing the industry, bringing together international investors and operators as well as some of the region's decision-makers, government representatives and opinion leaders. iCON will provide a great platform for delegates to share views, insights, and proposed strategies for advancing the hospitality and tourism sectors in the region. Speakers include HVS alumnus Saurabh Chawla, director of international development and acquisitions for Louvre Hotels Group and Tatiana Veller, managing director of HVS Moscow. For more information or to book a place at iCON visit www.iconhvs.com.
Hilton Starts To Spruce Up The Al Hamra Fort Hotel
After signing a deal in June 2011 to take over the operation of the Al Hamra Fort Hotel in Ras Al Khaimah, UAE, Hilton Worldwide has now launched a US$27.2 million renovation of the property. The hotel is due to reopen in 2013 as the 266-room Hilton Al Hamra Resort & Spa and will be Hilton's fifth hotel in the emirate. "…the hotel will maintain its unique identity but incorporate the style, standards and world-class service that guests around the world expect from Hilton Hotels & Resorts," said Mohab Ghali, Hilton's country manager for Ras Al Khaimah.
Hyatt Posts An Increase In Second-Quarter Income
Hyatt Hotels Corporation recorded a second-quarter net income of US$39 million (US$0.24 per share), an increase of approximately 5.4% on the same period in 2011. Adjusted EBITDA rose by 19.2% on the second quarter of 2011 to reach US$180 million. The group's RevPAR grew by almost 8% during the second quarter of 2012, and excluding the effects of currency RevPAR rose by 9.4%. "Our international hotels continued to perform well…results from our hotels in Europe, which are primarily located in gateway cities such as Paris and London, remained good, despite the economic uncertainty in the wider region," said Mark Hoplamazian, Hyatt's president and chief executive officer. "Looking ahead, we are encouraged by recent trends in transient travel and positive group pace as compared to last year," he added. Hyatt opened five new hotels during the second quarter of 2012 and completed hotel acquisitions totalling more than US$900 million. Additionally, the group's board of directors authorised a repurchase of common stock of up to US$200 million.
Millennium's Results For The First Half Of 2012
In the first six months of 2012, Millennium & Copthorne Hotels achieved a total revenue of approximately £374 million, an increase of 1.0% on the first half of 2011. Total hotel revenue remained static at £365 million; however, RevPAR rose by 6.3% to £64.62 during the first half of 2012. The group's profit before tax was £79 million, a fall of 1.6% on the same period in 2011, but EBITDA increased by approximately 20% to £98.5 million. Commenting on the results, Kwek Leng Beng, Millennium's chairman, said, "The Group delivered a successful overall performance from its hotel operations in the first half of 2012, with additional profits from our joint venture in China and good progress on asset management projects. Whilst trading is still in line with management expectations, the hospitality industry cannot be immune to the ongoing euro crisis and global economic uncertainty."
Meliá Records RevPAR Rises For First Six Months Of 2012
Meliá Hotels International has posted positive results for the first six months of 2012. The group's EBITDA increased by 0.2% on the same period last year to €105 million and net profit was €10.6 million, up by 24%. Overall RevPAR increased by 8.5% on 2011; in the EMEA region RevPAR rose by 4.7%, owing to a 5.1% rise in prices. France recorded the strongest RevPAR performance followed by Germany. Meliá's hotels in the UK reported an increase in RevPAR of more than 6.0% for the first half of the year, aided by favourable exchange rates. So far in 2012, Meliá has opened five new properties (702 rooms) and in September the group's long awaited flagship ME London will open its doors.
Gladen's Tidings
The news from Spain by Esther Gladen, Business & Market Intelligence Analyst, HVS Madrid. Be Live adds two four-star resorts in the Canary Islands to its portfolio: the properties, owned by Caixabank and Grupo Metropolis, are on the island of Lanzarote and will be operated by Be Live for the next four years. The historic Hotel Monasterio San Miguel in Puerto Santa María, Cádiz, to be reopened: the hotel's owner, BBVA, has come to an agreement with tour operator Hadenture 2000, which is preparing to take advantage of the remaining summer season. New Hotel project in Greater Madrid: the new hotel will be in Getafe and is scheduled to open in 2013.
Absolute Share Price Performance Over the Past Week – 26 July-2 August 2012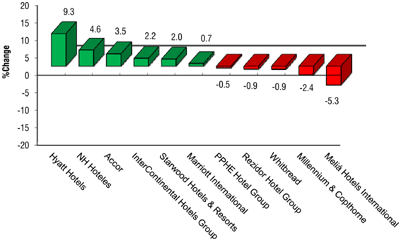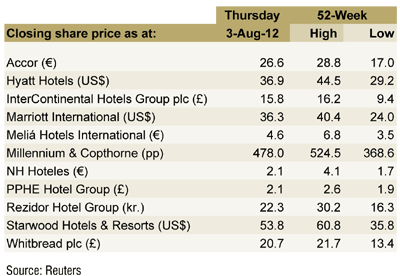 NH Hoteles – NH strengthened above its exponential moving average price (EMAP).
InterContinental Hotels Group (IHG) – IHG strengthened above its EMAP.
Meliá Hotels International – Meliá fell 2.6% on low volume.
---
For the latest in the hospitality industry, please visit: http://www.hvs.com. You are also welcome to contact the following personnel.
| | |
| --- | --- |
| Russell Kett, Chairman – HVS London (@russellkett) | rkett@hvs.com |
| Charles Human, CEO – HVS London/HVS Hodges Ward Elliott | chuman@hvshwe.com |
| Tim Smith, Director – HVS London | tsmith@hvs.com |
| Chris Martin, Director – HVS Hodges Ward Elliott | cmartin@hvshwe.com |
| Demetris Spanos, Managing Director – HVS Athens | dspanos@hvs.com |
| Hala Matar Choufany, Managing Director – HVS Dubai | hchoufany@hvs.com |
| Christopher Mumford, President, EMEA – HVS Executive Search (@ChrisMumford) | cmumford@hvs.com |
| Philip Bacon, Managing Director – HVS Madrid and Managing Director, EMEA & Asia – HVS Shared Ownership Services | pbacon@hvs.com |
| Louise Fury, Senior Editor and EMEA Hospitality Newsletter Author – HVS London | lfury@hvs.com |