Two Olympic Hotels For Sale
Two newly opened hotels at London's Westfield Stratford City shopping centre, adjacent to the Olympic Park, have been put on the market for a combined £60 million. Cycas Hotel Partners and Patron Capital bought the 188-room Holiday Inn London Stratford City and the 162-unit Staybridge Suites Stratford City at the beginning of the year, when they were both still under development. The hotels are operated by Cycas Hospitality under a franchise agreement with InterContinental Hotels Group.
Macdonald Hotel In Manchester On The Market
Scottish group Macdonald Hotels has put its 338-room Macdonald Manchester Hotel & Spa in the city of Manchester, northwest England, up for sale for approximately £50 million. The deal also includes an adjacent development site that is being offered without planning consent.
Rezidor Gives Russia Another Park Inn
Rezidor Hotel Group has announced a new Park Inn property for Russia. The Park Inn by Radisson Novokuznetsk is to be developed in the industrial city of Novokuznetsk, on the Tom River in southwestern Siberia. The hotel is expected to open in the fourth quarter of 2014 and will have 158 rooms, including eight serviced apartments. "The hotel will be the first internationally branded hotel in Novokuznetsk and the Kemerovo region, and will further strengthen our Park Inn by Radisson network across Russia," said Kurt Ritter, Rezidor's president and chief executive officer. Rezidor currently has more than 11,000 hotel rooms in operation or under development in Russia.
Scotland's First Wyndahm Hotel
Wyndham Hotel Group has signed a franchise agreement with MAP Property & Leisure Developments Angus Ltd for its first hotel in Scotland. The Wyndham Grand The Angus is expected to open in 2015 next to the existing Forbes of Kingennie resort, approximately five miles from the port of Dundee in the east of Scotland. The five-star Wyndham hotel will have 187 guest rooms and ten two-bedroom lodges. The overall development will also include an 18-hole championship golf course designed by Darren Clarke, last year's Open Championship winner, a spa and food and beverage facilities. The cost of the resort is reported to be £60 million. Once open, the new hotel will become Wyndham's second offering in the UK, alongside the 154-room Wyndham Grand London Chelsea Harbour in the UK's capital.
The Capital Markets Are Coming To Hot.E
This year's Hotel Investment Conference Europe (Hot.E) is fast approaching. The event, a unique two-day interactive networking programme focused on debt, equity and deal making in Europe, takes place in just over two months at the Park Plaza Riverbank in London on 20-21 September 2012. The capital markets are coming to Hot.E, where one of the largest groups of investors and lenders ever assembled on stage will be offering their expertise, including Aareal Bank, Blackstone, HSBC, Starwood and many more! HVS London's chairman, Russell Kett, will be moderating a panel called What's Next on the Horizon – the View From the Boardroom. Russell's panellists so far include Monty Bennett, chief executive officer of Ashford Hospitality Trust, and Gerald Lawless, executive chairman of Jumeriah Group. Additionally, in the afternoon of the first day of the conference HVS London's chief executive officer, Charles Human, will be hosting one of four sessions called Connect with the Investors. For more information or to register for Hot.E 2012 visit www.burba.com.
StayWell On Its Way To The UK
Independently owned Australian hotel management company StayWell Hospitality Group has released its plans to expand in the UK, starting with a four-star hotel in Birmingham. The group recently opened an office in the country and is looking for suitable hotel development opportunities across the UK. It has signed a 30-year management contract for the Park Regis Birmingham, in England's Midlands region. The 272-room hotel is currently under construction and is scheduled to open in 2014. Additionally, StayWell is in negotiations for a management agreement for a hotel already under development in London. The group also reportedly has its eye on existing properties in Manchester and Edinburgh. Commenting on the plans, Simon Wan, StayWell's chief executive officer, said, "This is a massive step forward for StayWell and we are elated to have such a quality accommodation product added to our portfolio. Our partners in the UK, Seven Capital, have identified a number of other opportunities in the region which is very exciting for us and we hope to announce further additions to our portfolio soon."
Conference Discount For Our Readers
HVS EMEA Newsletter readers can get a 50% discount on tickets for Henry Stewart's Hotel Values and Funding conference. The event takes place at Le Méridien Piccadilly London on 20 September 2012 and is the place to be to catch up with and discuss the present position and trends for hotel values and funding. To receive your discount you can book online here with a credit card and insert the discount code HVS50 when prompted. If you would like to be invoiced, please email dawnb@henrystewart.co.uk and provide the following information: full name(s), position(s) and email addresses of all delegates; title of conference; full company name and address for the invoice; name of the person making the booking if different from delegate(s); and please quote HVS50 to receive your 50% discount.
New Mountain Resort In Oman
Alila Hotels & Resorts is moving into Oman. Alila currently manages boutique hotels and resorts in the Asia Pacific region; however, the Singapore-based group has got together with Muscat-based investment' development and management company Omran to develop the Alila Jabal Akhdar resort. The 78-room resort is scheduled to open at the end of 2013 in Oman's Jabal Akhdar region, in the Al Hajar mountain range, a two-hour drive from Muscat.
A Kinda New Hotel For Saudi Arabia
The Elaf Group has reopened the Elaf Kinda Hotel in Mecca, Saudi Arabia, after completing a SAR58 million (US$15.5 million) renovation project at the 240-room hotel. The group now has six hotels in operation in Mecca and one in the pipeline which is due to open soon. Elaf operates 12 hotels in Saudi Arabia overall.
Accor To Samba, Tango and Cueca In South America
Accor has purchased the South American hotel portfolio of Mexican company Grupo Posadas for US$275 million. The portfolio comprises the group's Ceasar Park and Ceasar Business brands, which include 15 properties (2,600 rooms) in Brazil (Sao Paulo and Rio de Janeiro), Argentina (Buenos Aires) and Chile (Santiago). Four of the hotels are owned, four leased and seven operating under management contracts. The transaction, which also includes a pipeline of 14 hotels under management contracts, is expected to be completed by the end of the year. "With its strong financial position and now a structurally generating cash model, the Accor Group, through this acquisition, records another success and confirms its ambitious expansion plan," said Denis Hennequin, Accor's chairman and chief executive officer.
Record Expansion And Rises In Revenue For Accor
Accor has reported a like-for-like increase in hotel revenue for the first six months of 2012 of 3.7%, to €2.6 billion. The French group's total revenue rose 3.6%, like-for-like, to €2.7 billion, with growth linked to robust business levels in emerging markets, such as Africa and the Middle East. Revenue for the group's upscale and midscale hotels for the first half of 2012 grew by 3.5%, like-for-like. Economy hotels achieved a first-half revenue of €952 million, a like-for-like rise of 4.0% on the same period in 2011. Occupancy and average rate for the group's upscale and midscale hotels for the first half of 2012 was 63% (a like-for-like fall of 0.5%) and €101 (a like-for-like rise of 3.0%), respectively, leading to a like-for-like rise in RevPAR of 2.2% to €63. Accor's economy hotels recorded a like-for-like increase in RevPAR of 2.9% to €38. Accor reported a record expansion for the first half of the year, with the opening of 141 new hotels (20,700 rooms), 85% of which are operating under management and franchise contracts.
Gladen's Tidings
The news from Spain by Esther Gladen, Business & Market Intelligence Analyst, HVS Madrid. Property transaction of €20.5 million in Madrid: Renta Corporación has sold a property on the iconic Gran Vía in Madrid, in front of Plaza de España. The transaction amounted to €20.5 million. Its new owner, the Sebrango family, which also owns the Hotel Chiqui in Santander, plans to convert the building into a hotel. The hotel project is expected to include approximately 160 rooms, with a total area of 7,300 m². Ibersol's first hotel in the Balearic Islands: after an important renovation and a €5 million investment, the Ibersol Son Caliu Mar has opened on Majorca as the first property in the Balearics for Ibersol Hotel Group.The four-star, 311-room property is located between Palma Nova beach and the Cove of Son Caliu.
Absolute Share Price Performance Over the Past Week – 12-19 July 2012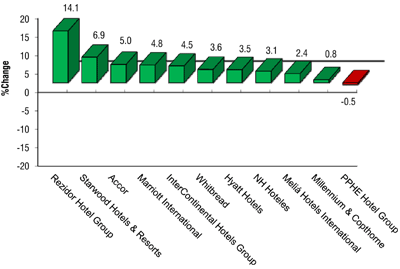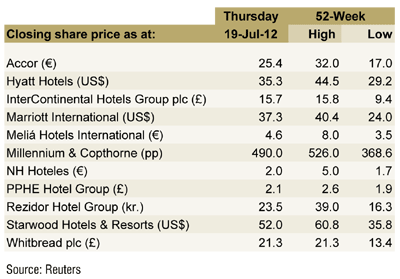 InterContinental Hotels Group (IHG) – IHG strengthened above its 50-day exponential moving average price (EMAP).
NH Hoteles – NH rose 2.1% on low volume.
Meliá Hotels International – Meliá strengthened above its EMAP.
---
For the latest in the hospitality industry, please visit: http://www.hvs.com. You are also welcome to contact the following personnel.
| | |
| --- | --- |
| Russell Kett, Chairman – HVS London (@russellkett) | rkett@hvs.com |
| Charles Human, CEO – HVS London | chuman@hvshwe.com |
| Tim Smith, Director – HVS London | tsmith@hvs.com |
| Chris Martin, Director – HVS Hodges Ward Elliott | cmartin@hvshwe.com |
| Demetris Spanos, Managing Director – HVS Athens | dspanos@hvs.com |
| Hala Matar Choufany, Managing Director – HVS Dubai | hchoufany@hvs.com |
| Christopher Mumford, President, EMEA – HVS Executive Search (@ChrisMumford) | cmumford@hvs.com |
| Philip Bacon, Managing Director – HVS Madrid and Managing Director, EMEA & Asia – HVS Shared Ownership Services | pbacon@hvs.com |
| Louise Fury, Senior Editor and EMEA Hospitality Newsletter Author – HVS London | lfury@hvs.com |