Featured in this HVS EMEA Hospitality Newsletter – Week Ending 8 June 2012
A Grand Renovation For Brighton
The De Vere Group has announced plans to spend £4.2 million renovating The Grand hotel in Brighton, on the south coast of England. The group plans to sell the 150-year-old Grade-II listed property after the completion of a renovation, which according to De Vere's Chief Executive, Andrew Coppel, will include a new spa, an improved bar and refurbished bedrooms. Mr Coppel commented that, "We will focus on golf hotels. We will spend £4.2 million on upgrading The Grand and I would expect that we will get £55 million back. We are spending the money because we feel the investment is worth it. The Grand is an iconic property and it is the 'place to stay' hotel on the south coast."
Bulgari Launches In London
Bulgari Hotels & Resorts has opened its first hotel in London. The new-build Bulgari Hotel is located in the heart of Knightsbridge and is operated by Ritz-Carlton. The 85-room hotel has an underlying theme of silver in tribute to the Italian brand's silversmith origins; Bulgari currently has 295 retail stores worldwide. This hotel marks the third hotel opening for the group, joining hotels in Bali and Milan.
Azimut Enters Moscow
Russian group, Azimut Hotels, has launched its first hotel in Moscow: the Moscow Tulskaya Hotel. The hotel is already welcoming guests although the official opening ceremony will take place in September. The 144-room hotel, which has been in the pipeline since 2008, is the reconstruction of a historic five-storey building. Moscow's cultural heritage committee has since included the building, built in 1867, on a list of historically significant sites in Moscow. It is reported that US$19 million has been invested in the hotel. Azimut Hotels General Director, Remco Gerritsen, said, "There is a lack of mid-market hotels in Moscow which is marketable among tourists and business travellers. Our hotel meets modern guest's demands, embodying the new concept of chain hotels. Over the next three years we are planning to open two more hotels in Moscow under brand Azimut."
Another InterContinental For The UK
Following a delay owing to a change of ownership, it has been announced that the UK's second InterContinental hotel will open in Westminster in November this year. The InterContinental London Westminster is the first InterContinental hotel to open in London since the launch of the InterContinental London Park Lane 36 years ago. Situated in Queen Anne's Chambers, a former government building, the 245-room hotel is located alongside New Scotland Yard and the Ministry of Justice. The development site was sold to Supreme Hotels Group earlier this year for £101 million and the hotel will be operated by InterContinental Hotels Group under a management agreement. Andrew Coney, General Manager of the hotel, said, "Our hotel will be at the heart of an area renowned for its iconic sights and heritage but also going through an exciting period of regeneration. We will contribute to this by creating 180 jobs for local people and representing a major investment in this part of town."
New Generation Of Hostels
Generator Hostels, backed by pan-European private equity group Patron Capital, has announced the launch of its latest hostel, in Hamburg. The 686-bed Generator Hostel Hamburg marks the operator's second hostel to open in Germany alongside the existing Generator Hostel Berlin, and is the sixth Generator hostel to open in Europe. The new hostel in Hamburg is part of a £200 million investment programme by Patron Capital to deliver the concept across Europe as well as revitalising the original flagship location in London. There are a further two sites currently under development which are due to open in the first quarter of 2013: the Berlin Mitte and Barcelona, which will bring the brand's portfolio to 5,100 beds across six countries. Generator plans to accomplish a portfolio of 12-15 sites and 8,000 to 10,000 beds by 2015. Carl Michel, Executive Chairman of Generator, commented, "We are aiming to be the pre-eminent hostel brand in Europe – and possibly beyond – and for this we are targeting a broad segment of incoming leisure travellers. This calendar year we will achieve a new record for Generator, when we exceed one million bednights."
Mandarin's Middle East Debut
Mandarin Oriental Hotel Group is set to debut in the Middle East with a new luxury hotel and serviced apartments in Doha. Scheduled to open in 2014, the property is being developed by Dohaland. Christopher Mares, Vice President for Operations for the group, commented, "We are excited to announce that our first property in the region will open in Doha at the end of 2014, marking a milestone for the company. Launching the brand in the region has been a priority for us and as we announce our first hotel here, we continue to seek new opportunities and projects that we wish to engage in." The group reportedly hopes to be in a position to announce a project in Dubai, followed by another in Beirut, in the next 12 months, as well as looking for opportunities in Saudi Arabia and Oman. Mr Mares added, "Further afield, we announced a long-term agreement to manage a luxury resort currently under development in Marrakech, Morocco."
Accor Launches An Adagio
Accor plans to triple its portfolio of aparthotels by 2015 and it is starting with the launch of the Adagio City Aparthotel in Abu Dhabi next year. Accor's Middle East Managing Director, Christopher Landais, reported, "A new hotel brand, Adagio, will join Accor's portfolio of hotels with the launch of the first Adagio City Aparthotel in Abu Dhabi in early 2013. The global network of Adagio City Aparthotel already comprises 30 Aparthotels with more than 3,000 apartments in key European capitals and primary cities. The brand has an ambition to develop 100 Aparthotels across the world by 2015."
Frasers Further Expands In The Middle East
Frasers Hospitality has announced the opening of its third property in the Middle East: the Fraser Suites Doha, in Qatar. And it doesn't plan to stop there as this property is to be followed by another three in Oman and Saudi Arabia by next year. Situated on the Doha Corniche waterfront, the property has 138 luxury serviced apartments over 14 floors. Choe Peng Sum, Chief Executive Officer of Frasers, said, "Qatar with its strategic location and aggressive plans for economic development is an important piece of that Middle East puzzle. Already the regional hub for conferences and exhibitions, it is expected to be a further catalyst for growth, particularly now with government infrastructures becoming more open and progressive." Including properties in the pipeline, Frasers' portfolio currently stands at 73 properties in 39 cities, totalling more than 12,200 apartments worldwide.
Algeria's First Le Méridien
Starwood Hotels & Resorts has announced the debut of its first Le Méridien hotel in Algeria: the Le Méridien Oran Hotel & Convention Centre. Comprising 254 rooms and 42 suites, the hotel is part of a mixed-use development including an adjacent conference and exhibition centre, an esplanade and an oceanfront promenade. "We are proud to partner with Sonatrach as we introduce the Le Méridien brand to Algeria," said Roeland Vos, President, Starwood Hotels & Resorts, Europe, Africa & Middle East. "This spectacular new hotel allows us to showcase Le Méridien brand's contemporary lifestyle and sophisticated origins in the city of Oran and further underlines our commitment to continued expansion in the region."
Gladen's Tidings
The news from Spain by Esther Gladen, Business & Market Intelligence Analyst, HVS Madrid. Sheraton Mallorca Arabella Golf Hotel to be refurbished in 2013:the five-star hotel, operated by Starwood in Son Vida, Palma de Majorca, will be temporarily closed for refurbishment from January 2013. The property has 93 suites and rooms, a restaurant and a spa. Luabay Hoteles contributes to the renovation of Cala Major´s image:the three properties, Luabay Marivent, Luabay La Cala and Luabay Costa Palma located in prime beach position in Cala Major, close to the city of Palma, have been upgraded to four-stars and are now adult-only hotels. New ibis in Catalonia: the ibis Barcelona Santa Coloma in Santa Coloma de Gramenent is now open. The property has 146 rooms, a bar and a meeting room. Be Live has expansion plans: until now the group had only acted as owner and operator. However, this year's new strategy is to incorporate 20 more properties under the franchise system. The criteria for the properties are a beach location in Spanish territory, four-star category and approximately 200 rooms. The first property is expected to be incorporated soon. Rezidor's Gran Canarian debut: Rezidor Hotel Group has opened its first property on the island of Gran Canaria: the 189-room Radisson Blu Resort, Gran Canaria.
Absolute Share Price Performance Over the Past Week – 31 May-7 June 2012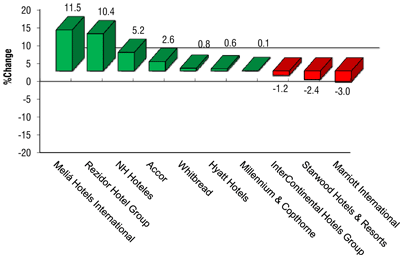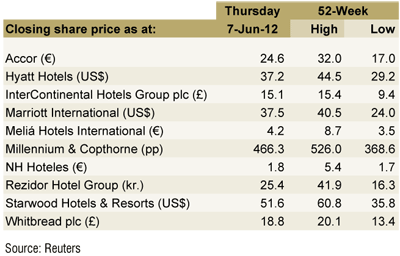 NH Hoteles – NH increased 2.0% on low volume.
Rezidor Hotel Group – Rezidor strengthened above its Moving Average Price over the past week.
Meliá Hotels International – Meliá added 3.2% on high volume.
---
For the latest in the hospitality industry, please visit: http://www.hvs.com. You are also welcome to contact the following personnel.
| | |
| --- | --- |
| Russell Kett, Chairman – HVS London (@russellkett) | rkett@hvs.com |
| Charles Human, CEO – HVS London | chuman@hvshwe.com |
| Tim Smith, Director – HVS London | tsmith@hvs.com |
| Chris Martin, Director – HVS Hodges Ward Elliott | cmartin@hvshwe.com |
| Demetris Spanos, Managing Director – HVS Athens | dspanos@hvs.com |
| Hala Matar Choufany, Managing Director – HVS Dubai | hchoufany@hvs.com |
| Christopher Mumford, President, EMEA – HVS Executive Search (@ChrisMumford) | cmumford@hvs.com |
| Philip Bacon, Managing Director – HVS Madrid and Managing Director, EMEA & Asia – HVS Shared Ownership Services | pbacon@hvs.com |
| Lesley Parrott, Junior Editor and EMEA Hospitality Newsletter Author – HVS London | lparrott@hvs.com |