Accor Sells Its US Budget Brands
Accor has signed an agreement to sell its economy hotels in the USA to an affiliate of Blackstone Real Estate Partners VII for US$1.9 billion. The deal, which includes Accor's Motel 6 and Studio 6 brands, will reduce the group's net debt by approximately €330 million and its fixed-lease commitments will fall by €525 million. The acquisition is expected to be completed this October. "This deal will provide Accor with additional resources to address the tremendous growth potential in the Asia Pacific region, in Latin America and in Europe, where the leadership of our brands is one of the key drivers of our future growth," said Denis Hennequin, Accor's chairman and chief executive officer. Blackstone added that although Motel 6 will be operated on a stand-alone basis, it plans to invest a significant amount of capital in the chain's hotels.
Interstate On The Road To Ireland
US-based Interstate Hotels & Resorts has signed a management agreement for its first hotel in Ireland. The 187-room Marker Hotel is due to open at the beginning of 2013 in Dublin. The development, in the city's business district, will include the hotel, a restaurant and bar, spa facilities and 84 residential apartments. The complex is owned by Dublin-based real estate private equity company Brehon Capital and its investment partner US financial services firm Midwest Holdings.
Wales To Get A Splash Of Indigo
InterContinental Hotels Group is bringing its Hotel Indigo brand to Wales for the first time. The Hotel Indigo Queen Street Cardiff will be developed in a former office building in the city of Cardiff, southeast Wales. The 92-room hotel will be operated by Sanguine Hospitality Ltd and will become Hotel Indigo number eight for the UK overall (there are currently two hotels in Scotland and five in England).
An Elite Investment For Gothenburg
Stockholm-based Swedish hotel group Elite Hotels is planning to invest up to SKr60 million (US$8 million) in the refurbishment of two of its hotels in Gothenburg, as competition in the city from other properties is on the rise. The Elite Plaza Hotel will gain a new interior and work is to be carried out on the restaurant and the banqueting space at the Elite Park Avenue Hotel.
Whitbread Premieres At London's Leicester Square
Whitbread's Premier Inn brand recently opened a new hotel in London. The Premier Inn Leicester Square has rolled out its red carpet to welcome its first guests to the city's famous square, which has hosted numerous film premiers and events. The 83-room hotel includes innovative technology, with guest rooms formed from independent boxes that "float" on thick neoprene pads. The design, which took six months to develop, also includes quadruple glazing and acoustic linings on the walls and ceilings, so guests can nod off in peace despite being so close to many of the city's nightclubs, restaurants and theatres.
Two New Rotanas For Dubai
Abu Dhabi-based hotel management company Rotana is planning to open two more hotels in Dubai in the third quarter of 2012. The Al Ghurair Rayhaan by Rotana will be the third property under Rotana's alcohol-free Rayhaan brand to open in the UAE and the Al Ghurair Arjaan by Rotana will become the eighth hotel in the UAE in the group's chain of de luxe hotel apartments. The hotels, which will both be part of the Al Ghurair Centre mixed-use development in Dubai's Deira district, will add a total of 621 rooms to the Dubai market.
Hampton And Hilton Duet In Bursa
This week, Hilton Worldwide opened its first dual-branded property in Turkey. The upscale 187-room Hilton Bursa Convention Center & Spa and the budget 107-room Hampton by Hilton Bursa are both operating within the same development in the city of Bursa in northwest Turkey.
A New Chairman For IHG
David Webster is to retire as chairman of InterContinental Hotels Group (IHG) on 31 December 2012. Mr Webster has been a member of the group's Board since 2003 and became chairman in January 2004. "My time with IHG has truly been a career highlight for me and I leave with a feeling of achievement for all that has been done since demerger in 2003," he said. Patrick Cescau has been announced as Mr Webster's replacement and he will take up his new position on 1 January 2013. Mr Cescau previously held the position of group chief executive officer of Unilever from 2005 to 2008 and he is currently a non-executive director of both Pearson and Tesco. He commented on his new venture, "My fellow Board members and I look forward to guiding IHG to even greater achievements as we focus on brand building and the strategic global expansion of the business in the near term and future."
Shaza In Salalah
Dubai-based Shaza Hotels recently signed an agreement with Omani investment firm Taameer Investment that will see it take on the management of the Dhofar Beach Resort, which is being developed in Salalah in the Dhofar region of southern Oman. The resort is expected to be of an international five-star quality with around 300 guest rooms and serviced apartments.
Accor Expands In Algeria
Accor is continuing its expansion in Algeria, North Africa, with the recent opening of two new properties in the city of Constantine, in the northeast of the country, 80 km from Algeria's Mediterranean coast. The 117-room Novotel Constantine and the 172-room ibis Constantine are both housed in the same purpose-built building at the heart of the city. These hotels are Accor's first properties in Constantine; the group currently operates seven hotels in Algeria overall.
Protea's Third Hotel In Uganda
South African-based Protea Hotels is to take on a new hotel in Uganda, East Africa, bringing its portfolio of hotels in the country up to three. The 75-room Mbale Resort Hotel, on the edge of Mount Elgon National Park, is to join the group on 1 July 2012. Additionally, the group is undertaking a rapid expansion in Africa this year with new builds and acquisitions amounting to an investment of ZAR1 billion (US$119 million). "Africa's business hubs are expanding and developing, and the Protea Hospitality Group is going to be at the forefront of this African economic renaissance," said the group's chief executive officer, Arthur Gillis. "We have new hotels going up in Uganda, Zambia and Nigeria this year, many of them in the developing business hubs, and we're very excited to be taking such a trusted, recognised brand into new regions," he added.
Gladen's Tidings
The news from Spain by Esther Gladen, Business & Market Intelligence Analyst, HVS Madrid. Selenza Thalasso & Spa Estepona will be operated by Barceló: the four-star, 91-room hotel will be added to Barceló's portfolio in the province of Málaga. New theme resort in Majorca: Meliá Hotels International plans to convert the Sol Magaluf Park hotel, adjacent to the Katmandu Park theme park, into the Katmandu-themed Sol Katmandu Resort for the start of the 2013 holiday season. Hotel guests will have free access to the facilities of the theme park. This new creative concept is part of a plan aimed at transforming the Magaluf area. Valladolid will have a new five-star hotel: the local authorities have approved plans for the conversion of a building on calle Veinte de Febrero into a five-star hotel. Hotel Olivia in Barcelona scheduled for 2013: the four-star property in calle Balmes will have 140 rooms.
Absolute Share Price Performance Over the Past Week – 17-24 May 2012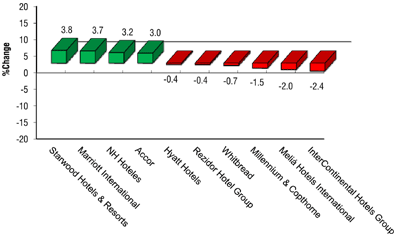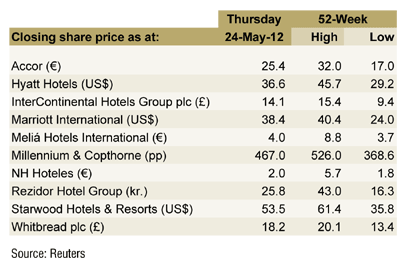 NH Hoteles – NH rose 14.2% on high volatility.
Accor – Share prices rose after the anouncement of the sale of Motel 6.
Meliá Hotels International – Meliá rose 3.6% on weak volume.
---
For the latest in the hospitality industry, please visit: http://www.hvs.com. You are also welcome to contact the following personnel.
| | |
| --- | --- |
| Russell Kett, Chairman – HVS London (@russellkett) | rkett@hvs.com |
| Charles Human, CEO – HVS London | chuman@hvshwe.com |
| Tim Smith, Director – HVS London | tsmith@hvs.com |
| Chris Martin, Director – HVS Hodges Ward Elliott | cmartin@hvshwe.com |
| Demetris Spanos, Managing Director – HVS Athens | dspanos@hvs.com |
| Hala Matar Choufany, Managing Director – HVS Dubai | hchoufany@hvs.com |
| Christopher Mumford, President, EMEA – HVS Executive Search (@ChrisMumford) | cmumford@hvs.com |
| Philip Bacon, Managing Director – HVS Madrid and Managing Director, EMEA & Asia – HVS Shared Ownership Services | pbacon@hvs.com |
| Saurabh Chawla, Director – HVS Asset Management and Strategic Advisory | schawla@hvs.com |
| Louise Fury, Senior Editor and EMEA Hospitality Newsletter Author – HVS London | lfury@hvs.com |