Deka Picks Up A Slice of America In Amsterdam
German real estate investment company Deka Immobilien has reportedly acquired the Amsterdam American Hotel in the Netherlands from Hampshire Hospitality under a sale-and-leaseback deal. Owned by Eden Hotel Group, Netherlands-based Hampshire will continue to operate the 175-room hotel under a 25-year contract with two options for ten-year extensions. The art deco hotel was built in 1900 and has official monument status in Amsterdam. The transaction price is rumoured to be €37 million.
Britannia Seals Two Deals At The Seaside
Britannia Hotels has purchased two hotels in Scarborough, a fishing port and seaside resort in northeast England, out of administration for an undisclosed sum. Previously owned by English Rose Hotels Scarborough, the three-star, 118-room Royal Hotel, which dates from the 1830s, and the two-star, 70-room Clifton Hotel were on the market for £7.5-8 million and £2-2.25 million, respectively. Based in northwest England, privately owned Britannia now has 39 hotels (7,000 rooms) across the UK, three of which are in Scarborough.
Three Pentahotels Purchased
HPI Germany Hotelbesitz GmbH (HPI) has acquired three hotels in Germany for an undisclosed sum; the family owned group has purchased the shares in CRE Hotel Immobilien GmbH, which owns the freehold of the 139-room Pentahotel Braunschweig, the 138-room Pentahotel Eisenach and the 137-room Pentahotel Kassel. Pentahotels Germany, HPI's sister company, will continue to operate the three properties.
A Courtyard Expansion In France
Marriott International has opened two new Courtyard by Marriott hotels in France, bringing its Courtyard portfolio in the country up to seven. The 123-room Courtyard Montpellier, in the south of France, was designed by award-winning architect Jean Nouvel, and the 113-room Courtyard Paris Boulogne is the fifth of its brand to open in the French capital. Commenting on the new additions to the family, Amy McPherson, managing director of Marriott International in Europe, said, "Marriott now operates 17 hotels in France. As an essential part of our growth strategy and with the recent introduction of our Courtyard prototype in Europe, we see tremendous opportunity for expansion of the brand here, now 47 hotels strong across Europe."
Alrov Arrives In Amsterdam
Tel Aviv-based Alrov Luxury Hotels plans to make its debut in Amsterdam, the Netherlands, next month with the official opening of the Amsterdam Conservatorium Hotel, which is housed in the city's historic former music conservatory. Work on the 129-room hotel started in 2008 and the renovation of the building cost €157 million. Alrov has two hotels in operation in Israel and one other hotel in Europe under construction, the Café Royal Hotel in London, which is due to open this summer. Alrov recently announced that both hotels will be operated under its newly named collection, The Set.
Focus On Food Revenue Boosts Salaries For Managers In London Hotels
HVS Executive Search has released its latest edition of the London Salary & Benefits Report, which includes data from 74 luxury, upscale and midscale hotels. According to the survey, the boom in fine dining in London, which now boasts 55 Michelin-starred restaurants, has helped to push salaries for food and beverage professionals in the city up by 25% over the past year, as the capital's hotels place increasingly more emphasis on food and drink revenue, alongside that of rooms. Overall, the average salary across 36 executive management and department head positions in London's hotels rose by 3.5% in the past year to £46,122. In line with the majority of the UK private sector, wage increases were below the Retail Price Index of 5%. Commenting on the year ahead, Chris Mumford, HVS Executive Search's president for Europe, the Middle East and Africa, said, "With London recording a strong performance in 2011 and with the help of the Queen's Diamond Jubilee and the Olympic Games this year, we expect salary reviews later in the year to at least match, if not exceed, inflation in 2012." A copy of the full report can be purchased online at http://www.hvs-executivesearch.com/CompensationConsulting/Reports/ or via email from Pooja Vir, the group's director of marketing, at pvir@hvs.com.
Hiltons Come And Go At Schiphol Airport
Hilton Worldwide has signed an agreement with Schiphol Real Estate for a new landmark hotel at Amsterdam Schiphol Airport in the Netherlands. Construction of the new Hilton Amsterdam Airport Schiphol is expected to start later this year and the 433-room hotel is scheduled to open in 2015 near to the group's other Hilton-branded property at the airport: the existing 277-room Hilton Amsterdam Airport Schiphol, which will continue to operate until the opening of its newer namesake, after which it will be demolished.
A Turkish Palace For Jumeirah
Jumeirah Group has officially confirmed that it is to operate the Pera Palace Hotel in Istanbul, Turkey. The Dubai-based group has signed a management agreement with Istanbul-based Demsa Group, which is owned by Turkish business woman and entrepreneur Demet Sabanci Çetindogan. On 1 May 2012, the 115-room hotel will become the Pera Palace Hotel Jumeirah, bringing Jumeirah's worldwide portfolio up to 19.
Whitbread Gains Eight Sites In England
Whitbread's Premier Inn chain has secured eight new sites across England this week, adding a total of 774 hotel rooms to its development pipeline. The sites have a capitalised lease value of more than £50 million, and the new hotels will be a mixture of office conversions, developer turnkey and new builds.
Mercure's First Russian Adventure
Accor's Mercure brand has arrived in Russia. The French group has opened the Mercure Arbat Moscow. The 109-room hotel is next to the city's one-kilometre long, pedestrian-only Arbat Street. Accor now operates four hotels in the Russian capital and, after the ibis Samara opens later this month, 12 in the country overall.
Sofitel's Number One In Abu Dhabi
Another Accor brand has also entered a new market. The 228-room Sofitel Abu Dhabi Corniche, which opened as part of the city's Capital Plaza complex of five high-rise towers, is the group's first Sofitel-branded hotel in Abu Dhabi and its second in the UAE. Robert Gaymer-Jones, chief executive of Sofitel Worldwide, described the new hotel as "a precious asset for the brand both in the Middle East and internationally".
Pullman Makes Its Mark In Marrakech
Accor's Pullman Hotels and Resorts brand made its first appearance in Marrakech, rounding up a hat-trick of debuts for the group this week. The 252-room Pullman Marrakech Palmeraie Resort & Spa is located in a 17-hectare olive grove in La Palmeraie, an area northeast of the city. This is the brand's second hotel in Morocco – the 117-room Pullman Mazagan Royal Golf & Spa in the bay of El Jadida, on Morocco's Atlantic coast, is currently closed for renovation and due to reopen in September 2012.
A Radisson Blu And A Park Inn For Gabon
Rezidor Hotel Group has signed an agreement with Wali Hotels & Resorts which will see it take over the management of a hotel in the city of Libreville, the capital of Gabon, in west central Africa. The group will operate the Okoume Palace Hotel as an unbranded property whilst it undergoes a US$40 million renovation, which, when complete in September 2013, will transform it into two different hotels: a 330-room Radisson Blu and a 140-room Park Inn by Radisson.
Gladen's Tidings
The news from Spain by Esther Gladen, Business & Market Intelligence Analyst, HVS Madrid. Carrís Hoteles enters the Portuguese market with its new hotel, the Hotel Carrís Porto Ribeira: this four-star, 90-room property is in the centre of Porto. The company will celebrate another opening in Ourense (Galicia), northwestern Spain, at the end of March with the four-star, 39-room Hotel Carrís Cardenal Quevedo. The chain also intends to expand to Madrid, Barcelona and Lisbon. The Real Madrid Resort Island is to be ready for January 2015: the sports theme park will be built in the UAE, only 45 minutes from Dubai Airport, for an investment of around €800 million. The development will include a five-star, 450-room hotel with direct access to the sports arena; apartments; luxury villas; and a small beach resort with 60 bungalows and access to a private beach. The city of Mataró (in Barcelona province) will have its first four-star hotel: the Hotel Atenea Port, which is scheduled to open in April 2012, has 95 rooms, ten apartments, meeting space and two restaurants.
Absolute Share Price Performance Over the Past Week – 15-22 March 2012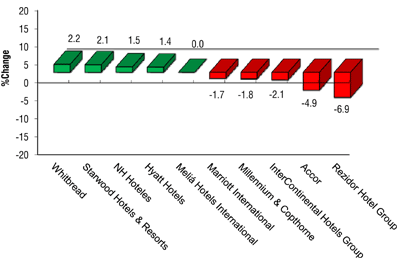 NH Hoteles – NH rose on high volume for a sixth consecutive day, a six-day rise of 27.7%.
InterContinental Hotels Group (IHG) – IHG fell 0.8% on high volume.
Accor – Accor decreased on high volume with a two-day fall of 2.8%.
---
For the latest in the hospitality industry, please visit: http://www.hvs.com. You are also welcome to contact the following personnel.
| | |
| --- | --- |
| Russell Kett, Managing Director – HVS London (@russellkett) | rkett@hvs.com |
| Charles Human, Managing Director – HVS Hodges Ward Elliott | chuman@hvshwe.com |
| Tim Smith, Director – HVS London | tsmith@hvs.com |
| Chris Martin, Director – HVS Hodges Ward Elliott | cmartin@hvshwe.com |
| Demetris Spanos, Managing Director – HVS Athens | dspanos@hvs.com |
| Hala Matar Choufany, Managing Director – HVS Dubai | hchoufany@hvs.com |
| Christopher Mumford, Managing Director – HVS Executive Search (@ChrisMumford) | cmumford@hvs.com |
| Philip Bacon, Managing Director – HVS Madrid and Managing Director, EMEA & Asia – HVS Shared Ownership Services | pbacon@hvs.com |
| Saurabh Chawla, Director – HVS Asset Management and Strategic Advisory | schawla@hvs.com |
| Louise Fury, Senior Editor and EMEA Hospitality Newsletter Author – HVS London | lfury@hvs.com |